A Day in Split, Croatia and Exploring Diocletian's Palace
It certainly has an unusual but also memorable name for us, English speakers. Our first cruise port on our 7-day Mediterranean cruise last June was Croatia's second largest city, Split. Located on the country's Dalmatian coast, this was our first glimpse of Split from the ship. With majestic mountains standing behind the coastal city, we couldn't wait to see what it had to offer.
We didn't set up a shore excursion with the ship. From previous cruise experiences, we knew there were going to be many tour companies waiting for passengers outside the port gate. They're also usually cheaper than the ones offered by the cruise ship.
It was a bit overwhelming to see all the tour guides and companies when we came out. We had an idea which tour we wanted to do already and went with the Grand Diocletian Tour which was a bus and walking tour combination.
Our tour started with a quick drive around the city. We were glad that we actually had a tour guide talking to us instead of the pre-recorded commentary on headsets. Her English was excellent. It was great to interact with her and ask her questions.
We passed by parks and interesting buildings including the Poljud Stadium which was built for the 1979 Mediterranean games. It looked so futuristic. Football (soccer for us, Americans) is huge here as expected.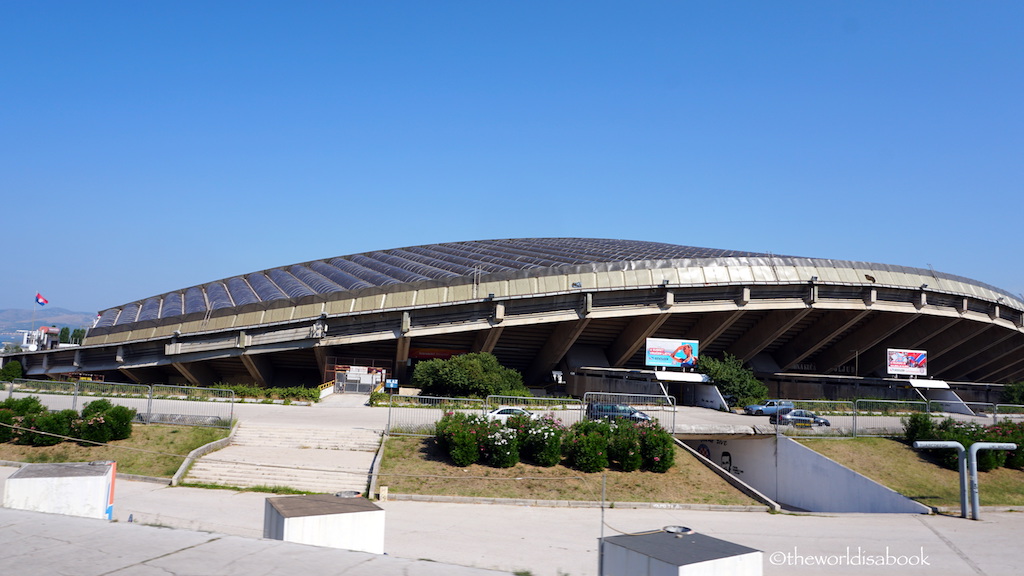 One of the areas we would have loved to explore was Marjan Forest Park which was considered the "city's lungs". It was such a contrast to the town and filled with many pine trees and vista points. Can you spot a church that was built into the rock face?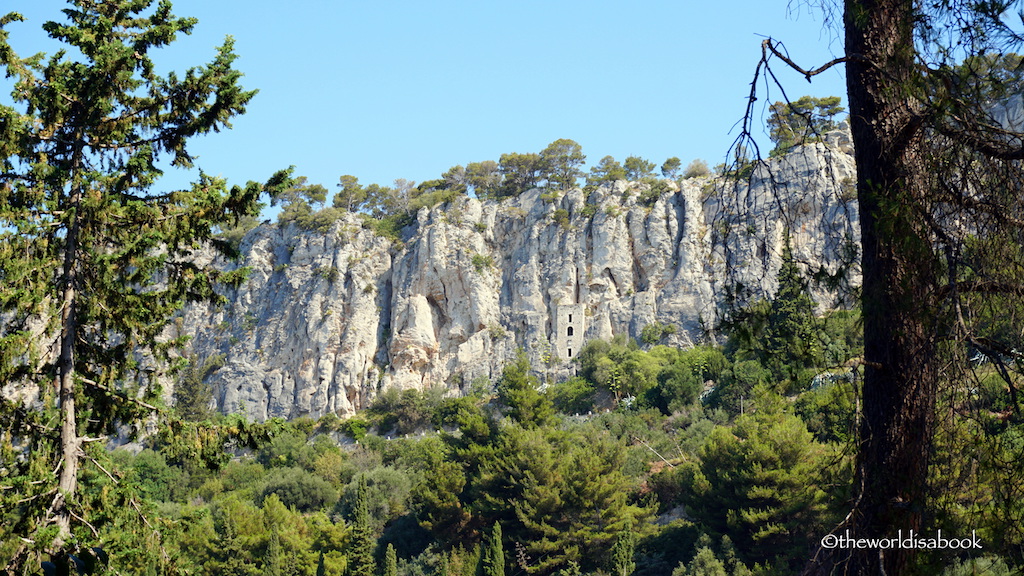 It was so hot so it was really great to be sightseeing through the bus. Though, it was almost torture to pass by the glistening waters off the coast and spot beaches like Bene and Zvoncac and we couldn't take advantage of them.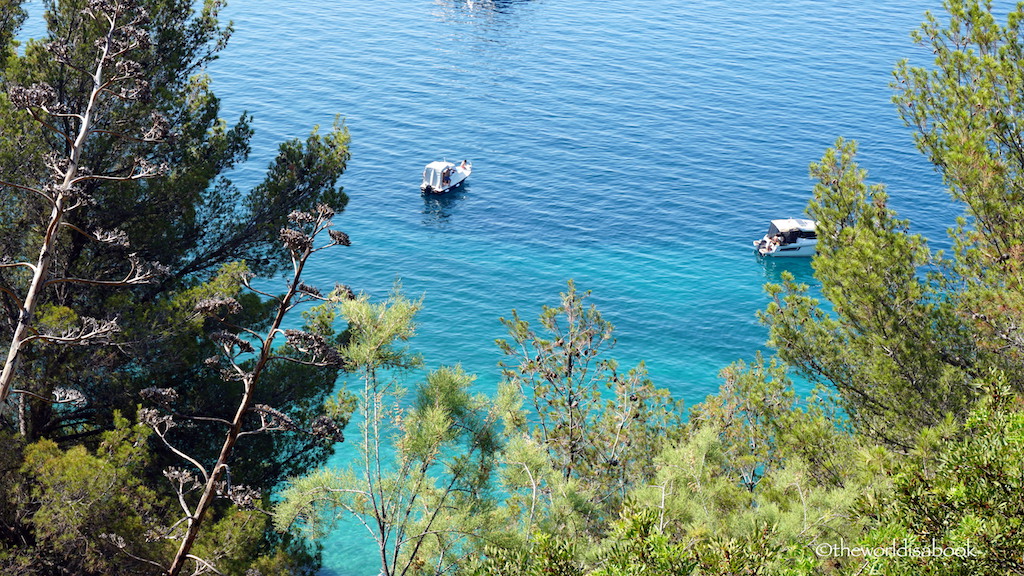 This tour was a wonderful opportunity to learn more about Split, the country of Croatia and some of its famous people and customs. The city's name is believed to have originated from a Greek colony that was once here called Aspalathos. But, it is also related to yellow flowers found in the area with the same Greek name and called brnistra in Croatian.
The Italian version was Spalato. In the 19th century, it became Spljet and officially became Split in 1909. Unfortunately, as my son thought..banana split didn't come from here.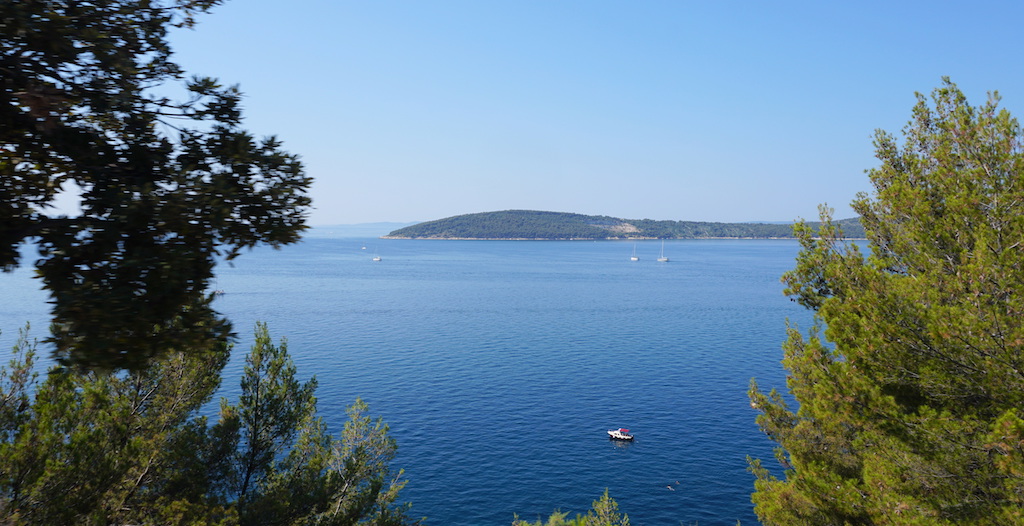 Our bus tour ended near the port for the continuation of it via a walking tour of Diocletian's Palace. This UNESCO World Heritage site is the city's main attraction. It was designated as the "best-preserved example of Roman palatial architecture". We were so glad we were doing this tour with a guide because this complex was large and crowded.
The Roman Emperor Diocletian built this rectangular complex that covered seven acres during the 4th century. The imperial palace was the emperor's retirement home and a military sea fortress. Diocletian certainly knew how to retire in style. It was mainly made of Greek and Italian marble and white stone from the nearby island of Brac.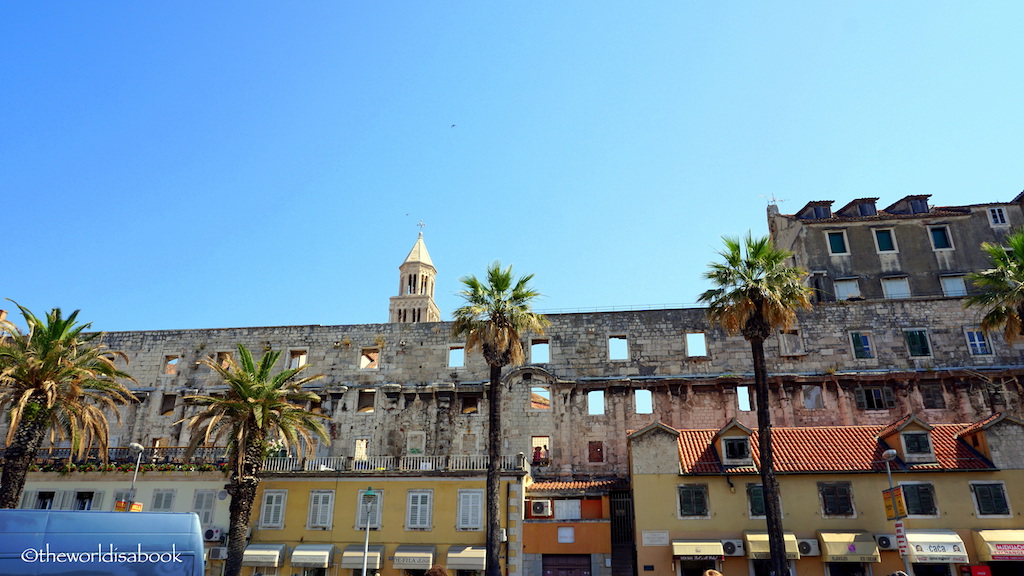 High walls, measuring 7 feet (2 m) surrounded the palace. The complex had 16 towers but only three were left. There were four gates used for its main entrances and named after metals: Bronze, Iron, Silver and and Golden. This was a photo of the palace during its glory days.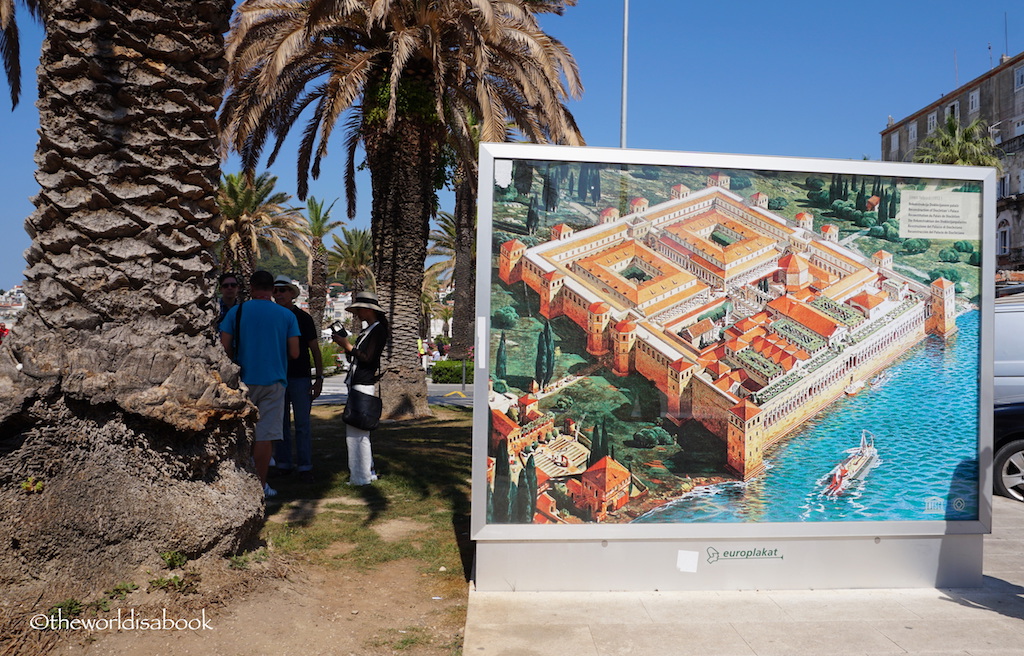 Our group entered the palace through the Bronze Gate into the palace's old Central Hall basement. It was once used as a palace entrance if coming from the sea. This area was now lined with several souvenir, arts and crafts shops. Other parts of the cellar were also used art exhibitions and functions.
We were then led to Peristil Square. This was the most crowded area and where many seem to like hanging out much like the old days. This central court was surrounded by many historic sites. We actually found some cushions and pillows for people to sit on a few of the steps provided by a restaurant nearby.
There were so many people here during our morning tour that it was hard to hear our guide or walk with our group. When we came back in the afternoon, it was a much more pleasant and relaxing experience with fewer tourists.
The most prominent structure in the palace complex is the bell tower of Katedral Sveti Duje or St. Duje (Domnius) Cathedral. This octagon-shaped cathedral was built during the 13th century using the site and materials from Diocletian's mausoleum. We passed on the experience to climb up the bell tower for a panoramic view of the town and the ocean. The line was long and it was too hot.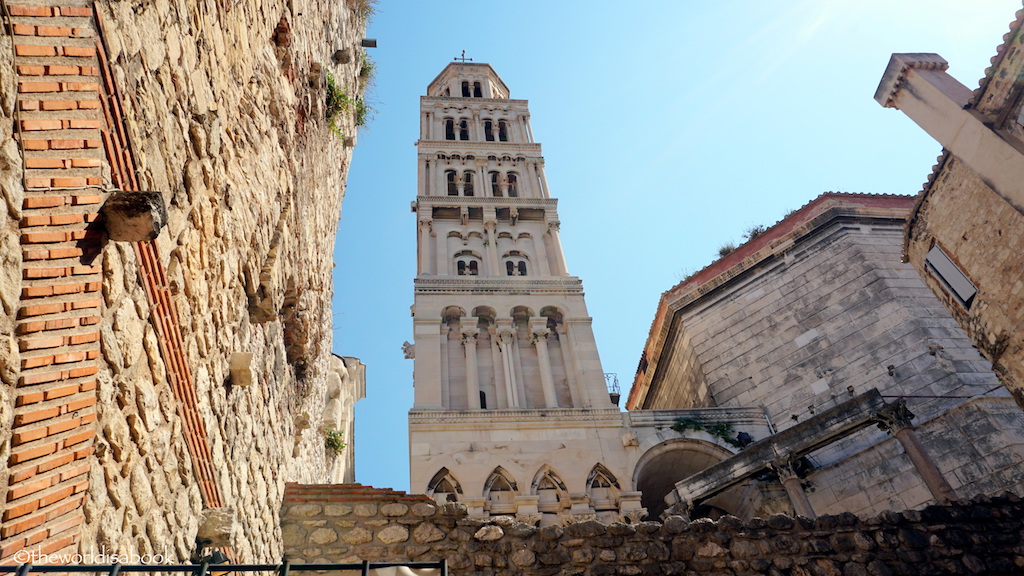 There was a granite and black sphinx that still stood outside the cathedral guarding it. This 1500 BC relic came from Luxor in ancient Egypt. Emperor Diocletian was a fan of Egyptian items. He had over a dozen of these sphinxes but only three were still around.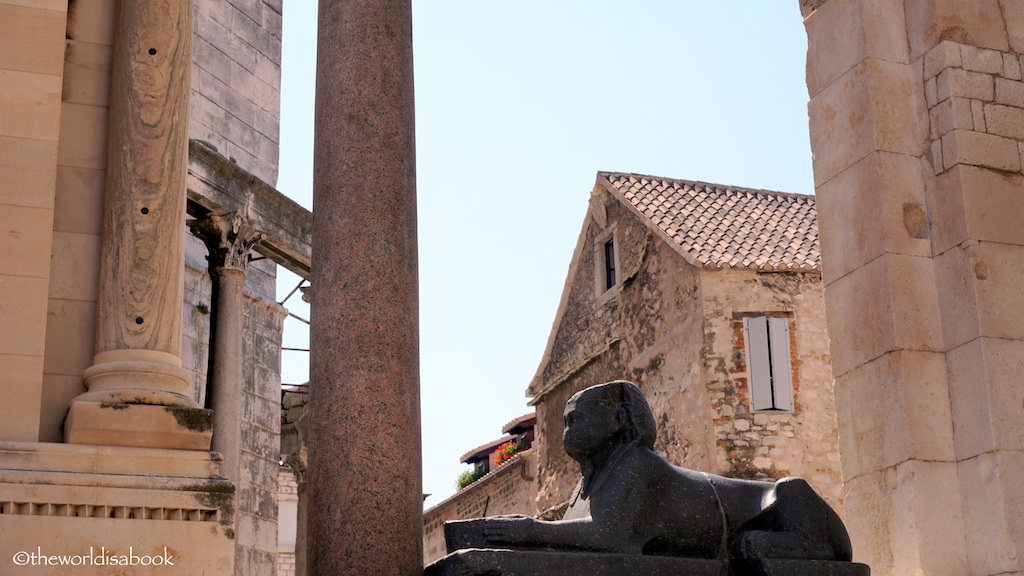 After Diocletian's death, some expelled emperors and their families lived here. The town's residents eventually moved into the palace's walls and built settlements. The palace complex became the old town itself. It is still a residence for some Split locals. There are over 200 buildings within the complex.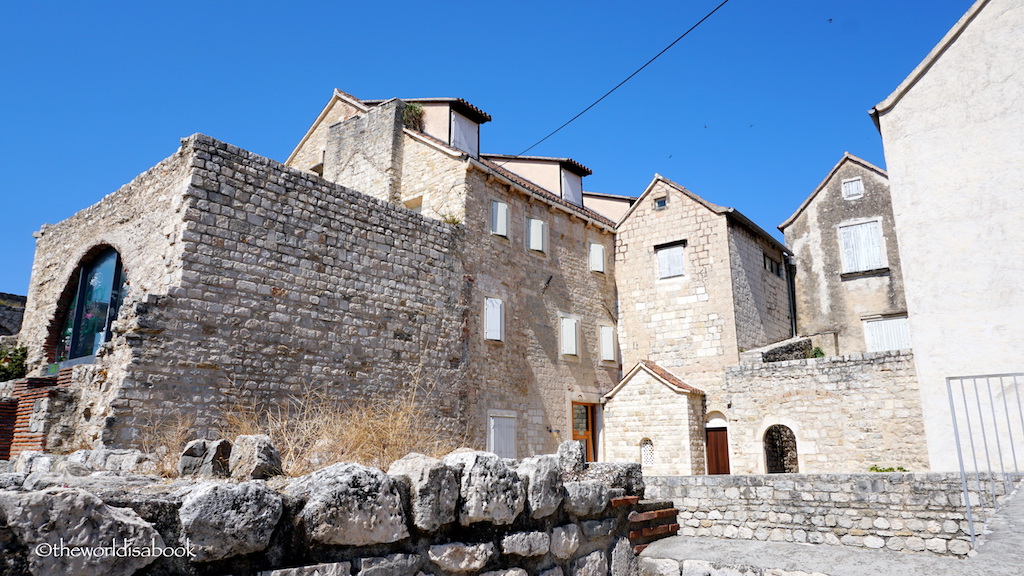 One of our favorite rooms was the Vestibule. This circular room once led to the the royal quarters. There used to be a cupola here but is now occupied by this large hole into the sky.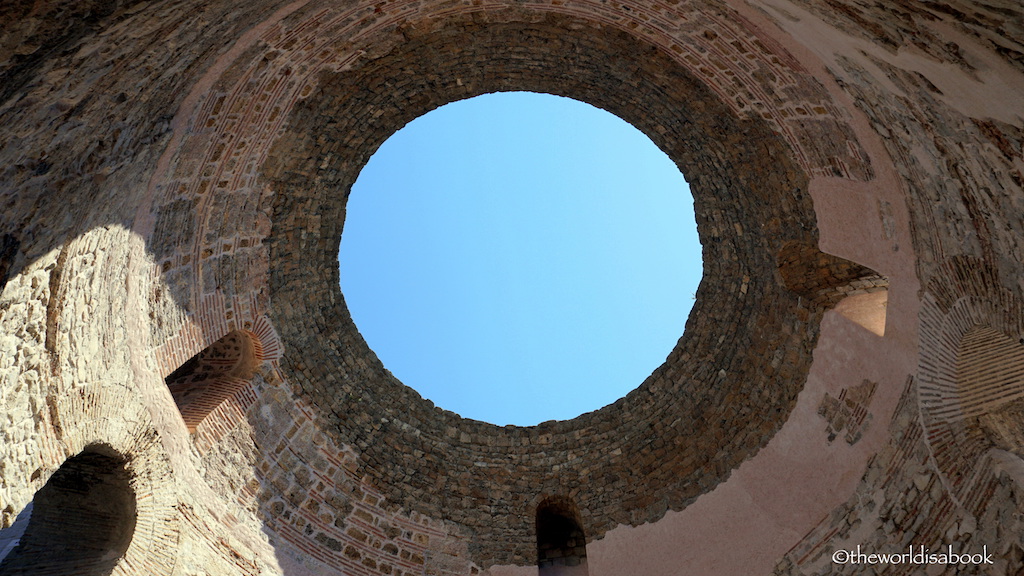 This space had such wonderful acoustics. We found a group of men here singing Acapella songs for the tourists. It was fantastic entertainment and such a great treat to hear. They also had CDs for sale.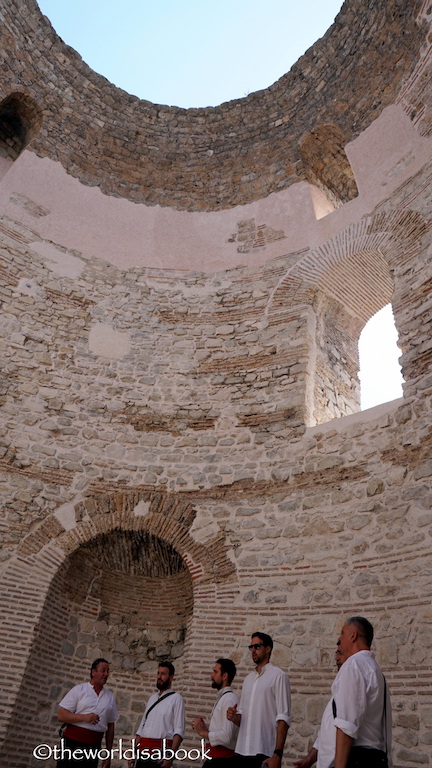 I loved seeing the architectural details as we walked through narrow alleys here. It was fun to imagine how this complex looked when it was first built and again during the Middle Ages when it became a mini-city. Though, it was still quite impressive.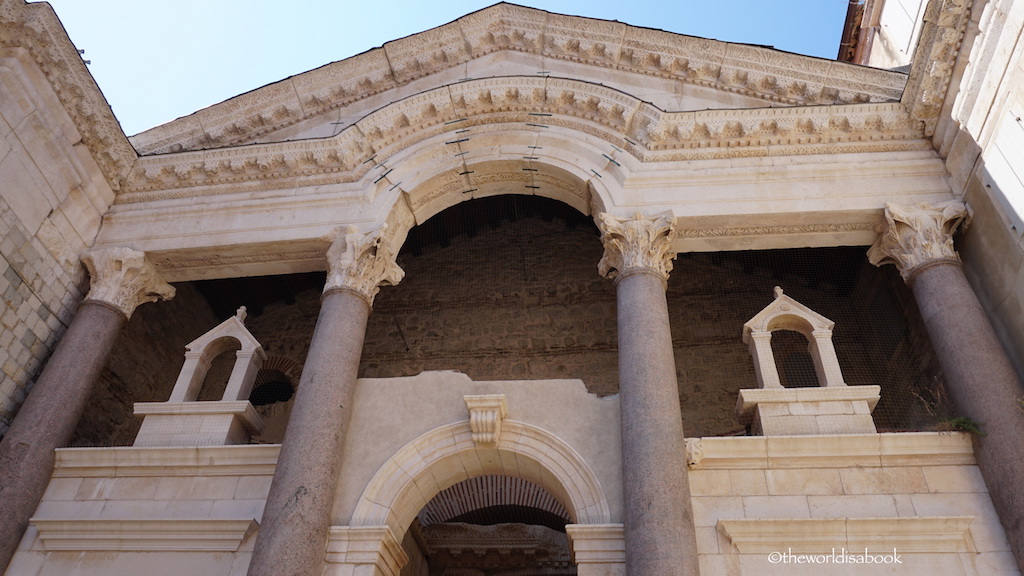 It was even more interesting to think that there were actual residents living within the walls of the ancient palace complex now. I loved how they incorporated modern living with all the ruins and old buildings.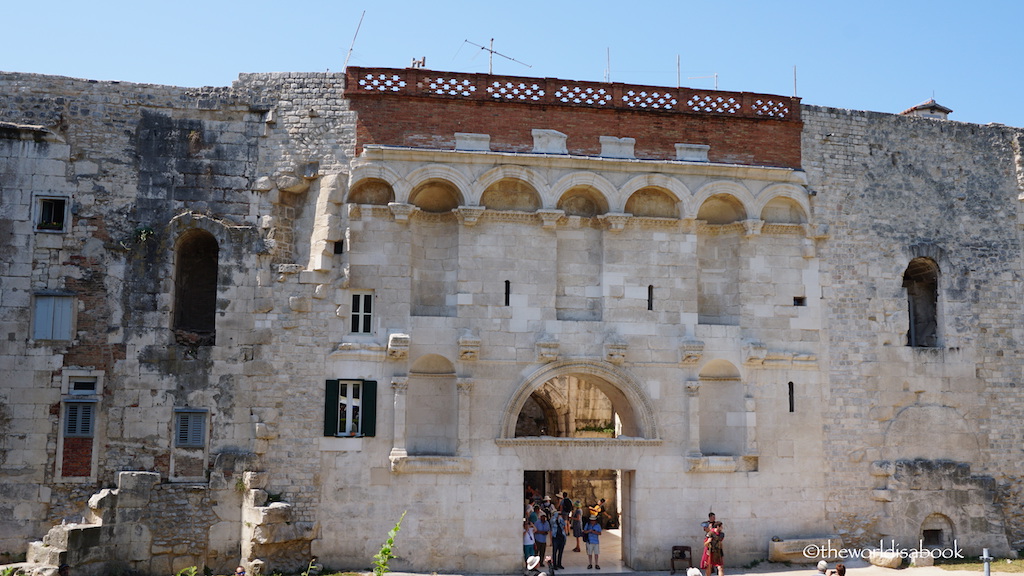 We exited the Golden Gate and came upon a very large bronze statue of an influential medieval bishop who was thought of as a symbol of patriotism,Grgur Ninski or Gregory of Nin. The statue was 28 ft (8.5 m tall) and impressive. Yet, its size isn't why it's popular but more for his toe.
Some believed that rubbing the statue's big toe while wishing for something will fulfill that wish. We saw plenty of tourists rubbing the heck out of that toe. Of course, we did the same for some good luck and fortune.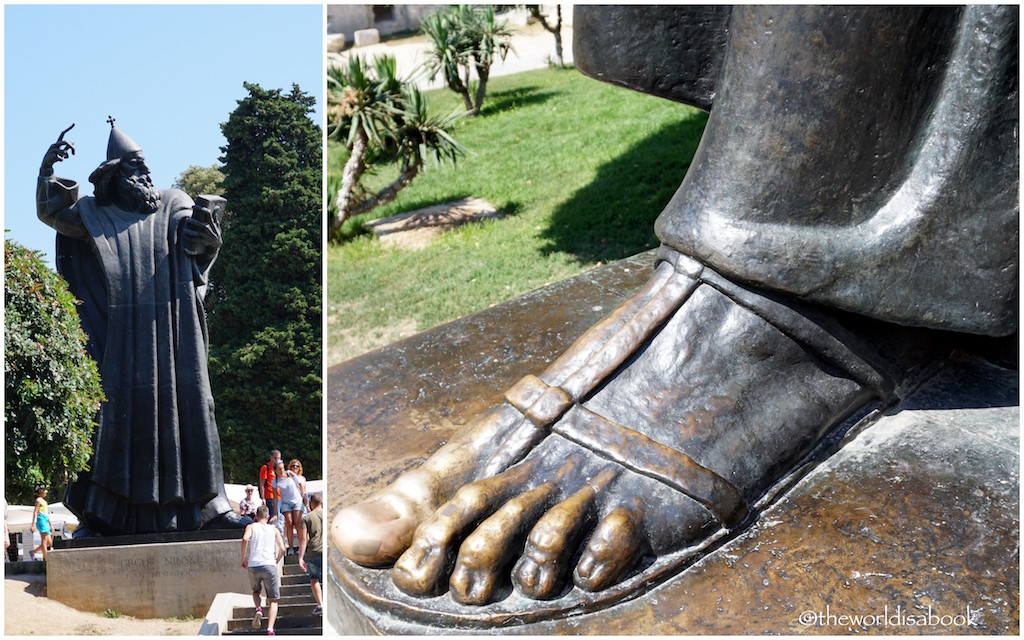 Our walking tour ended on Fruit Square. This used to be a site of several fruit vendors. Now, it's surrounded by cafes and shops. The octagonal Venetian Tower was hard to miss here among the beautiful facades. This 15th century structure was a remnant of a former fortress.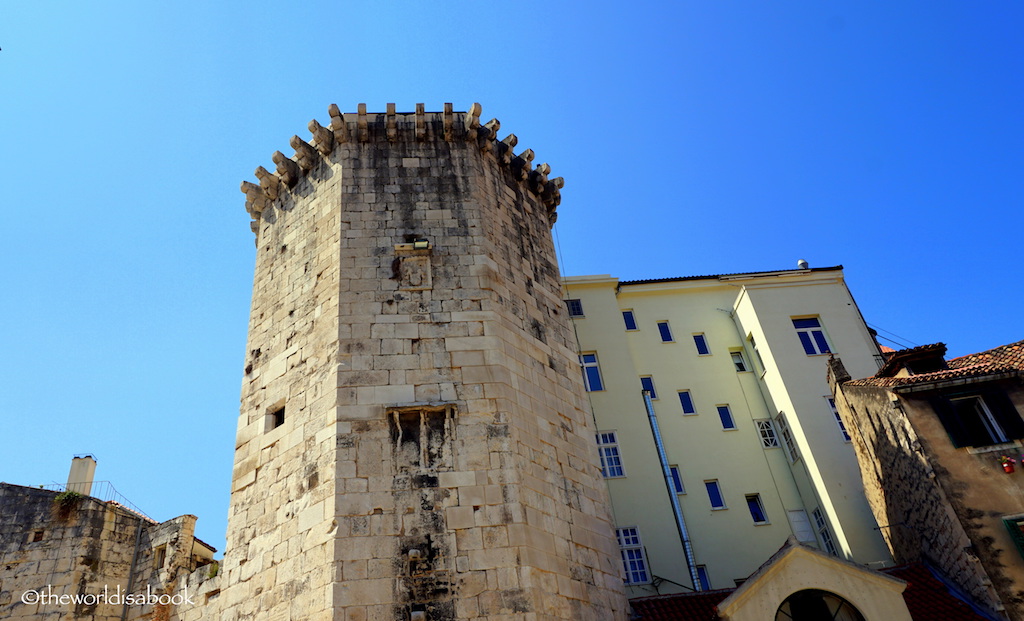 The Riva
Riva was another of Split's main attraction along the waterfront area. This boardwalk had one side facing the ocean and backed by the ruins of the palace. It was a great place for a stroll and to enjoy the ocean view and sea breeze.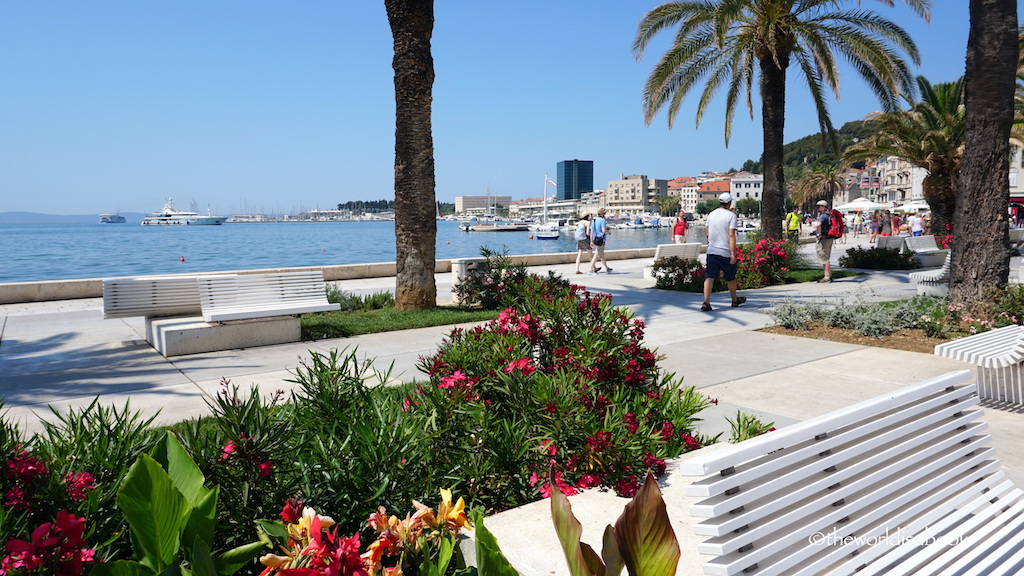 The public area was filled with benches, palm trees, planting beds and plenty of flowers. The Riva is 820 ft (250 m) long and 180 ft (55 m) wide.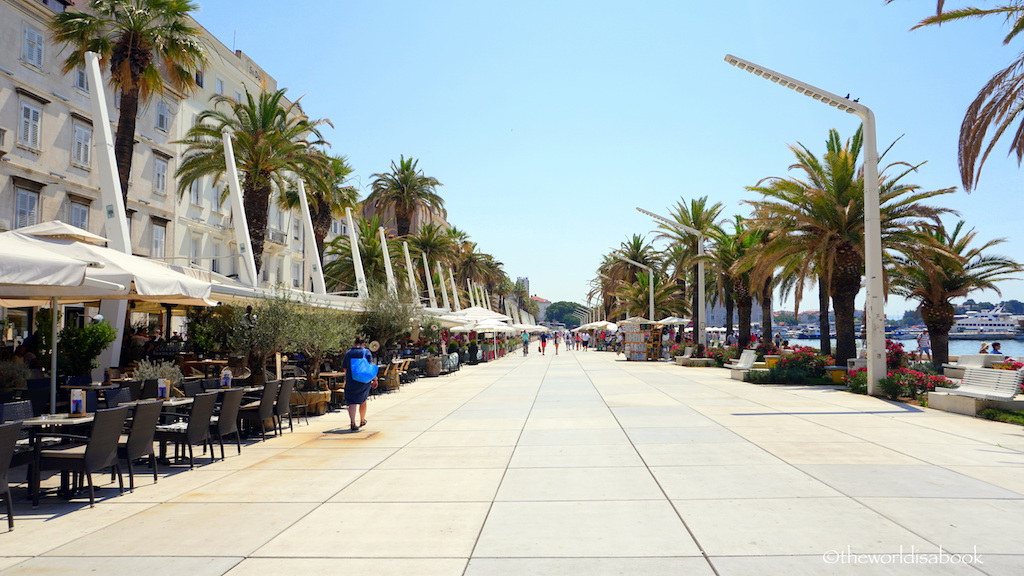 Over the years, its been the site of parades, rallies, festivals and endless get-togethers and meeting points for tourists and locals. The area was also lined with shops and open air cafes. If we were staying here longer, this would have been our hangout area.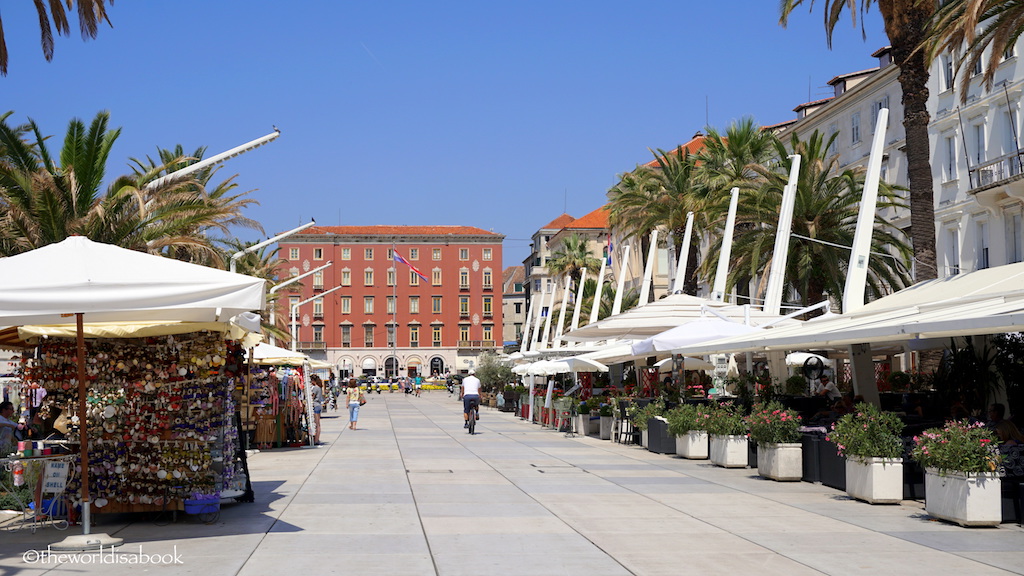 After the tour and boardwalk, we went back to the ship to quickly eat lunch. But, my daughter and I went back into town to further explore Diocletian's Palace and shop. We found some areas to be less crowded than our morning visit.
We also got to spend more time exploring some shops and souvenir stalls within the complex. There were many jewelry and clothing shops and cute cafes. Lavender was sold in many places since Croatia was one of its biggest growers. We now have a supply of Croatian lavender that will last us for awhile.
If you're a fan of the HBO TV show, Game of Thrones, there was a whole shop with so much merchandise related to the show within the palace. The palace was used as a location in the show.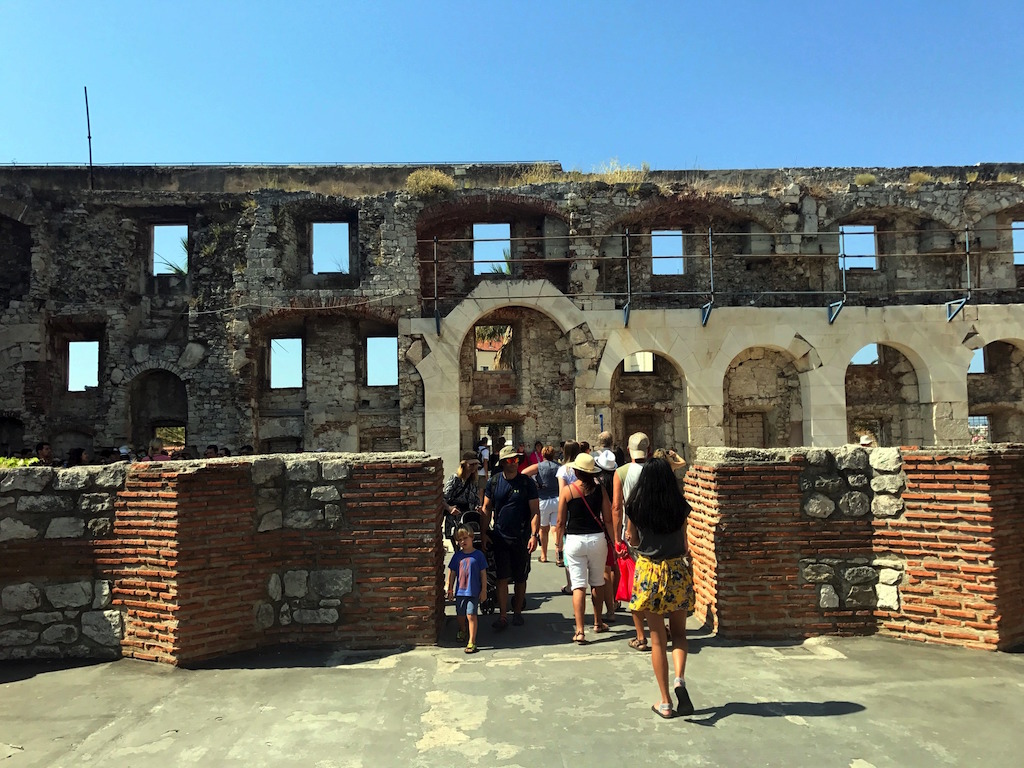 We didn't know too much about Split before this trip. But, this city and along with the minimal time we spent in Dubrovnik made us put Croatia near the top of places to return to for an extended land trip. Split was filled with so much history, interesting architecture, Roman ruins, sandy beaches and friendly and welcoming locals. Even if you're only here for a day, it's easy to see the beauty and history of Split.
Tips for touring Split and Diocletian's Palace
There is no entrance fee or ticket booth into the palace. Get lost inside and explore.
There are entrance fees to the cellars, church and bell tower. A combo ticket is available for the bell tower, Jupiter's temple and church.
Book a tour to explore Diocletian's Palace . We booked our bus and walking tour with Split Sightseeing. You can book online and we paid 20 euros for a two-hour tour.
If you're only here for a day as part of a cruise itinerary, we highly recommend doing this tour to get a good overview of Split and Diocletian's Palace. There were other tours that included beach days and visits to Krka National Park.
Bacvice Beach was about 15-20 minute walk from the Old Town. It was actually closer to the cruise terminal. We saw it from afar and had some large inflatable equipment in the water.
*Have you visited Split or is it on your travel wish list?
Pin it for later!