Doing the Kualoa Ocean Voyage Tour in Oahu
Jurassic Park, Lost, Pearl Harbor, 50 First Dates, Godzilla, Hawaii 5-0 and George of the Jungle. These are just a few of the noteworthy movies and TV shows you may be familiar with that were filmed at Oahu's Kualoa Ranch. The majestic Kualoa mountains serve as the ideal backdrop. We spent the long Labor Day weekend last September to visit family and friends in Hawaii's most popular island.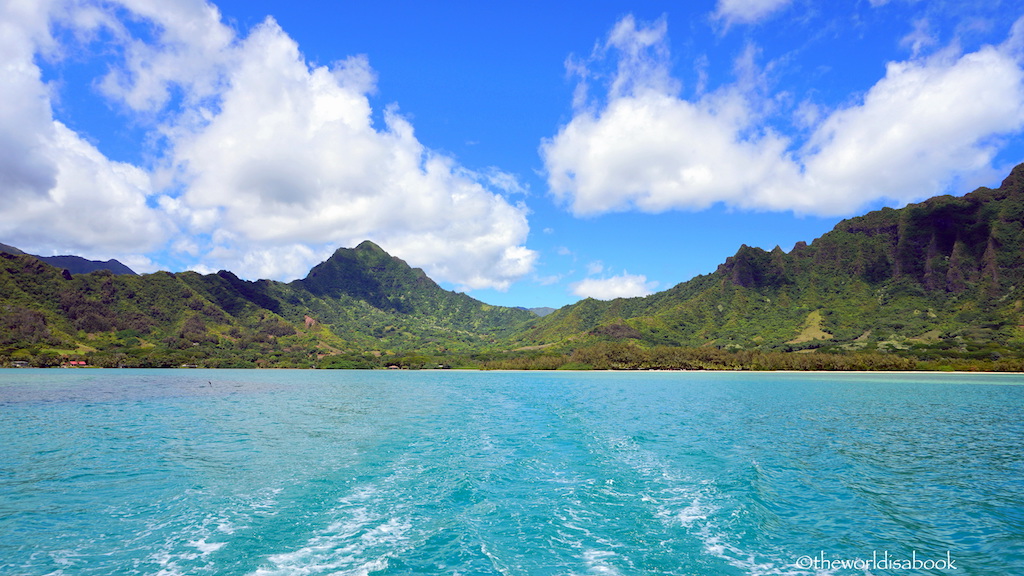 The ranch offers several tours and our family decided to do the Ocean Voyage catamaran tour. I saw photos from this tours. It seemed like the best way to see those amazing jagged mountains and the coastline. And who can ever turn down sailing on Hawaii's incredible waters.
It was a beautiful and peaceful drive to the windward or eastern side of the island and away from the hustle and bustle of Waikiki. What a contrast! I've always loved how green this part of the island is and seeing the residential areas and Hawaiian countryside. If you have some time, be sure to stop by the serene and unique Byodo-in temple which was on the way to the ranch.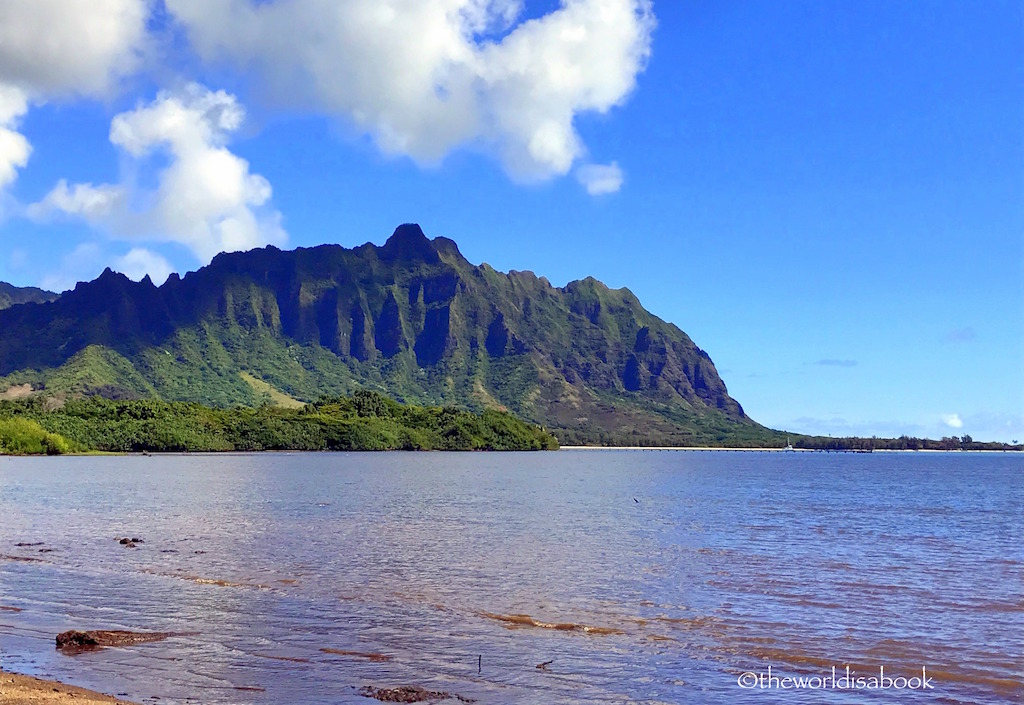 Kualoa Ranch is 4,000 acre private nature preserve. It offers zip lining adventures plus movie tours, jungle excursions, horseback riding and ATV tours. We enjoyed walking around the ranch since we got there early. They have a large store, restaurant and a small museum. We've been to Oahu several times and wondered why we've never visited and done these activities before.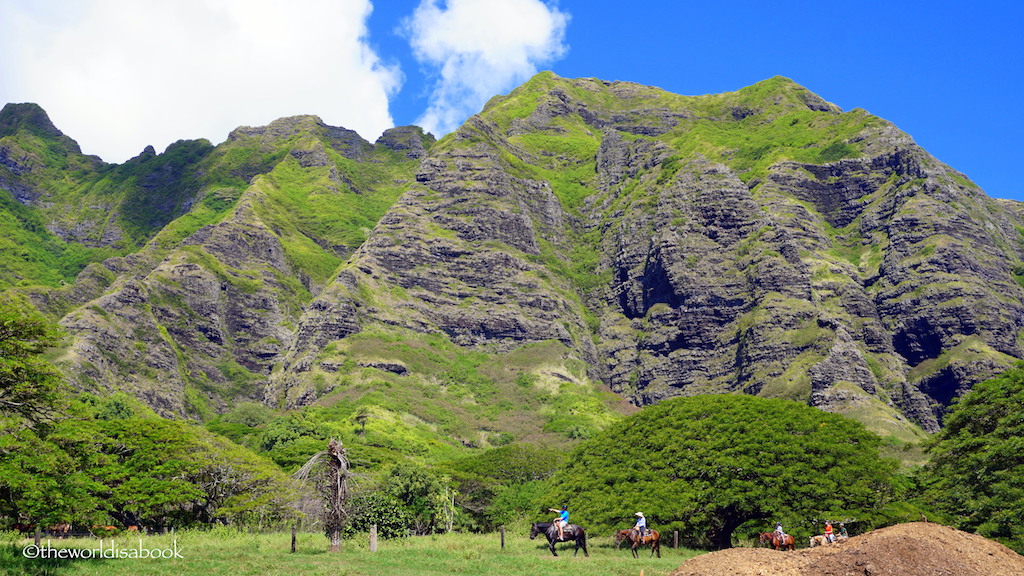 The grounds were beautiful and well-maintained. The mountains up close and the jagged cliffs were even more amazing from here. The ranch has been with the same family for seven generations since 1850. It is also a working cattle ranch and yes, their beef is sold here.
One of Kualoa Ranch's tours is a horse ride through the reserve. So, there were plenty of horses here for visitors to observe and interact. You can even feed some of the horses.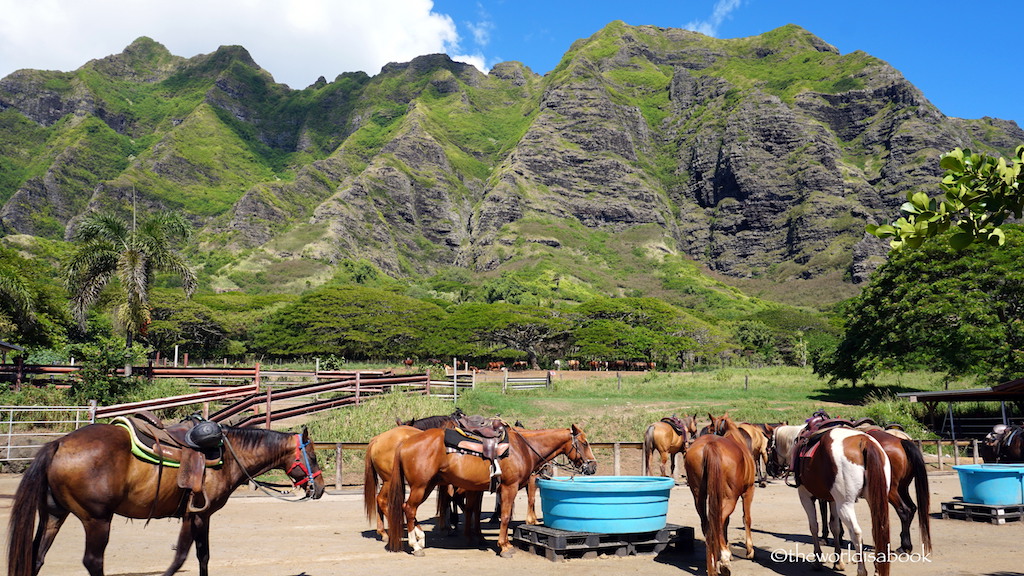 We assembled at designated time and got on an old school bus with our guides to start the tour. There was a guide specifically for the Japanese tourists. Our short bus ride took us to portions of the ranch's tropical gardens.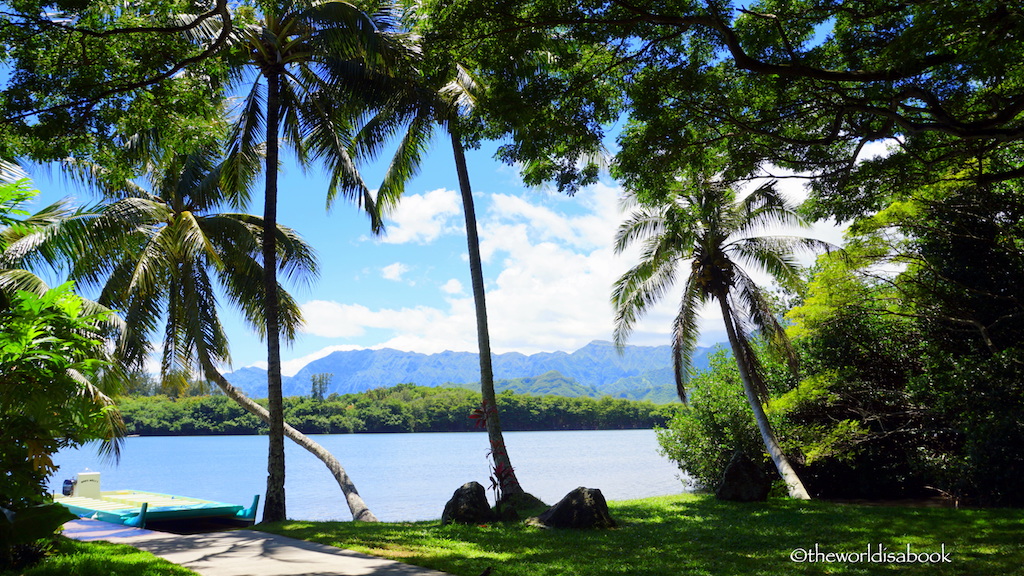 It ended at a dock to ride a small canoe raft across a body of water that looked like an man-made lake.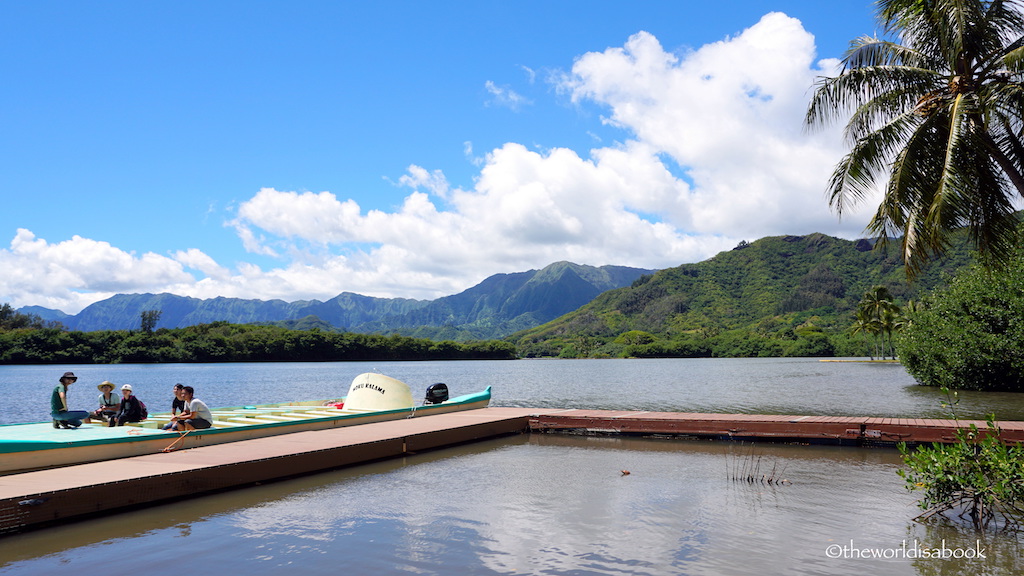 We learned that this was the Moli'i Fishpond. This was an 800 year old, ancient Hawaiian fishpond that was one of the largest and best maintained among the islands. The 125-acre pond had a rock wall that enclosed some parts of it.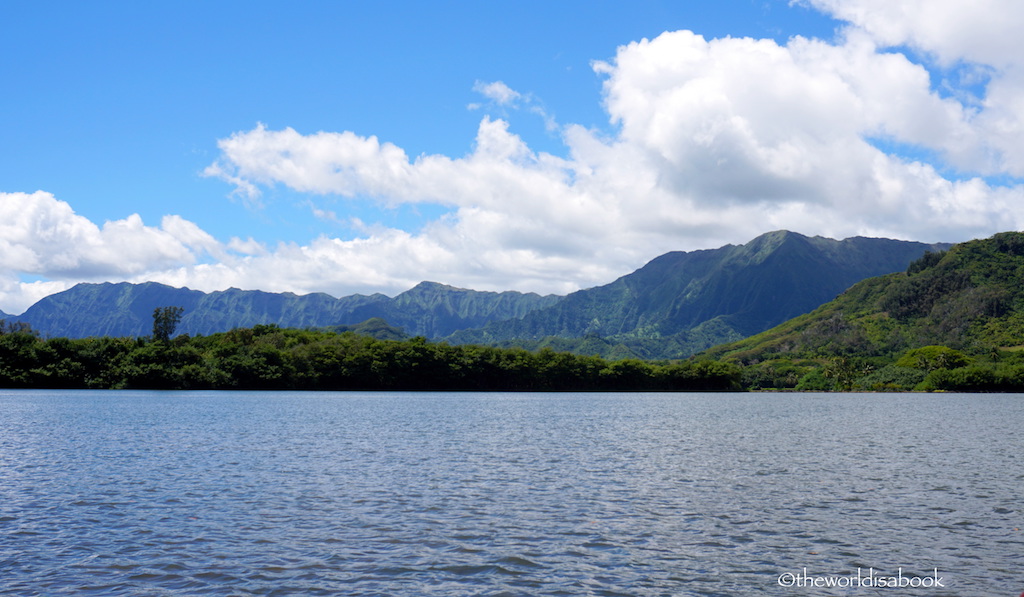 Our small canoe crossed the fish pond and shortly stopped at Moli'i dock. The views from here of the mountain range were incredible. No wonder this is such a popular filming location and became known as "Hollywood's Hawaii Backlot".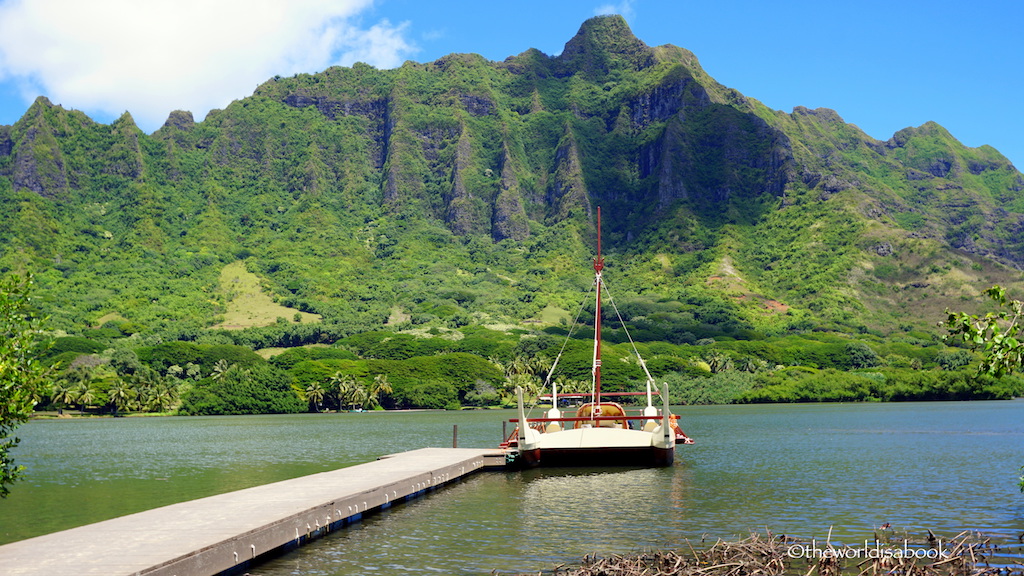 There was something intriguing about docking on the shores of the private Secret Island. We walked through overgrown mangroves and ended up at the secluded Secret Beach.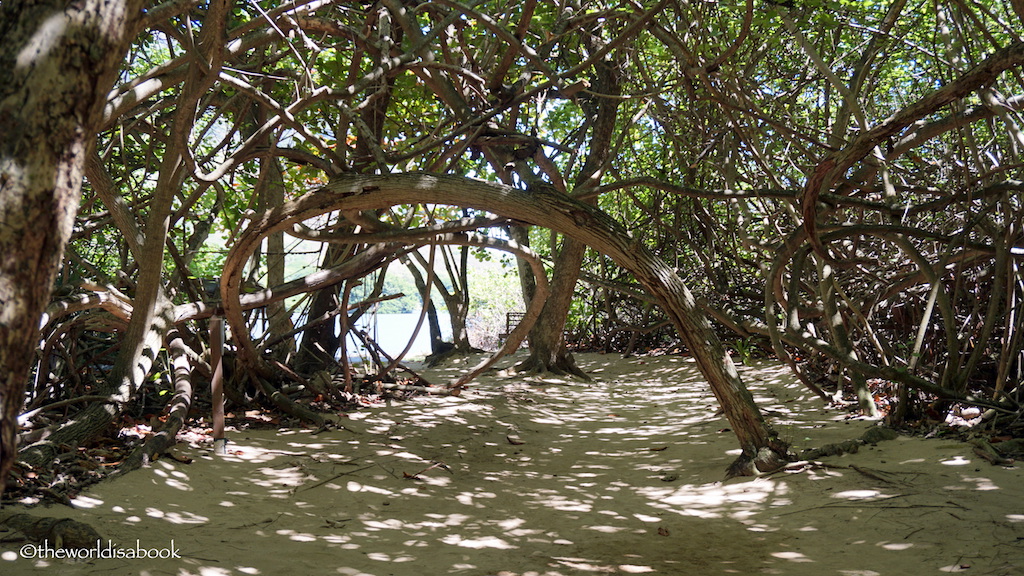 Secret Beach was a separate tour. Visitors can spend the day here with a lot of activities that include kayaking, tiding canoes, stand-up paddle board and beach volleyball among other things. Or you can just relax, sunbathe or lay on one of the hammocks.
The 49-passenger catamaran was docked on the shores of Secret Beach. We longingly looked at the visitors enjoying the beach and actvities. A day at the beach would have to be our next activity during our return visit.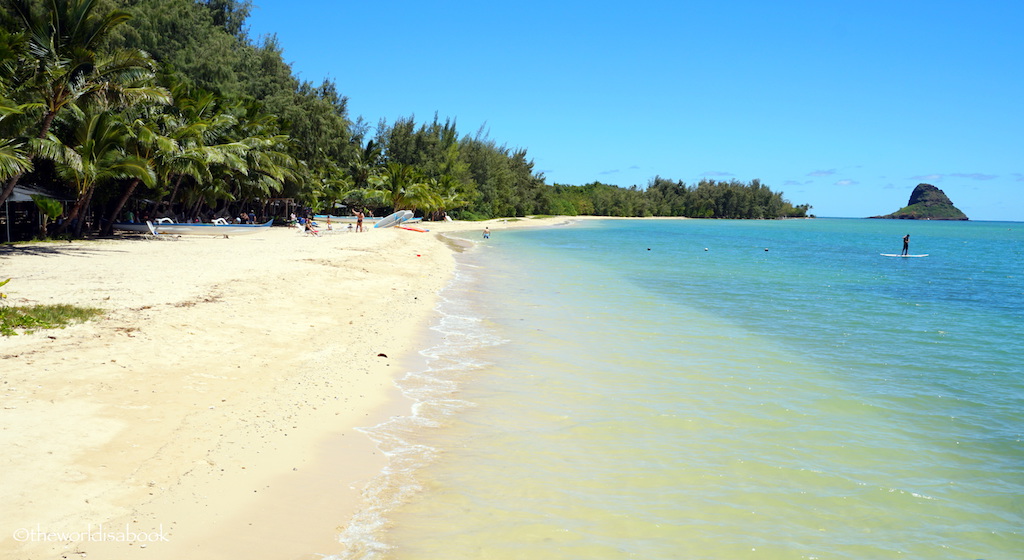 The catamaran was comfortable and there were plenty of seats inside and spaces to roam around. Many of our fellow passengers decided to hang outside. It was a beautiful day to be out in the water.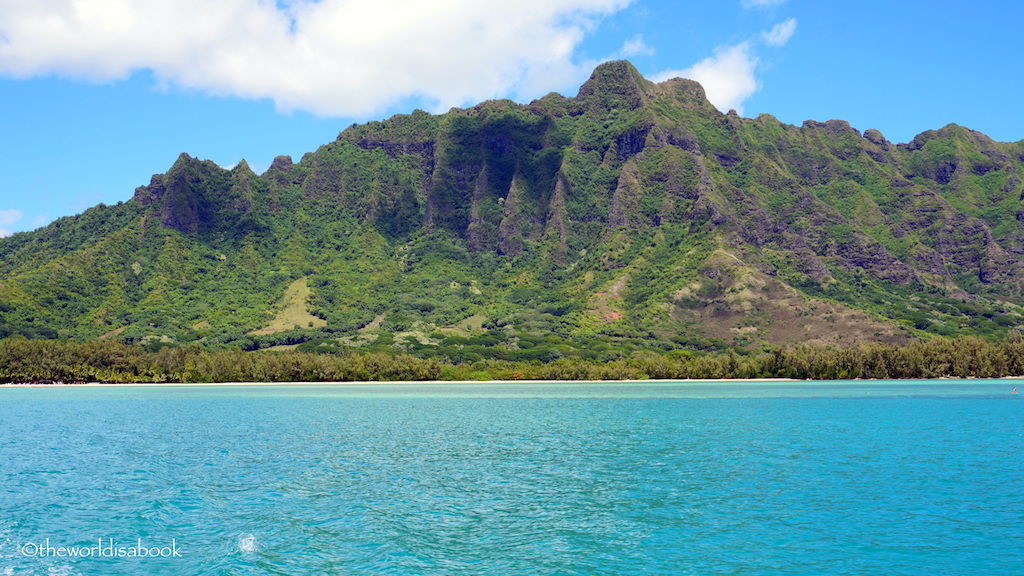 Let's face it, is there a bad day to be out in the water while you're in Hawaii? Kaneohe Bay was glistening during our visit.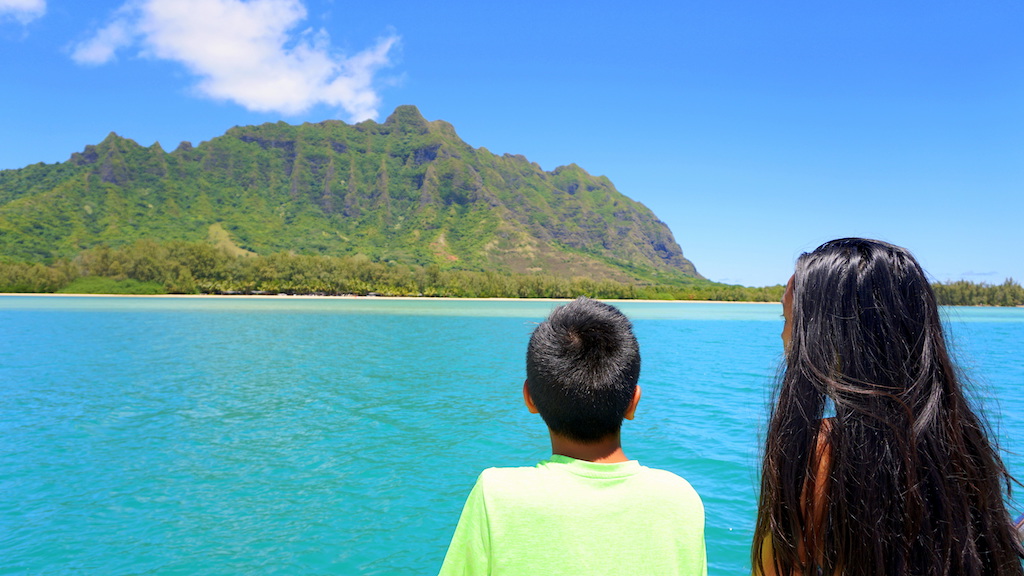 One of the most iconic landmarks while driving on this side of the island is Mokoli'i Island or commonly known as Chinaman's Hat due to its cone shape. It's possible to kayak, ride a boat or even walk the 500 yards during low tide to the island.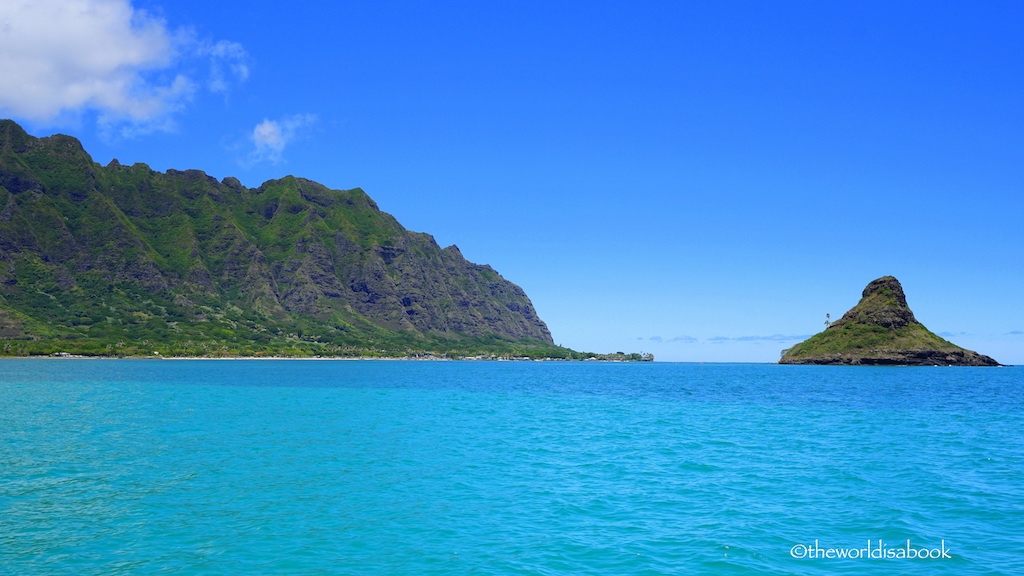 Mokoli'i Island, known as "little lizard" in Hawaiian, offers tide pools, bird watching and some hiking in addition to enjoying its two small beaches. We had a closer view while we were sailing.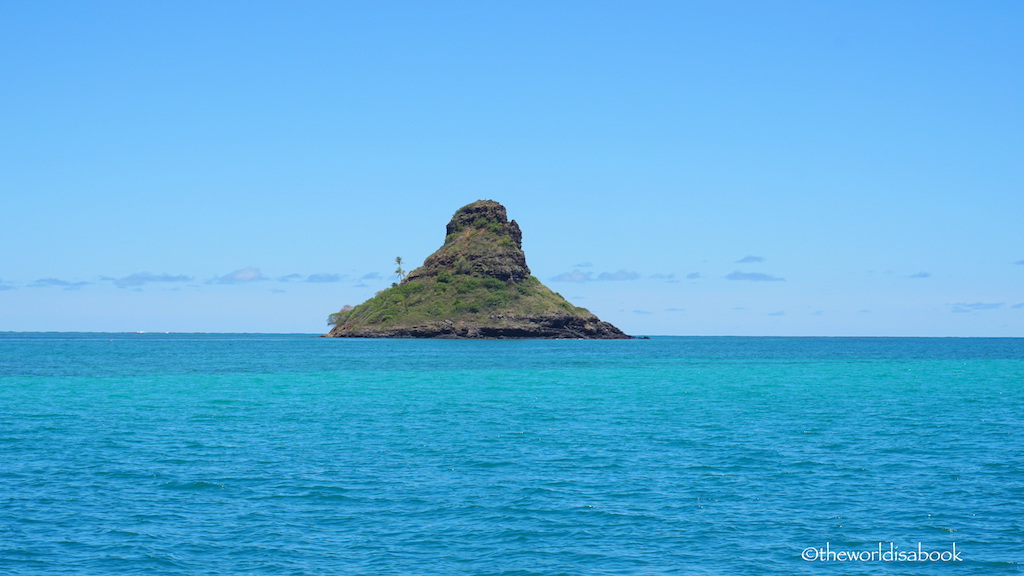 Depending on when you're here, it's possible to spot dolphins and whales in the water. Unfortunately, it wasn't whale watching season yet in September. But, they almost always see the honu or green sea turtles.
We were told to keep an eye for them as we passed by a large coral reef area where they like to hang out. Sure enough, we spotted several turtles but were never able to fully capture them in photos. They went up the surface and dove down quickly.
Look at these fantastic views of Hakipu'u, Koalua and Ko'olau mountains along with the blue water. The whole trip was filled with so much breathtaking scenery. We could have stayed on that catamaran all day enjoying the views and the ocean breeze.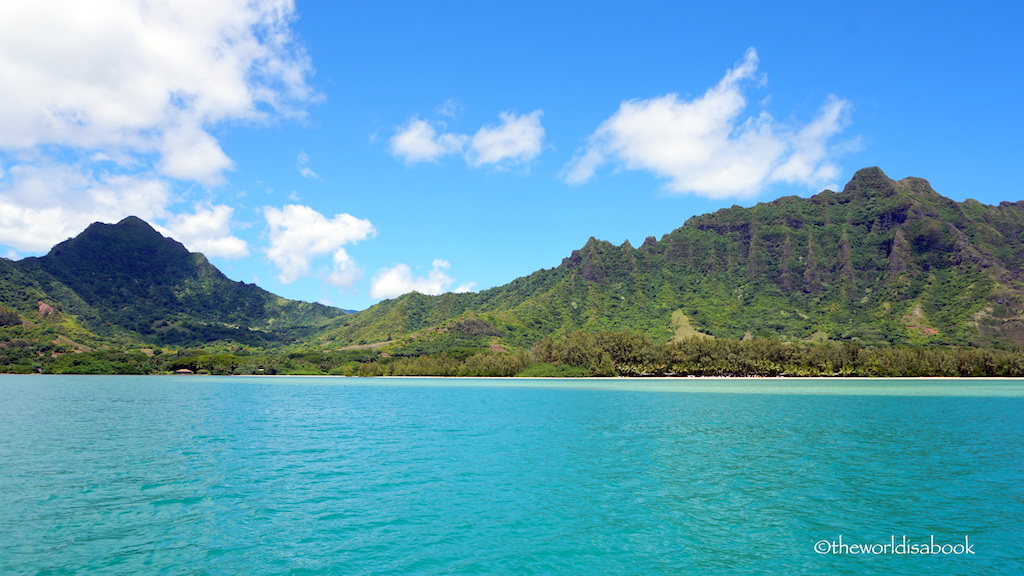 We timed the end of our tour to coincide with eating lunch at the ranch. They offered a buffet and the spread was pretty impressive. But, there was also a cafeteria to order local Hawaiian delicacies.
Their teriyaki plates were delicious. Plus, the views of the ocean on one side and the Kualoa mountains on the other were hard to beat at their outdoor eating area.
The ranch is across the street from the Kualoa Beach Park where you have Mokoli'i Island/Chinaman's Hat as a great backdrop in photos. It's a wonderful place for a picnic. Don't miss a stop here.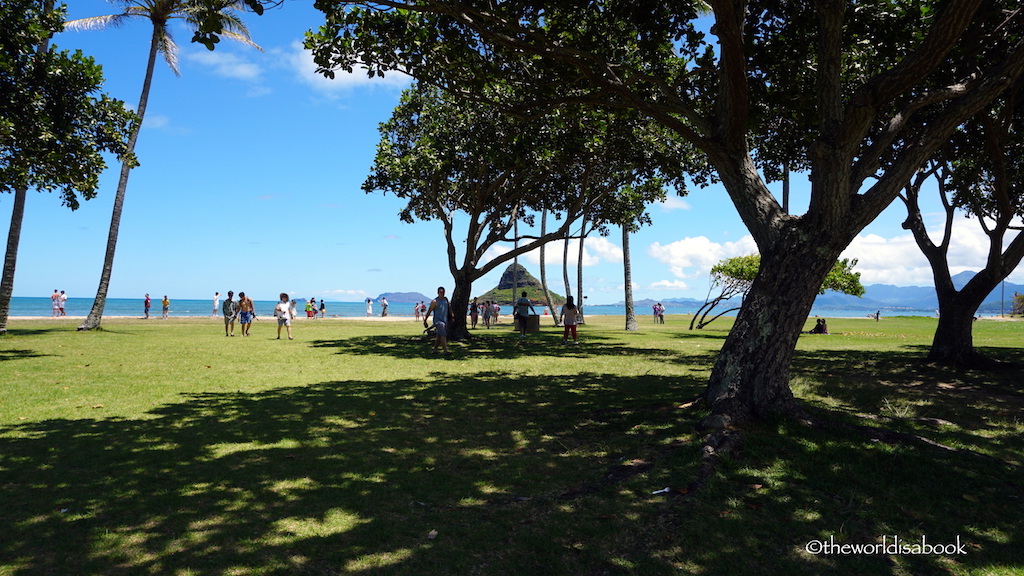 Visiting Kualoa Ranch and participating in one of their tours makes for a fantastic day trip from Waikiki and the high rises of Honolulu. The tours were well organized and offered something for everyone. The landscape is incredible. If you want a relaxing sightseeing tour, then a catamaran voyage tour was the best way to do it. We had such a memorable day during our visit and recommend doing one of the tours whether you have kids or not.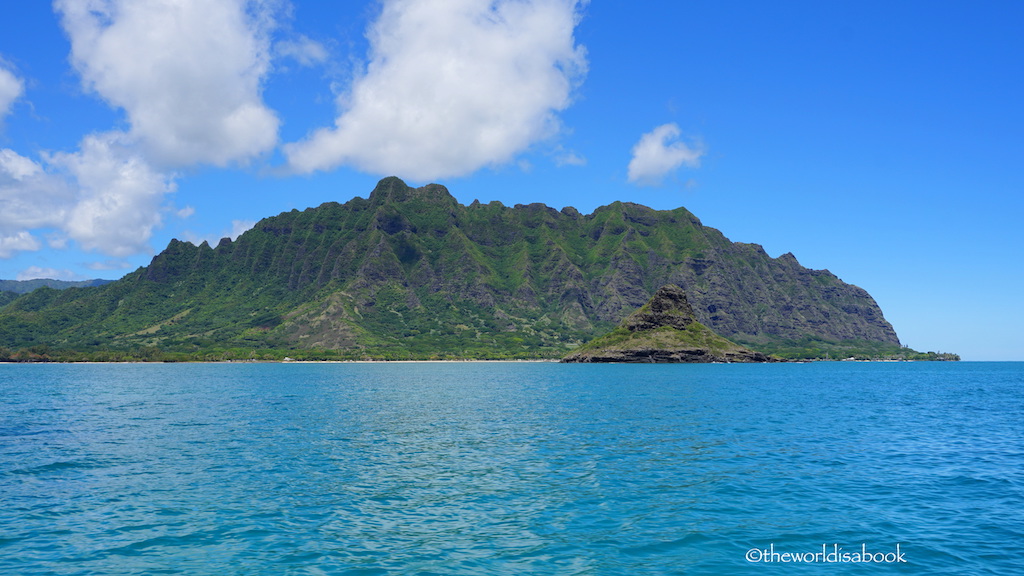 Tips for Visiting Kualoa Ranch and doing the Catamaran Voyage Tour
Reserve the tours online early to get your preferred times.
If you don't have a rental car, they do pickups at Waikiki resorts for about $15 per person roundtrip (as of November 2017).
Most tours are between 90 minutes – two hours. Our catamaran voyage tour was 90 minutes.
Wear sunscreen and bring a hat especially for the catamaran tour. A portion of the tour was riding the canoe raft with no covering.
Go to the ranch at least an hour before your tour starts. Allow plenty of time to drive if you're in the Waikiki area. Our drive took about 45 minutes without traffic.
Enjoy a lunch afterwards at their cafeteria. Prices were pretty reasonable and there were several choices.
Look into getting the Go Oahu Card that allows visitors to go to several attractions for a set price. Customers who purchase the card can redeem one of the Kualoa Ranch tours once per day depending on which Go Oahu Card pass purchased.
Check Groupon for specials and discounted tickets to some of the tours.
*Have you visited Kualoa Ranch or done a similar tour?
Pin it for later!