City of Love: A Day in Verona, Italy
Many of us who are familiar with Shakespeare's Romeo and Juliet know why its setting in Verona, Italy has earned its nickname as the "City of Love". We couldn't pass up a day trip to Verona last summer while we were in Venice for a few days. There was actually so much more to the city than being the star-crossed lovers' residence. See what Verona has to offer visitors and families.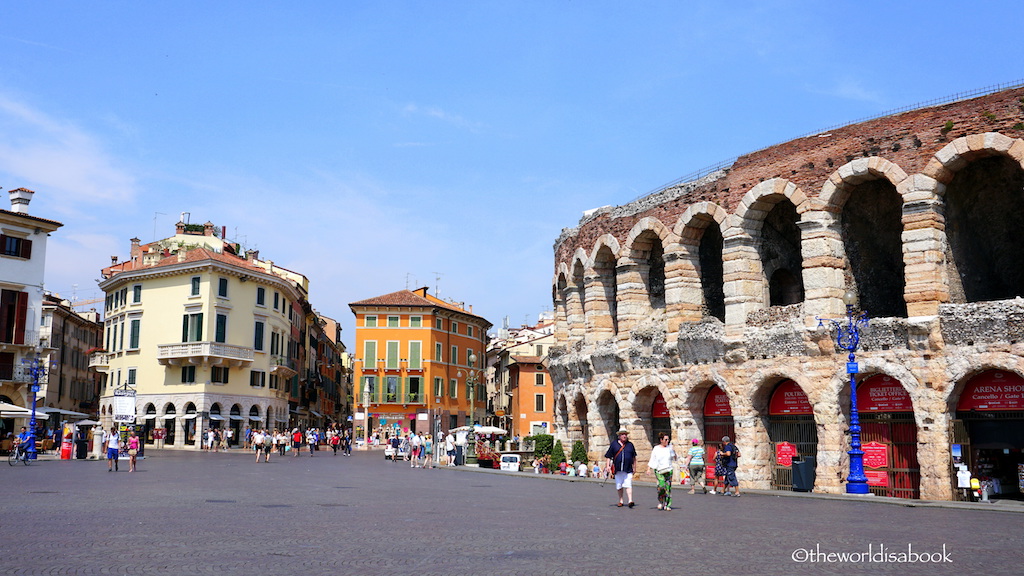 Juliet's House
It's no surprise that the most visited attraction in Verona is Casa di Giulietta or Juliet's House. According to the story, this was the Capulet family's residence but is now a museum solely for Juliet. The 14th century house was restored in the early 1900s to resemble the Middle Ages which was around the timeframe of the story.
The house wasn't too far from main shopping street. There were signs and if all else fails, follow the mass of people that seemed to be heading there. We entered a small alley where one wall was filled with graffiti and love notes written in various languages.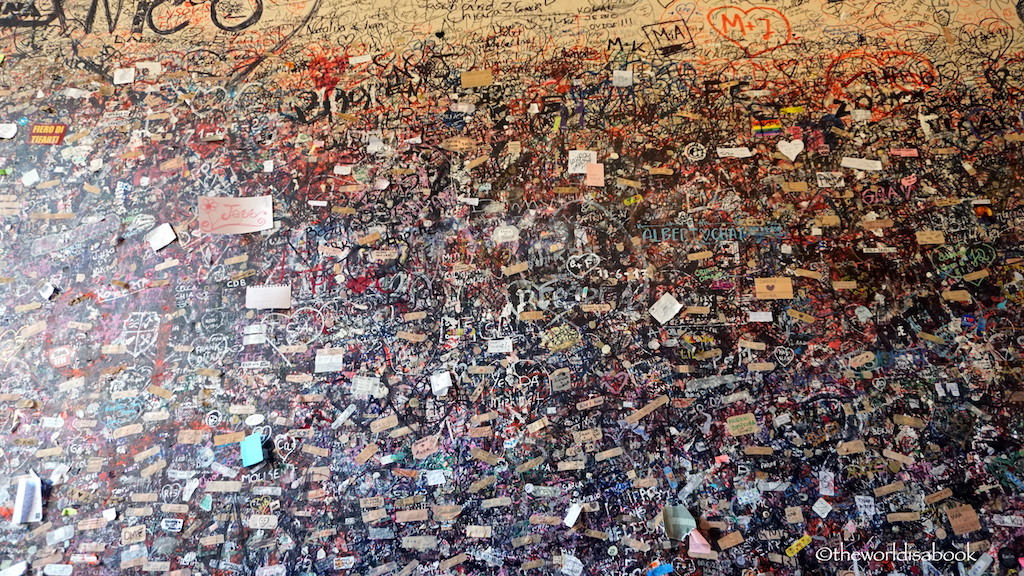 Legend says that if couples write their names and leave it here, Juliet will give them eternal love. One of my favorite contemporary movies is called Letters to Juliet and starts with a woman putting her letter here.
We've seen love locks on bridges around the world. But, this courtyard and city may be the most appropriate place to declare your love and leave those love locks. I'm not sure if this was once a door or wall.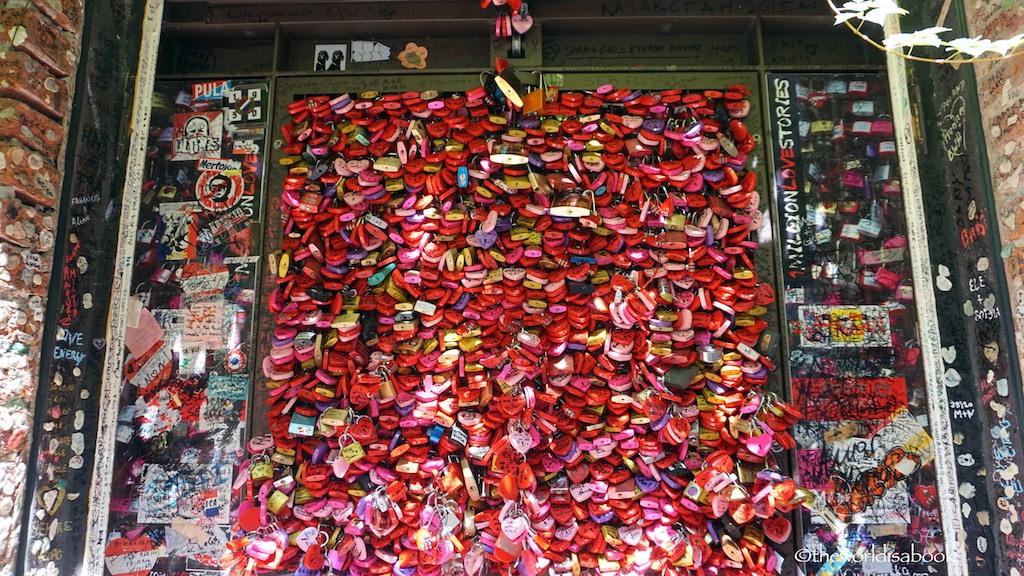 The courtyard was filled with many people during our late June visit. Many were gathered around the star attraction here – Juliet's bronze statue. There was no semblance of a line but more like organized chaos. Everyone just pretty much jumped in at the next available opening.
Other than taking photos next to this famous statue, many (usually unmarried ones) touch Juliet's right breast for some luck in love vibes. My kids didn't want any part in touching the statue. It's a great place to sit back and watch everyone pose or touch the statue. There's a similar Juliet statue in Munich during our walking tour a few years ago with its right breast shining.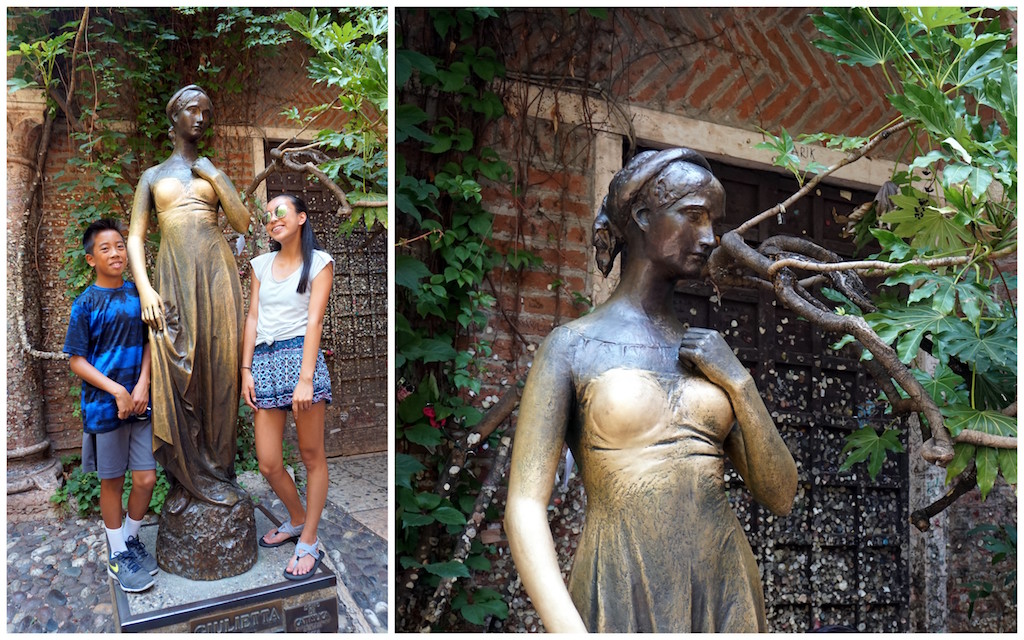 Perhaps, the world's most famous balcony looms over the courtyard. We're familiar with those scenes where the star-crossed lovers made plans from the balcony and declared their love for each other. Many tourists, like us, also wanted to stand on Juliet's balcony.
Though, the only way to get up to the balcony was to pay admission to the Juliet House Museum. This was believed to be a part of an ancient sarcophagus.
Ticket prices were minimal so my daughter and I went in the museum so we can have our balcony photo. My husband and son didn't care for going inside the museum which worked out for us since we needed them to take our photo while standing on the balcony. It makes one recite "Oh Romeo, Romeo, wherefore art thou Romeo?" repeatedly while standing there.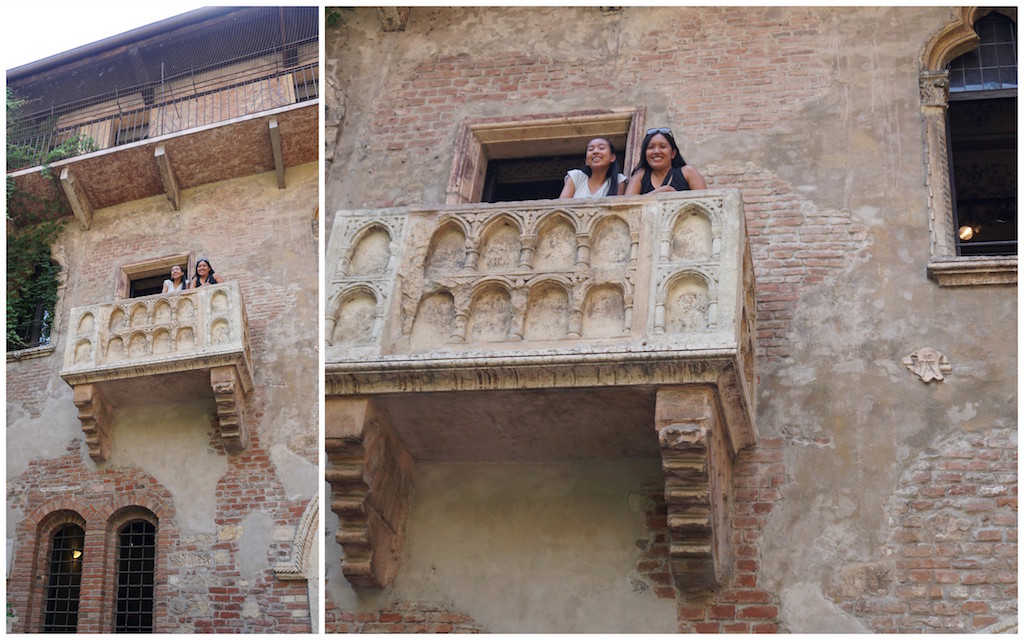 The museum has nine rooms with some period furniture and several frescoes. Juliet's bedroom had the original bed that was used in the 1968 movie classic adaptation of "Romeo and Juliet". Some of the other furniture and costumes were also found around the house. Juliet's study had a kiosk to write letters to Juliet digitally.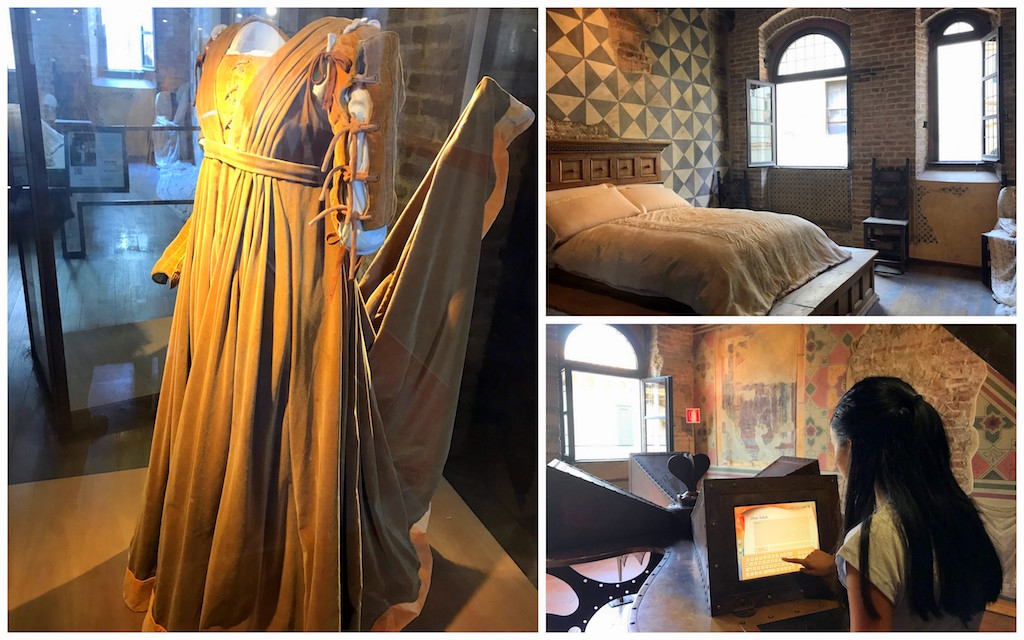 This was the view o f the courtyard from inside the museum. Although,, the crowd had subsided since we first arrived. But, it gave a great perspective of the statue and the famous balcony and what surrounded it.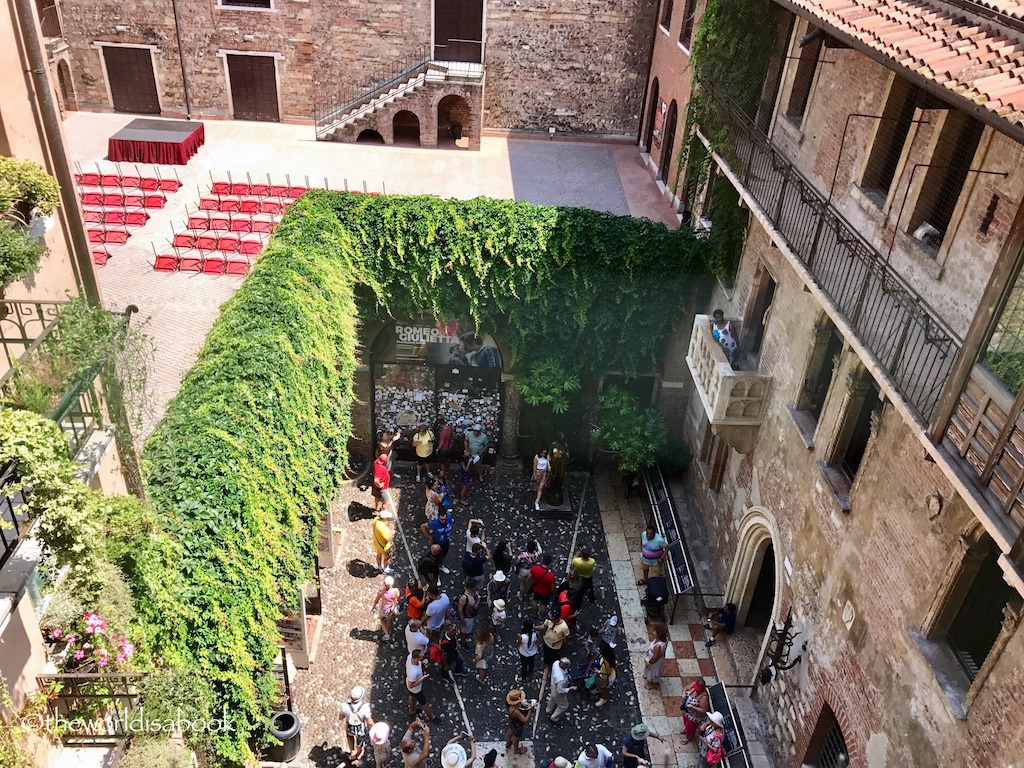 Arena di Verona
Another iconic attraction in the City of Love is the Arena or Roman ampitheater which is supposedly the third largest of its kind in Italy. It was hard to miss this in the city's busiest square and its historic center.
The arena was built in the1st century AD and was mostly made of Veronese marble. It is well preserved and has been restored many times over the centuries. Much like Rome's Colosseum, the Arena was first used for gladiator fights then into tournaments and games. Tours were available for tourists. I was outvoted by my family.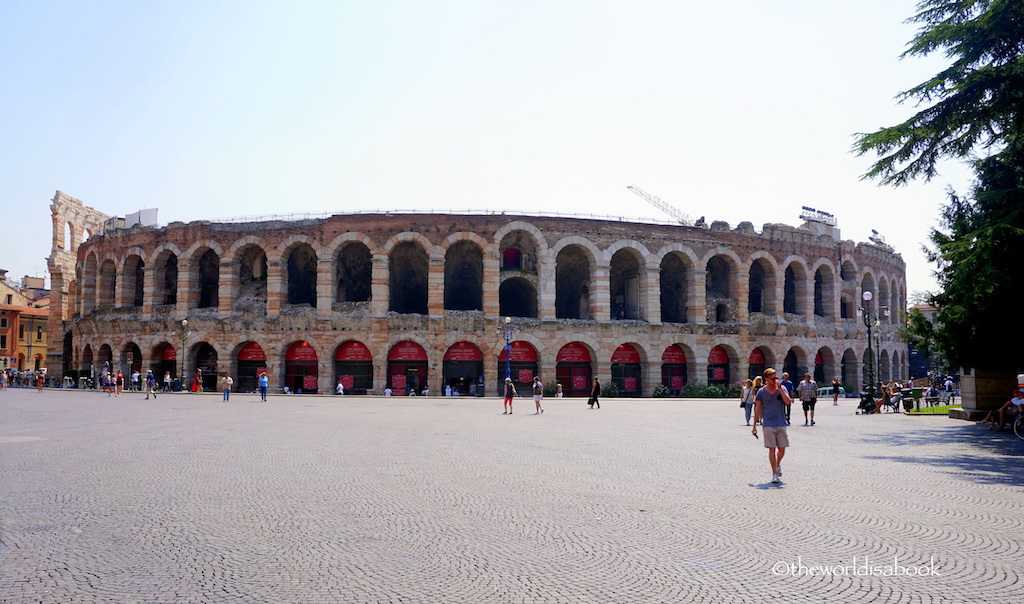 It became an open air theater for operas in 1913. The elliptical shape made for great acoustics. It has tier seating for about 30,000 people with a center stage. There is an annual Opera Festival held every summer at the Arena.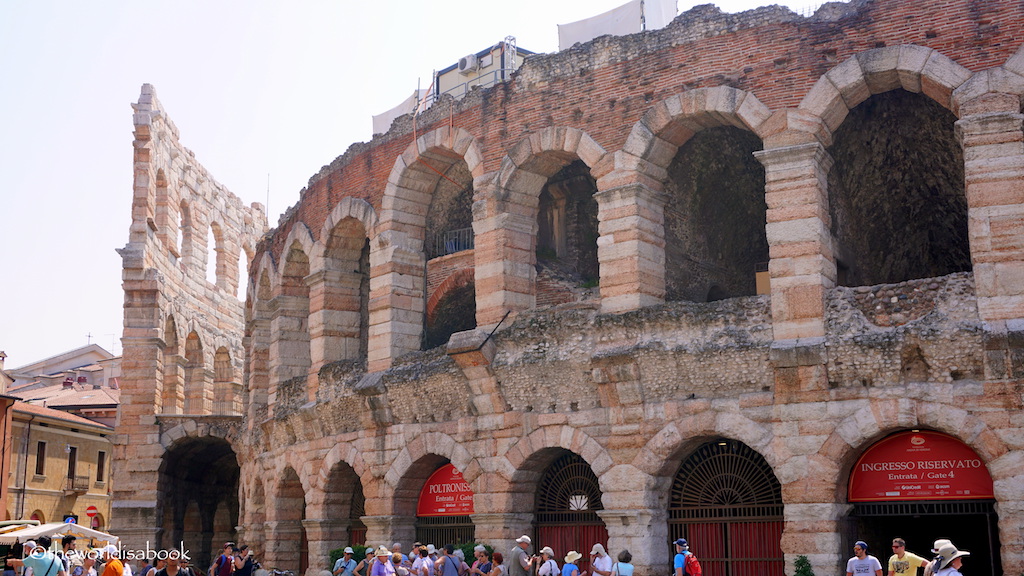 It was the first day of the festival during our visit. It was interesting to see all the activity around the arena and seeing some of the props. Can you see some of them in the photo below?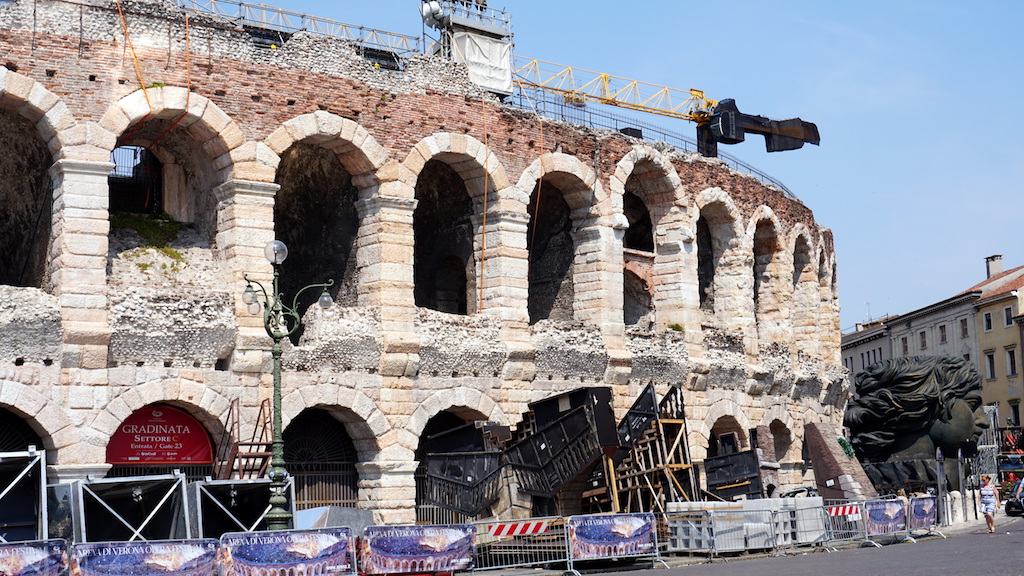 Unfortunately, we couldn't stay the night and watch any performance. Some of the roads were already closed. We couldn't find the start of a tour bus route we wanted to take since they were rerouting everything. What a fantastic venue to watch an opera in a 2,000 year old ampitheater.
Piazza Bra
We loved walking around Verona's squares and plazas. The main square of Piazza Brà was the first one we came across as we entered the historic center. It was anchored by the large Arena and surrounded by historic buildings and many restaurants with street side dining. The name "brà" came from the Germand word "breit" or broad for the spacious square.
There was also a park across the street from the arena. The Fontana delle Alpi or Münchner-Kindlbrunnen was sponsored by the Germans when Munich became Verona's sort of sister city. It was very hot during our visit. This park provided a haven for shade and had plenty of benches to rest our tired feet.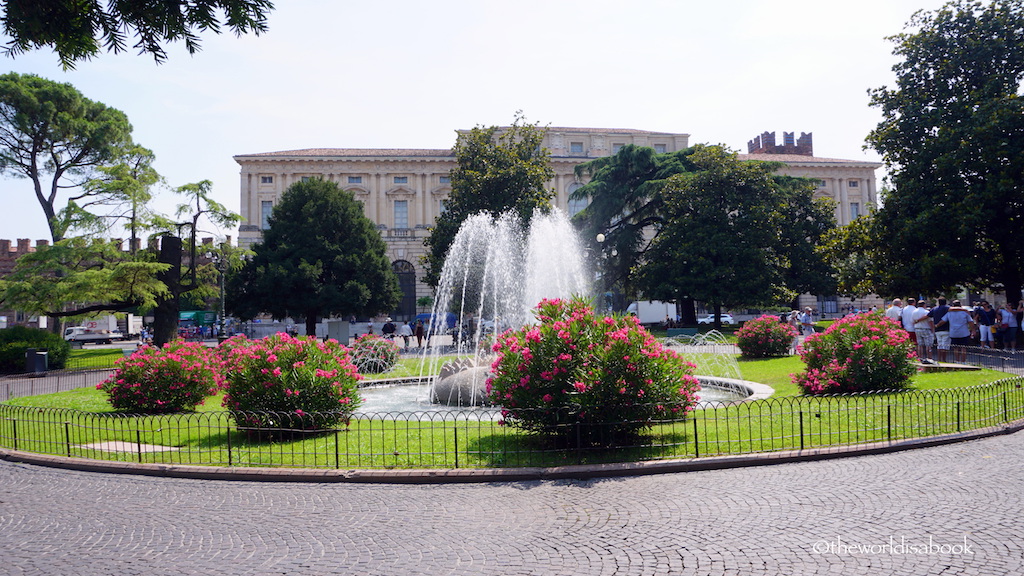 Piazze delle Erbe
Another square we enjoyed hanging out was Piazze delle Erbe or Square of Herbs. This used to be the city center and the old local Roman Forum. There was a local market in the middle of the square with several food, drink and souvenir vendors. We found this to be the best place to shop for souvenirs.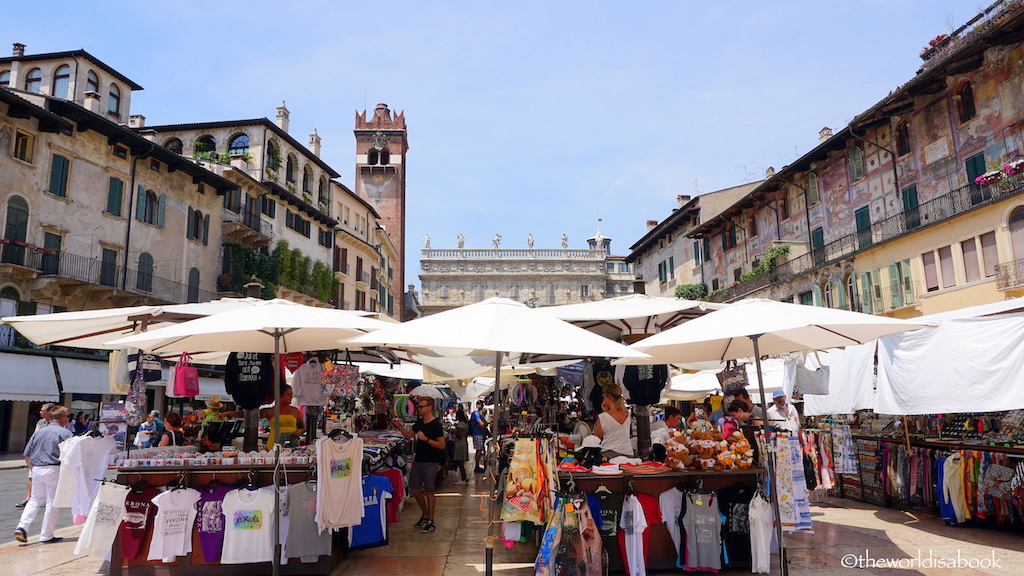 The square has become sort of a meeting point for locals. The middle area was also occupied by the 14th century Madonna Verona Fountain. The Madonna Verona statue stood there gazing down at everyone gathered around the fountain to beat the heat. She was supposed to represent the city.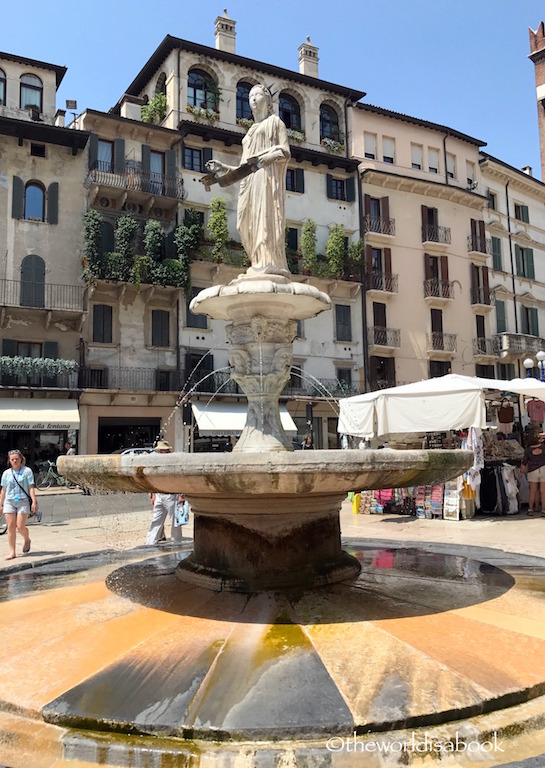 The square was surrounded by several historic and interesting buildings. The former palaces or Mazzanti houses stood out for their colorful frescoes on their exterior. They were amazing and really added such charm and character to an already beautiful square.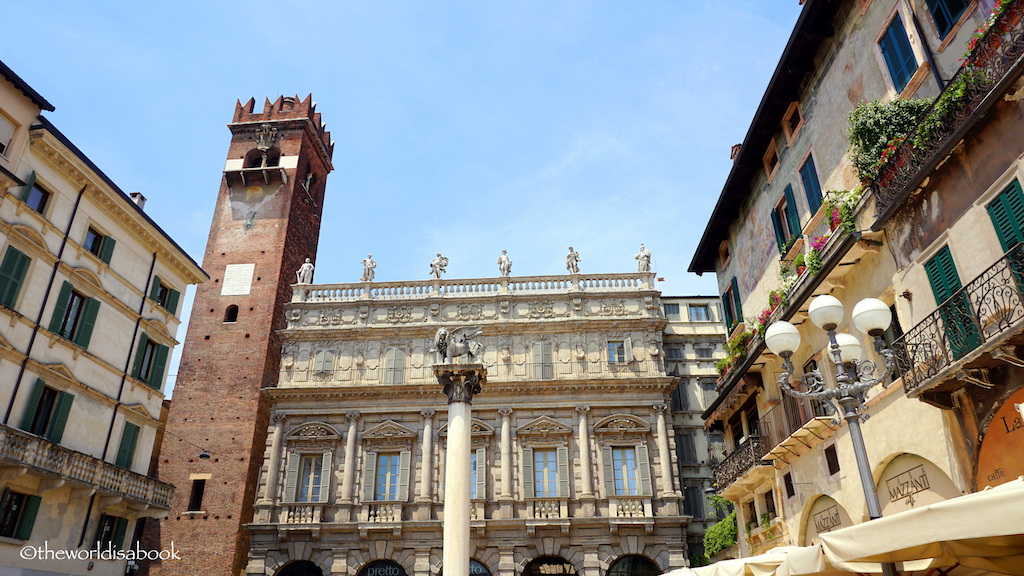 It was also hard to miss the 15th century Lamberti Tower that loomed over Piazze delle Erbe. This clock tower is Verona's tallest and offers one of the best city views.
Unfortunately, we didn't get the chance to go to the top. If you want to enjoy the panoramic views, it has an elevator/lift for those (like us) who don't want to climb the 238 steps. The tower was originally built to keep an eye out for the city for fires and invaders.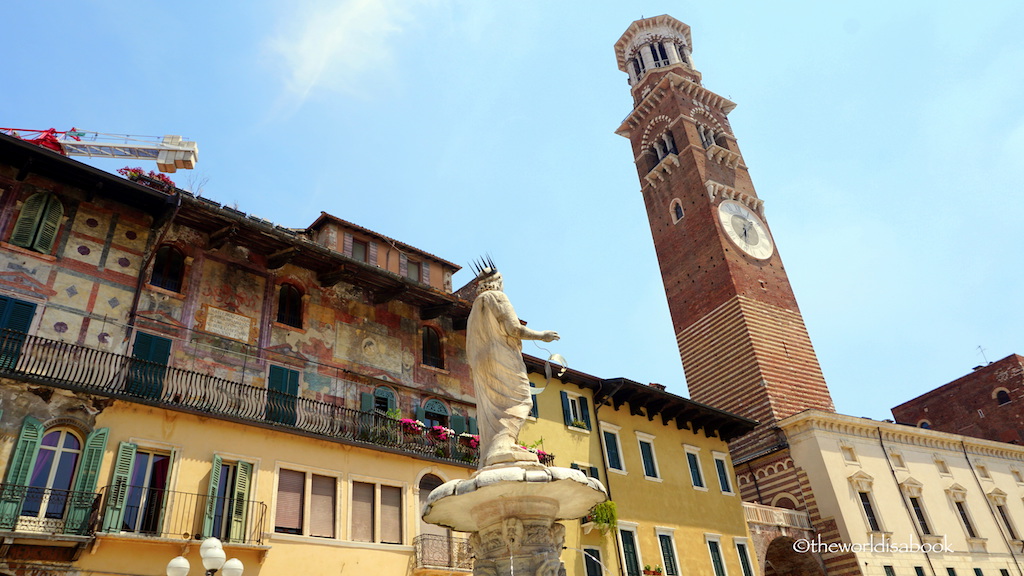 Via Mazzini
Clearly, my teen daughter's favorite area was Via Mazzini. This was the city's largest pedestrianized zone that connected Piazza Brà and the Piazza delle Erbe. The busy street was lined with many shops including several Italian and European fashion brands. This was shopping central!
It was also worth looking up to admire the beautiful  balconies lining the street. If you're craving for some gelato while shopping and sightseeing, there were a few on this street too and they were delicious.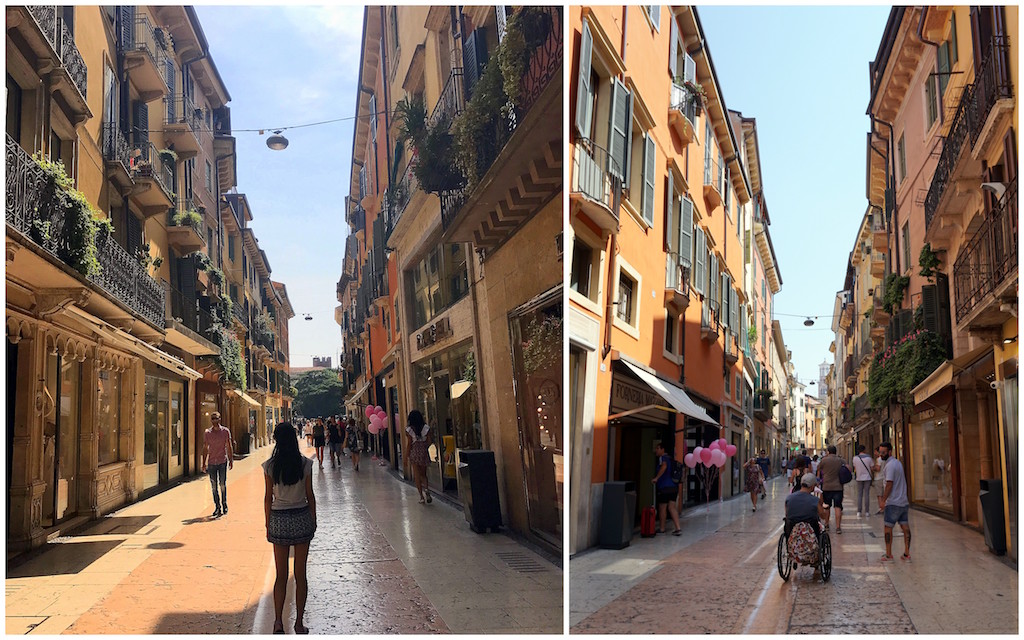 Verona was a wonderful day trip from Venice or other nearby Italian cities. While it may be well-known as Romeo and Juliet's residence, we found a town with so much more to offer with its unique attractions, interesting history and architecture.
It made us wish we had more time to explore Verona. But, if you're short on time, like we were, there was still quite a lot to see to make it a worthwhile trip and will have you longing for more time here and plan a return visit.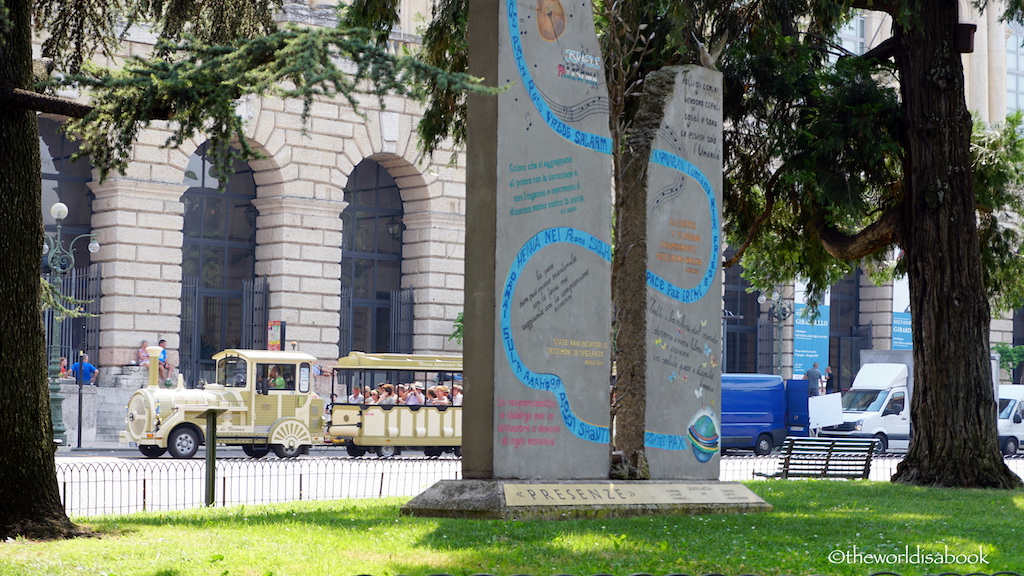 Guide and Tips for Visiting Verona
Getting There: Verona was a quick 1 hour and 10 minute train ridefrom Venice. We boarded a Tren Italia from Venice's Santa Lucia train station and arrived at Verona Porta Nuova train station. Book tickets early for possible specials. Our kids traveled for free (for children 15 and under) with each paying adult during their promotion.
We walked from Verona Porta Nuova train station to the historic center arriving at Piazza Bra. The route was about a half mile and the streets were clean with wide sidewalks.
Do A Tour. We saw some city tours that did a circuit tour around Verona. We planned to take one that would have stopped at the train station but it was rerouted due to the Opera Festival and the tour never arrived at the new designated point. I hope you have better luck than us. This would have been a great orientation of the city. Tour sellers were available near the squares.
Juliet Museum Prices: Standard € 6.00;  € 4.50  for students 14-30 years old and over 60); € 1.00 (Children 8 – 13 years old ); € 1.00 during the first Sunday of the month for the public (January to May and October to December); Free entrance with the Verona Card.
Look into getting the Verona Card if you're here for a few days or plan to see a few attractions in one day. Several attractions, museums and churches are included in the card with a set fee.
If you're visiting on Valentine's Day (February 14) or on Juliet's birthday (September 17),  there are special events to honor Juliet and of course celebrate love in the City of Love. Check the Verona tourism site for details.
*Have you visited Verona or would you want to visit the City of Love?
Pin it for later!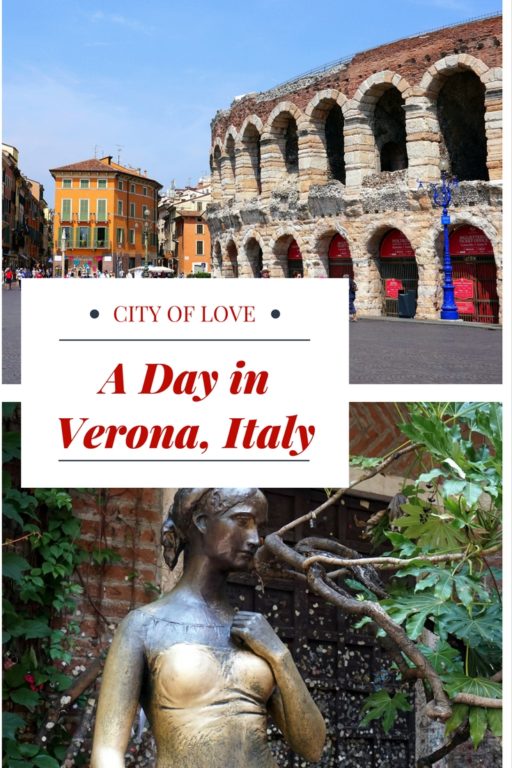 This post is part of Travel Photo Thursday at Budget Travelers Sandbox , Weekend Wanderlust Travel Blog Party, The Weekly Postcard at Travel Notes and Beyond .  Do some armchair traveling and please visit the sites for other travelers' wonderful photos and posts.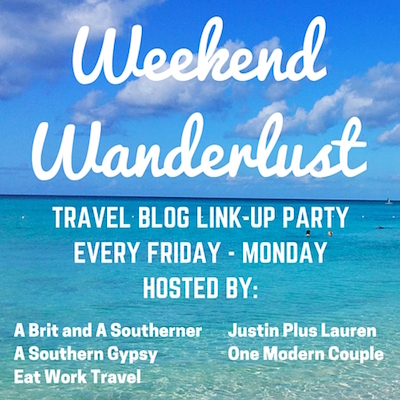 Check out these related posts: