Tokyo Hilton Hotel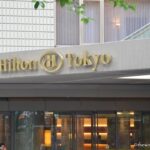 My husband is a Hilton HHonors gold member so we got upgraded to the Executive floors and got a room on the 32nd floor.  This also gave us access to the Executive lounge on the 37th floor with complimentary buffet breakfast during our 4 night stay here. Our flight from LAX arrived at around 5 AM and we got to the hotel at around 7:00 AM.
We walked for 15 minutes from Shinjuku station with our luggages. We were planning to store our baggage and be on our way to tour Tokyo and check-in later. They offered free luggage storage for guests for as long as you needed it even after check-out for late flights. My husband took a chance to see if they would allow us to check-in early. Luckily, they told us to come back around 9 AM and our room would be ready. This was a glimpse of the many great things with this hotel during our brief stay here.
Location
We were so pleased with the Hilton's convenient location and its proximity to the public transportation system which made it a bit easier to get around Tokyo with two kids in tow. There were two subway stations which were a 3 minute walk from the hotel. Nishi-Shinjuku on the Marunouchi Line(Tokyo Metro Line) and Tocho-mae (Toei Oedo Line). They could be reached via the underground walkways from the hotel. There was an entrance by the restaurant and another entrance by the shuttle stop outside leading to Hiltopia which had some restaurants and shops. The walkways were well lit and wide and during the times we've gone were not crowded.
It was a 15-20 minute walk to the Shinjuku station. This was a transportation hub that took us all over central Tokyo attractions along the Yamanote loop on the Japan Rail (JR) as well as day trips to Kamakura and Hakone. With the heat and humidity, we made use of the Hilton's complimentary shuttle to Shinjuku station running from 8:30 AM to 9:50 PM. It was very, very prompt and was a 5 minute ride to and from the station. The buses alternated between a tour bus shuttle and a regular public bus. We were dropped off at Bus Stop #21, in front of Keio Department Store and by the West Exit of Shinjuku station.
It was good to know a hospital was right next door as well. There were plenty of restaurants and convenience stores within blocks of the hotel. We also found a decent size grocery store,Maruetsu, a couple of blocks from the hotel for snacks and fresh fruit.  The hotel was surrounded by many businesses and skyscrapers. These fascinated our kids and they spent plenty of time sitting on the window seat, day and night, looking outside and watching all the activity below.
We had a view of an office building next door where we saw the workers in their cubicles and was amazed that they seemed to be there from when we woke up and remained until 9 PM. There was a small park a block away that we never got to explore. The Tokyo Metropolitan Government building was a couple of blocks away and was visible from our room. Their observatories on the South or North towers were free and offered amazing views of Tokyo and even Mt. Fuji on a clear day.
Service
The overall service was exemplary which was a testament to what we witnessed all over Japan. Every staff member we encountered from the doorman, housekeeping, Executive lounge staff to the reception area were courteous, friendly, polite and helpful. We've stayed at many Hilton properties in the US and including ones in Rome & Paris over the years and by far, this had the best service hands down. We emailed them before the trip to ask some questions and their staff was very quick to respond and informative. It was wonderful to be treated so well and felt as if they were genuinely happy to help us. They had set the bar pretty high for the rest of our stay in Japan.
Room & Amenities
Our Executive room with 2 double beds was a pretty big size comparable to other Hilton rooms we've stayed at. There was plenty of storage with a small closet and drawers. There was a spacious window seat and a roomy chair with an ottoman.  The desk was long and spacious with a comfortable desk chair.  We actually felt pretty lucky considering what we've seen online of typical Tokyo hotel rooms. It was clean, tastefully decorated and simplistic. We only wished the beds were a little bigger and were the actual double bed sizes we have here in the US instead of some sort of superior twin. Luckily, our kids are still small enough to fit in one bed. There were no curtains but a sliding Japanese type window. There was a mini-refrigerator which came in very handy.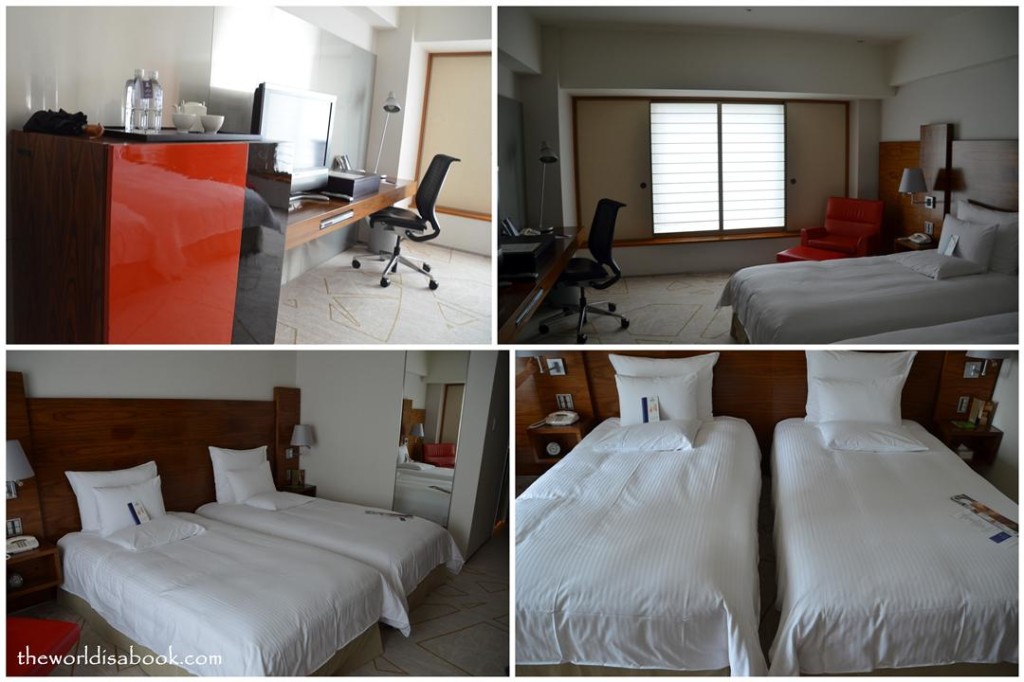 We couldn't believe all the amenities provided for us in our room. We got more Crabtree & Evelyn products than we've gotten from all other Hiltons including toothbrushes, shavers, hair ties, etc. We opened the drawers and were pleasantly surprised to find pajamas for us and the kids. Robes, yukatas and slippers were provided as well.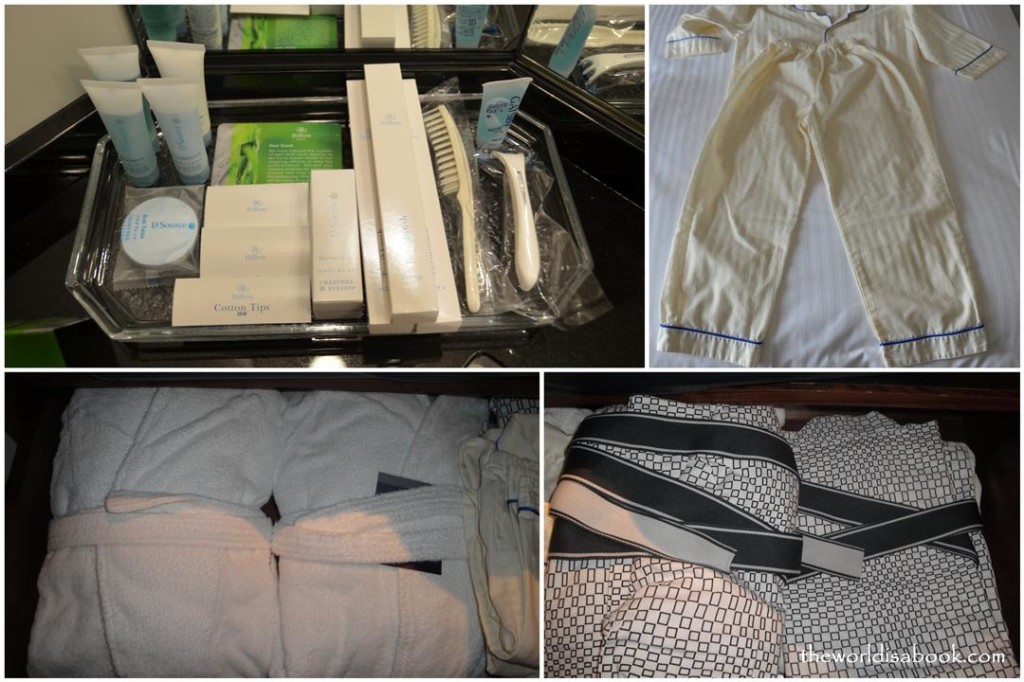 There was a turn -down service that came with origami and a courtesy card indicating tomorrow's weather. There was enough English stations on TV and a cartoon network with English shows for the kids. Granted we were only there at night, it was still nice to have especially when we were resting before bedtime.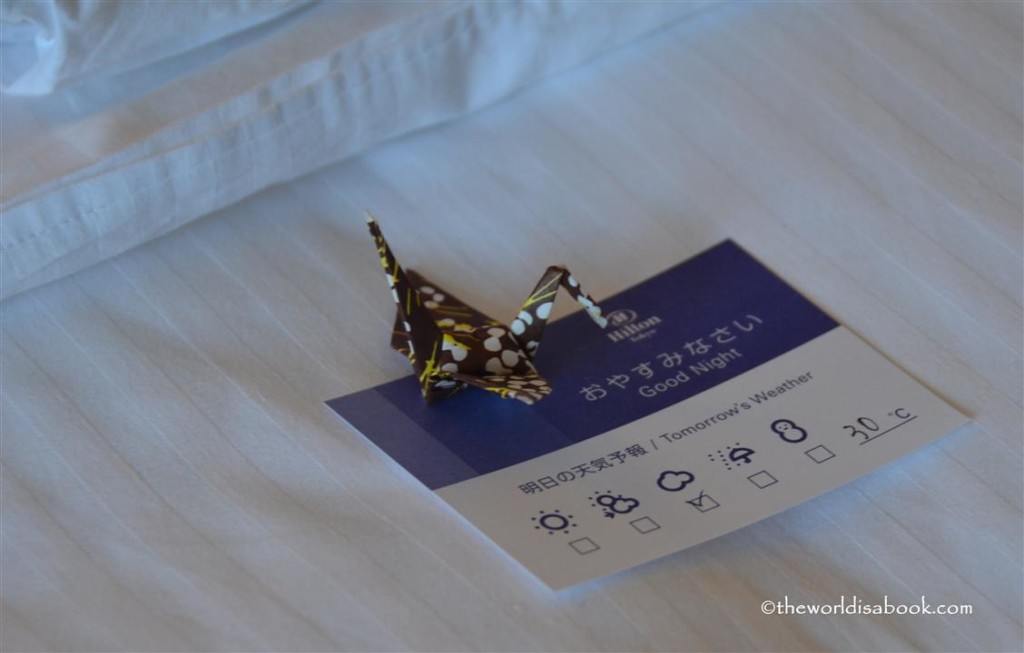 One of the best features in this room for my kids was the toilet. I've always heard about how advanced and cool Japanese toilets and they didn't disappoint. My kids proclaimed it the "coolest toilet ever" with the remote controlled bidets among other things.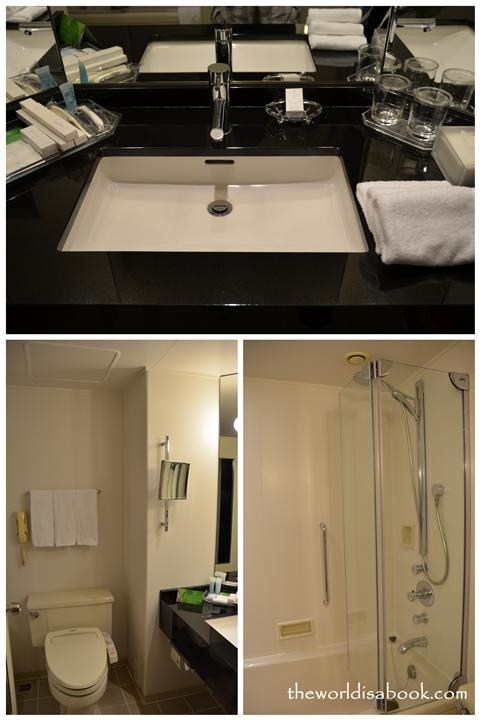 The indoor pool and exercise rooms were adjacent to each other on 35th floor. They were both a bit small but offered great views of the neighboring skyscrapers.
Breakfast Buffet
We ate breakfast at their buffet everyday.  We were given two daily complimentary buffets during our stay and they let our kids eat for free which saved us a lot of money. The restaurant was a spacious area with a lot of seats and couches in different configurations so we never had to wait for a table. There were plenty of selections of pastries and dried cereal. There was also a Japanese section of cold noodles. There were various juice options including a banana juice which became our morning staple. It was a bit like a banana shake but a little thicker. They also had a made to order egg and omelet station. Would we have paid 200 yen for this buffet breakfast? Most likely not since there were a lot of other nearby eateries that offered breakfast for less.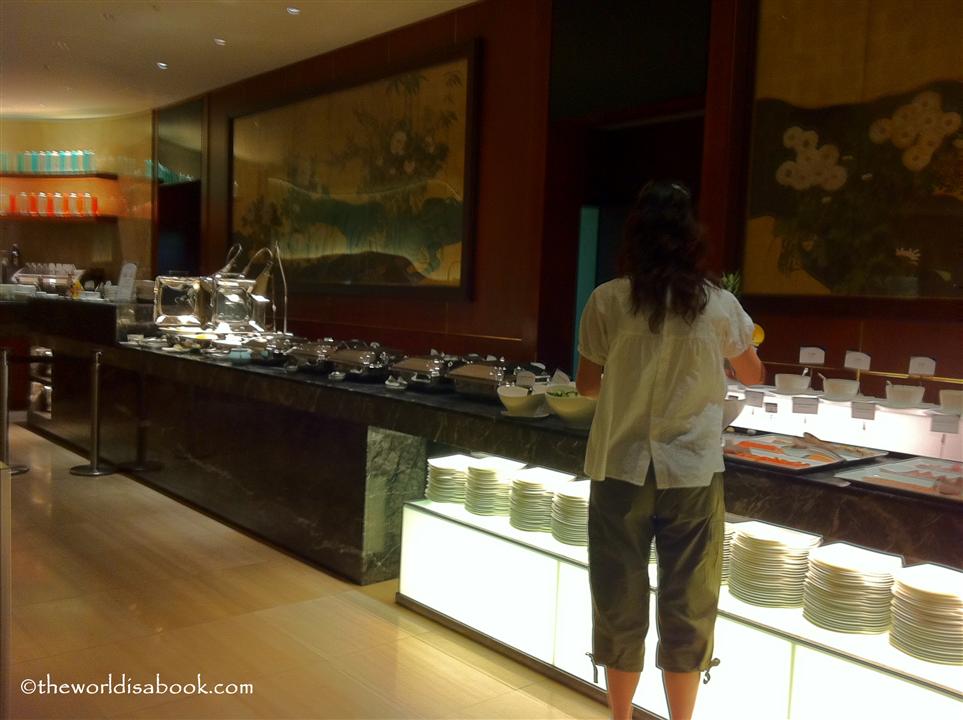 Executive Lounge
We spent quite some time here hoarding milk, sodas, water and snacks that got us through the day and night. It was also the only place we could hang out and have complimentary wi-fi access. We couldn't get it from our rooms.  There were plenty of seats and  was pretty spacious.  There were a few televisions and wide open windows to admire the surrounding views.  They offered a light continental breakfast. There was always someone at the front ready to help. We even ate dinner here one night with the appetizers they offered and surprisingly filled us up. It got pretty crowded between 7-8PM but there was always plenty of staff for drinks.
We would have gladly stayed here for the rest of our trip but they wouldn't/couldn't match the rate we got from Sheraton – which was surprising considering there were 800 rooms at the hotel and there were definitely not that many people roaming around the hotel. It was an overall fabulous hotel and we were very pleased and satisfied with our stay there and would gladly return.
Useful Links:
 Related Posts:
Check out these related posts: