A Day at Tokyo DisneySea
"Where Adventure and Imagination Set Sail".   Tokyo Disneyland is pretty well known but Tokyo DisneySea which opened in 2001 was the other park anchoring Tokyo Disney Resorts. These parks are the only two not actually owned by Disney but by Oriental Land Company, a Japanese company with licensing rights from Disney.
This park though is completely unique due to its water-centric theme. There is no Main Street but the focal point is the water area and volcano called Mt. Prometheus.   Tokyo DisneySea has seven "ports of call" instead of "lands" with most rides and attractions unique from the other theme parks.  These areas were:
Mediterranean Harbor
American Waterfront
Port Discovery
Lost River Delta
Arabian Coast
Mermaid Lagoon
Mysterious Island
The visit to this park was one of the things we had anticipated the most during our trip.  We took the JR Train to Maihama Station on a Friday morning through the very huge Tokyo Station and a very, very long walk to the connecting train. There were plenty of signs pointing to the resort line.
From the JR Maihama Station, we walked out to a shopping center area and the resort's monorail station. The monorail went on a loop through the Disney Parks and the nearby Disney hotels passing through the elegant and stunning Disneyland Hotel. I wish we had enough money in our budget to have stayed here. It made the original Disneyland Hotel in Anaheim look somewhat simplistic.
Unfortunately, we had to pay to ride the monorail which was 250 yen (about $3)  for adults and 13o yen for children for a single trip.  One to four day passes were also available ranging from 650 yen to 1400 yen.   This just seemed a little expensive to travel within the resort.  The monorail was fast and made us feel like we were already at the start of our Disney adventure. The handlebars and windows were shaped like Mickey ears much to my kids' delight.
We got there around 10:30AM (park opened at 10) and there was barely a line at the ticket booth. That day (July 8) was the start of the summer promotion of kids (4-11) going for less than half price at 2,050 yen(about $25).  This was the main reason we scheduled our visit for that day which was towards the end of our trip.  We saw an article on the LA Times on different ways Japan was trying to entice tourists and this was one of the promotions.   Adult prices were at 6,200 yen (about $77) which was comparable to the US park ticket prices.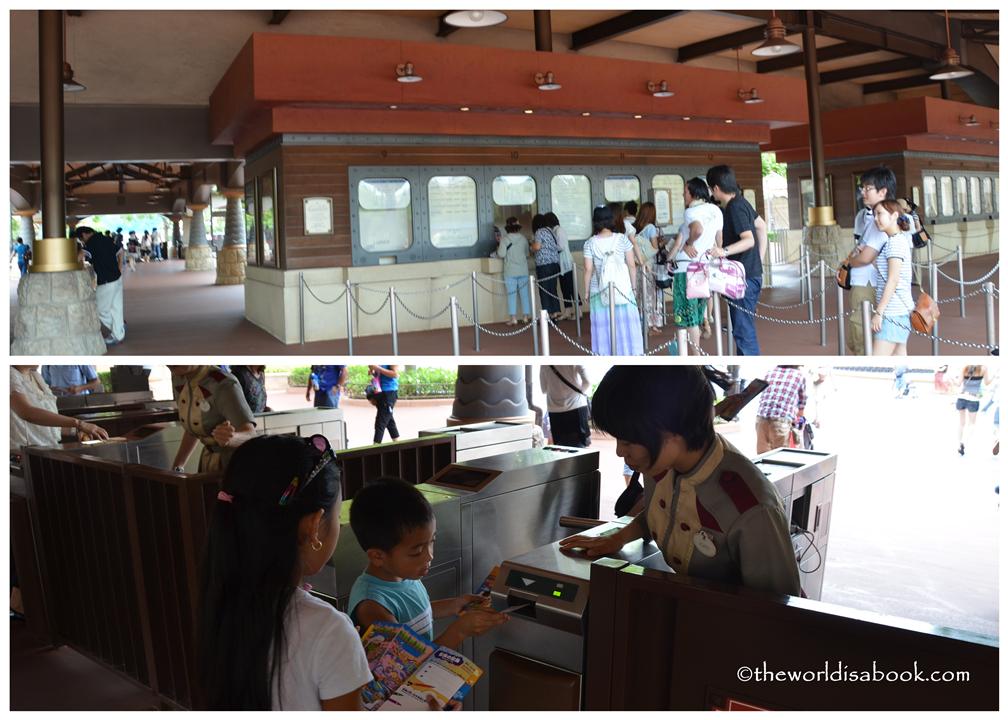 The kids were given an adventure book with questions, quizzes, stickers with their tickets. It was a good little activity book that made them aware of their surroundings and engaged them with the various rides and attractions. They carried this around throughout the day and were eager to fill them out as we entered each area.
Upon entering the plaza, we first spotted Mickey Mouse in his safari type costume. The kids ran to the end of the line to take a picture with him. Unfortunately, we were told the line was closed and the cast member wouldn't make an exception even after seeing the disappointed looks on my kids' faces.
I guess rules and timelines have to be followed. I was just hoping they made an exception for these tourist kids considering there was no one behind us. My kids settled for waving to Mickey and we told them they'll have plenty of chances to see Mickey throughout the park. Luckily, they forgot about it as soon as we walked towards the entrance.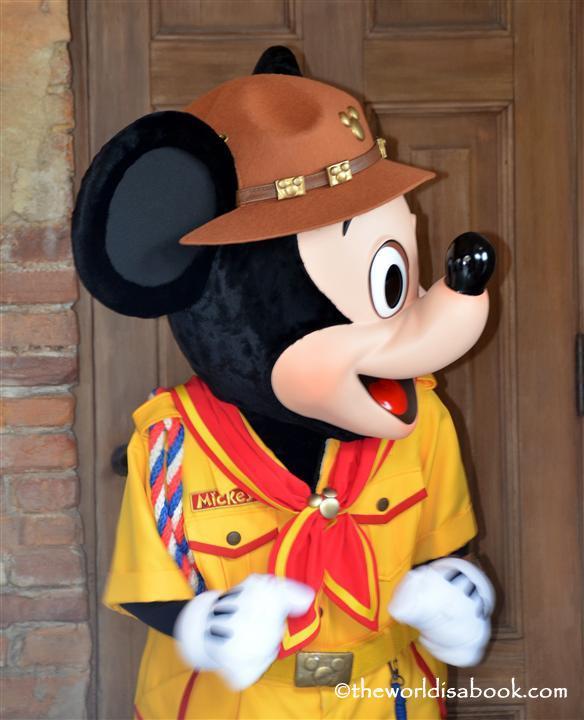 The entrance area is a plaza with a big globe and we entered through the back of Mediterranean harbor.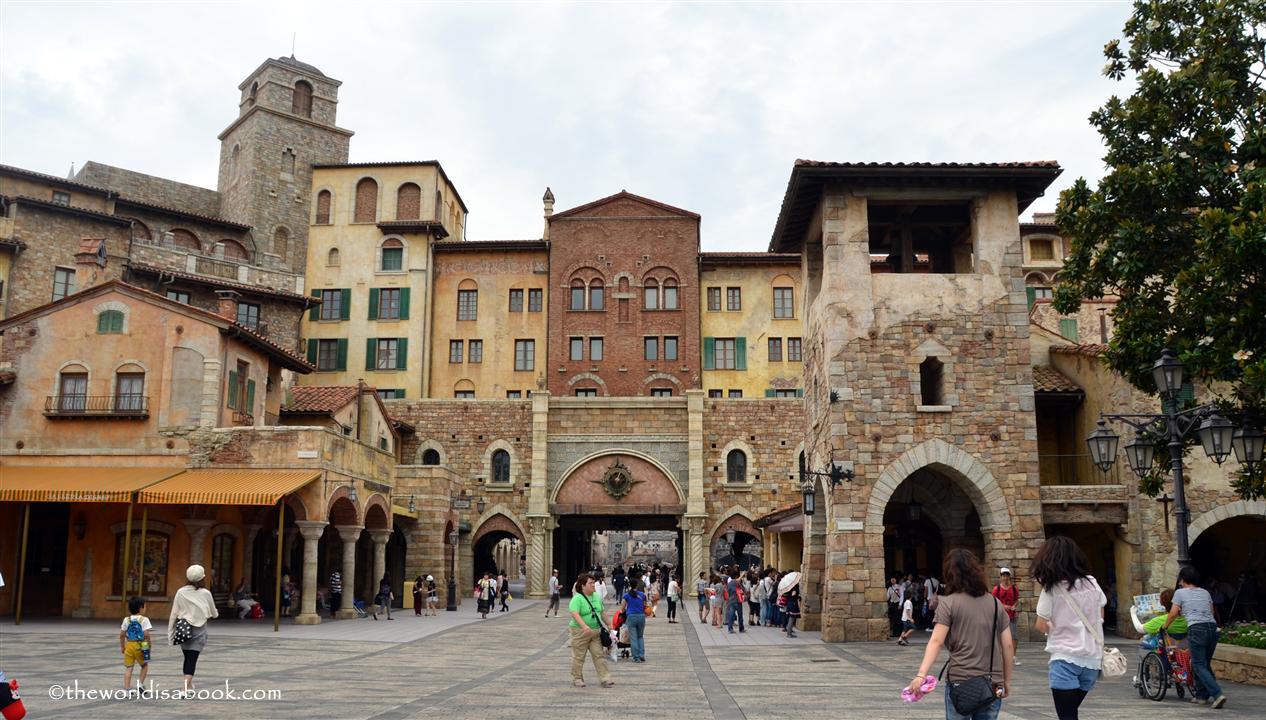 We were greeted with a wide open space, a big body of water and Mt. Prometheus looming at the center. All of us let out a big gasp of awe upon seeing this picturesque setting.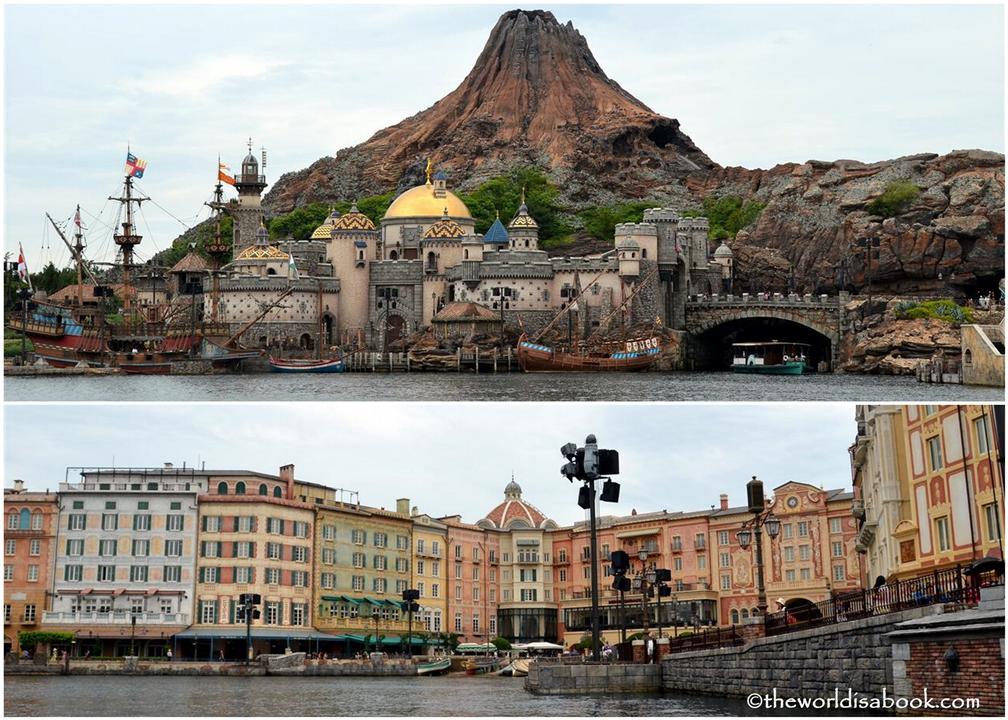 It felt like we were in an Italian coastal village.  There was also the Hotel Miracosta located inside the park right there in one of the harbor buildings.   We could see some of the lucky guests lounging in their balconies which added a little bit more authenticity to the village.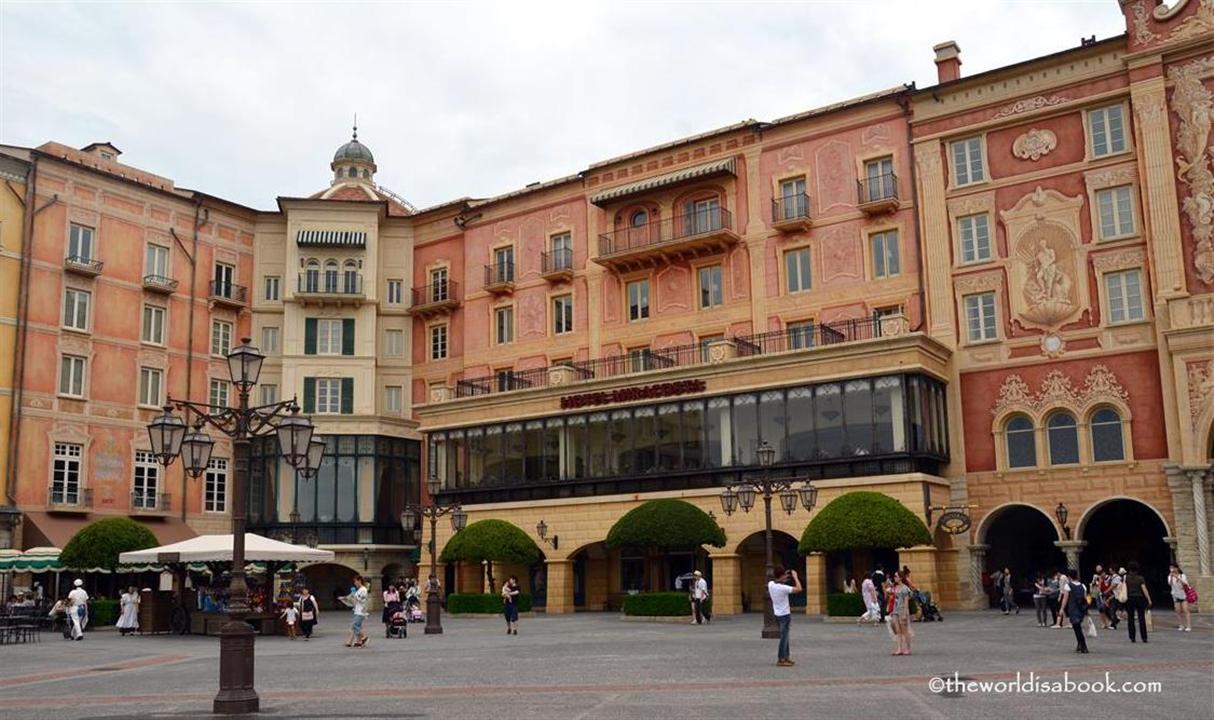 Our first ride was the Venetian gondolas which was towards the left of the entrance.   The recreation of Venice with its buildings and frescoes was pretty darn close and was amazing.  There were also seats available to wait for the gondola ride.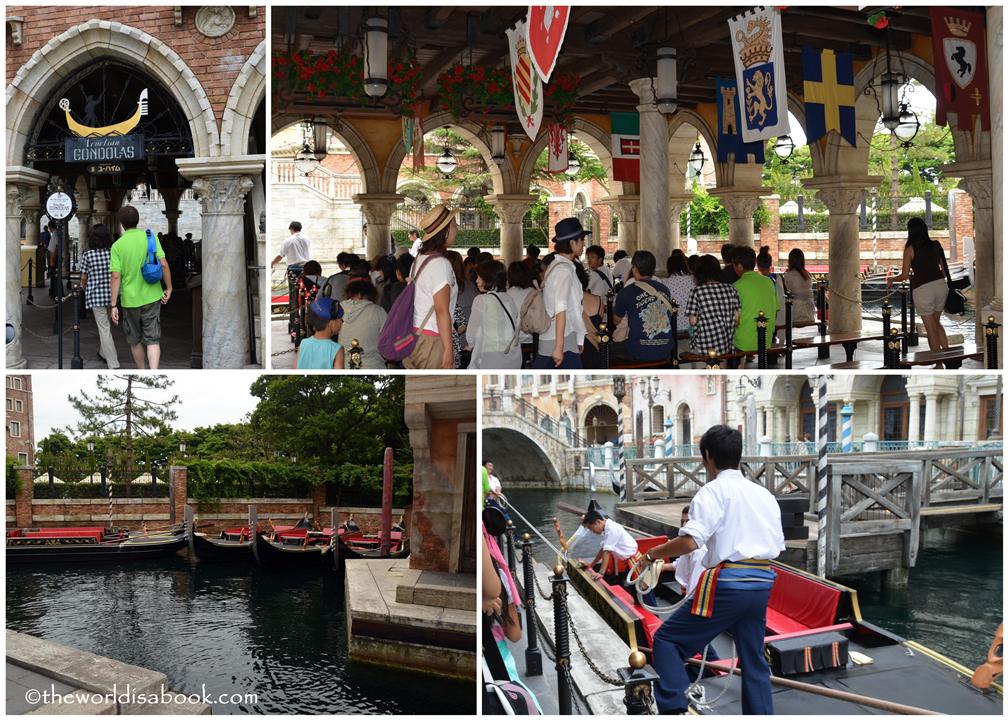 Since hubby and I weren't able to ride a gondola the last time we were in Venice, we were glad we got to share this "almost" Venice experience with the kids. We boarded the gondola with about 6 other people and two gondoliers. They were very entertaining, singing a couple of Italian songs and apparently made some jokes. We tried to blend in and pretended we understood and laughed with the others.
There was a lot of waving going on when the other gondolas passed by. We went under bridges where the gondoliers even tried to do the bending down move. It went close to the ship by Mt. Prometheus and turned around. It was a very pleasant ride the whole family enjoyed.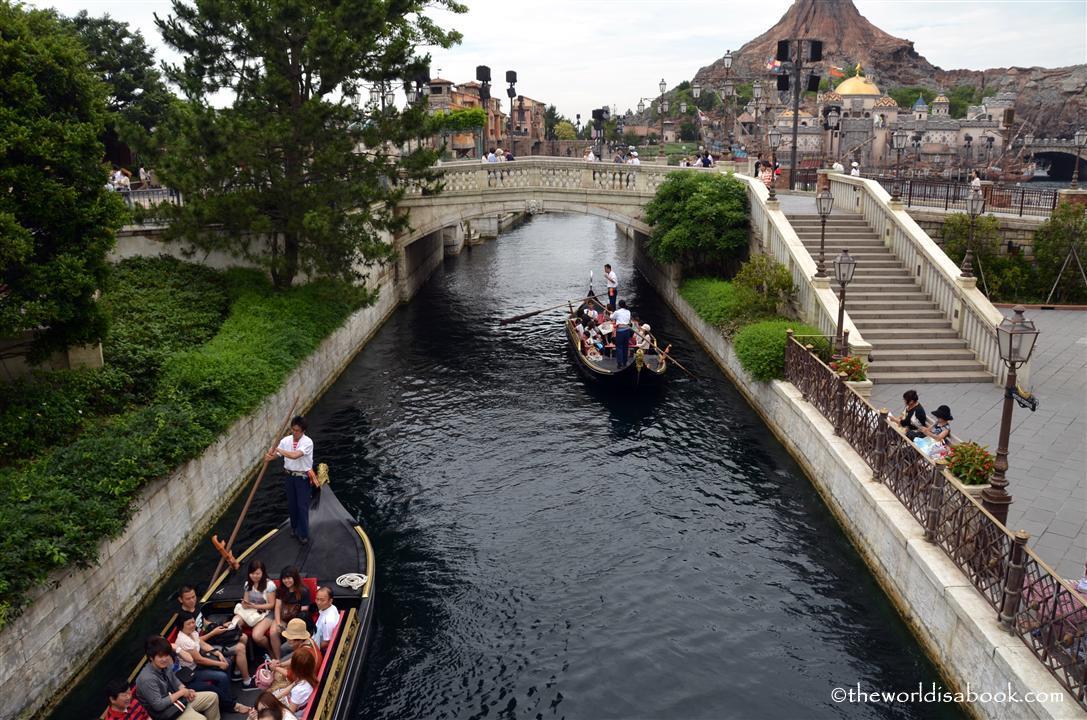 American Waterfront
Our next "port of call" was through American Waterfront.  We walked through the New York Street and Broadway Theater where people were already camping out for a show.   It was a recreation of New York in an earlier era complete with cars to take guests around the neighborhood.
We headed for the Tower of Terror where the line was less than 15 minutes.  Since I had a queasy stomach, I didn't go with them to initiate our 5 year old son into his first 'grown-up' ride.  He was very happy he met the height requirement (40 inches).    The building was very impressive and was supposed to be the fictional Hotel Hightower in New York.   Guests were taken to the penthouse via a service elevator where it goes on a repetitious free fall with windows opening for a view of some of Disney Sea's other attractions.    The background story and building was quite different from California Adventure and Disney's Hollywood Studios Twilight Zone Tower of Terror.
My husband took a shot of their Tower of Terror souvenir picture.  He's cheap like that.   Apparently he wasn't alone.  He said most of the people who came out with him took out their smart phones and took pictures of their picture too.   My son's face in this picture makes me laugh every time.  Luckily, he came out of the Tower of Terror unscathed and better than expected.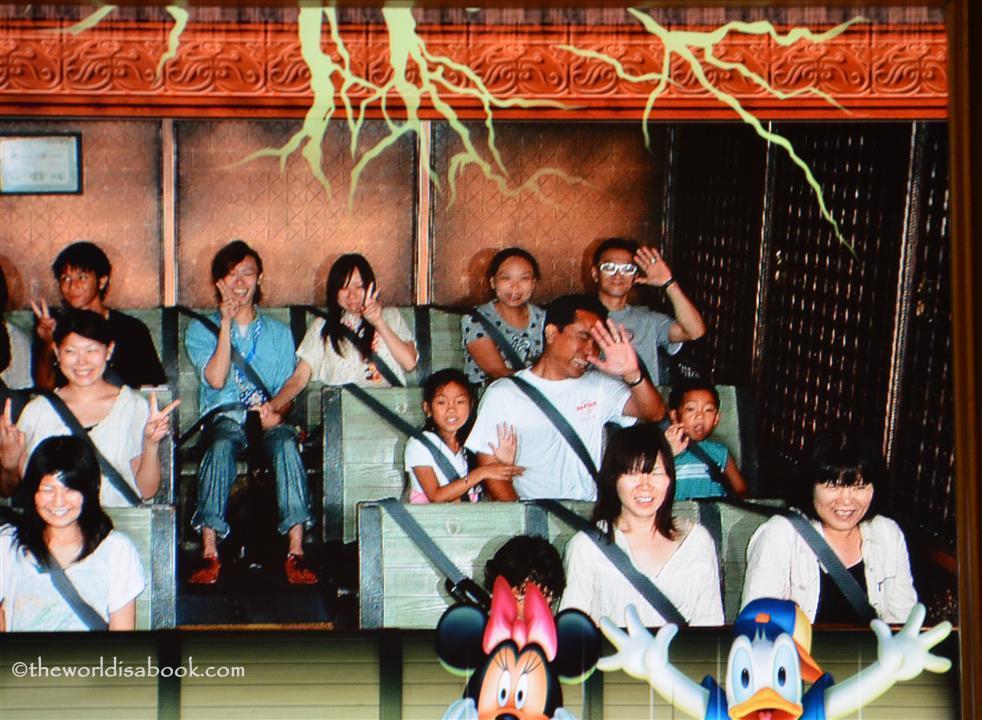 Our first show was the Summer Oasis Splash which was the park's summer show that runs in July and August.   There were floats on the water of animals with Disney characters on them.  These colorful floats had specialized hoses on them to spray the crowd. But, that wasn't enough.   The performers also had hoses and buckets of water for the crowd.  This was a welcome relief from the heat and many were willing to get soaked and some were actually well prepared with ponchos.
Be especially careful if you have babies.  Check out the picture below so don't stand too close.  Poor baby!
The best viewing area for shows was in what they called the Lido Isle.  It had plenty of stadium style seating for sitting on the ground with a small stage area.  We watched two shows here with unobstructed views.  They had a special seating area for kids too.  We just brought our kids close to the front and one of the cast members took them to sit down with the other kids.
We briefly walked through more of the American Waterfront after the show.  It reminded us a lot of Long Beach, CA and the SS Columbia as a stand-in for the Queen Mary ship.  There was a dining room inside the ship and Crush the Turtle attraction which we skipped since they had it back home and it just wouldn't be the same in Japanese.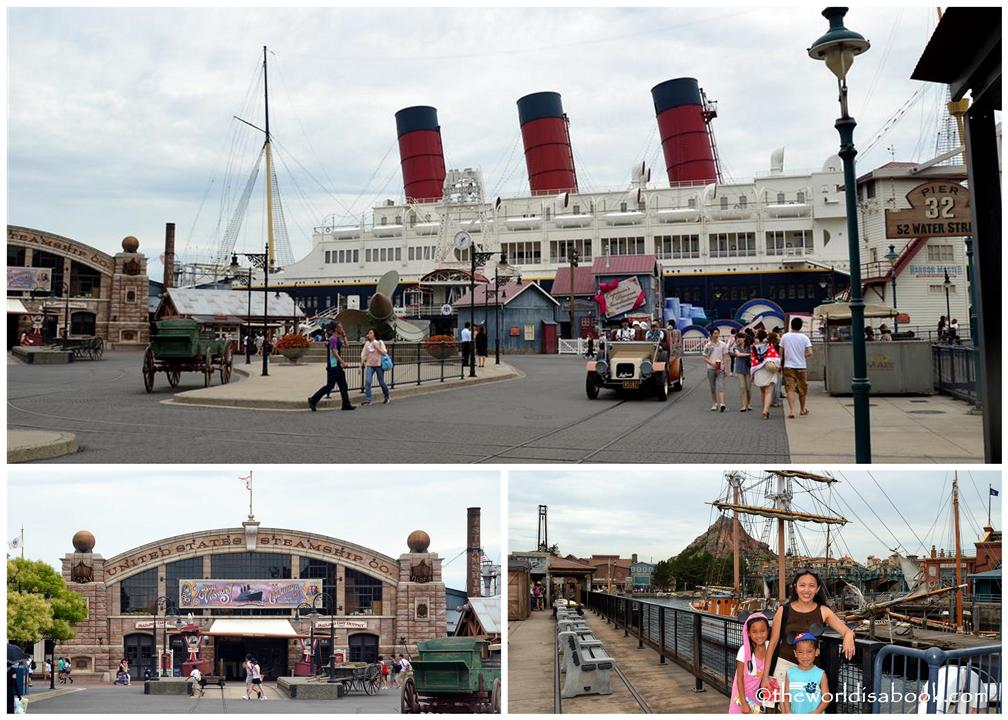 We passed through Cape Cod which really looked like a New England harbor with a lighthouse and even a nautical Mickey statue here. There really wasn't that much around this area except a for a few restaurants and shops.  There were hardly any people walking around here which seemed pretty odd.
Port Discovery – This land was supposed to be their version of Tomorrowland (in water).   This was the smallest of the "ports of call" with very little shops and only three rides.  But, it had two of the coolest rides in the park.
We boarded a future looking watercraft vehicle in twos called Aquatopia.  We travelled into the open water area as it spun and twirled us around by whirlpools and teased us by a small waterfall.
 Fortunately, we came out dry.  It wasn't a very long ride but very enjoyable.  What a fun ride!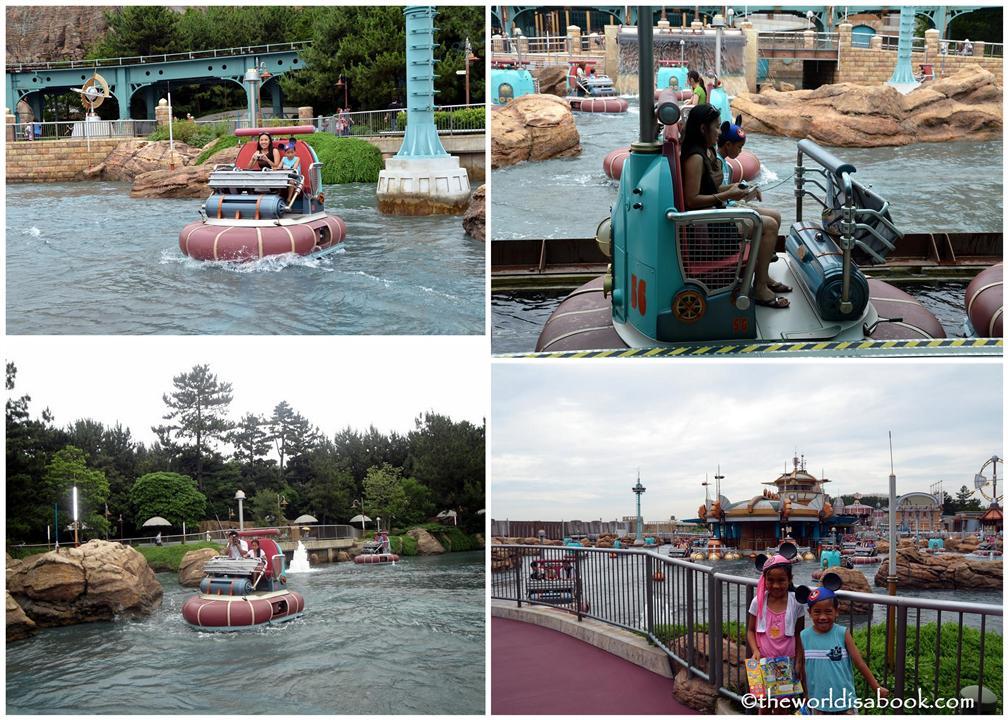 StormRider was a simulated ride that reminded us a lot of Disneyland's Star Tours.  Instead of a spaceship, we were supposed to be on a plane traveling to the eye of a storm so the special plane could launch a missile to destroy it. There was a little orientation in the weather station in the beginning before the doors open in Japanese but a screen in English was there to follow along.  It was totally cool and one of our favorite rides.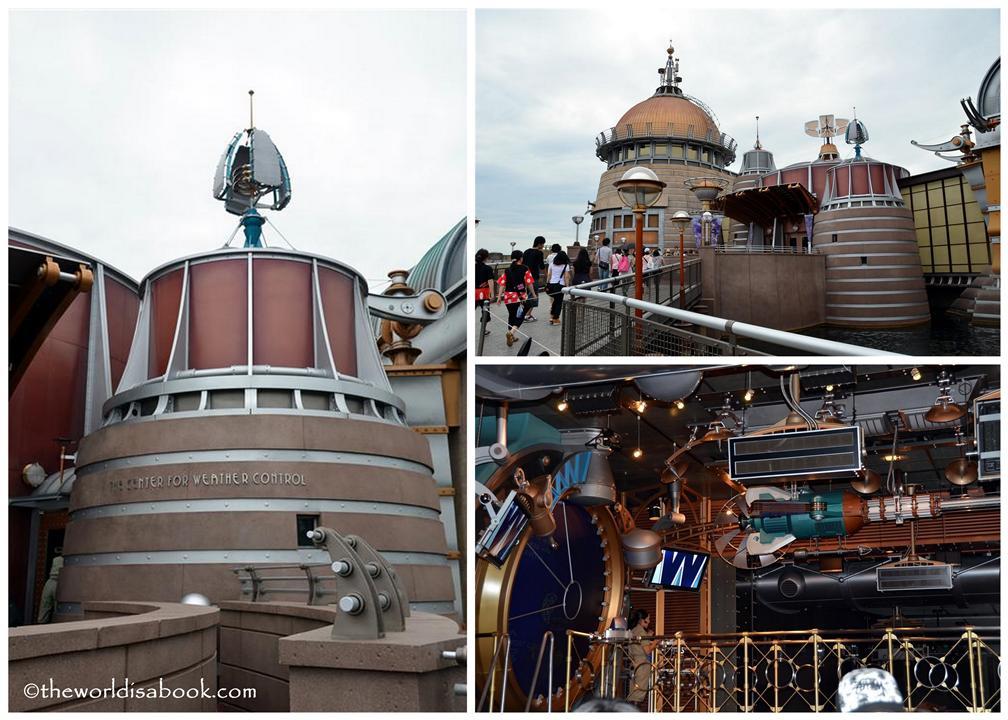 The other ride we didn't get to go on here was the Electric Railway which was an "elevated electric trolley" transporting guests from Port Discovery to American Waterfront.    I guess this was the equivalent of Disneyland's train and monorail in one.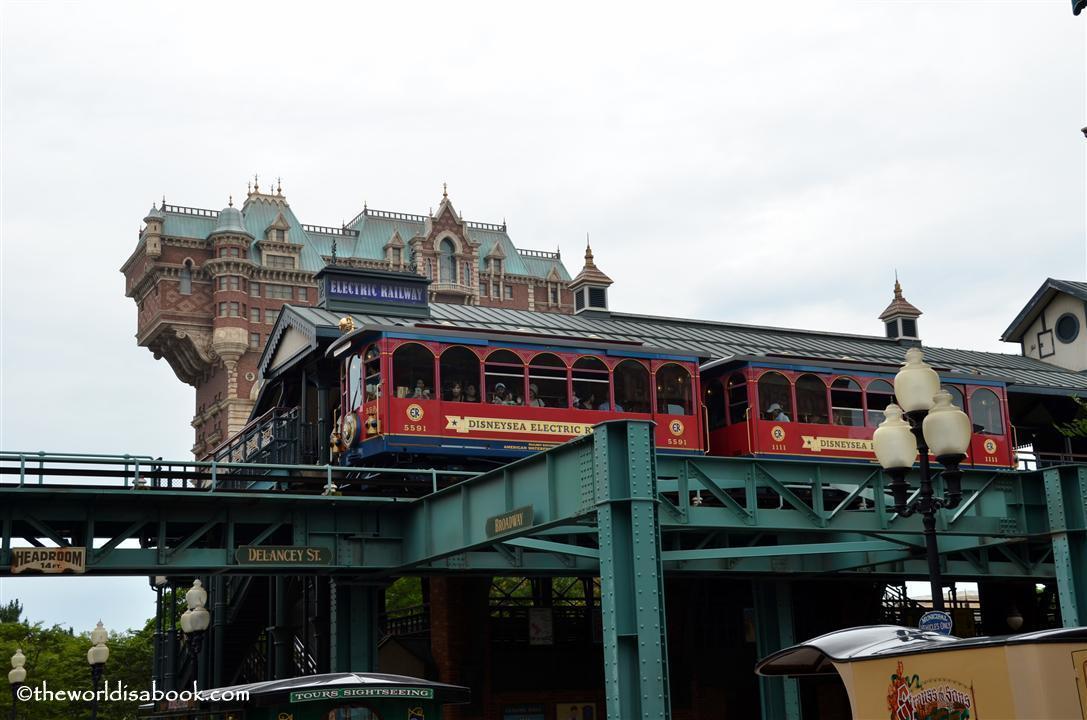 Lost River Delta – this themed port was supposed to simulate an ancient Central American civilization ruins.   It was pretty authentic as the sights and sounds made us feel like we were transported to an almost remote jungle.
The Indiana Jones Ride was here which was a simulated ride aboard Indy's jeep and was exactly like the ride they had in Disneyland and Disney Hollywood Studios.  Unfortunately, the 5-year old didn't meet the height requirement of 48 inches so we sat this one out and did the activity booklet and explore what was nearby while hubby and my daughter excitedly went on the ride.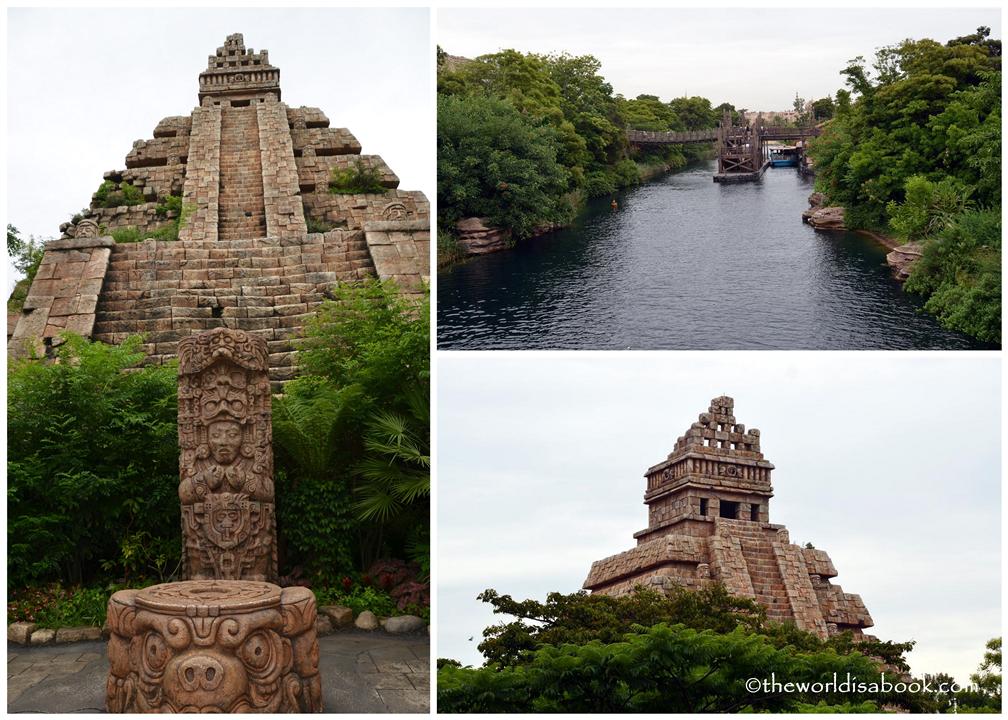 There was a Character Meet & Greet area next to Indiana Jones with Mickey, Minnie and Goofy separately.  The waiting times were posted which was great.   We tried to see Goofy but half way through lining up he left for a break much to my son's disappointment.  The setting is in a jungle area and the characters were dressed in their favorite Safari attire.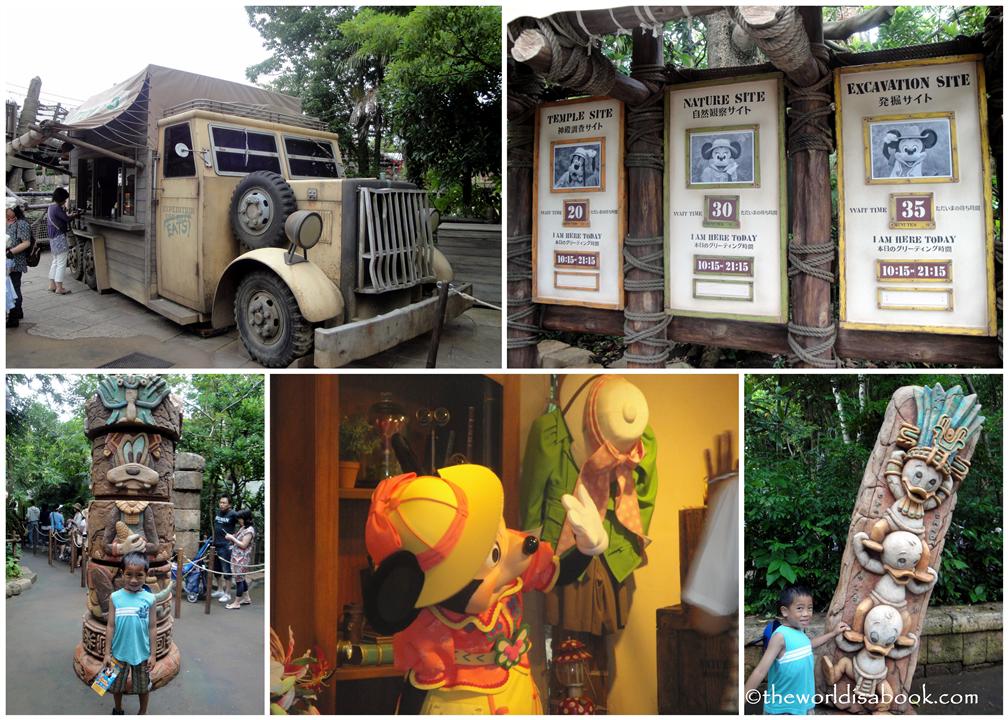 We could hear the rumblings and feel the heat from the fire on the Raging Spirits roller coaster ride which was supposed to go through an excavation site.  We didn't go on this ride since the five year old didn't meet the height requirement again and he was starting to feel left out.  I was more than relieved since that 360 degree loop sounded pretty scary especially to a non-roller coaster fan.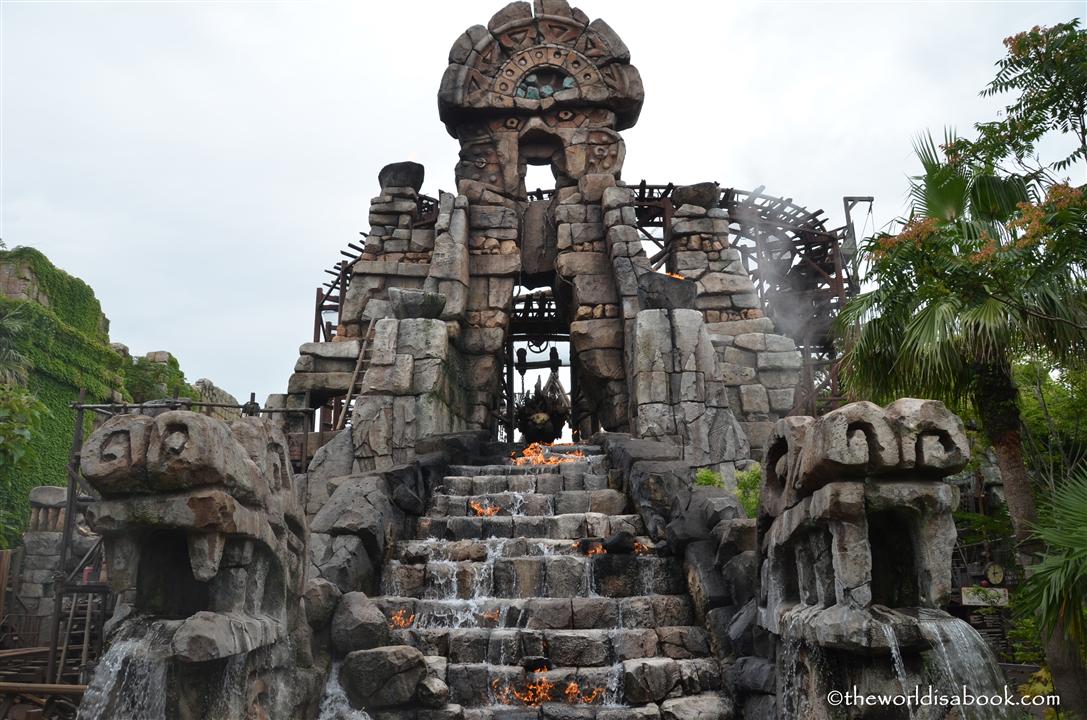 Arabian Coast
We were so excited to head over to the neighboring Arabian Coast.  This themed port was supposed to have been created by Genie from Aladdin.  The buildings and facades were so authentic here including the smell of curry in the air.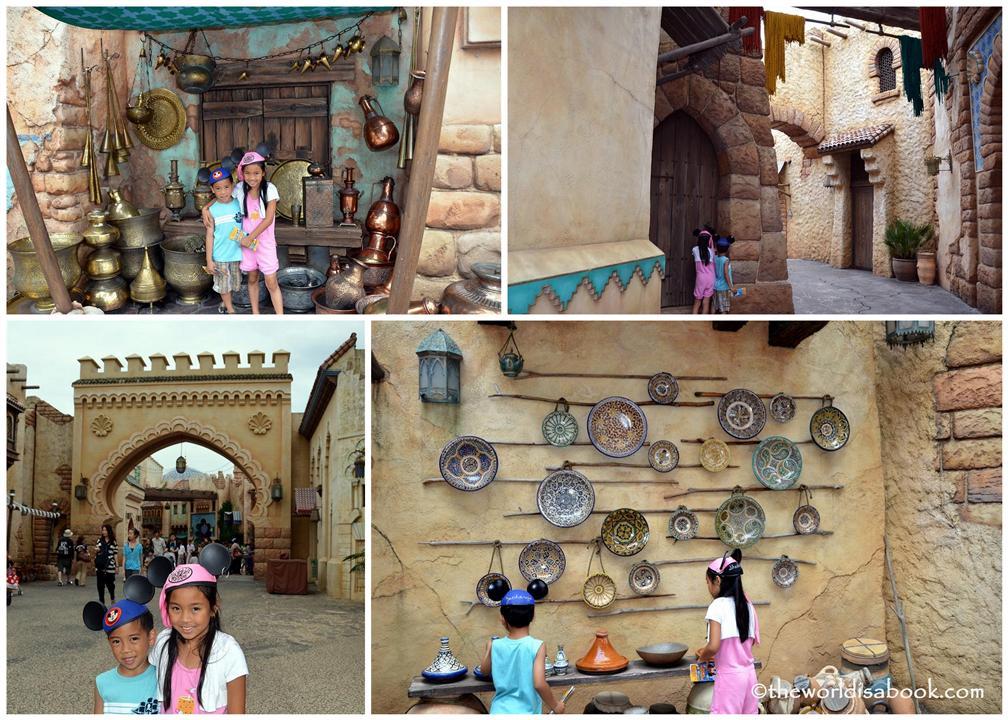 It felt like we were stepping into an actual Middle Eastern bazaar or marketplace or the back lot of the movie Aladdin.  It was also reminiscent of Epcot's Morocco land.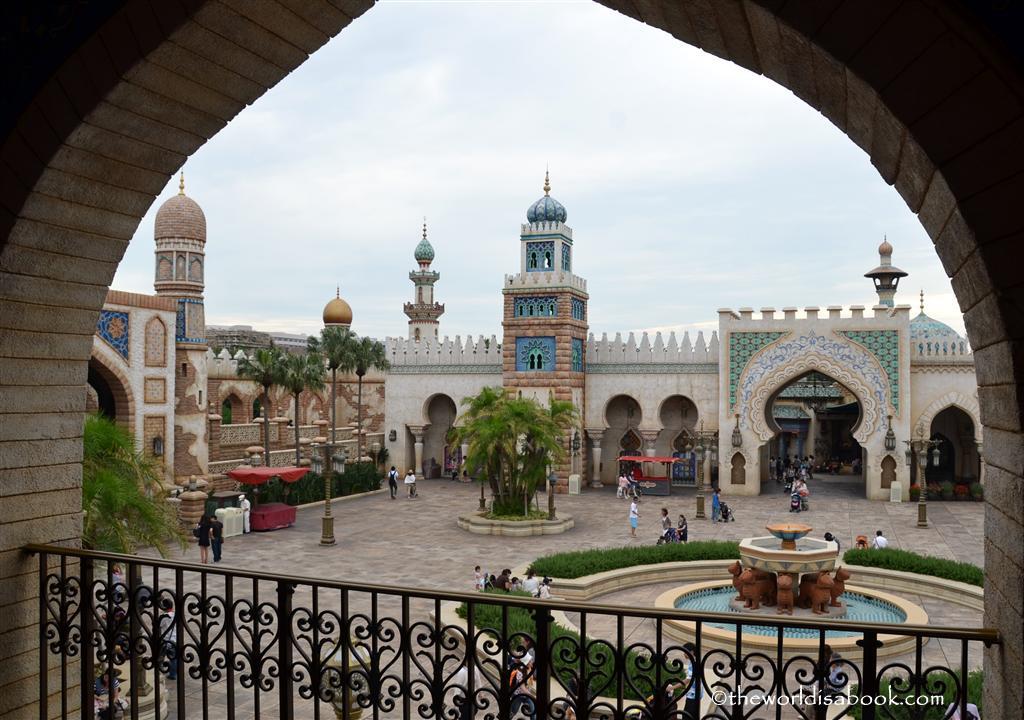 We passed by the almost finished Jasmine's Flying Carpets (which was opening on July 18 – we missed it by 10 days).  It looked like a pretty similar concept to Disneyland's Dumbo ride.   Our first ride here was Sindbad's Storybook Voyage.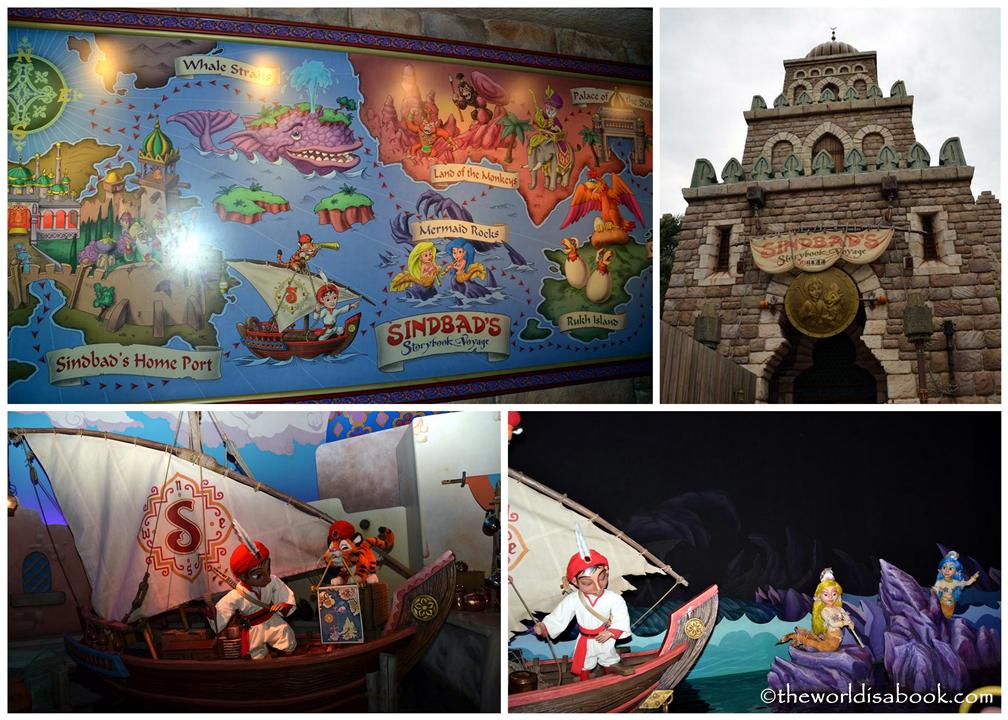 We rode on little boats and followed Sindbad and his tiger, Chandu, on their adventures seeing mermaids and giant ogres.  It was very similar to It's A Small World in Disneyland with colorful characters, moving dolls and a catchy song throughout the ride.  We loved this ride and was another family favorite.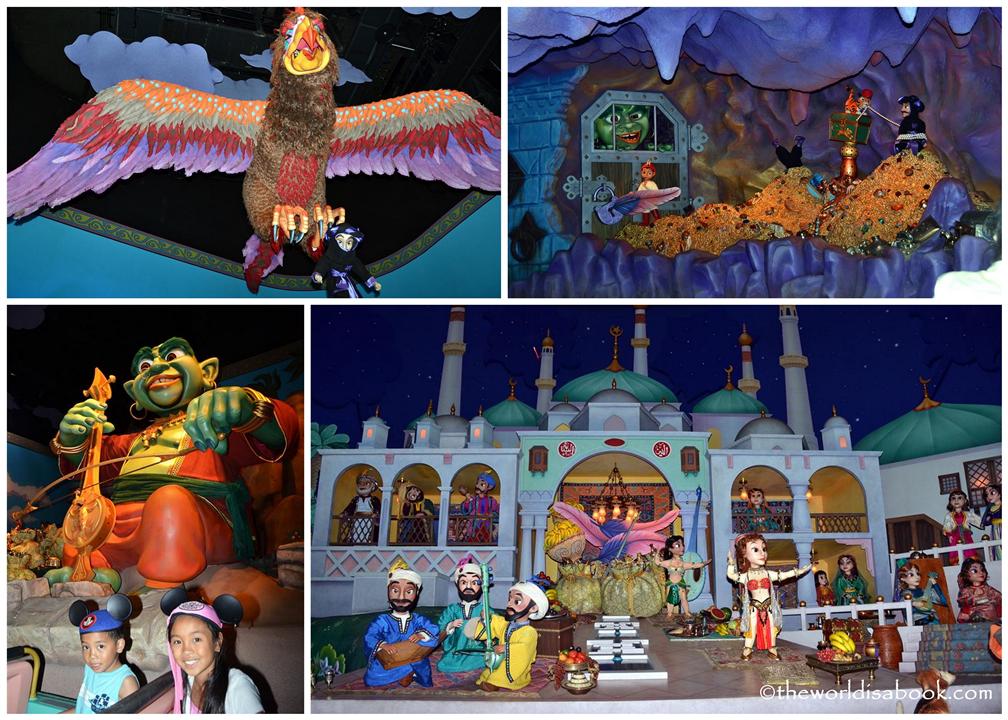 The highlight for us here was the two-story Caravan Carousel.  Yes, two levels of camels, elephants, griffins and the Genie from Aladdin.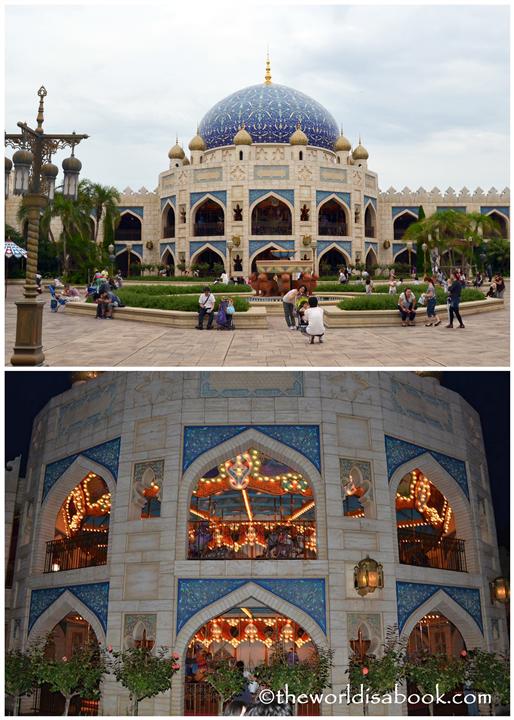 Our kids didn't even want to ride on anything else but the Genie in their favorite colors.  We made sure to get on the upper floor with amazing views of the surrounding buildings and the plaza.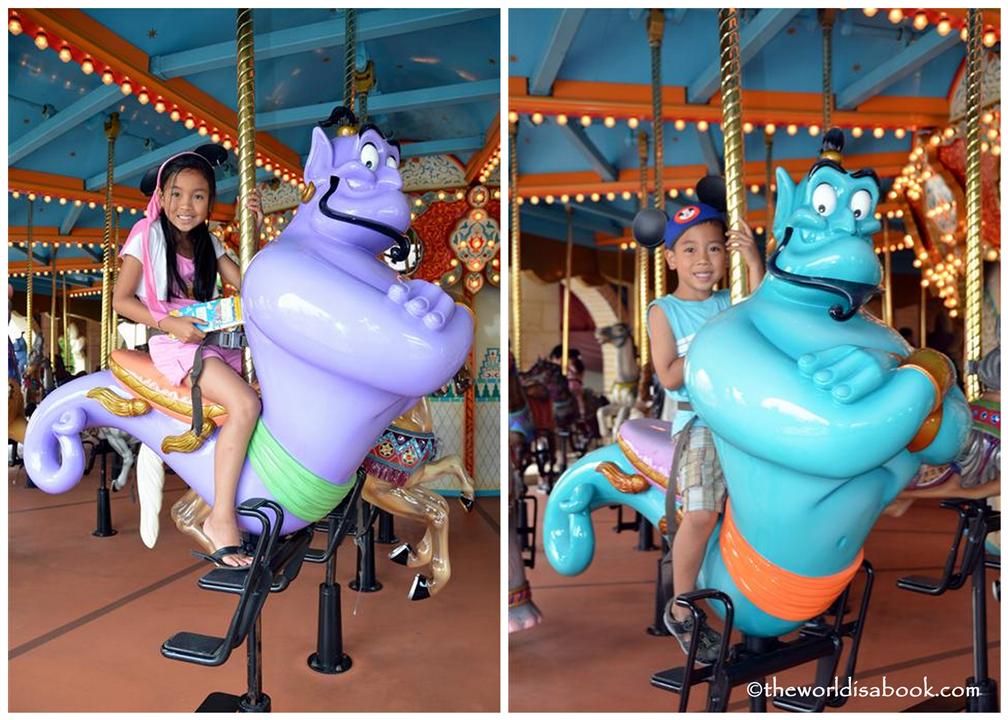 There was a small carnival game area here called Abu's Bazaar that was very popular.  We saw many people carrying giant stuffed animals as prizes.  This was the place to win them for about 500 yen and just for trying, you get a consolation pin prize.
We went back to watch a show at the Magic Lamp theater starring Genie from Aladdin.  We asked one of the cast members to watch the show with English subtitles (the guide map advised it).  We were handed a small device in Arabian theme that turned on once the production started with English subtitles.  The kids were able to follow through reading them. If you have toddlers, it won't matter as much because even in Japanese and with the 3-D glasses it was entertaining.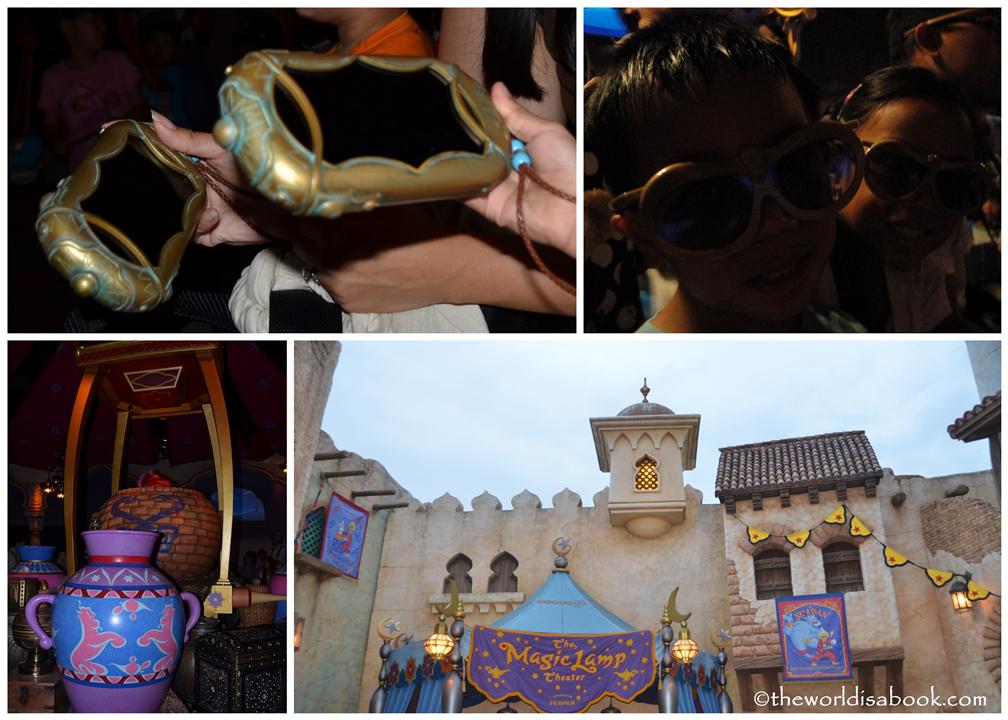 Since we hadn't posed with any characters yet, we got lucky and found Daisy Duck dressed appropriately in her Arabian costume outside the marketplace.  It was a bit amusing to see my kids run fast to get in line.  It was nice to see posing with characters never get old with them no matter who it is.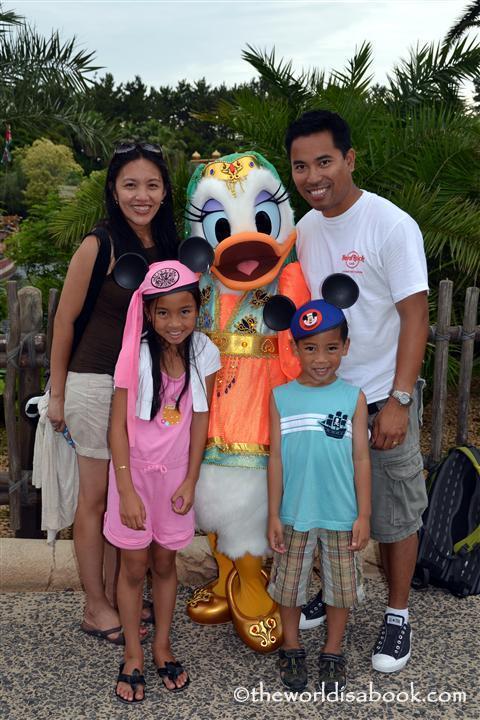 Mermaid Lagoon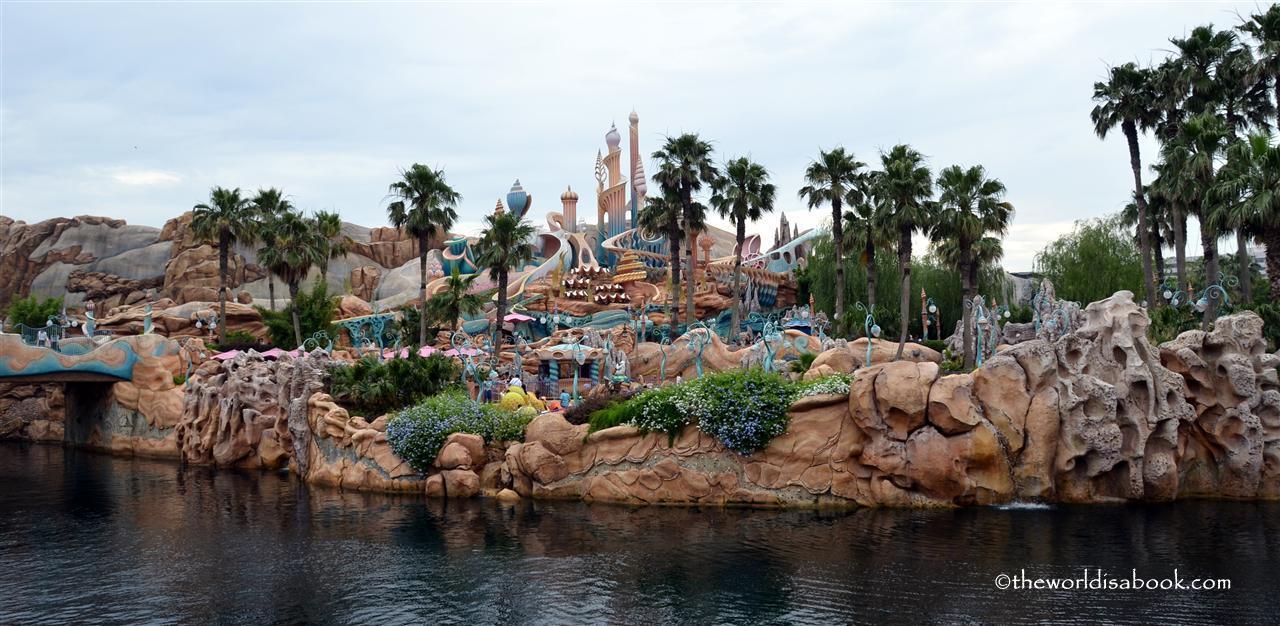 Across from the Arabian Coast was Mermaid Lagoon – Ariel, The Little Mermaid's world.  This area was probably the most child-friendly and definitely geared towards kids ages 10 years and younger.  For my Ariel loving daughter, this was her paradise.
We spent quite some time here since our 5 year old was able to meet all the height requirements and we didn't miss any of the rides. Don't miss Flounder's Coaster ride or Scuttle's Scooters rides outside.  I loved the attention to details here as even the water fountains and fences were shaped like corals.  There was also a little area to meet with Ariel.  Unfortunately, she wasn't around when we passed by.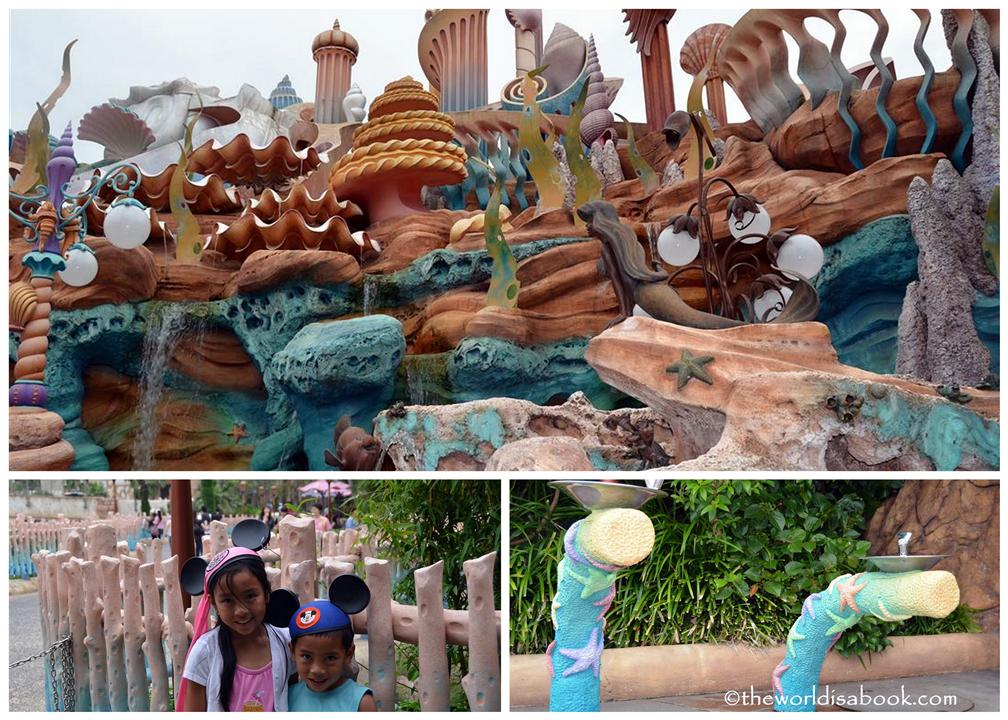 We proceeded to Triton's Kingdom which was the indoor area where most of the rides were located.  Once again, it looked very authentic and felt like we stepped into King Triton's movie set.  How could we resist rides like Jumpin Jelly Fish and Blowfish Balloon Race?   The Whirlpool was a nice twist on the teacups at Disneyland except it's a kelp cup.  Ariel's Playground was a huge play area set in a colorful underwater world with plenty of areas for exploring and climbing. Our kids could have stayed here for hours.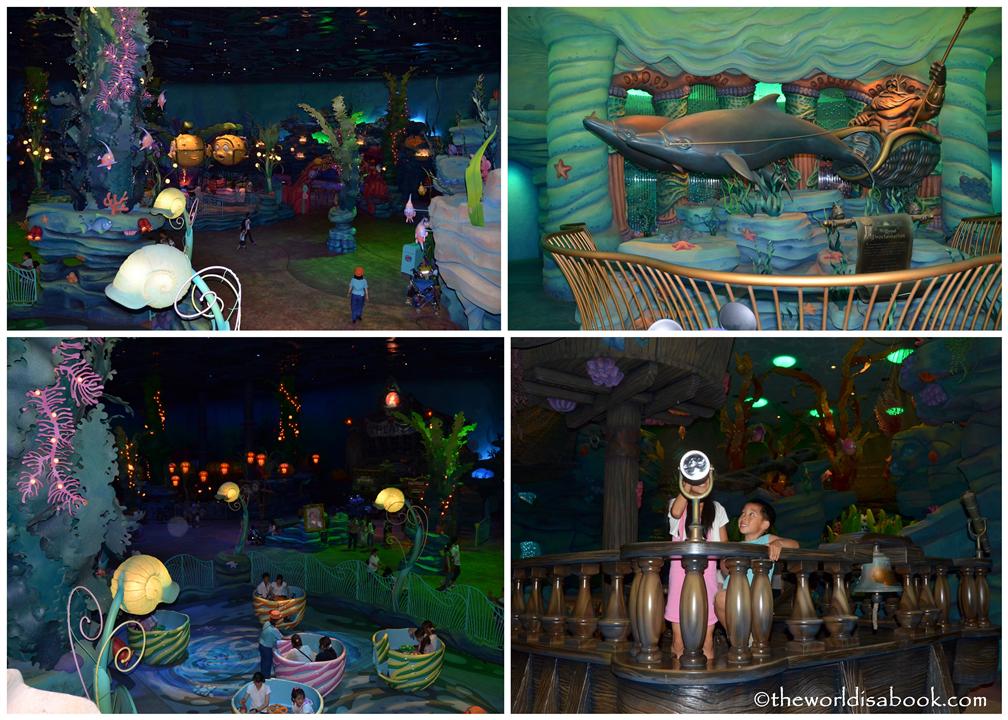 We also saw a live musical of 'Under the Sea' with Ariel at the Mermaid Lagoon Theater.  It was a circular theater and Ariel hangs down and performs in the center with plenty of back-up sea creature acrobats.  It was truly worth watching and very enjoyable. We asked for our English subtitle device again and this time it was shaped like, what else, a clam.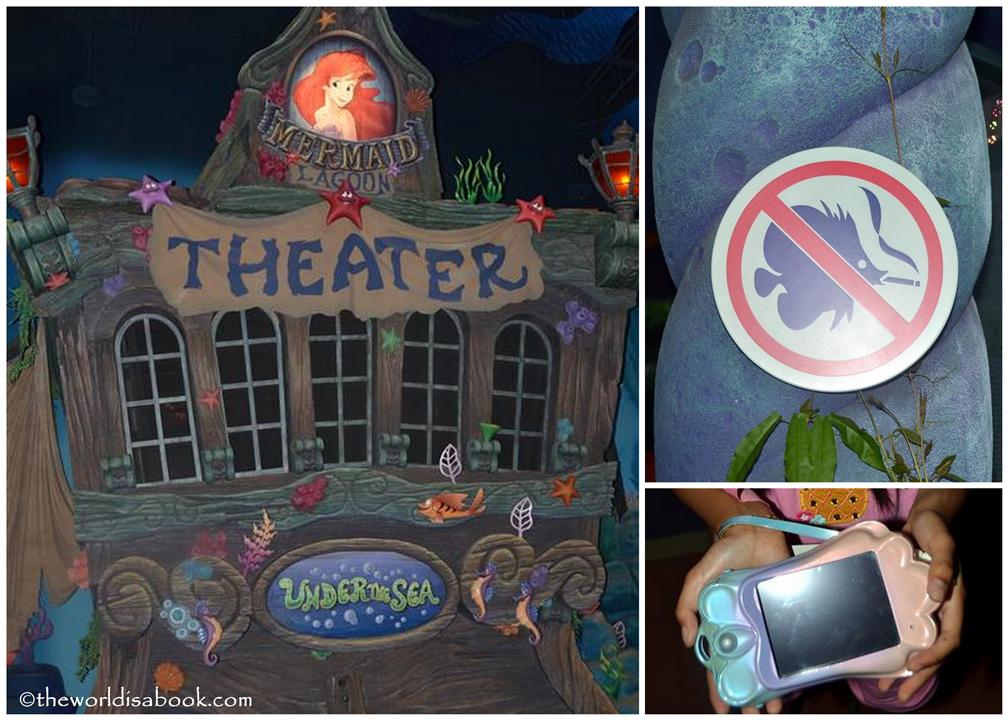 Legend of Mythica Show
If you can watch only one show in this park – Legend of Mythica was the one to watch.  It was incredible and captivating with fire breathing dragons, mermaids, wizards, and unicorns for floats.   These were huge and colorful floats and most of them looked better than Disney park floats we've seen back home.  There was only one show which started at 4PM.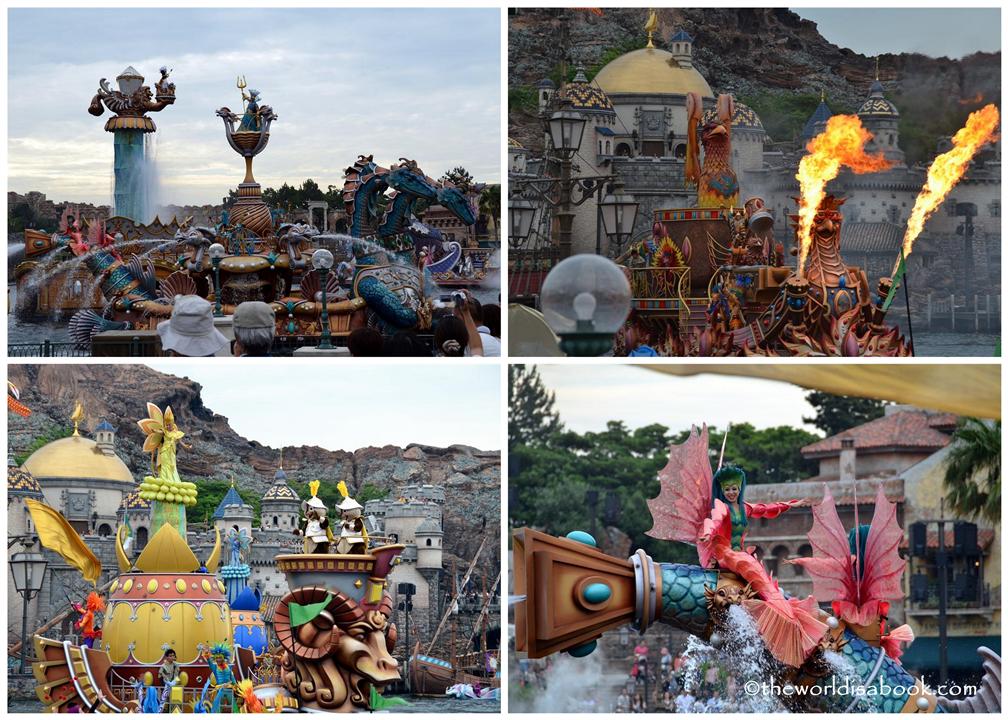 The premise was the Disney characters unlock the gateway to the world of Mythica and meet magical creatures. We were at the Lido Isle area again.  Our kids were super excited when Minnie came to the kids' area to dance and shook the kids' hands.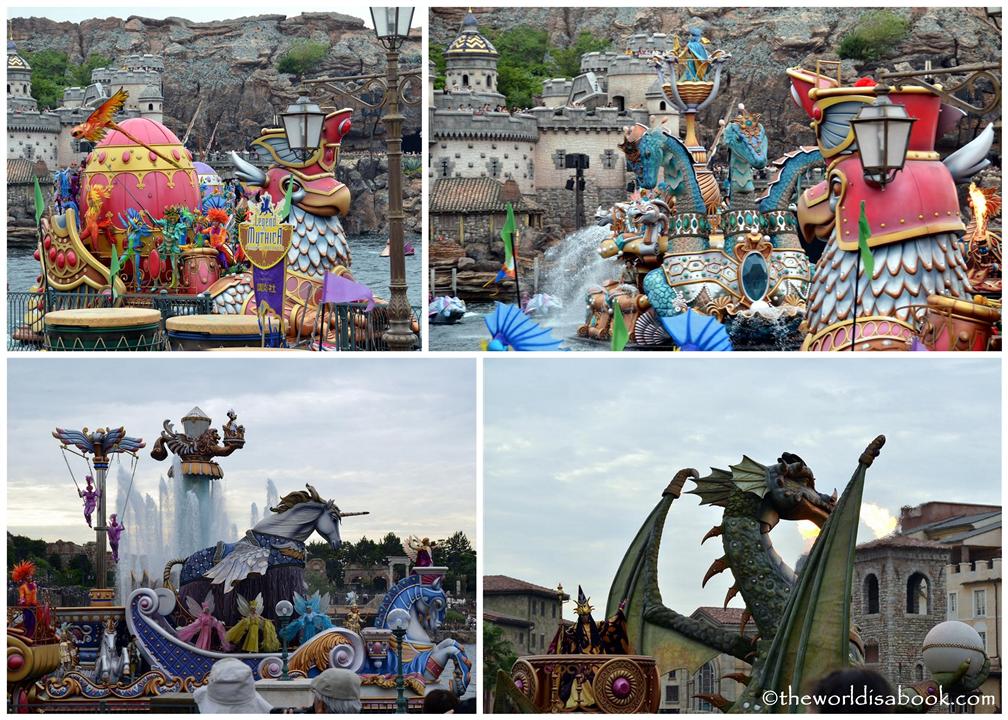 It was a lot of fun and you can't help but admire the beauty of the floats and costumes and the extraordinary amount of work and creativity put into this whole production.  Unfortunately, these pictures don't do them enough justice.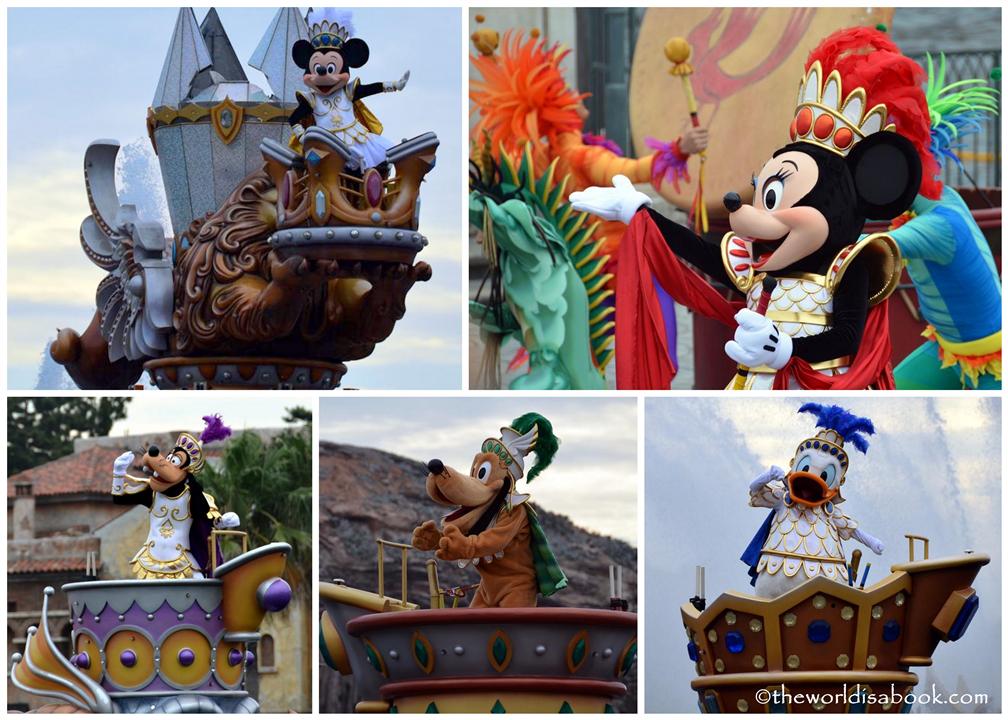 Mysterious Island
Our last rides were at Mysterious Island.  This port of call was dedicated to Jules Verne's Captain Nemo character.  The island was supposed to be Captain Nemo's secret exploration base.   My husband and daughter rode the Journey to the Center of the Earth and loved it.  It was an indoor roller coaster ride aboard specialized vehicles "through the mysterious caverns to the earth's core".  Unfortunately, the 5-year old didn't meet the 48″ height requirement again (it was a recurring theme) so we waited it out which wasn't very long.  This was one of my daughter's favorite ride.
20,000 Leagues Under the Sea was a small watercraft/submarine ride that took us to a simulated underwater world.   The vehicles were actually enclosed with porthole windows to look out and felt like we were on an exploratory vehicle underneath the ocean.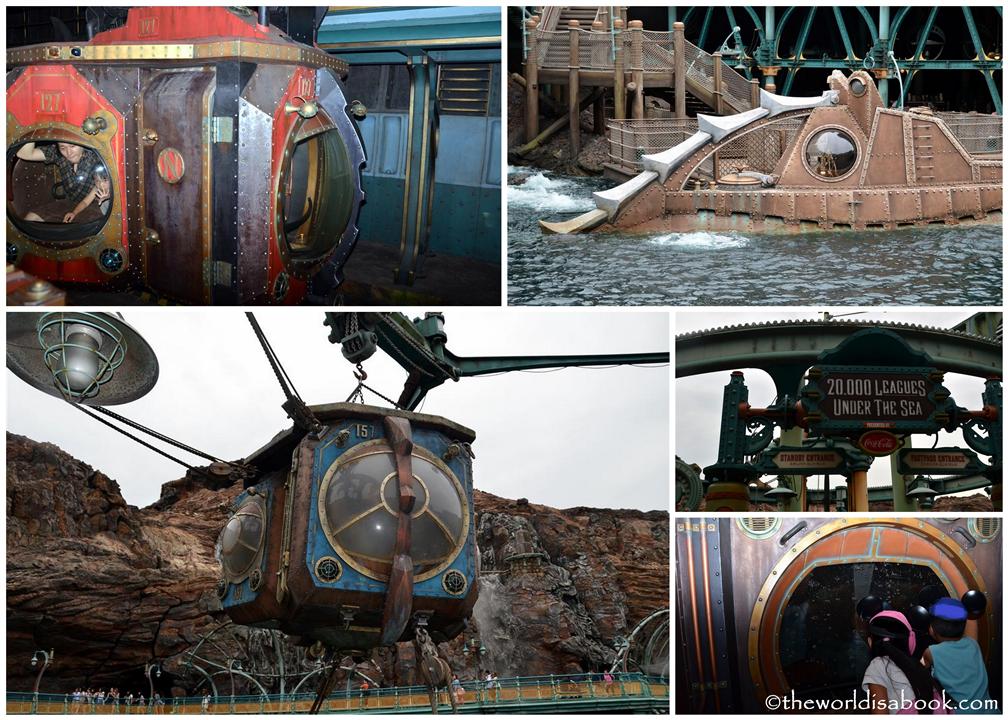 Our night ended with the viewing of the Fantasmic show which was just like the ones at Disneyland and Disney World. It was the same story of Mickey battling the forces of evil. It seemed that the Fantasmic in the US had most of the Disney characters on the show though while this one did not seem to have as much.  Fireworks ended our amazing adventure here.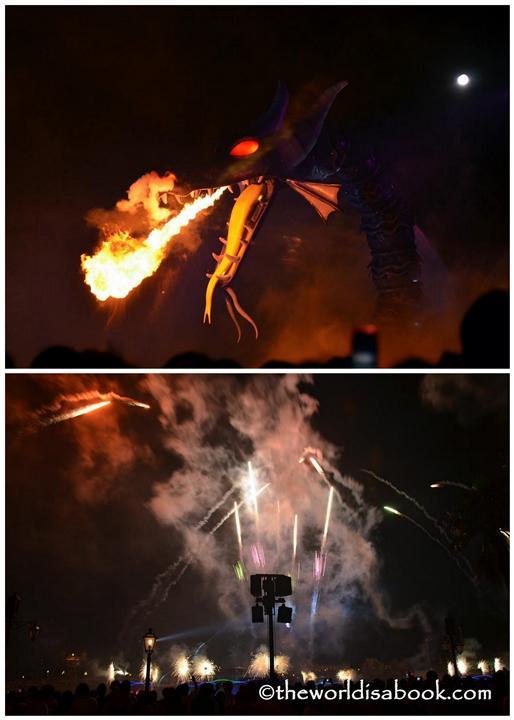 Eating at the Tokyo DisneySea
For our light lunch we had a sandwich to go at New York Deli on American Waterfront.  It was near the Broadway Theater and near the Lido Isle.   Their menu consisted of four different types of sandwiches, soup and salad.  The prices were high as expected with any theme park.  Fries were sold separately.  We had the herbed Chicken Ciabatta for 680 yen (about $8.50)  and the Mile High Deli Stack (roast beef & chicken) for 890 yen (about $11).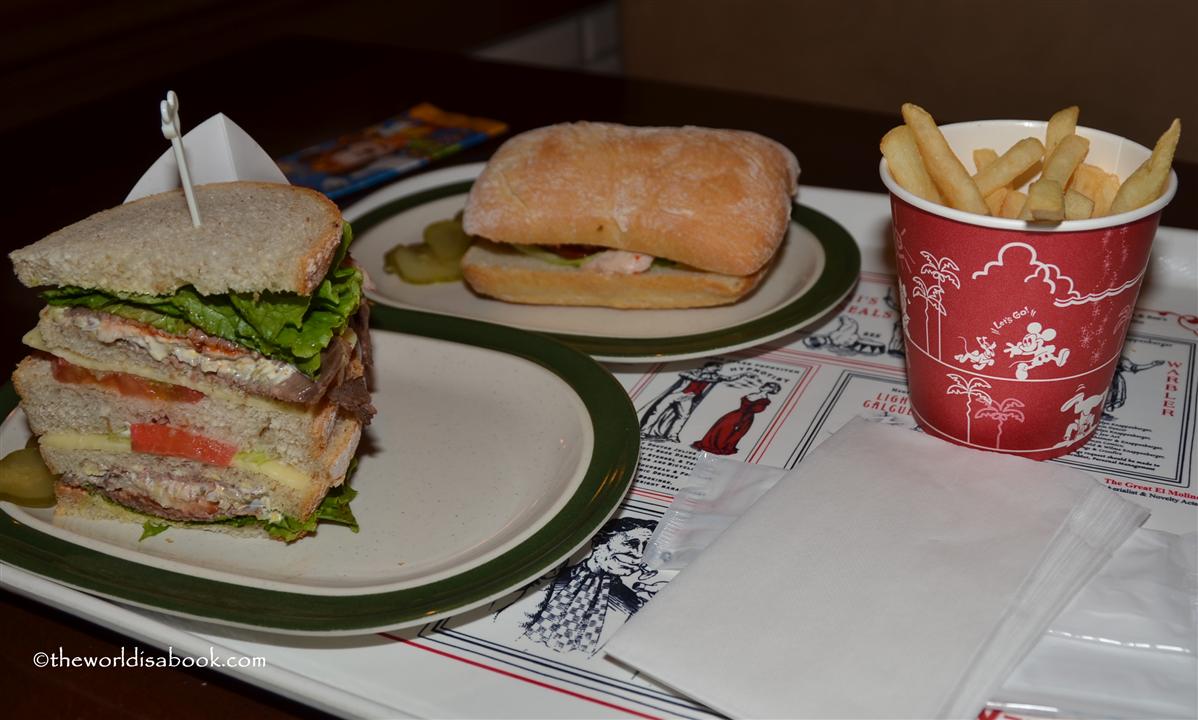 There was no shortage of snack carts around the park ranging from churros, popcorn, ice cream and pretzels. As expected, they were overpriced.   There were two distinct stands that were worth lining up.  First, was the gyoza sausage buns at a food stand in Mysterious Island.  Gyozas are pot stickers except this one was big.  It was very popular and we could smell the sweet aroma as we walked by. It was pretty pricey at 420 yen(about $5) but was delicious.   The other was a beef rib stand in Mysterious Island too.  It was juicy and tasty and something you'd never expect coming out from a snack cart.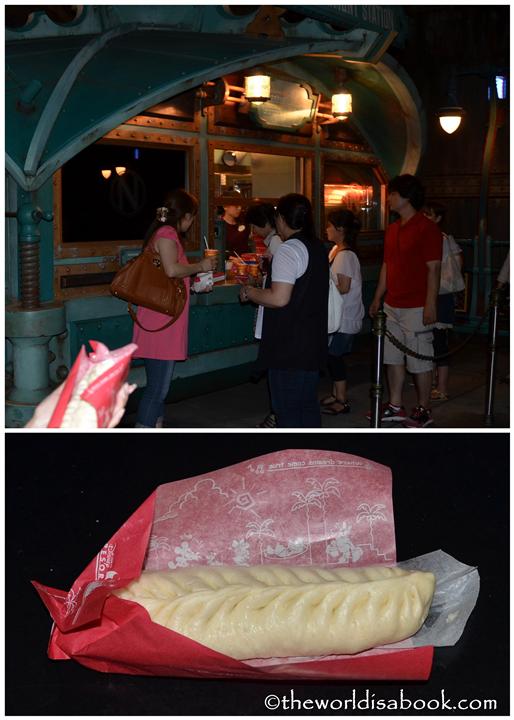 We had a late dinner at Zambini Brother's Ristorante in Mediterranean Harbor.  This was a pretty popular place and had two floors.   We had their signature pasta dishes which came with a strawberry mousse pie, salad and drink and the pasta was actually pretty good.   We only ate here because we were standing in front of the restaurant during the Fantasmic show and smelled their food.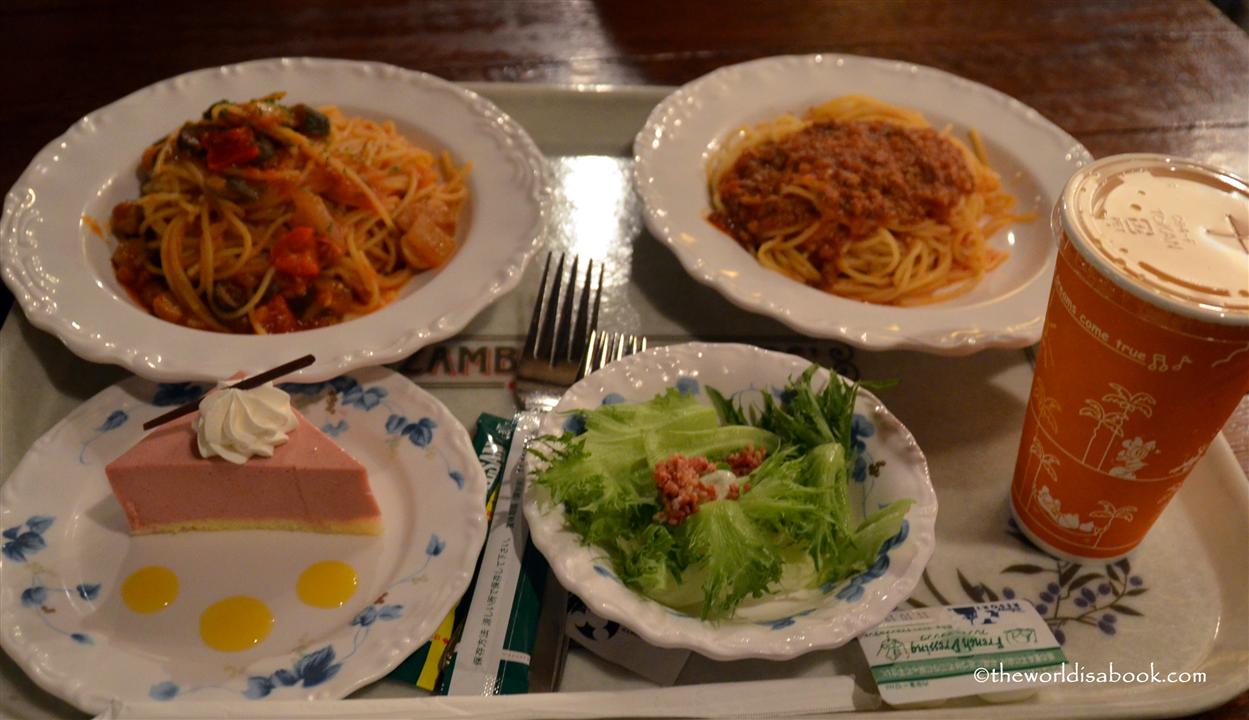 Who is more popular at Tokyo DisneySea than Mickey & Minnie?
Duffy the Disney Bear! I was vaguely familiar with Duffy (Mickey's bear given to him by Minnie) from reading other Japan travel blogs before the trip but was totally unprepared for the Duffy phenomenon, its popularity and ubiquitous presence throughout the park. It seemed like every other person, no matter what age, was carrying Duffy and his female counterpart, Shellie May, in different sizes, in various costumes. They even had designated picture spots to put them on. It was totally unbelievable!
As their souvenirs, our kids walked away with a Duffy and Shellie May bears to take home. The regular sized bears set us back at 3800 yen (about $47) for each bear and they came naked.  They were very expensive souvenirs that cost more than their admission tickets.
It was a major splurge but it was something to remember a magical time and who knows when or if we'll go back here again.  Believe me, we spent some time deliberating on whether we should get those bears.  They both had special Tokyo Disney Sea tags.  An outfit was 2800 yen($35) so their bears went back home without clothes.  Luckily, those Build-A-Bear outfits and their old newborn clothes perfectly fit the bears.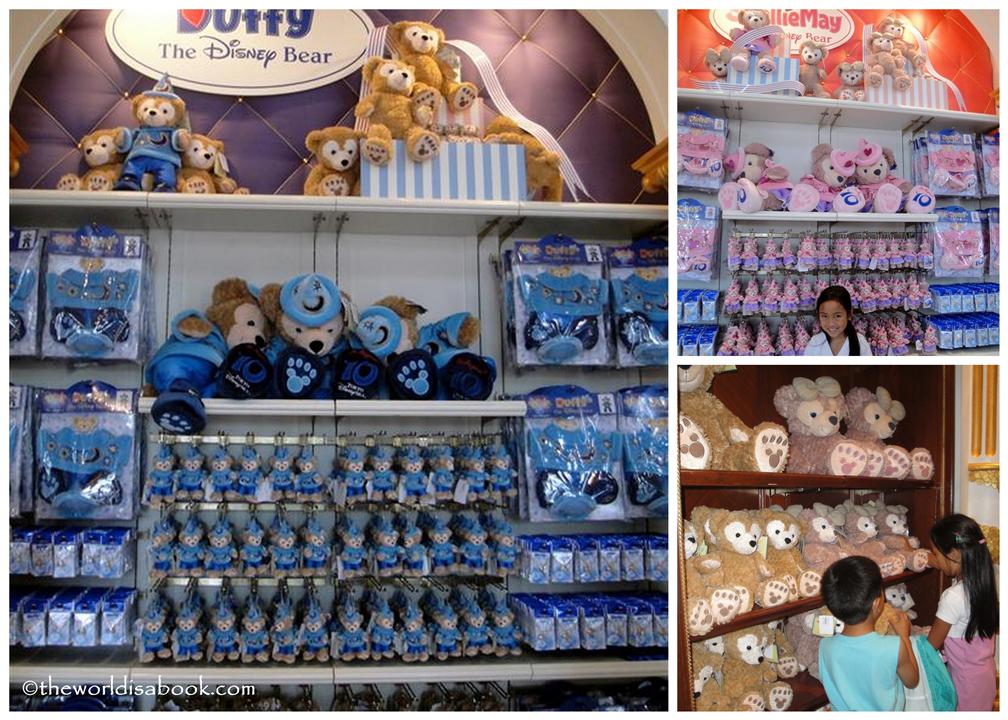 Update: Duffy was introduced in Oct 2010 to the USA at Disney World and California Adventure Park.  We found Duffy Bear at California Adventure's Paradise Pier for $30 and the adorable outfits, including ones of Disney characters, for $18 when we went in Sept. 2011.   These prices were a bit more reasonable.  Their tags say Disney Parks and Duffy was also available for a meet and greet.
Tokyo DisneySea with kids thoughts and tips
It was astonishing how clean this park was.   We hardly saw any workers sweeping too.  This was not a Disney owned theme park but felt very much like it.  Although, each ride or attraction was sponsored by a major Japanese company which was a pretty good idea.
Go on a weekday and go early –  Lines were a whole lot shorter or were non-existent and the tourism drop off since the earthquake and tsunami contributed to this too.  It felt so wonderful to walk into most rides and have minimal wait times especially with kids.  We didn't even have to use the Fast Pass once.  There were noticeably more people as  night time rolled around and we noticed plenty of students in their school uniforms.
Say Cheese!  –  The workers/cast members are more than happy to take your family picture and a couple even told us to do peace signs or the universal Asian photo pose.  They were all very friendly so don't hesitate to get your family picture taken.
Bring plenty of water/juice and snacks   –  Just like what we do at home with visiting theme parks to cut down on costs, we brought plenty of snacks to get the kids through the day.  This park didn't have bag checkers at the entrance like they do at the Disneyland Resorts.  If we knew that, we probably would have brought bento boxes.
Get the Activity Guide – Be sure to ask the ticket agent for the Tokyo DisneySea Adventure Book.  It was a great keepsake for the kids and was also helpful in finding the little details in some attractions.
Fast Pass – Get a a Fast Pass which will ensure your return to your favorite ride at a designated time.
Sit at Lido Isle – Look for it on your park map.  It's the perfect place to watch the shows and be sure to let the kids sit in the children's section to be front and center to the performers and Disney characters.
We maximized our time and spent 12 hours inside the park and we didn't hear a whisper of a complaint or whining from our kids throughout the entire time here.  Ahhh..the magic of Disney.  Having visited Disneyland more times than we can remember and spending days at Disney World a few years ago, we rank this right up there with Disneyland and EPCOT.
It was unique and truly worth a visit especially if you have children for a magical Disney adventure. It was an unforgettable day and watching our kids' faces through their experiences here was priceless.
Related Posts:
Pin it now, Read later!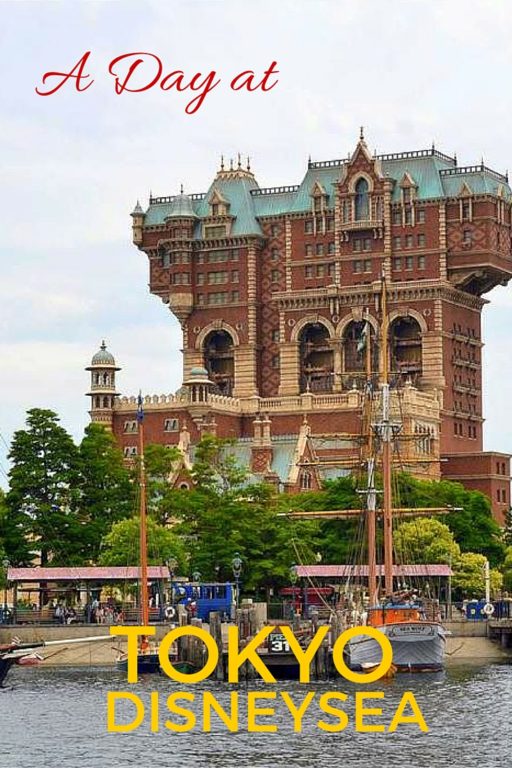 Check out these related posts: