Hakone with kids: A Transportation Journey
Hakone was a mountain town a couple of hours away from Tokyo with lakes, a boiling valley, hot springs and majestic sceneries.   The pictures we had seen were breathtaking.  This was supposed to be one of the best places to see Mt. Fuji…usually in winter.  We were there during the first week of July so we knew there was an almost zero chance of seeing Mt. Fuji with the summer haze.  But,  we decided to go on a day trip anyway to explore the countryside and see a different part of Japan and see a bit of a contrast to modern Tokyo.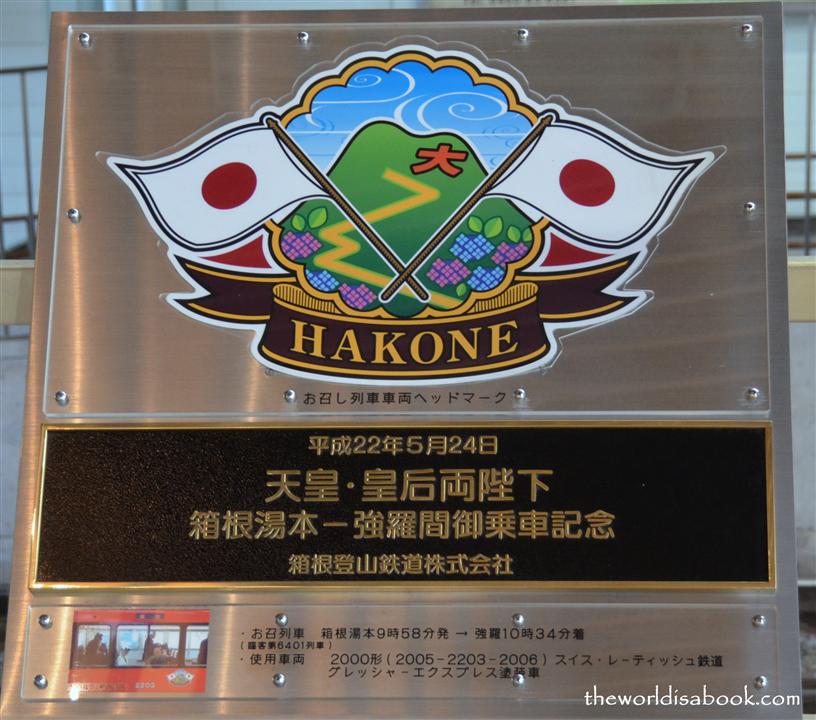 We bought our Hakone Freepass touted as a discount roundtrip ticket from the Odakyu Sightseeing Center in Shinjuku by the West Entrance.  The 2-day price of 5000 Yen (at that time about $65 with the exchange rate of 80 to $1)  was pretty steep considering we were only planning to be there for a day.  Children were 1500 yen (about $20) and our 5 year old was thankfully free.
We took the Odakyu train at around 7 AM to Odawara station for a long and uneventful ride.  It gave us a chance to take a nap for the long ride and also start to see some open spaces, farms and rural Japan .  We transferred to the Hakone Tozan line for the Hakone Yumote Station.  We were grateful to finally be getting close after almost 2 hours on the trains.  Upon  arriving at the station, it was starting to drizzle and there were hordes of Japanese tourists lining up led by their tour guides.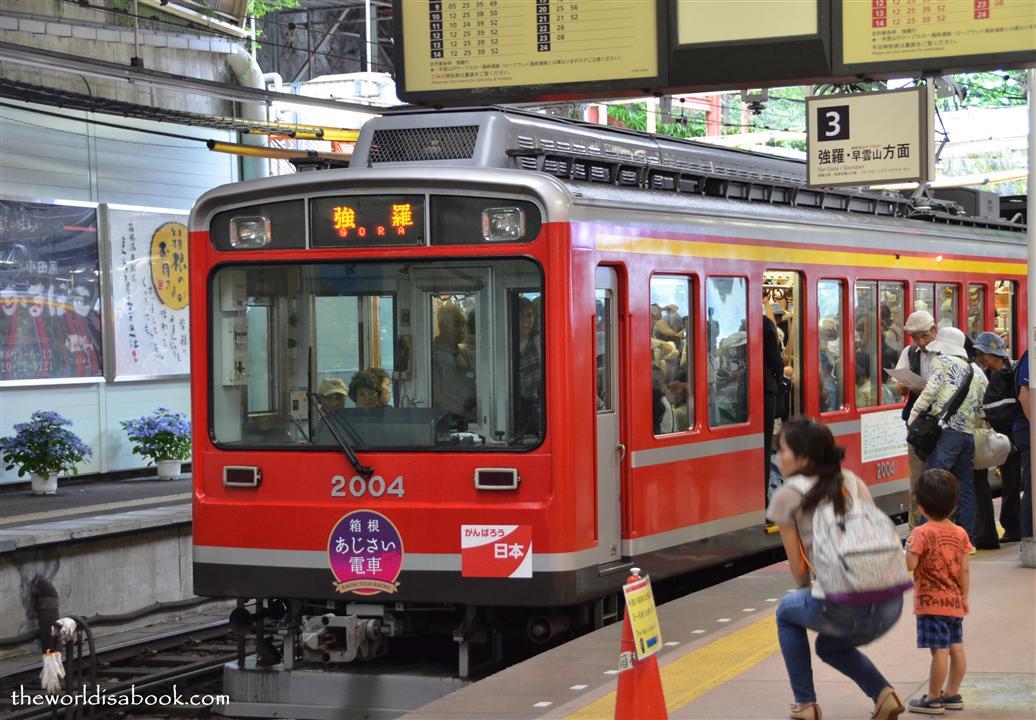 We were trying to find the best approach without taking the very crowded train first.  We decided to explore the street in front of the station and found a tourist center with an English speaking staff.  Unfortunately, that's when we found out that the pirate looking Lake Ashi ship had been cancelled due to bad weather.
It was such a huge disappointment for us since that was one of the highlights of our trip.  However, looking at the weather beforehand it had just stated cloudy with 60% chance of rain.  We never expected such terrible weather that warranted cancellations.  I guess our good weather charm had run out since we've only had one slight drizzle that lasted a few minutes during the last five days we had been here.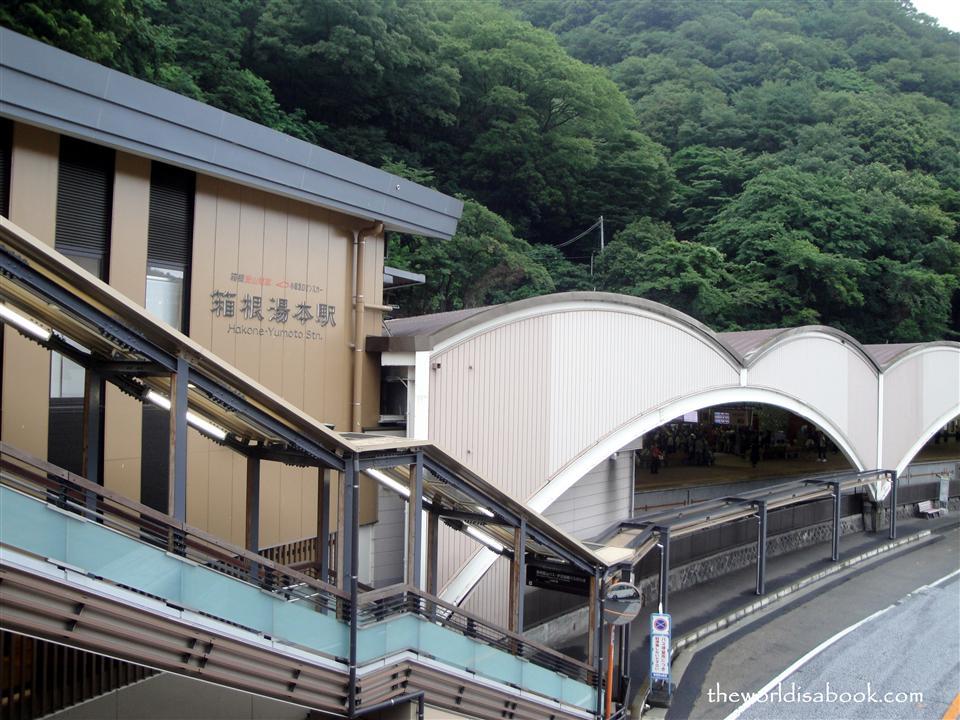 Nonetheless, we decided to go ahead with our plans and see what else was out there in store for us in Hakone.  We took the train to Gora along with everyone else for another 40 minutes.  We got some seats on the pretty crowded train by being first in the designated marker lines.
I love how Japan had distinct areas for where the lines should be and people actually respected it.  The train ride was beautiful and scenic as it went through trees and rows and rows of multi-colored  hydrangeas.  We passed through various hot spring hotels, rivers and forested areas.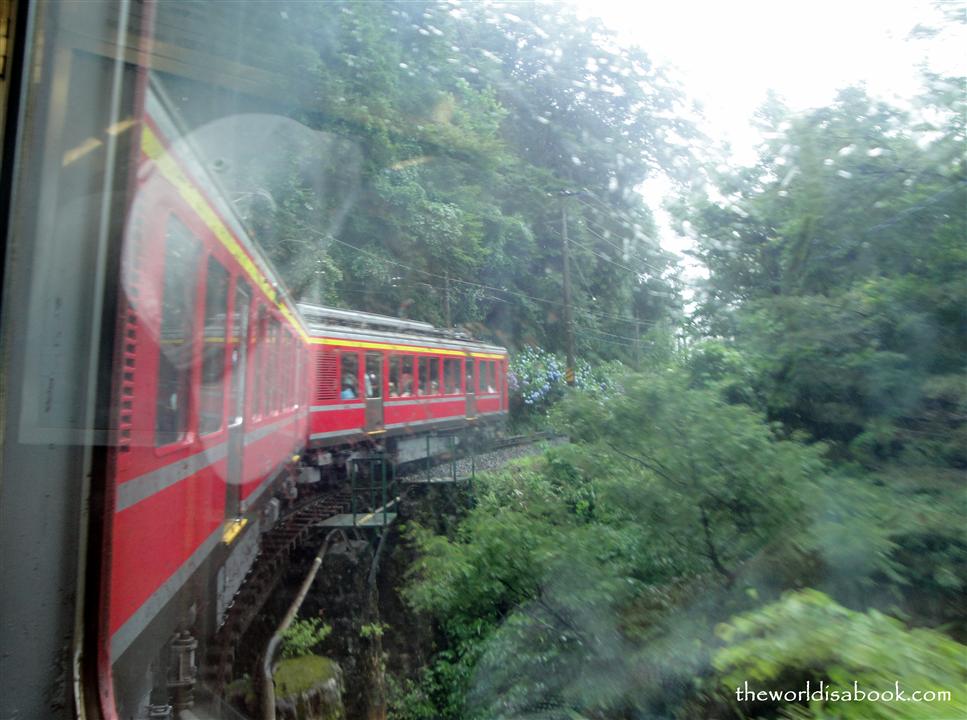 Many people got off at the Open Air Museum which probably would have been pretty cool to see if it wasn't raining.  We arrived at the station and immediately saw the cable car line and railway.  There was a small shop at the station and a little street with vendors selling traditional Japanese items.  We took the Hakone Tozan Cable car to Sounzan for 1o minutes.   It was a quick ride up hill, lined with hydrangeas, with a couple of stops.
There wasn't much at the station  but a gift shop so we proceeded to the Hakone Ropeway to Owakudani.  Now, this was those actual cable cars or more appropriately, aerial tram, suspended in the air.   The winds were strong and it was rocking the cable car pretty strongly.  All we saw was rain and the tree branches beneath us.  The howling got pretty loud at  times it was a bit scary.  This definitely was not for the faint-hearted or those with fear of heights.  Our tram got pretty high at some  points.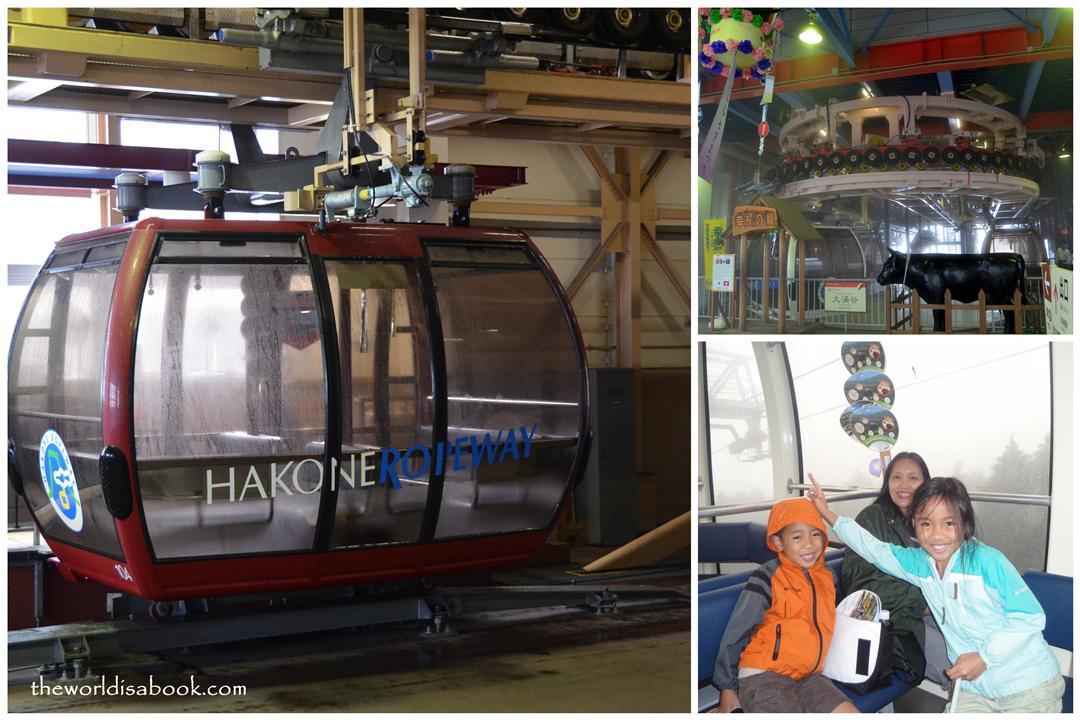 Owakudani station was the stop to see the Great Boiling Valley.  This was the site of a smoking volcano.   Along with the gift shop was an arcade game area for kids.  There was also a little tram stand to sit on to take tourist pictures even with a date commemorating your visit and comes with a conductor hat to put on.  There was even a little conductor jacket for the little ones that our son happily put on.  This was only one of the buildings though.  We decided to run outside and found another building with more shops.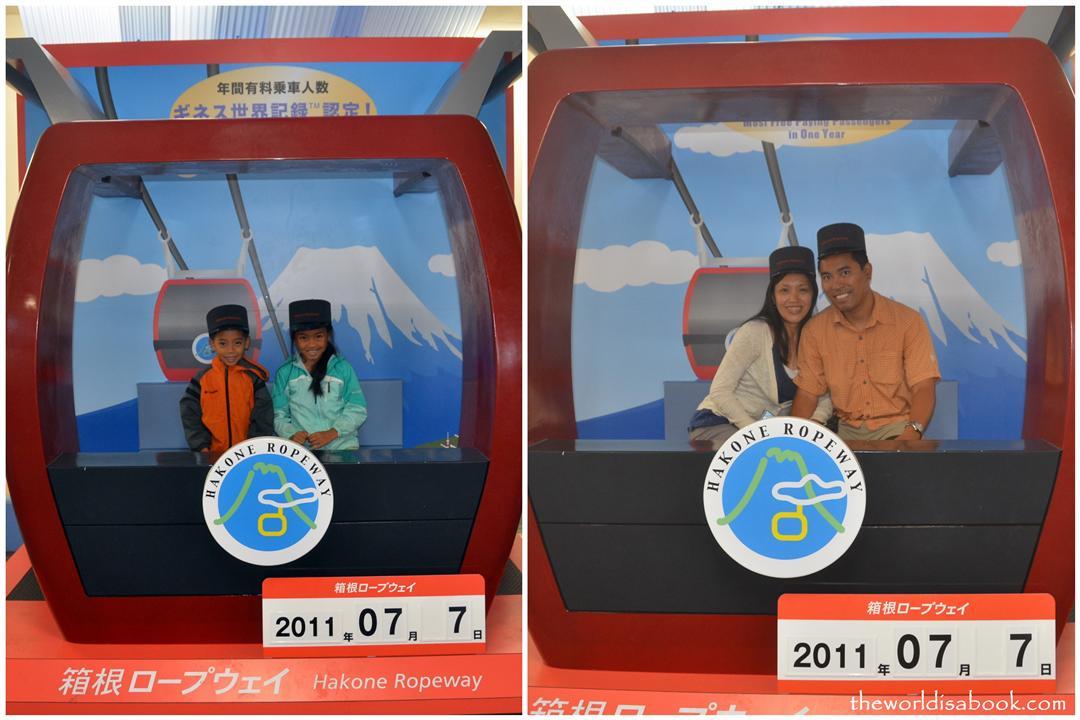 We went towards the back of the gift shop where there was a stand selling the famous black eggs.  These chicken eggs were boiled in the Owakudani's hot sulfur springs thereby producing the black egg shells.  It is believed that your life will be prolonged by 7 years by eating the egg.  I've read conflicting things whether it's 7 years in total or 7 years for each egg.  Eggs were sold only in fives  for 500 yen and we couldn't buy them individually.  They also have them packaged.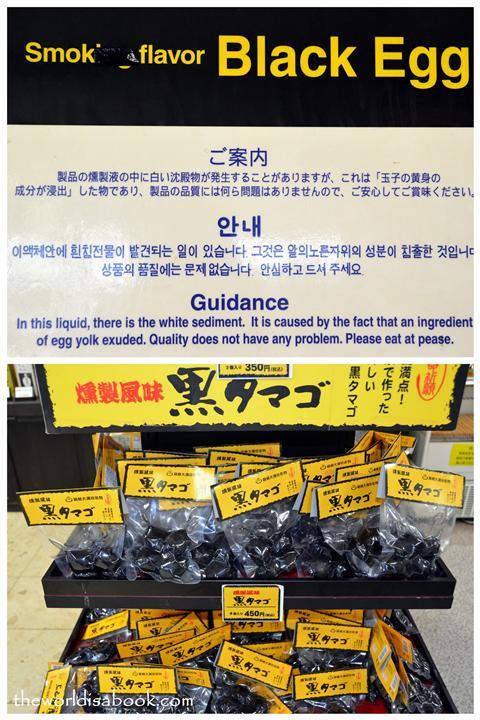 Hubby and the kids enjoyed eating the eggs a lot.  There was nothing particularly different to the hard-boiled eggs other than hints of the sulfur smell and the black shell.  It tasted like any other hard-boiled egg I've had which I'm not usually fond of.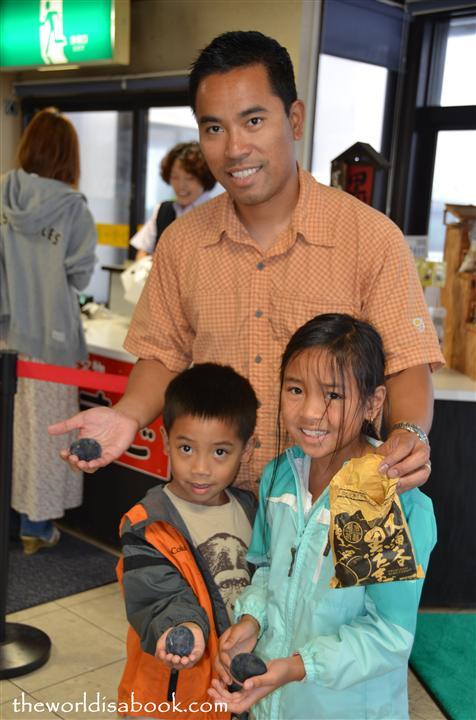 For your Hello Kitty lover like my daughter, there were a couple of Hello Kitty figures with black eggs to pose with.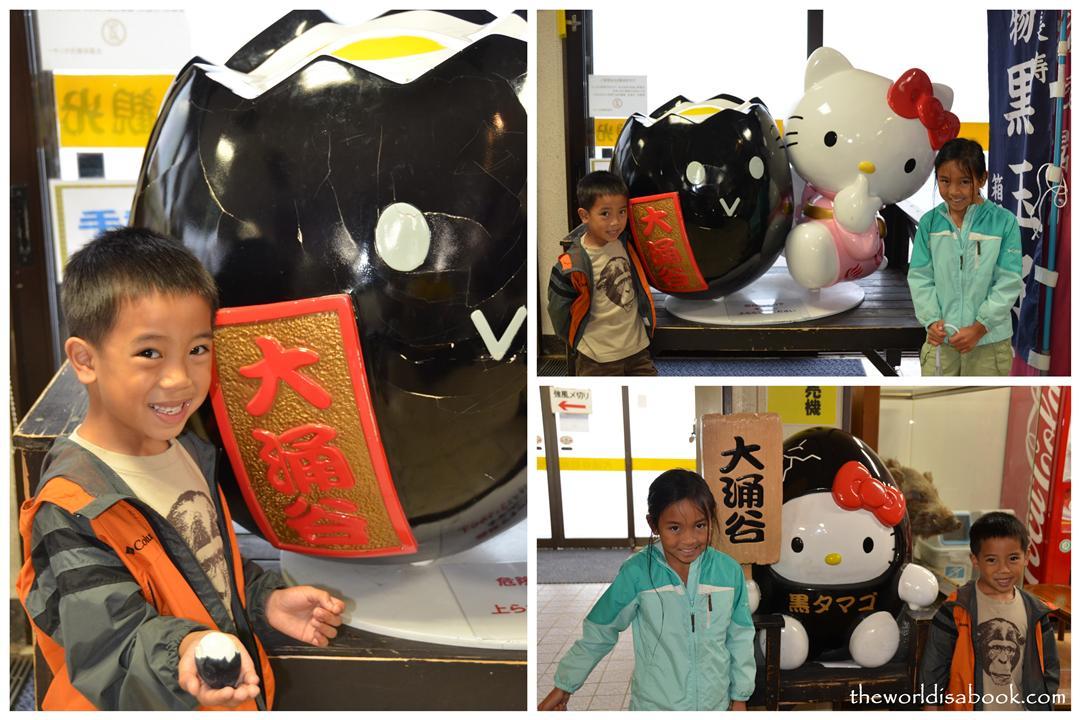 We desperately tried to see parts of the great boiling valley. It was so windy we were a bit scared the kids were going to be picked up by its strength.  Yes, it was that strong. We saw plenty of tour buses but couldn't find the tourists.  We couldn't fathom where they were and it couldn't be just the store areas or eating at the restaurants.  The winds were so strong and with so much fog, they all couldn't be out there and we could barely see anything.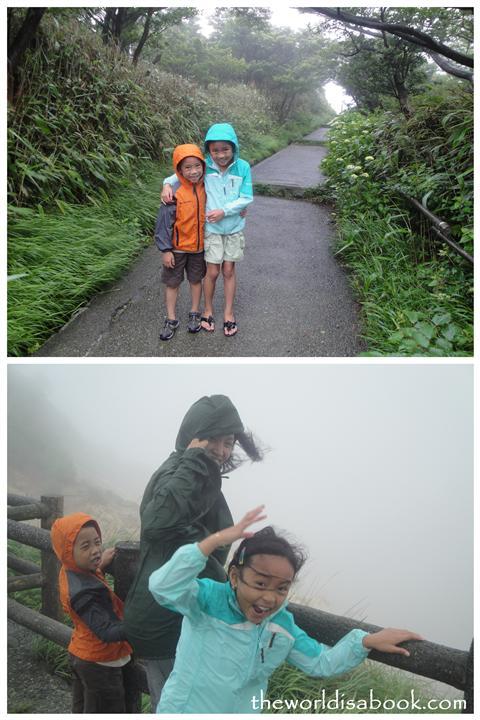 We got as close to a park area and saw a tiny bit of the valley through the fog and smelled the strong sulfur.  There were plenty of shops and restaurants in the area to keep everyone occupied and to cater to all the tourist buses.    We ate at one of the restaurants (I don't know the name since it was in Japanese) but they served some of the best udon (noodles) and tempura we had during our trip.
We continued on with our adventure by taking the Hakone Ropeway cable car further to Togendai-ko station which was the Lake Ashi area.  This was supposed to be the area where you can see some spectacular Mt. Fuji views on a clear day.  We went down to the dock area where we saw the swan boats, the pirate looking ship rocking and waited to get a semi-clear picture of it.
At times, it almost looked like a ghost ship in the mist.  It was such a disappointment to have been that close to the lake and boat and unable to  ride them and enjoy a ride through Lake Ashi.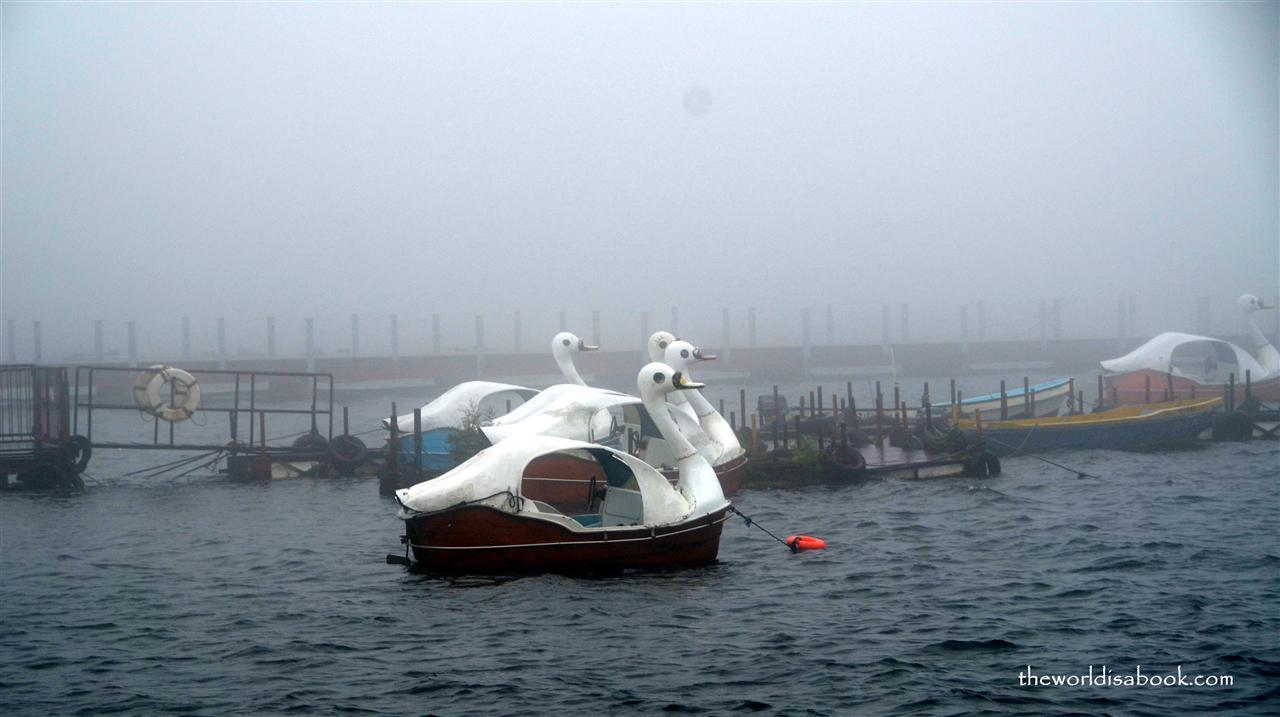 The kids had fun riding on the different transportation options though.  So we dubbed this day a transportation adventure and  not a total bust.  We got to ride at least three different types of transportation we don't usually find back home.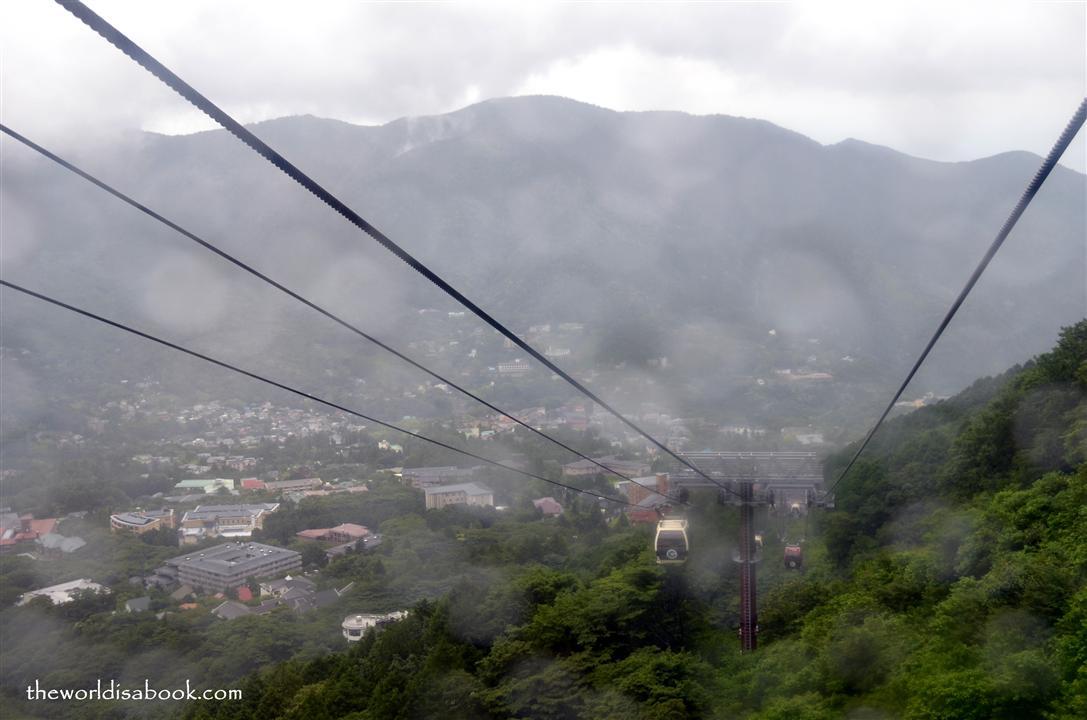 Some of the train rides were very long and if the kids can't take a nap, be sure to bring books or other forms of entertainment to keep them busy.   Despite the expensive trip to Hakone with not seeing much, we're glad we took the day trip and got to see another part of Japan.  We'd definitely go back (on a non-rainy season) and recommend it.
Related Posts:
Check out these related posts: