Tokyo With Kids: Totoro and Studio Ghibli Museum
My husband and I have been avid Hayao Miyazaki (famed Japanese animator and director) fans before we had kids.  If you're reading this and have never heard of Miyazaki or his movies, go to You Tube and search for trailers of his movies.
They are such wonderful  works of art unlike any other. Our kids showed more interest when the movie, Ponyo, came out and loved the movie.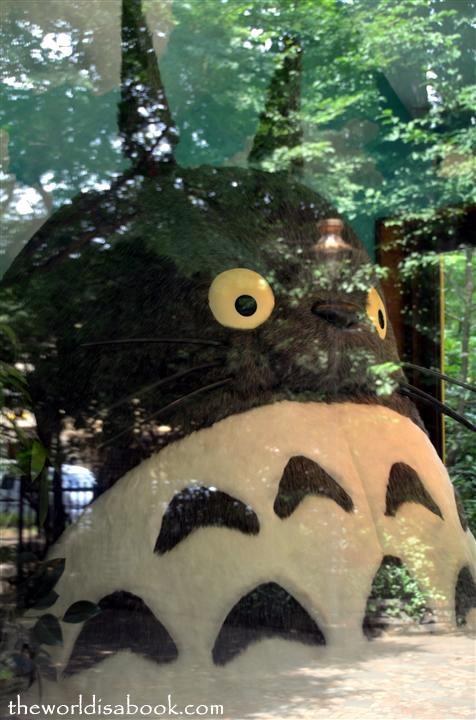 We couldn't go to Tokyo without visiting the Studio Ghibli Museum, of course.  A couple of months before the trip we made sure to get the more children appropriate DVDs (My Neighbor Totoro and Kiki's Delivery Service).  Our kids loved the movies and fell in love with Totoro and Mei.
These are such beautifully crafted movies with simple stories.  We started hearing them singing the catchy theme song 'To-to-ro..totoro' (feel free to sing it if you know the theme) around the house.  It was great to see them become Miyazaki movie fans.
Tickets must be reserved prior to visits and for specific dates.  We went to a Japan Travel Bureau (JTB USA) office at Mitsuwa Store in Costa Mesa, CA to buy ours a month before we left.  They took all our information and everything was ready in about 45 minutes.
They charged a processing fee of $5 per ticket.  Our total cost for 4 tickets was about $50.  This would have been cheaper if we bought it in Tokyo but we didn't want to run around looking for a place to buy it and wanted to ensure we could go on a specific day in our itinerary.  The museum was closed on Tuesdays.  There was no specific time imprinted on the tickets so we could show up any time.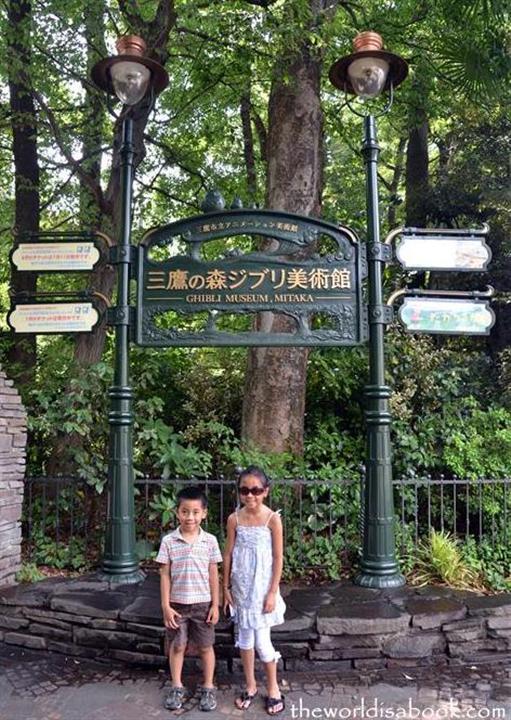 Visiting Studio Ghibli Museum with Kids
Our visit to the museum was on Monday, July 4.  Our own quiet little Independence Day celebration.  We started out early and planned to be at the museum right when it opened at 10AM.  We took the JR Chuo.Sobu line from Shinjuku to Mitaka (9 stops) which took about 15 minutes  and cost 240 Yen.
We followed signs directing us to the Studio Ghibli Museum on the South Exit.  Walking out of the Mitaka station, we were hit with unbelievably hot air, with no breeze at all and our human sweat machine aka our 5 year old son was already sweating profusely.  So, walking to the museum was not an option.
We spotted signs for the Studio Ghibli museum bus.  It was on Bus Stop #9 downstairs. Tickets have to be puchased at a machine nearby prior to boarding the bus. Kids 5 and under were free. It was 300 Yen for a RT fare and 100 Yen for kids.
You can't miss the yellow bus with Ghibli lettering and animated characters all over it.  The kids got even more excited when they spotted this decorated bus.  The ride took us on some residential street areas and took about 5 minutes and dropped us at the museum bus stop which was a few steps past the museum.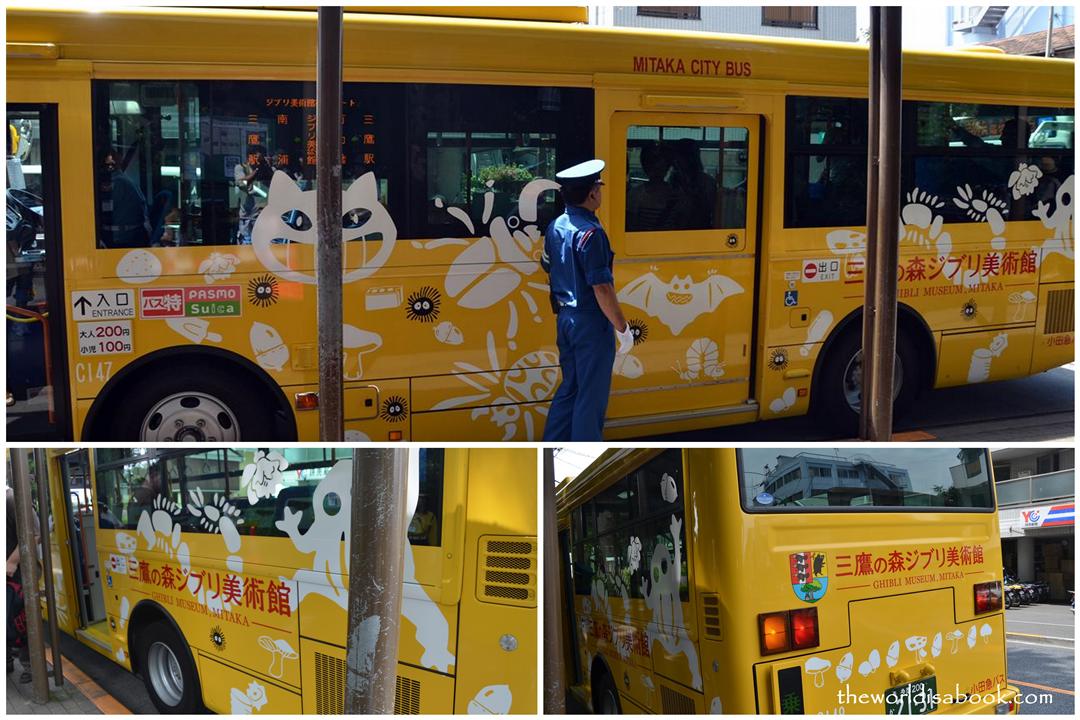 From the bus stop, we walked towards the entrance but decided to explore the grounds first and walked past the ivy-covered buildings. Luckily we did, since we got to see a huge Totoro inside a faux ticket window which our kids happily posed with.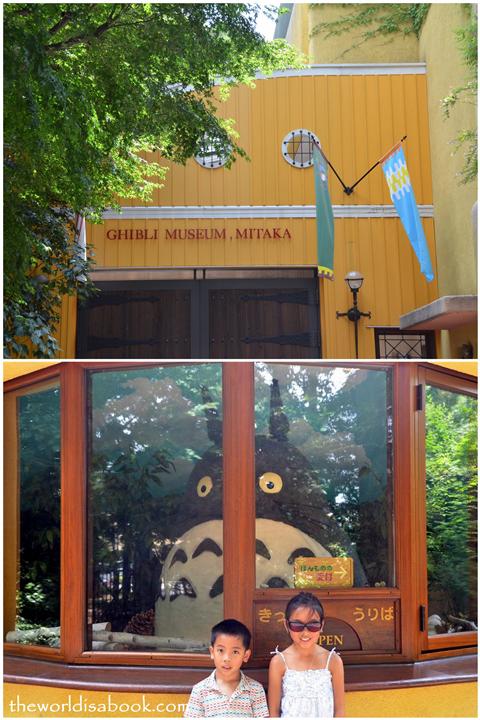 There were Soot Spirits (dust bunnies) from the movie on a window sill below Totoro.  This little area was known as Totoro's Reception and was the entrance we would have first seen if we had walked from the train station.
The museum entrance was beyond the white covered walkway.  We were warned of no picture taking allowed inside as my husband took a picture of the stained glass door featuring Mei & Satsuki.
The stained glass windows by the ticket counter had various movie characters on them and our kids excitedly pointed out the ones they recognized.  We exchanged our vouchers and were given really cool actual 35mm film prints for tickets.
The adventure awaited us as we descended the wide staircase to the central hall area.  This was a bright room that took us all over the museum through the old style glass elevator, catwalk bridges connecting rooms and a spiral staircase. The impressive glass dome ceiling and everything in between all had little touches of whimsy.
The first exhibition room to the right was full of gadgets, displays and a huge playhouse with windows and doors that opened to different Studio Ghibli characters and a movie scene. This was very popular with toddlers. There was also a large, glass display case of a movie projector on another side of the wall.   The walls were lined with various stages of animated drawings.
But, the best thing in this room was the magic of animation circular exhibit. There was a big glass exhibit of My Neighbor Totoro characters in various forms arranged next to each other and if you look closely each was slightly different arranged in a circle. Once it started to spin with the strobelight hitting each figure, it looked like the characters were moving and you were watching a short film.
What a very cool illusion and a great way to demonstrate the animation process. It was one of those 'You have to see it to truly appreciate' sort of thing.
This was so remarkable that everyone gravitated towards it and stayed there to watch it over and over again. Our kids were so fascinated with this and the other one similar to it with just the Giant Robot standing and the doves flying around it.
We next took a narrow spiral staircase to the Cat bus room on the third floor. The Cat bus was featured on the Totoro movies and our kids upon seeing this stood there in awe. It was truly a children's magnet and not to be missed.
Children were allowed to go into the Cat Bus in 5 minute intervals. The kids lined up and the staff told them the rules in a playful manner.  For the non-Japanese speakers, our kids were shown a graphical set of instructions of no shoes/socks, no jumping on top of the cat bus, etc.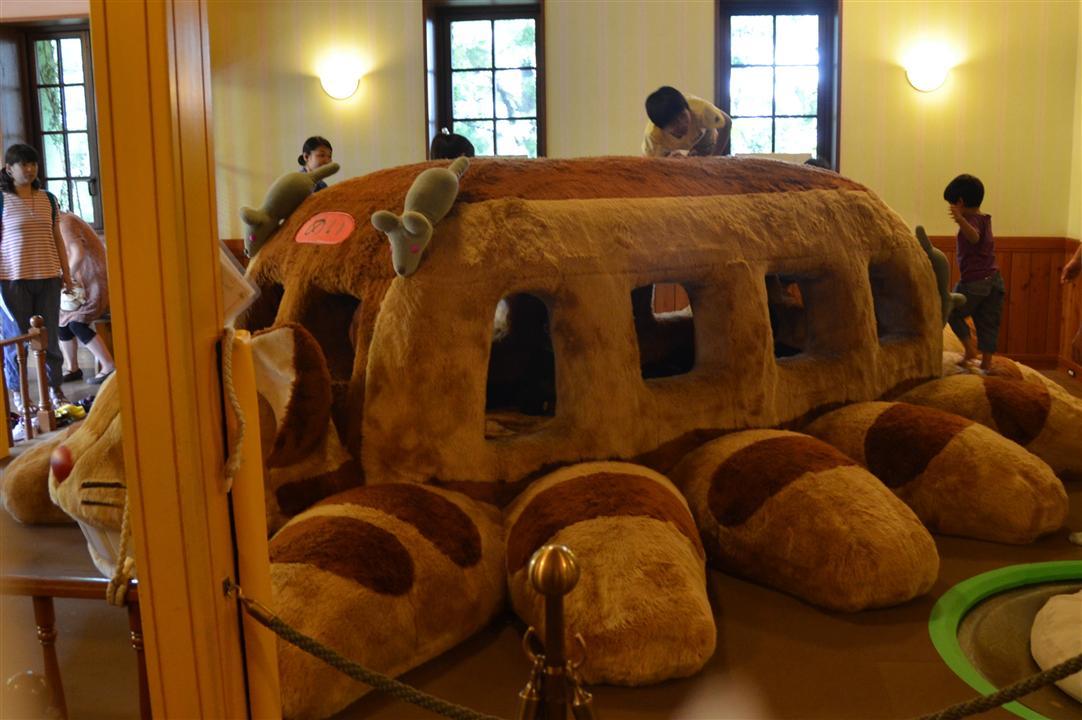 There was a little area where the kids lined up their shoes and socks before entering the bus.   The bus was filled with soot sprites/dust bunnies to throw around.
Kids were everywhere climbing and jumping.  All the while, someone was dutifully vacuuming the floor for fur. Our kids went on the bus three times and would have kept returning had we not put a stop to it.  Without a doubt, the highlight of their museum visit.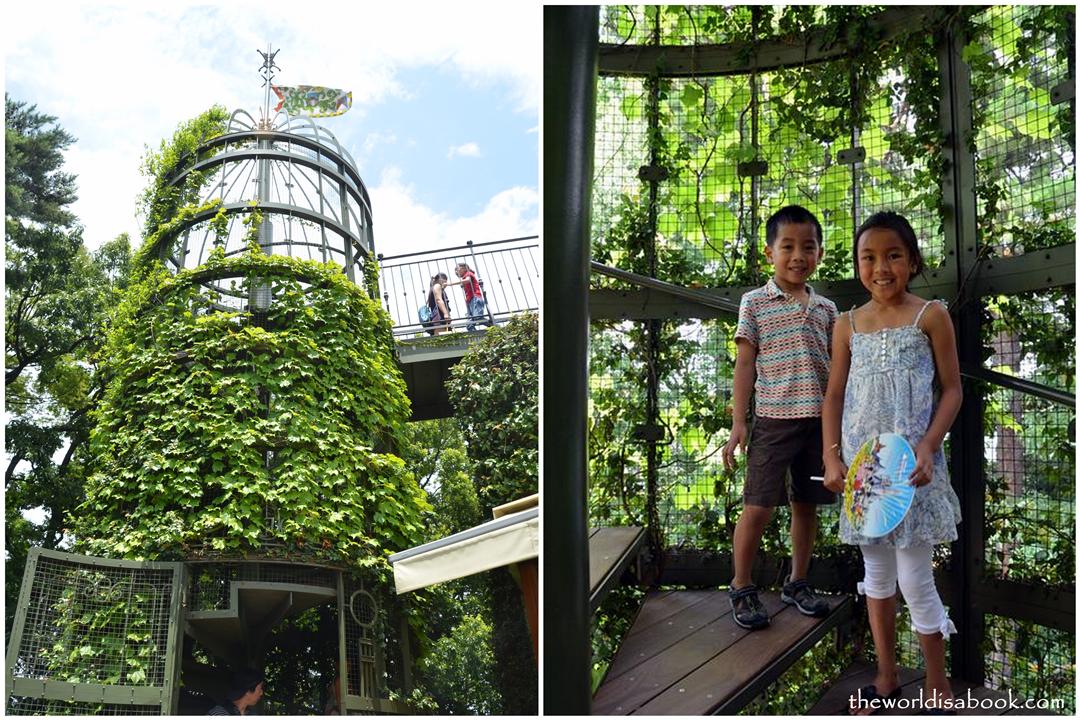 There was a door by the cat bus leading outside.  We took another spiral staircase to the rooftop finding the giant robot from Castle In the Sky movie.  It was pretty big and was considered the museum's guardian.
There was a narrow path behind it that led to a futuristic looking block and was an open invitation for kids to climb.   From here, it was a good overall view of the museum, its surroundings and the park behind it.
We made sure not to miss the gift shop on the third floor.   It was crowded so walking space was pretty tight and it didn't leave much room for exploring.  This was souvenir heaven for any Miyazaki or Studio Ghibli Museum fan.
There were so many merchandise  and so much to choose from.  It was a bit overwhelming and our kids were going crazy and couldn't decide what to get.
The plush characters were adorable it was hard to pick one to buy.  In the end the kids came away with puzzles that you can put in a 4×6 frame and these were supposed to be only sold in Japan and were fairly priced at less than 1000 yen(about $12).
The museum finally opened an adult cat bus version in June 2011, a few weeks before we got there.   Since it was fairly new, it wasn't on their map guide yet so we had to ask one of the staff who spoke very little English. We said 'Cat Bus' and pointed to ourselves and luckily were able to convey where we wanted to go.  The adult cat bus was on the 2nd floor right below the children's cat bus.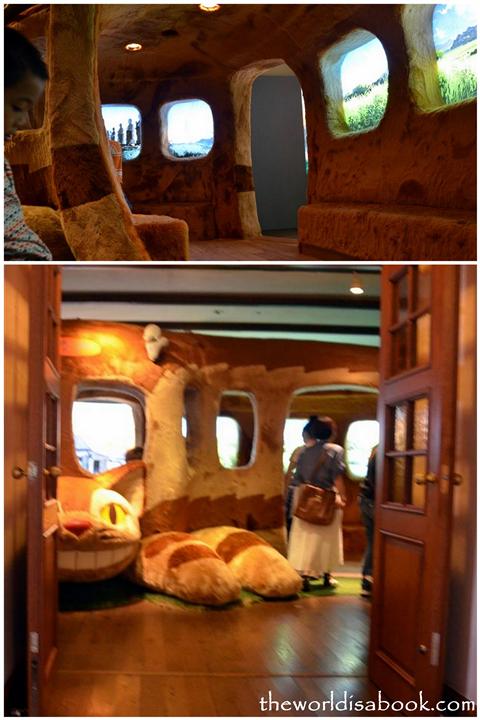 I honestly expected a bigger version of the kids' cat bus to jump around in.  It turned out to be a plush seating area and a walk through to emulate riding the cat bus in the movie.  It was actually pretty comfortable in there with plenty of seats.
We spent more than enough time enjoying the seats and feeling the soft fur inside.  It was awesome!  Hubby managed to sneak a couple of pictures to share our experience.
We decided to venture outside and ended up in the patio area. There were a couple more window sills with the soot sprites peeking out in one of the walls.
There was also an old fashion water pumping station under a small gazebo.  Before we knew it, we found our kids pumping water and a Japanese boy was catching the water in a pail.  They had a system worked out and didn't even speak each other's language.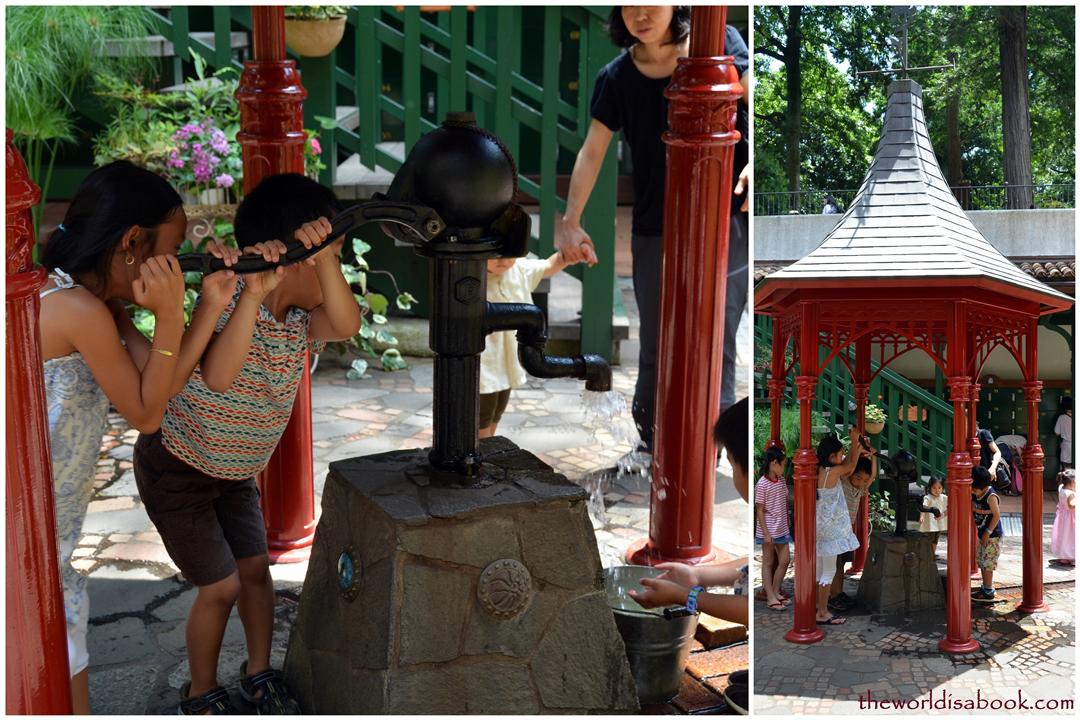 We walked upstairs to try and get some food at the Straw Hat Cafe and found the line to get in too long.  We settled on the ice cream shop nearby which also sold some treats.  There were plenty of seating areas outside and we saw many people with their own lunches too.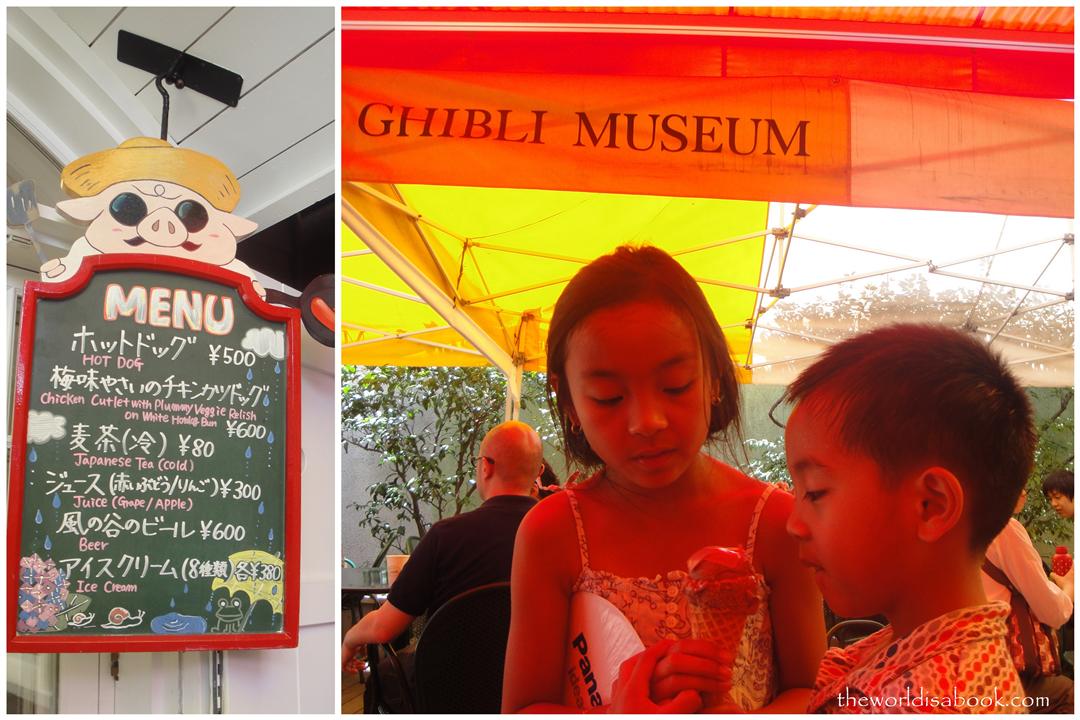 Just a little side note since we used it before leaving. The bathrooms were very clean with some murals on the wall. Its decorations and accessories made me think of a bathroom from someone's grandma's house.
My side note was to show the little contraption to put a child in while using the bathroom. This would have come in handy so many times when my kids were babies and I was by myself. Of course, I had to take a picture to share it. They had these at Tokyo Disney Sea too. I have yet to see these at my nearest mall.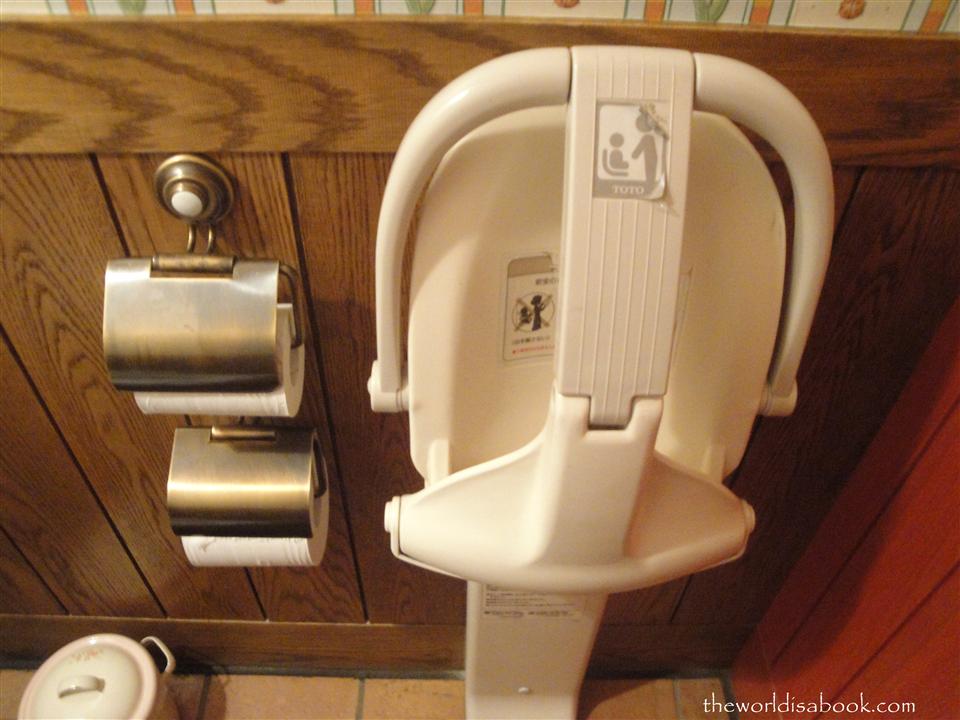 Our last stop was to watch the free short movie made exclusively for the museum at the Saturn Theater.  Showtime was every 15 minutes. We managed to get seats towards the front. The theater had stadium style seating and was beautifully decorated with murals.
Our movie was called 'Treasure Hunting' and was about a boy and a rabbit competing at first and then becoming friends. It lasted about 10 minutes and the minimal dialogue was in Japanese but was a pleasure to watch.
Our kids didn't want to leave even though it was way past lunchtime and we had been there for almost 4 hours. The bus back took us through the town and dropped us off the escalator towards Mitaka station.
We decided to explore a couple of blocks of the town and ended up having a late lunch at a Yoshinoya, the same fast food fixture we used to frequent in Los Angeles.  But, our food was served in ceramic bowls and it came out in record time.  Of course, it tasted so much better here too.
According to the Studio Ghibli Museum brochure, its theme was 'Let's Lose Our Way, Together'.  It was an absolutely amazing and unique place to visit.  There were so many areas to explore and was a fantastic way for kids (and the young at heart) to learn about animation.
You don't have to be Miyazaki fans to come here but watching a couple of his movies beforehand, particularly My Neigbor Totoro, would give you a better sense of reference of objects around the museum.  We loved our visit here and it was an unforgettable experience . We left appreciating the animation world a little bit more and became bigger Studio Ghibli and Miyazaki fans.
Pin it for later!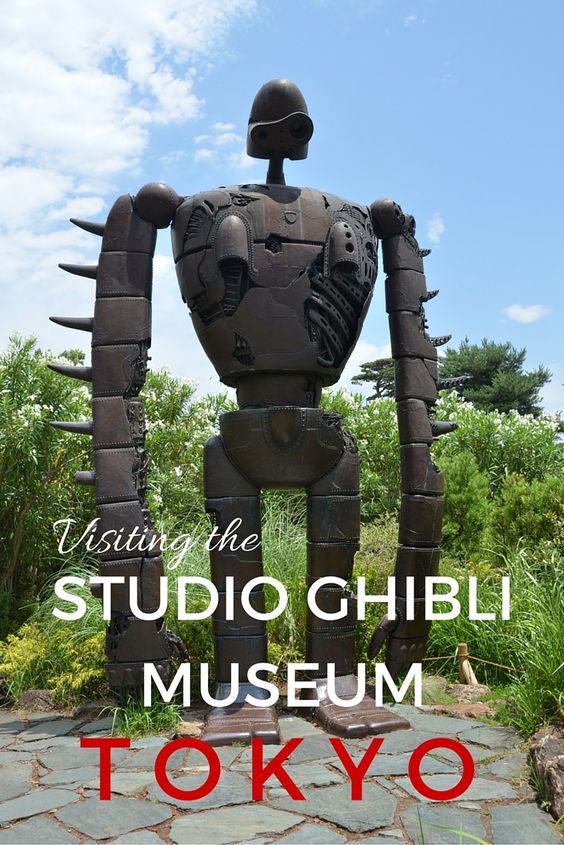 Related Posts:
Check out these related posts: