Visiting Tokyo Temples and Shrines with Kids
We visited three Tokyo temples and shrines with the kids – Sensoji, Meiji Shrine and Zojoji during our vacation.   The Asakusa area is definitely one of those places that are not to be missed when visiting Tokyo.  We were greeted with so much activity and a huge crowd when we came out of the Ginza subway line on a Saturday afternoon.
The smell of food here was enticing.  There were shops and restaurants everywhere.  We ended up not entering through the outer Kaminarimon/Thunder gate (the main gate) but instead one of the smaller side streets leading to the temple but later found ourselves in Nakamise dori/street.
This was the bigger pedestrian only street full of even more shops and plenty of souvenir items.  This was shopping heaven for Japanese item lovers like me.  I think hubby started getting a little nervous when he saw how excited I got seeing all the shops here.  There were plenty of toy stores here too for the kids. This was the best place to buy all the Japanese souvenir items and crafts (fans, dolls, sweets, rice cakes, moshi, kimonos, etc.).
The prices were much more reasonable here than anywhere else in central Tokyo.  I looked and compared which was why we came back here on our last day to shop some more.  It got pretty crowded so hold on to the purses and kids.  There were a lot of people dressed in their kimonos and wearing the traditional Japanese shoes or geta here.  It was quite a sight to see them navigate the streets in those shoes with great coordination.  My daughter was so fascinated seeing the various kimonos and each as detailed and exquisite as the next.
Nakamise dori led us to the Hozomon or Treasure House gate with a huge red paper lantern in the middle with two black lanterns on both sides which were the gateway to the temple.  Both sides also had enclosed statues that were a bit scary looking and initimading in size and facial features for little kids.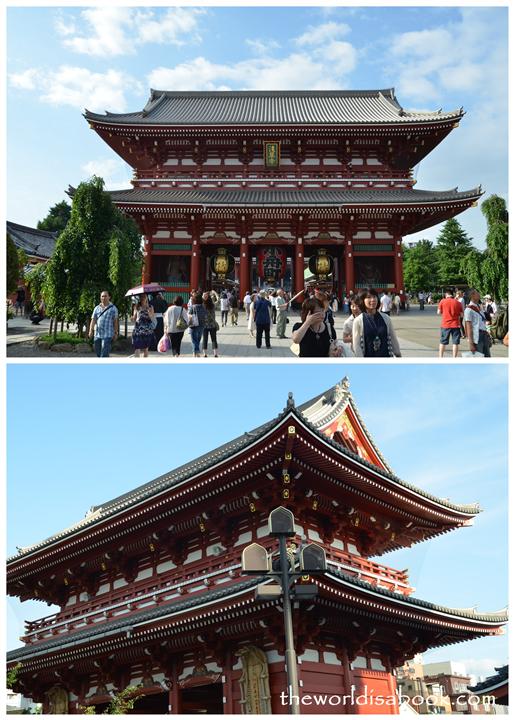 Visiting Sensoji or Asakusa Kannon Temple with Kids
Sensoji or Asakusa Kannon Temple is an ancient Buddhist temple and Tokyo's oldest and most popular.  This was dedicated to the Kannon Bosatsu, the goddess of Mercy.
There was a big incense burner in front of the temple and the smell was prevalent.  We saw many people surround the burner and fan or rub themselves with the smoke, or somewhat trying to inhale the smoke.  It was quite interesting to watch.  The smoke is supposed to have some healing powers.  We followed the locals of course but the smoke got a bit overpowering.
We entered the main hall where it was pretty crowded with sightseers and worshippers. The ceilings were beautifully painted with images of what we assumed of the goddess.  Many of the people were throwing coins and praying here.
Inside the main hall was what we later found out as Omikuji which are random fortunes written on paper strips.  For 200 yen, we shook an enclosed metal container and it produced a wooden stick with Japanese characters written on it (later found out these were numbers).  We had to look for the corresponding drawers nearby.
Since we don't read Japanese writing, a guessing and matching game ensued.  It probably would have been easier to ask someone but my husband was determined to do it on his own. We're pretty sure we got the right one and opened the drawer to get our fortune.  We saw some people tie their fortune to a tree so we followed suit.  It was a little activity to make the temple visit a bit more interesting for the kids.
The other distinctive structure in this area is the Gojunoto or five story pagoda.  It appeared to be closed at the time we were there and was said to contain the remains of Buddha on the top floor.  It was quite a sight sitting underneath it.  The details and woodwork were fascinating.  The Sensoji temple was definitely worth a visit for its lively atmosphere, the beautiful 5 story pagoda and the not-to-be missed Nakamise dori shopping area.
Visiting the Meiji Jingu Shrine with Kids 

The Meiji Jingu Shrine is a Shinto shrine dedicated to Japan's ancient and original religion. According to their English guide brochure, it is dedicated to the "divine souls of Emperor Meiji and his consort Empress Shoken".  We decided to visit the Meiji Shrine on a Sunday afternoon after a walk through the Harajuku area.  We got lost at first and didn't really know the entrance.  FYI, it is across the bridge on the same side as the JR Harajuku station (after exiting the station, make a right) and was across the Gap store.
There was an ice cream store and cafe near the entrance.  The 300 yen (almost $4) ice cream was a bit pricey but necessary to let the kids cool down a bit.  There were seating areas in a patio and free ice cold water in pitchers too.   We entered the first unpainted and wooden Torii (shrine archway) and followed the wide gravel walkway.  There were a lot of people here but it was so spacious it never felt too crowded.  We were surrounded by a forest passing through a bridge with a stream.  This almost felt out of place in the Tokyo metropolis of skyscrapers.
One can't miss the wine barrels to the left and the colorful containers stacked to the right with Japanese writing on them.  They looked like they were held together by ropes.  We later found out the containers were empty barrels of sake or rice wine.  They are called kazaridaru, which means "decoration barrels." And are found in most Shinto shrines.
According to a sign nearby, the wine barrels were "Provenance of the Bourgogne Wine for Consecration at Meiji Jingu".  They were donated by the wineries in Bourgogne, France in the "spirit of world peace and amity" between France and Japan.   Emperor Meiji started the movement for modernization and encouraged learning from the Western culture.  He adopted some practices such as wearing western clothes and eating western food and drinking wine with it.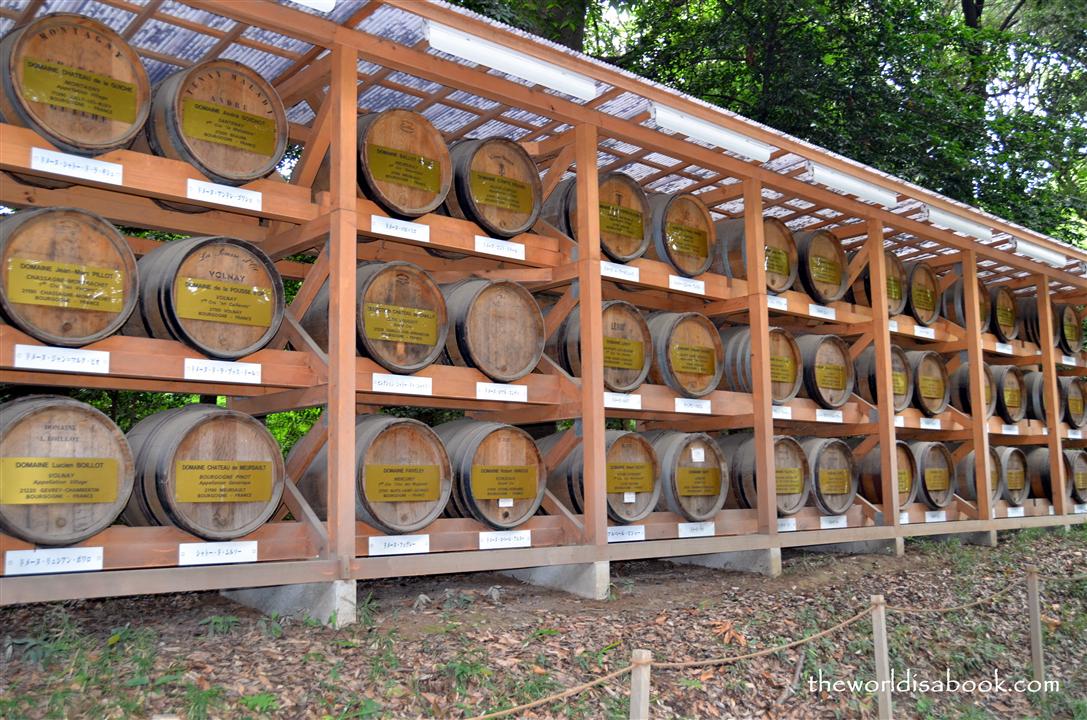 We passed by the restaurant annex where there was also a book/souvenir store, restroom facilities and Bunkakan Treasure Museum.    There were plenty of seating areas here to relax.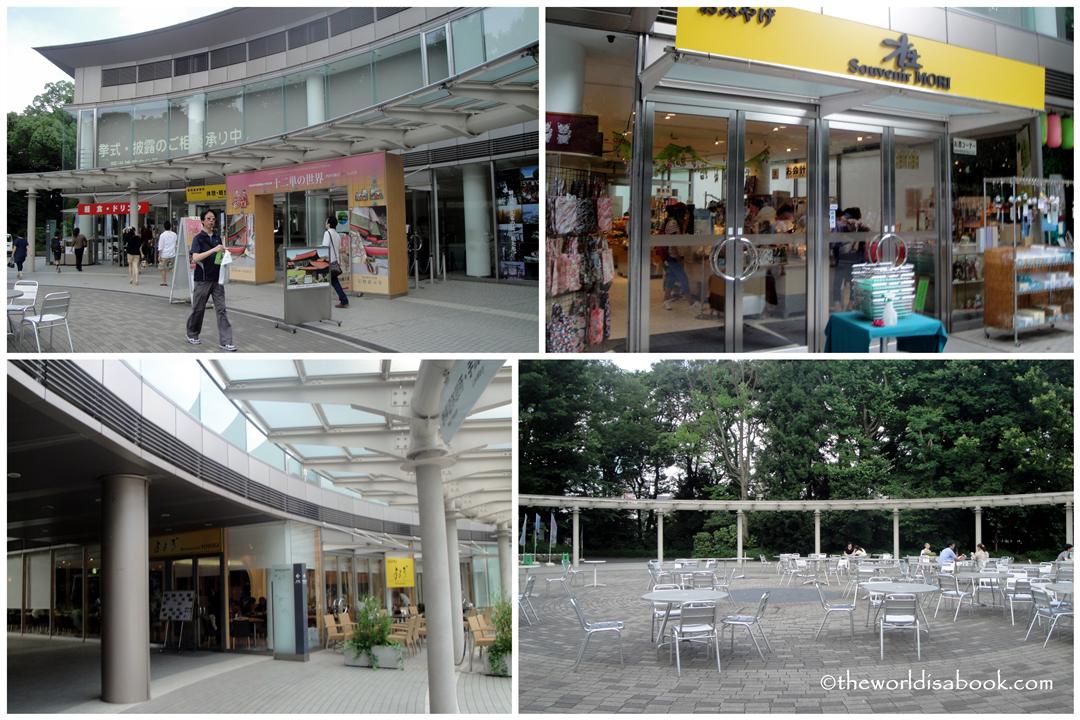 Nearby was a much bigger unpainted, wooden Torii where we saw plenty of people bowing upon entering and leaving.   Before entering the shrine, there was a Temizuya or cleansing station which had a water container with wooden ladles.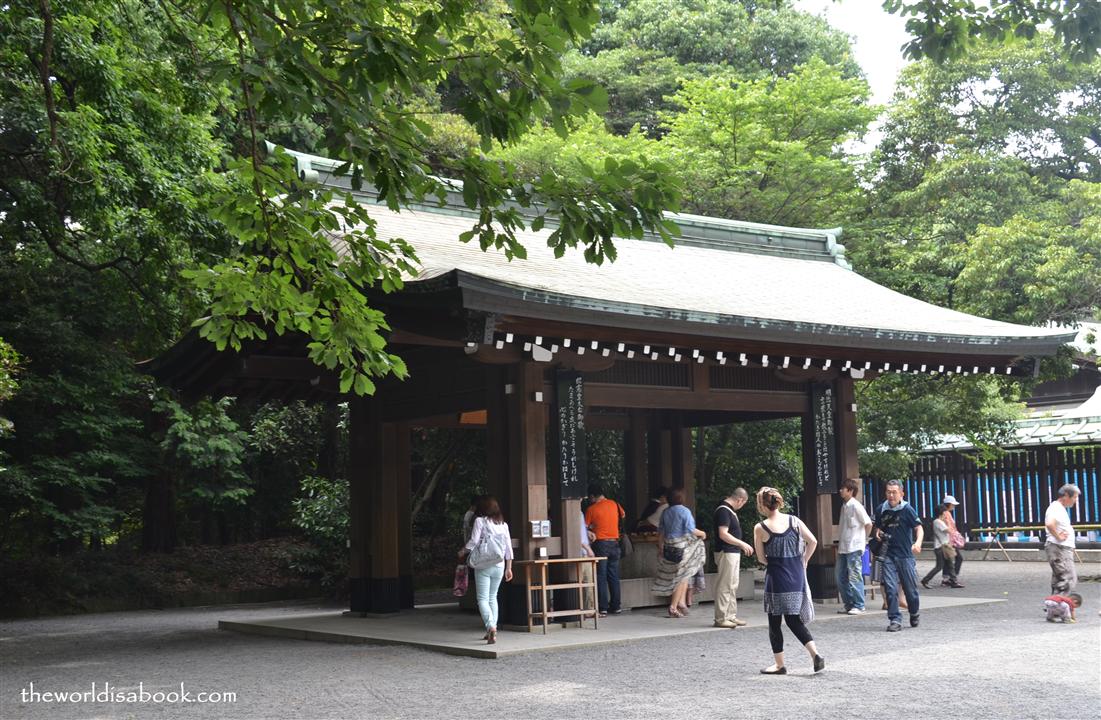 The English guide we had also showed the etiquette to follow while visiting the shrine which was washing your left hand, your right hand and then your mouth.  We watched a few of the locals for awhile and noticed that many of them didn't do the mouth portion.   This site offers some good information for shrine visiting etiquette.
The entrance into the shrine had multi-colored paper hanging from the beams and opened into a spacious courtyard.  The right side had plenty of seating areas.  Sitting down to rest, it was hard not to miss the intricate details of the woodwork and the lanterns hanging from them.  Such gorgeous work!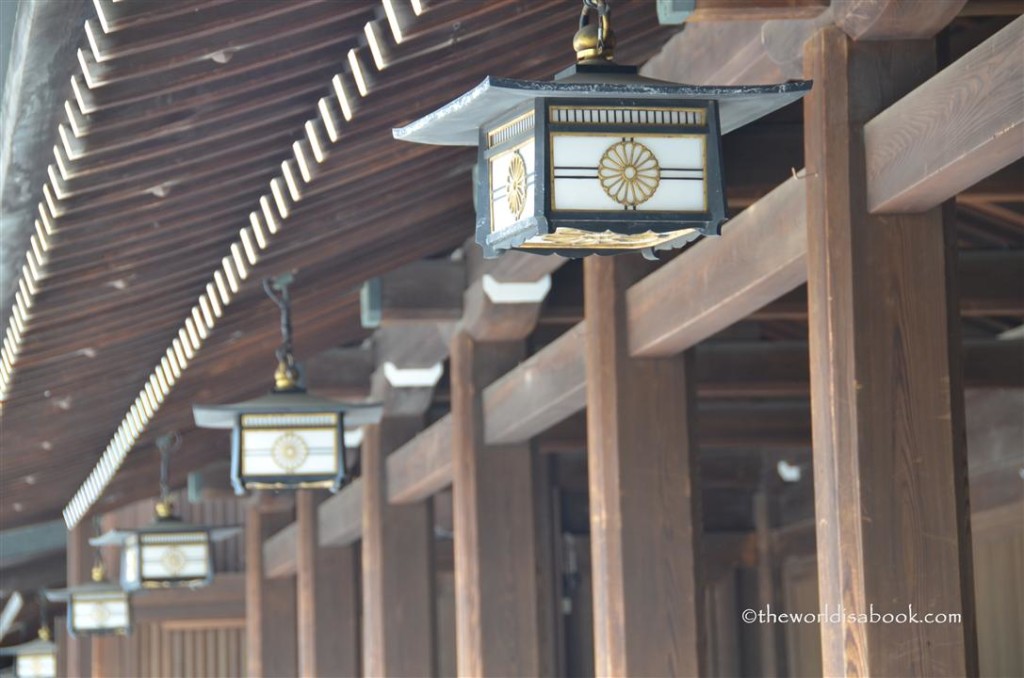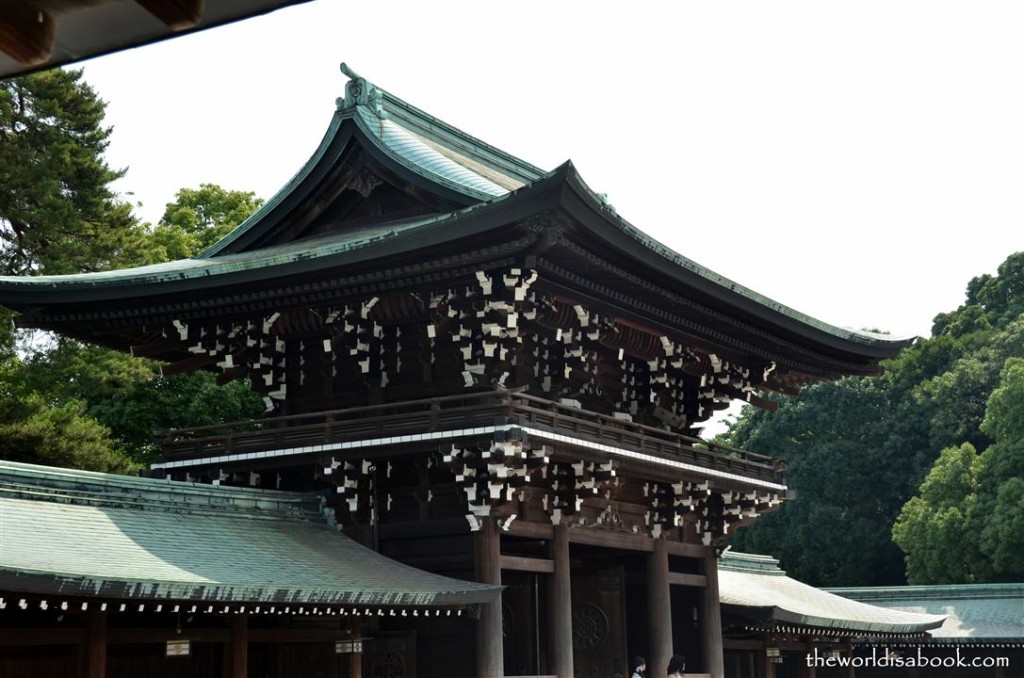 Next to the main hall was a big tree with many wooden boards hanging underneath it.  They are called Ema where visitors can write their wishes and were sold for 500 yen (about $6.50) each.  Most of them were in Japanese but there were a few with English tablets and some with pictures on them.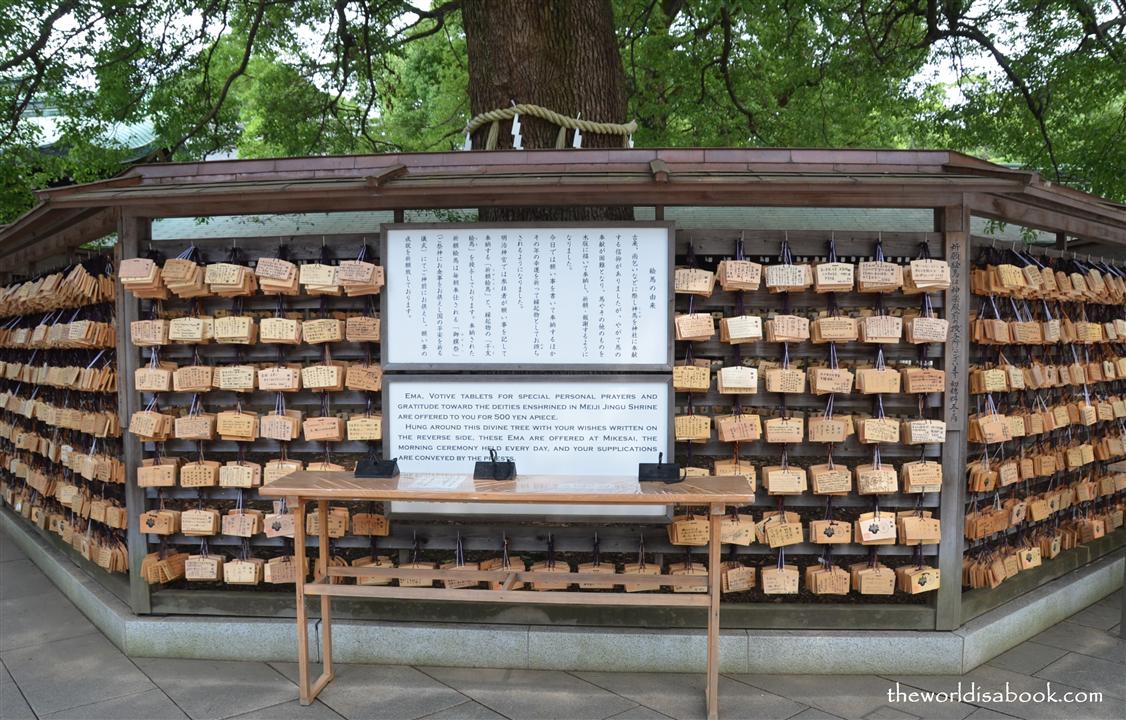 We were content with watching other tourists write their wishes and hanging them than writing our own.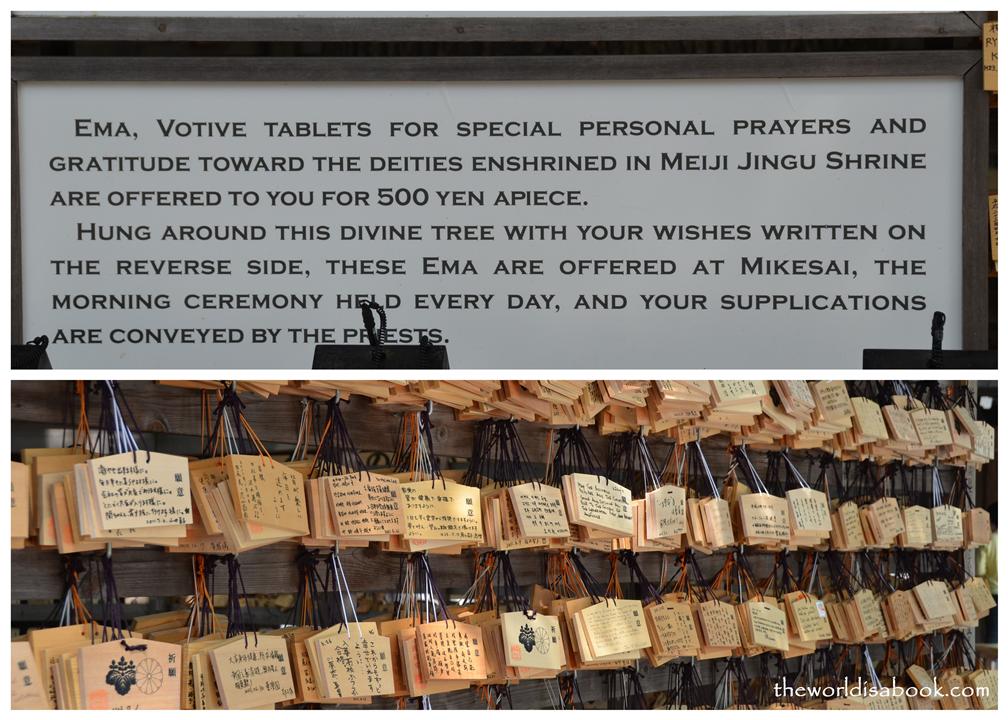 The Main Shrine building was an area for worship and we saw a service going on.  The building was not as colorful or as fancy as the Sensoji temple but the surrounding area and its buildings were just as attractive.  Picture taking or videotaping is not allowed when there is a roof above your head. The security guards were there quickly to admonish visitors especially at the main building.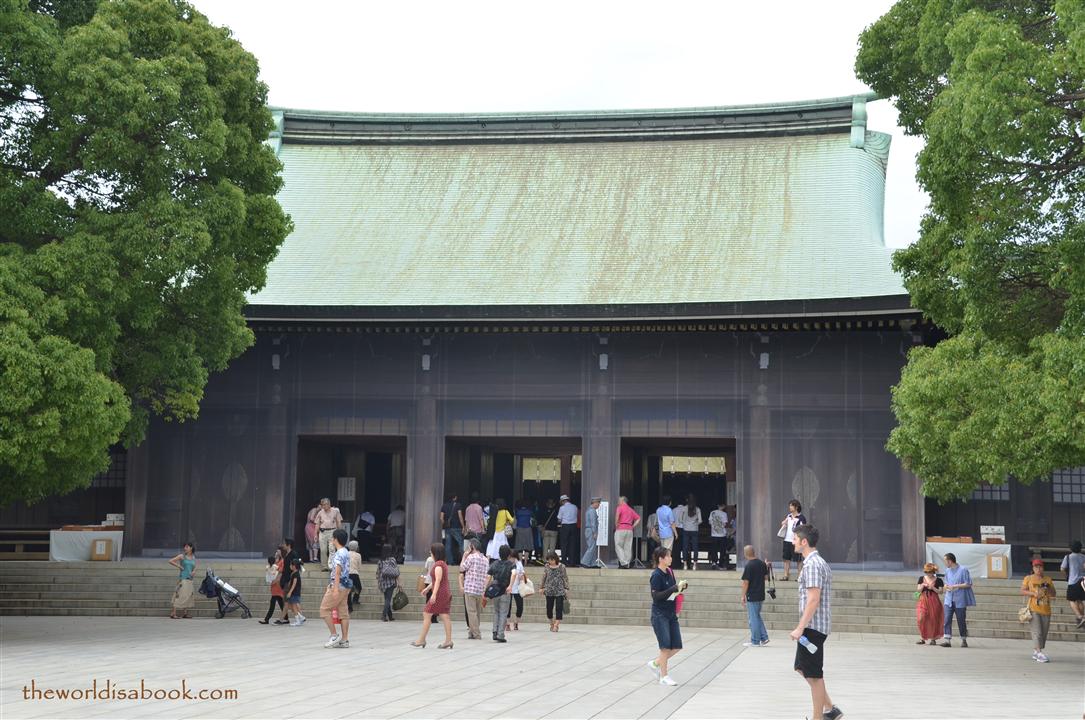 Walking into the shrine we caught a glimpse of a couple of brides having their picture taken.  They were beautiful in their traditional kimono wedding attire.  While resting, we were lucky enough to witness a Japanese wedding procession and most of them dressed up in their traditional attire.
It was so hot and humid I don't know how they were able to handle wearing all those layers. There was someone with a big red umbrella following them and making sure the bride and groom were covered.  It was quite a wonderful sight.  Many tourists started acting like the paparazzi as this procession went through the quad but the bridal party kept their composure.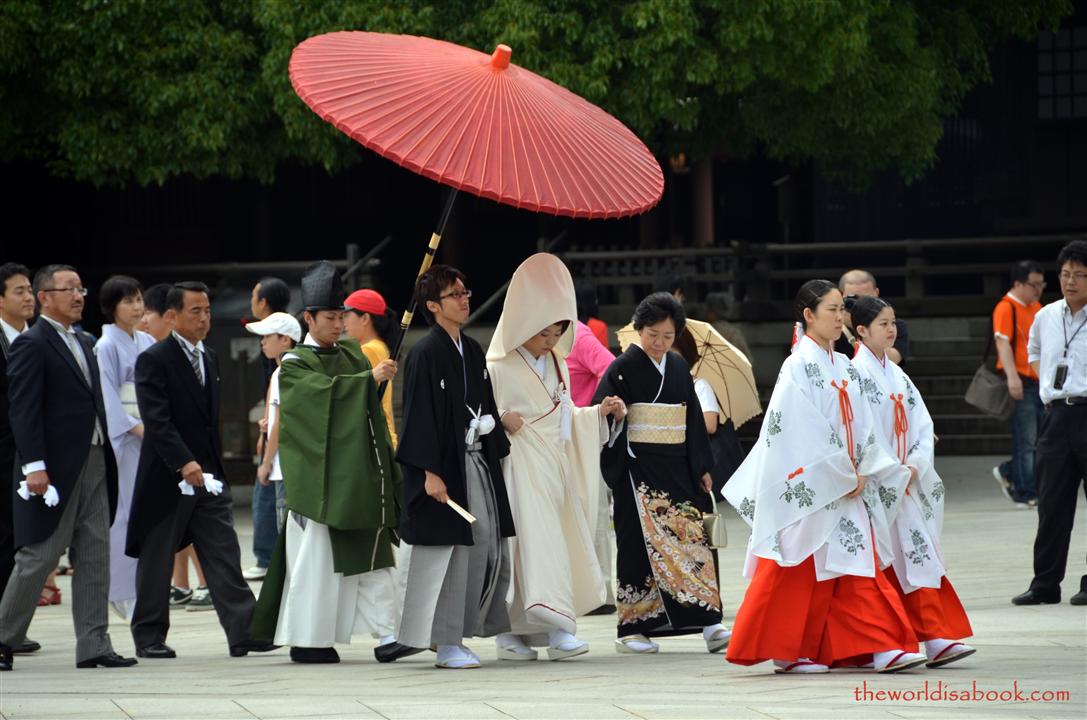 The English brochure also provided a space to put a Meiji Jingu Memorial seal as a souvenir.  We found the stamp station by the souvenir stand where they sold the wishing tablets. Our kids loved the stamp and had a good free souvenir.
This was where we spotted the little girl about the same age as my daughter dressed in her kimono with her mom in modern clothes.  I liked their contrast in clothes here.  My daughter turned to me and said she wanted to dress like her for Halloween.  If only those kimonos come cheap.
This was a good learning experience for our family as we learned a bit more about Emperor Meiji and how to pay respects in a Shinto shrine.   It was a fantastic place for a leisurely walk and great visit to one of the 'old Japan' sites.
Visiting Zojoji Temple with Kids
Zojoji Temple is another Buddhist temple that enshrines the image of Amida Buddha though not as picturesque or popular as Sensoji.  We stopped here for a quick visit on our way to nearby Tokyo Tower. The temple with Tokyo tower in the background presented for some great contrast pictures between old and new Japan though.
We took the subway to the Onarimon station as recommended by our hotel concierge.  We walked for about 10 minutes past the Tokyo Prince Hotel in a shaded sidewalk that led us to the side area of the temple grounds.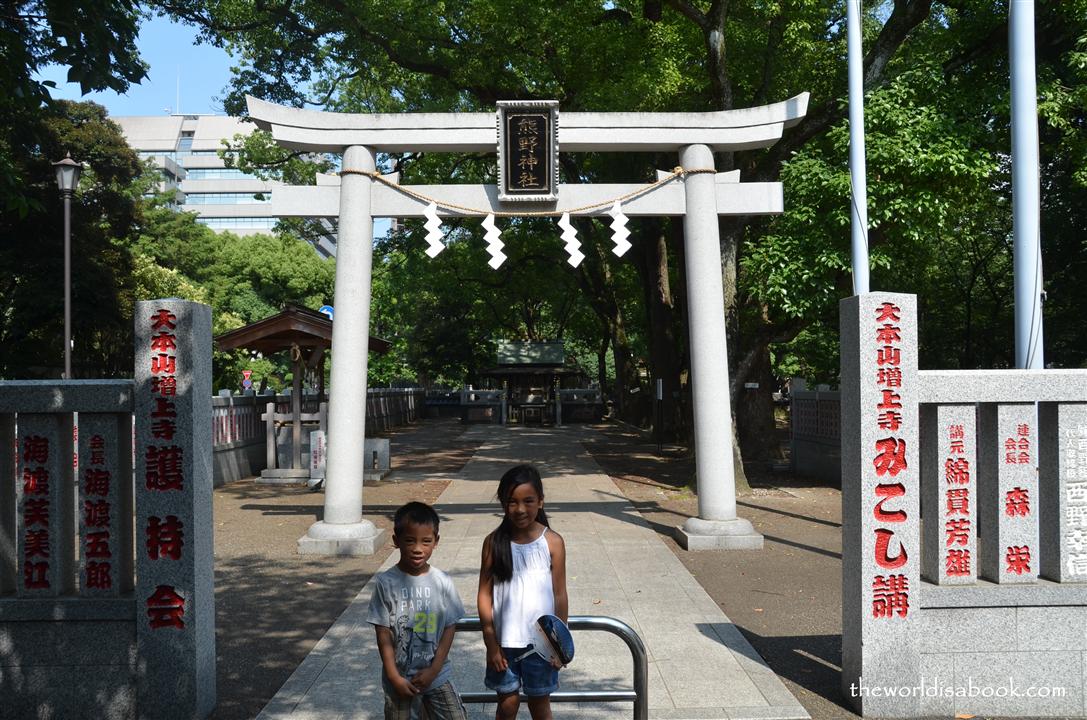 The first things that caught our eye were multiple rows jizobosatsu or jizo statues decorated with bibs, knitted caps, flowers and pinwheels.  They were quite a sight but the stories behind them were very sad.  Jizo statues were considered protectors of the souls of children and infants.  I guess the closest equivalents we have in the Christian world are angel statues.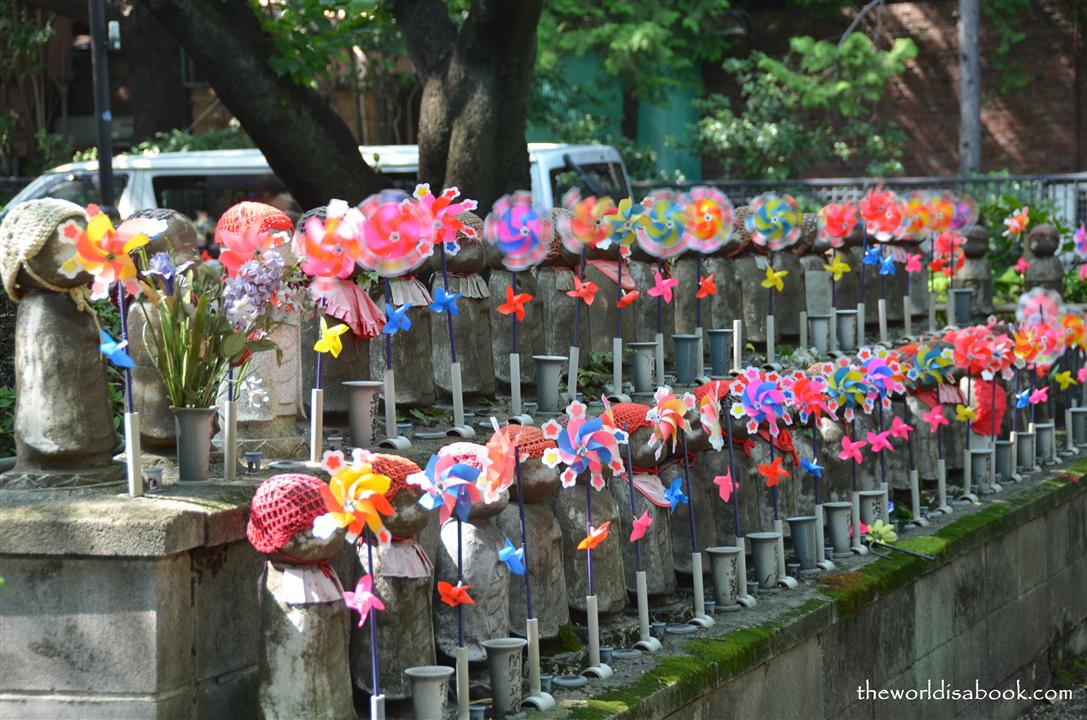 Parents come here to decorate and dedicate the statues in honor of their children who have preceded them in life.  Knowing what they represented and as a parent, it was particularly heart-wrenching to see all the little statues here.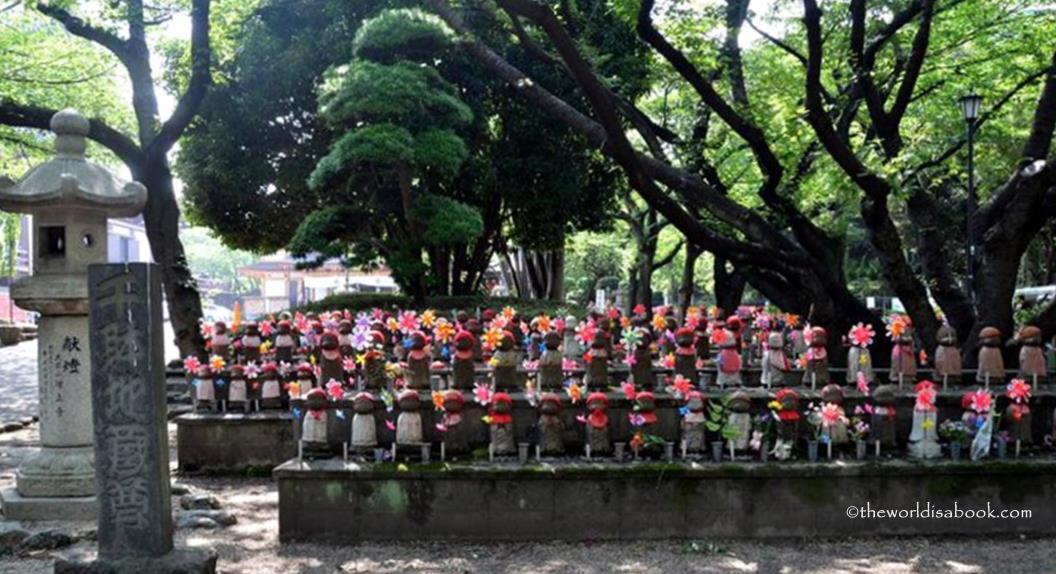 It was so much quieter with a lot less activity here than Meiji Shrine and the Sensoji temple maybe because we were here on a Wednesday afternoon instead of the weekend.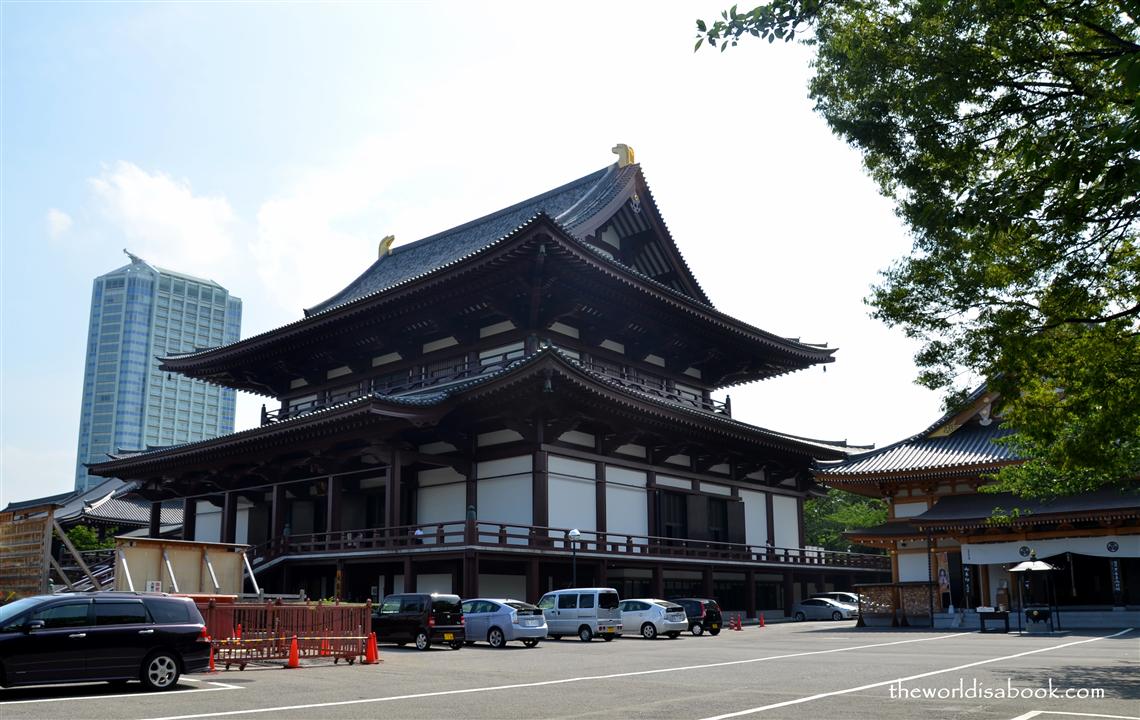 It felt like we had the temple grounds to ourselves and the atmosphere around here was much more serene.
The imposing two story, red main gate marking the entrance to the temples was pretty impressive.  There were also various structures, shrines and gardens surrounding the main hall.  Unfortunately, we didn't have a chance to explore them.  We sat for a few minutes inside the main hall (plenty of chairs lined up neatly) and watched some monks cleaning.
The main hall's centerpiece was a Buddha statue surrounded by a striking golden altar.  There was a terrace around the temple and to the back area was a bridge that led to a walkway towards Tokyo Tower.   If you're in the area, this is a great quick stop and a wonderful place to explore.
Related Posts:
*Have you visited the temples and shrines of Tokyo? 
Pin it now, read later!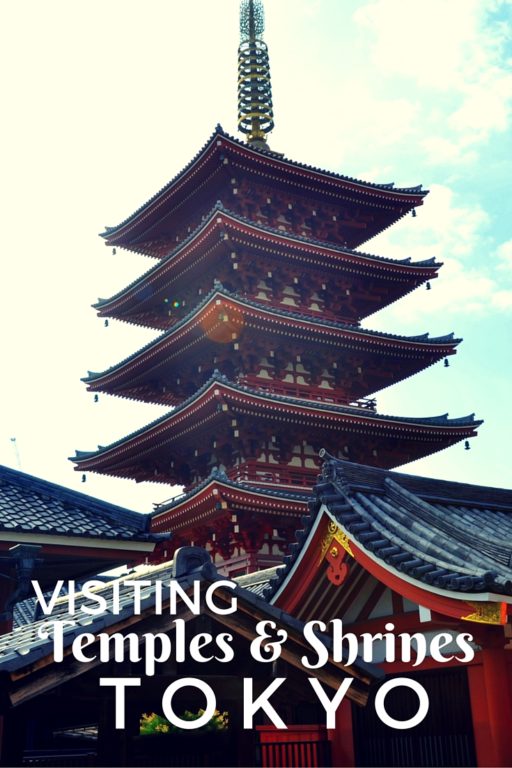 Check out these related posts: