A Summer day at Big Bear and Snow Summit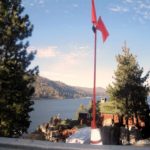 Big Bear & Snow Summit are Southern California's two premiere ski resort destinations.  We gave up going here during the winter season weekends awhile ago.  It has always seemed like half the region's population is here.  The traffic is horrible, the lines are long and the snow becomes slushy.  But, these resorts are completely different in the summer and we've loved going up here for a day trip from San Diego.
It's a perfectly feasible 2+ hour drive from most of Southern California.  Although, the drive up and down was a bit harrowing with winding turns that will make those prone to motion sickness a little hesitant of this trip.  It's all worth it though once you roll down the windows for some fresh alpine air and catch a glimpse of all the summer activities going on in Big Bear Lake.
Our last day trip here was in mid-August 2011 so hubby can do some mountain biking.  The highlight for our kids has always been the Snow Summit scenic sky chair (fancy name for ski lift in the summer).   This is also the only mode of transport for the mountain bikers to go up.  Mountain biking trails for grown-ups and bigger kids are plentiful.  For those that don't have the bike equipment, there were a few bike rental places around the town for about $10/hour.
It was about a 15 minute scenic ride above the trees to the top of the mountain at 8200 feet.  The ride down was so much better though with the panoramic views of Big Bear Lake and the surrounding valley.  It was a bit nerve-wracking riding that lift with an active 6 year old boy who wasn't afraid of heights.  Maybe I was just paranoid and I've never been fond of rides where my feet are dangling.   Nonetheless, it was an enjoyable ride for the whole family.
At the top of the mountain was the View Haus BBQ with burgers and hotdogs.  It was a little overpriced but what's expected.  There were plenty of outdoor seating areas with fantastic mountain views so definitely a must to bring your own food and drinks too.  There are also seating areas inside with clean restroom facilities downstairs.
There were short and easy hiking trails for leisurely walks with scenic mountain views at the top too.  They were easy enough for kids to walk.  Along the trails were plenty of tree stumps and rocks and boulders for kids to climb and sit during the hikes.   I think my kids were more fascinated with large tree stumps and looking for lizards than anything else.
After the scenic sky chair ride and a quick lunch, it was time to to visit the mountain village for some dessert.  Big Bear is a quaint town with plenty of shops and restaurants.  I'm still not sure if it's supposed to look like a Swiss or Bavarian village or both.   There were a few ice cream shops and bakeries to keep the kids happy.  We loved the delicious cupcakes at CopperQ on Pine Knot Ave.   Their favorite store has always been a visit to the Big Bear Christmas Mart.   The store sells many collectibles but the main attractions have always been the big displays of Christmas villages towards the back with Dept. 56 items.  There was also a  Halloween town at the time we were here.
Of course, Big Bear Lake is the centerpiece of the area.  We saw many people on kayaka and boats and other assortment of fun-filled water activities.  There was even a lake tour on one of those river boats that looked like they just came from the Southern states.  We'd have to keep that tour in mind for our next visit. One of these days we may actually follow through with our plan to rent a cabin by the lake and do all these things.
There is only so much shopping and eating kids can do. So, if the kids need to burn off some energy, we passed by a couple of playgrounds and both of them were lakeside.  We stopped by the one next to the Marina Resort.  It wasn't very big but the kids didn't seem to mind.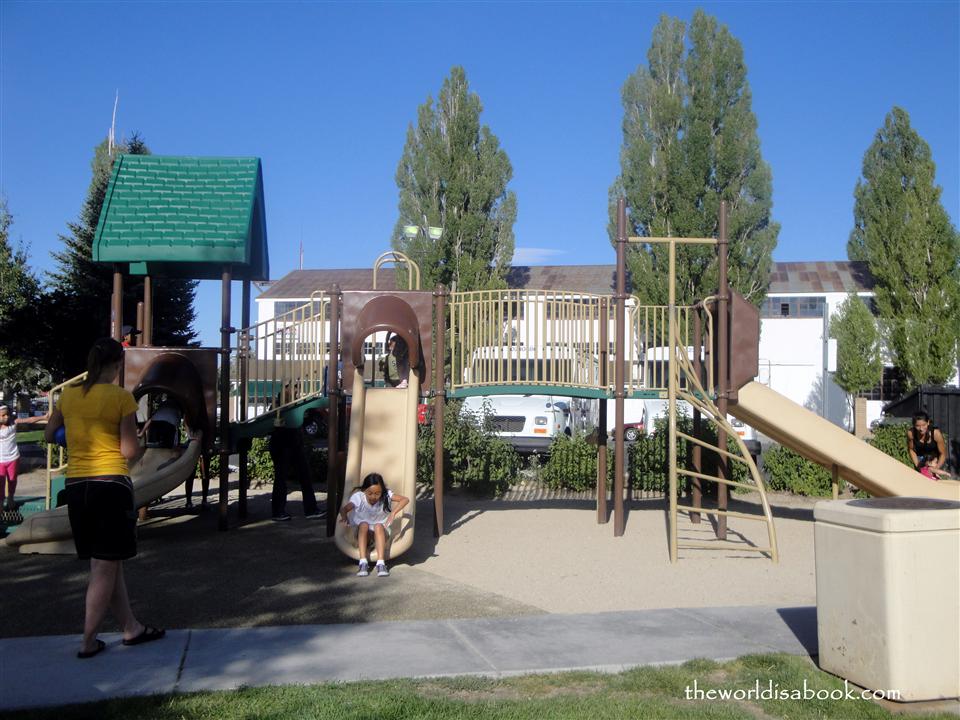 What caught my eye though was the private pool and beach of Marina Resort.  We decided to explore nearby and found the beautifully maintained grounds behind it with a gazebo and a sandy area next to the lake.   It definitely looked family friendly and with those lake views, this would make for a fantastic weekend getaway retreat.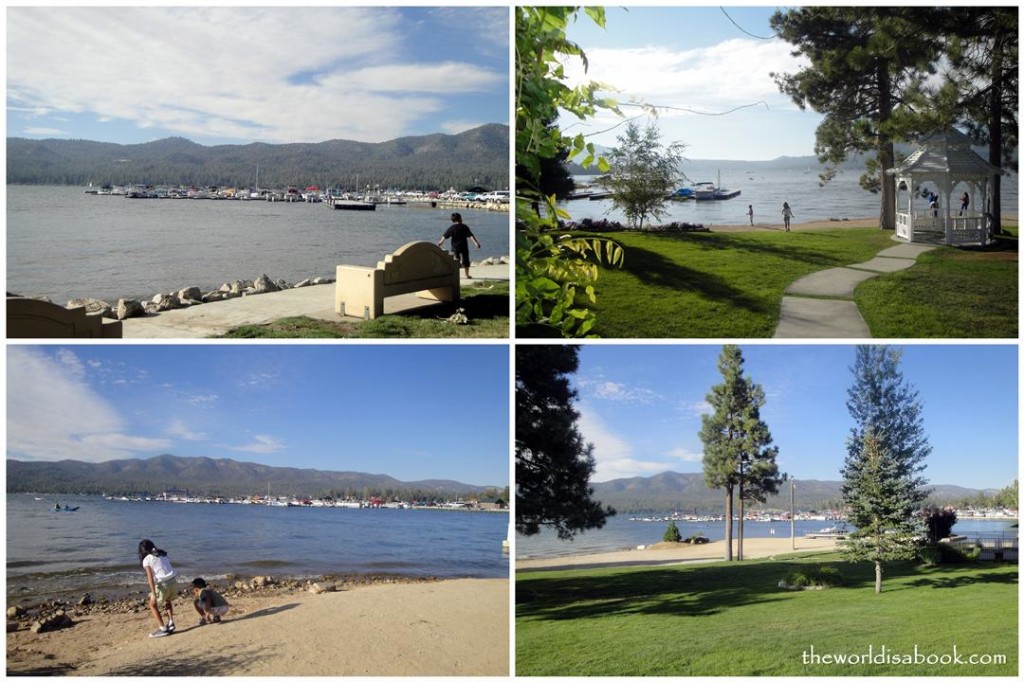 These mountain resorts advertise themselves as a 4 season resort and we highly recommend a day or weekend trip here other than winter.  The crowds are a lot less, the temperatures are mild and it's a great escape from the hustle and bustle of LA and San Diego.
Useful Links: