Eating in Madrid with kids
Paellas, tapas and sangrias come to mind when visiting Spain.  But, we actually didn't get to try any paellas or sangrias while in Spain.  I know I hang my head in shame for all foodies out there. We were running around so much with two picky little eaters in tow so we were only able to do a couple of sit down meals that unfortunately, didn't include these Spanish staples.   But, we did try some other known Spanish dishes so it wasn't all in vain.  These were the places we ate which were cheap, fast and kid-friendly.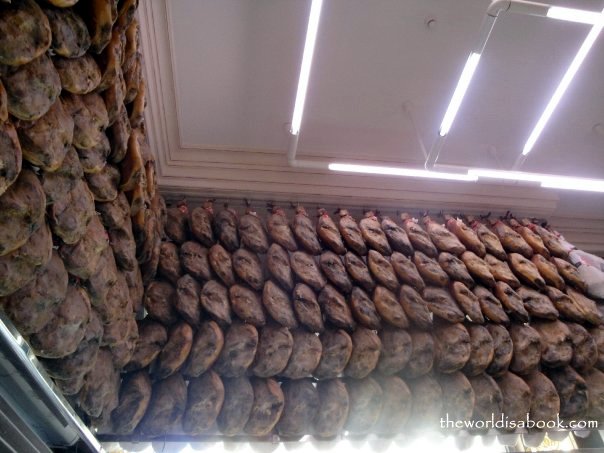 One could not leave Spain without trying their cured ham known as Jamon (pronounced ha-mon). There were varying prices depending on where the ham came from and what the pig was fed.  The most expensive ones were the Jamon Iberico types.  We pretty much ate this throughout our 4 day Madrid stay as either sandwiches or by itself cut into thin slices and packaged.  They weren't salty and most were perfectly seasoned.   Jamon was sold all over the city and in a couple of supermarkets we stopped at.  It was readily available, cheap and became somewhat addicting.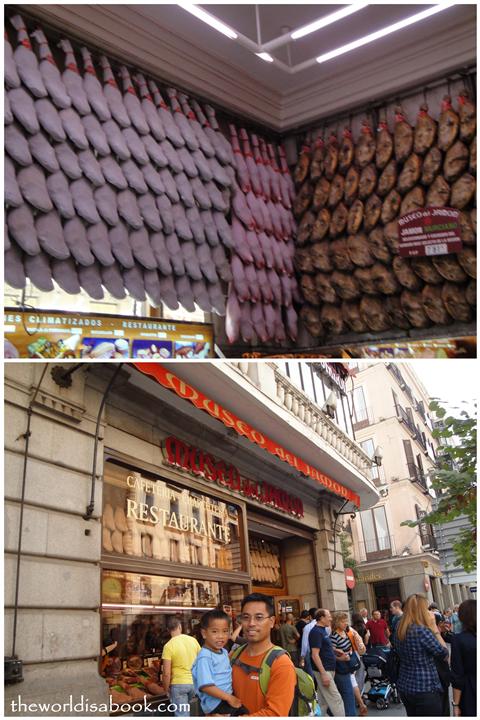 For cheap food, we stopped by Museo del Jamon (Museum of Ham).  This was a very popular restaurant/fast food place near Puerta del Sol. They had tables for sit down dining or you could order from the bar area or counters. There were various ham legs hanging on different parts of the wall which were quite a sight. This was definitely not for the vegetarians. It was a great place to grab some mini-ham sandwiches (some in a croissant) to go for a little over a Euro which were the only things we ate here. My kids devoured those little sandwiches (which took us by surprise) and the thin slices were easy to eat.
Museo del Jamon – Carrera San Jeronimo 6 Madrid       Nearest Metro: Sol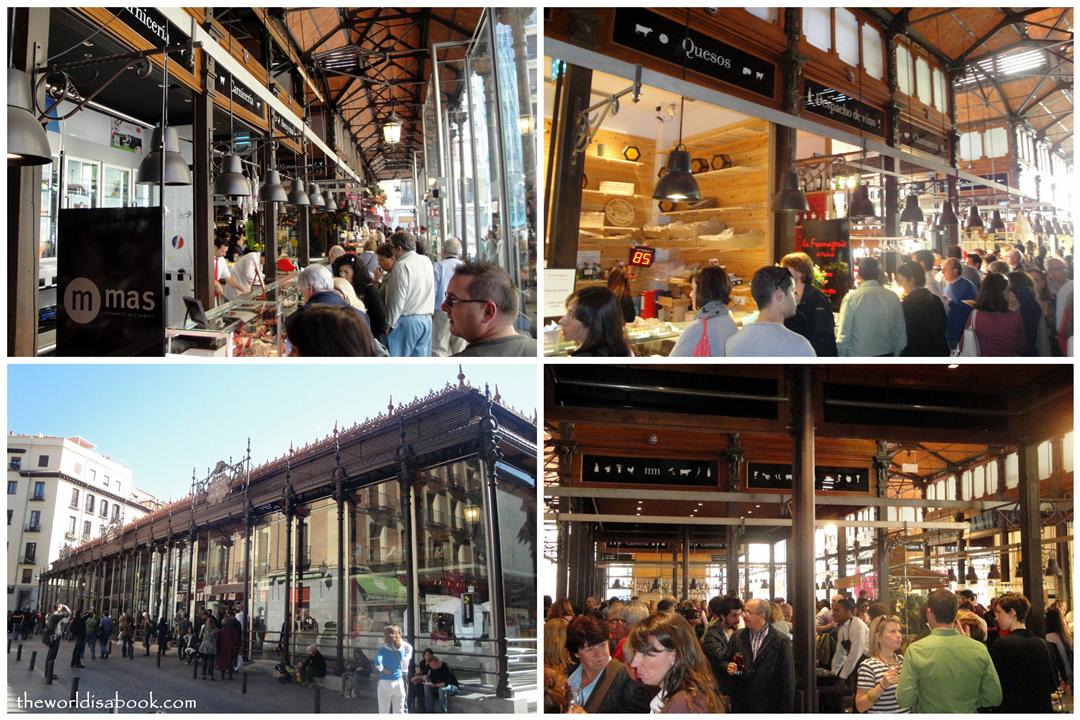 Our favorite place to eat in Madrid was Mercado de San Miguel. I love markets and when I read about this place, I knew we had to make a quick stop.  As it turned out, we ate lunch here twice and once during dinner.  This enclosed market was recently restored to its former glory with cast iron décor and glass transparent exterior.
It has been appropriately dubbed the "temple to gastronomy" by one travel writer.  It was a bit overwhelming with its various food stalls and many vendors selling fresh produce, flowers, fish, meats, wine and cheese.  What a great place to wander around.  It was  located outside one of the nine entrances to Plaza Mayor.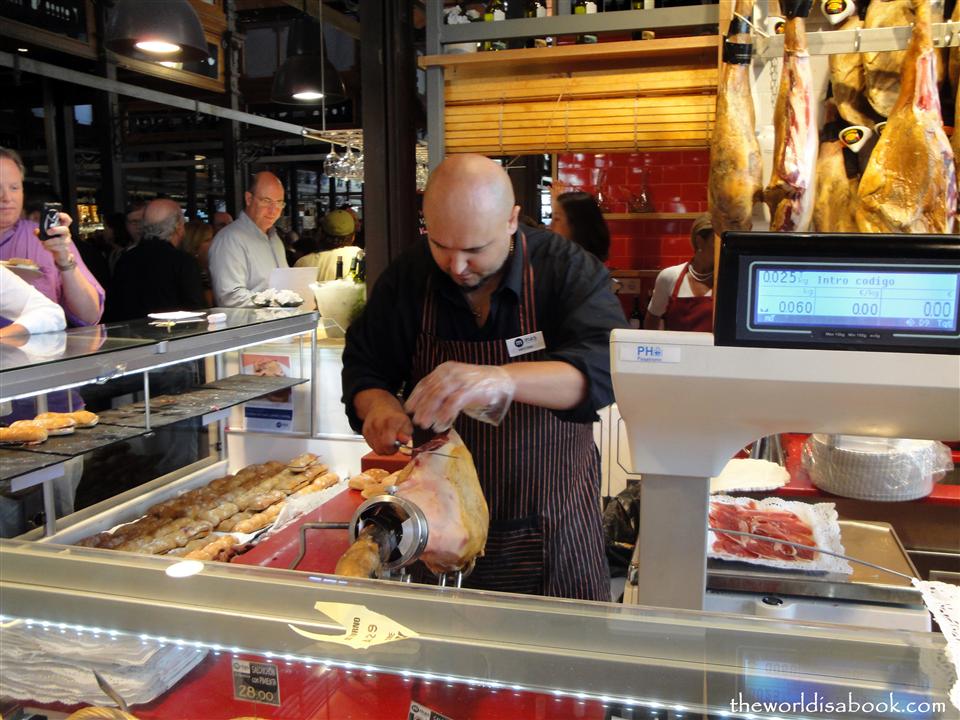 There was a food stall by the entrance selling mini ham sandwiches. This stall was usually pretty crowded and they went by the number system to order.  The sandwiches with slices of jamon were between 2-3 euros.
Another food stall towards the back sold different thin pizza slices which our kids loved. There was also a vendor, with a few tables set up in the middle, selling empanaditas filled with ground beef, chorizo, chicken. They were absolutely delicious and were very popular.   The bakery inside (El Horno de San Onofre – HSO) was another 'do not miss' which sold ice cream, many Spanish pastries, macaroons and churros con chocolate.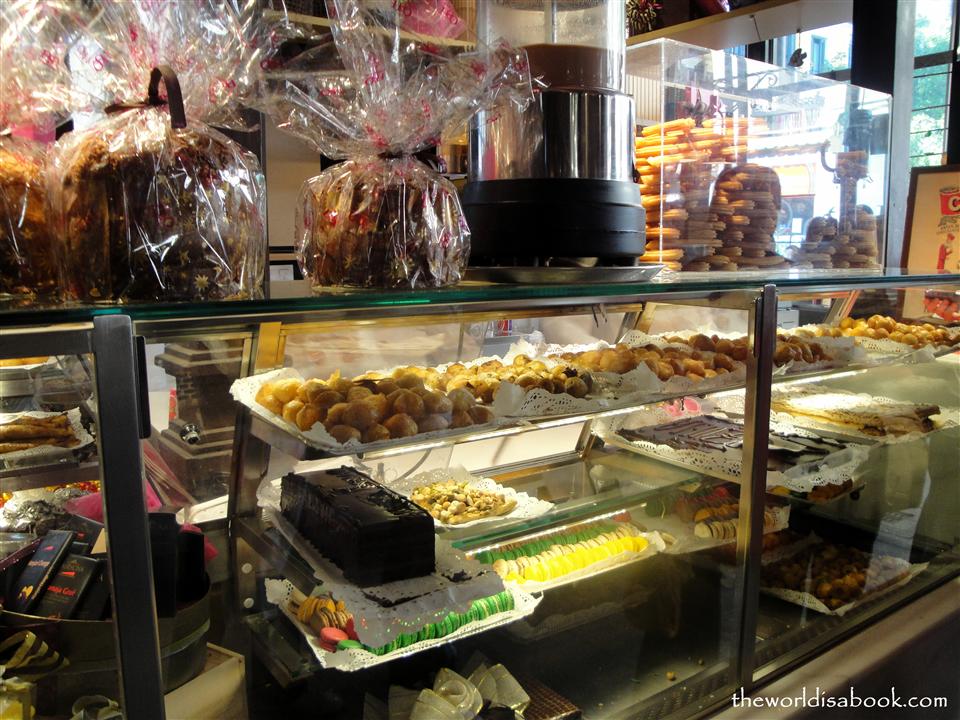 It was hard to find a table inside and got very crowded. We usually took our food to go and ate at one of the open benches in Plaza Mayor nearby. We absolutely loved this place for the variety and the lively atmosphere. There seemed to be more locals than tourists during the times we were there.  We knew very little Spanish and did not have any issues ordering our food.
Mercado de San Miguel – Plaza de San Miguel, Madrid     Nearest Metro: Sol
We also went to what seemed to be a local favorite hangout called El Brillante on the courtyard after our visit to the Reina Sofia museum. There were a variety of restaurants outside the entrance of the museum ranging from pizzas, tapas and some Spanish cuisine but we  chose this one because there were more people here.  We figured it was popular for a reason.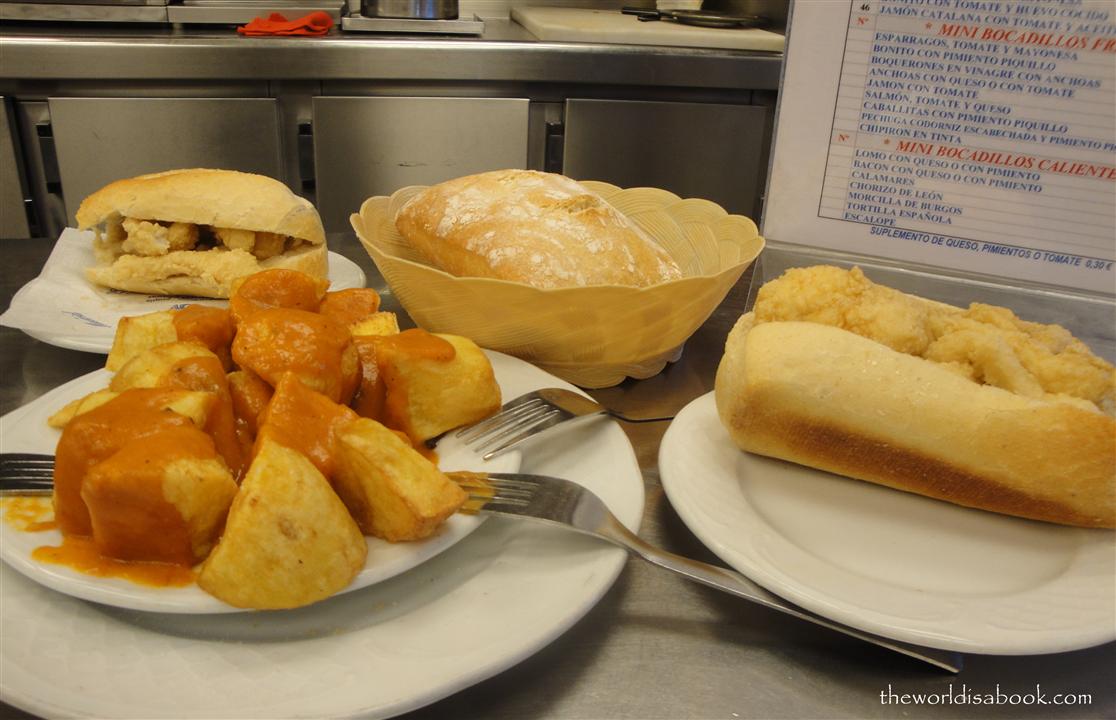 We sat on the counter and ordered our food off the giant menu display on the wall and our food was served pretty quickly. The main specialty seemed to be bocadillo de camarillo (fried calamari sandwich) which they promote on their window. We also ordered patatas con bravas which were sliced potatoes with tomato based sauce. Our kids love calamari so they loved the sandwich.  The potatoes could have needed a little bit more seasoning but overall good. Tables were also available as well as an outside seating area. They were friendly and servings were generous and prices were reasonable.
El Brilliante Restaurant – Glorieta del Emperador Carlos V 8 Madrid        Nearest Metro: Atocha
—————————————————————-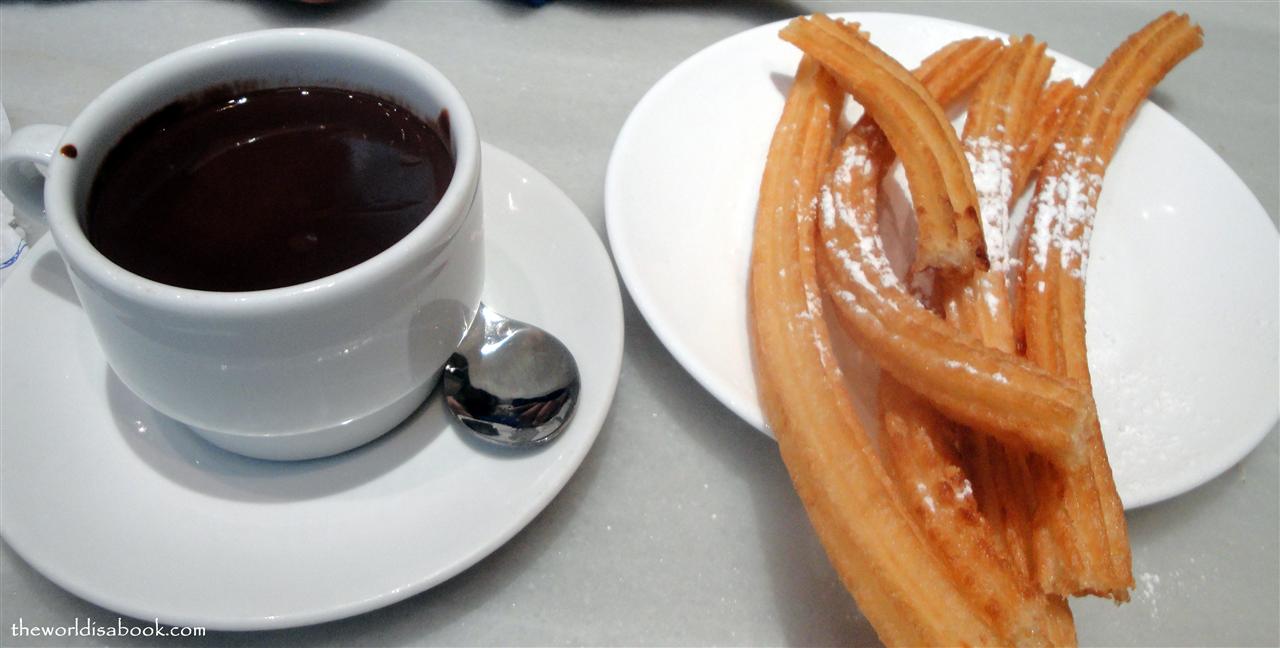 Churros con chocolate was our favorite snack and dessert while in Madrid. We had this Spanish favorite in different places throughout the city but the best one had to be in Gines de Chocolateria. This small establishment specialized in this wonderful treat. It was on a small, side street off Centro Pasadizo de San Gines road near Puerta del Sol.  Fortunately, it wasn't too crowded when we got there.  It was pretty small and they didn't have a lot of dining space inside.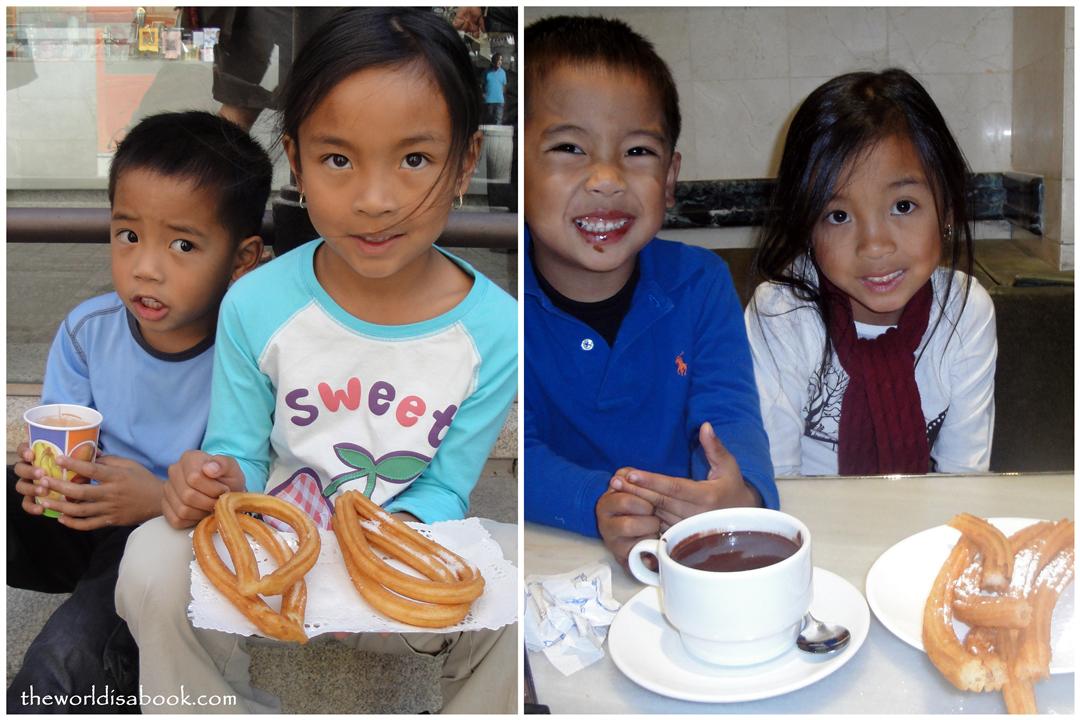 The churros were slightly lighter in color than what we have here in the US.  But the best part was dipping those warm, crispy churros into a bowl of hot, melted chocolate. Their chocolate was a lot thicker than the other stores but wasn't too sweet.  It was absolutely delicious and a big hit with our kids and the chocoholic in me.
Gines de Chocolateria – Centro Pasadizo de San Gines 11, Madrid   Nearest Metro: Sol
———————————————————————————————-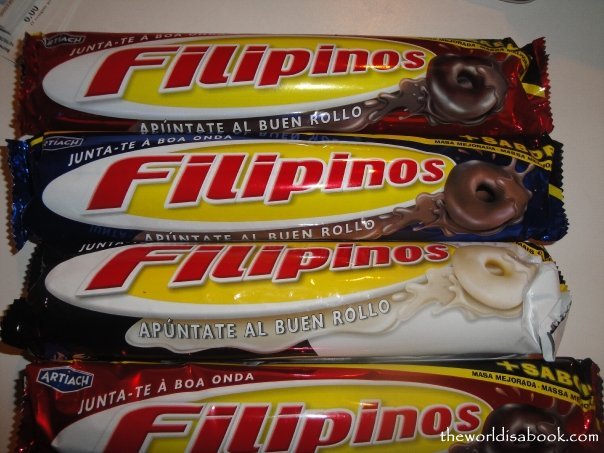 We had to post these treats we found in El Corte Ingles grocery section and another grocery store in Madrid.  We were pleasantly surprised to find a 'Filipinos' brand in the cookies section.  Being Filipinos, of course we had to get them and we stocked up.  They were some sort of cookies shaped like little donuts covered in milk, dark or white chocolate.  They were also cheap at a little over a Euro for a pack of 19 (what an odd set).  They were actually pretty good and we ate a lot of them while touring Madrid.    They were also great souvenirs to bring back to our friends and family.  Everyone actually found it amusing.  Like Girl Scout cookies, they tasted better after being in the refrigerator for awhile.
Some thoughts and tips:
Visit department stores for food. We didn't think we'd frequent a department store for food but we did.  Spain's leading department store, El Corte Ingles, has a major presence in the Puerta del Sol area. The main department store on Calle Preciados (pedestrian street with Zara and H&M stores) where the fashion items are located has a Grocery department on the bottom floor.
 Buy souvenirs at department stores. We also bought food-related items at the department stores for souvenirs such as chocolates, packaged jamon, cookies and pastries. The prices were cheaper than many souvenir stores. There was also an area serving hot food and a bakery section.
Visit local grocery stores.  It really was an experience going to grocery stores in other countries as we saw what the locals buy and eat.  It was a great place to stock up on water  and milk.  Our kids had become addicted to the mini ham sandwiches and Spanish jamon in general at this point.   So, this was a good place as any to get them for a whole lot cheaper too.
Related Posts: