Eating in Brussels with kids
Our priority for the day in Brussels was of course, Belgian waffles for breakfast. We found a restaurant around the corner from the Grand Place called Aux Gaufres de Bruxelles.  It was a quaint restaurant with plenty of seats and waffles and other breakfast items.  The variety of toppings was limitless and a really hard decision because everything looked and smelled good.   Our breakfast was absolutely delicious and satisfying.  It was agonizing to look at and smell the mouth watering waffle displays on various store fronts as we toured the city even after we had eaten our share.
Life is like a box of chocolates
If you love chocolates, Brussels is the place to go! There were myriads of chocolate shops and chocolatiers that seem to be in every corner in Brussels. This city was truly Chocolate Heaven.  The popular Godiva, Leonidas and Guylian chocolatiers had prominent flagship stores around the city.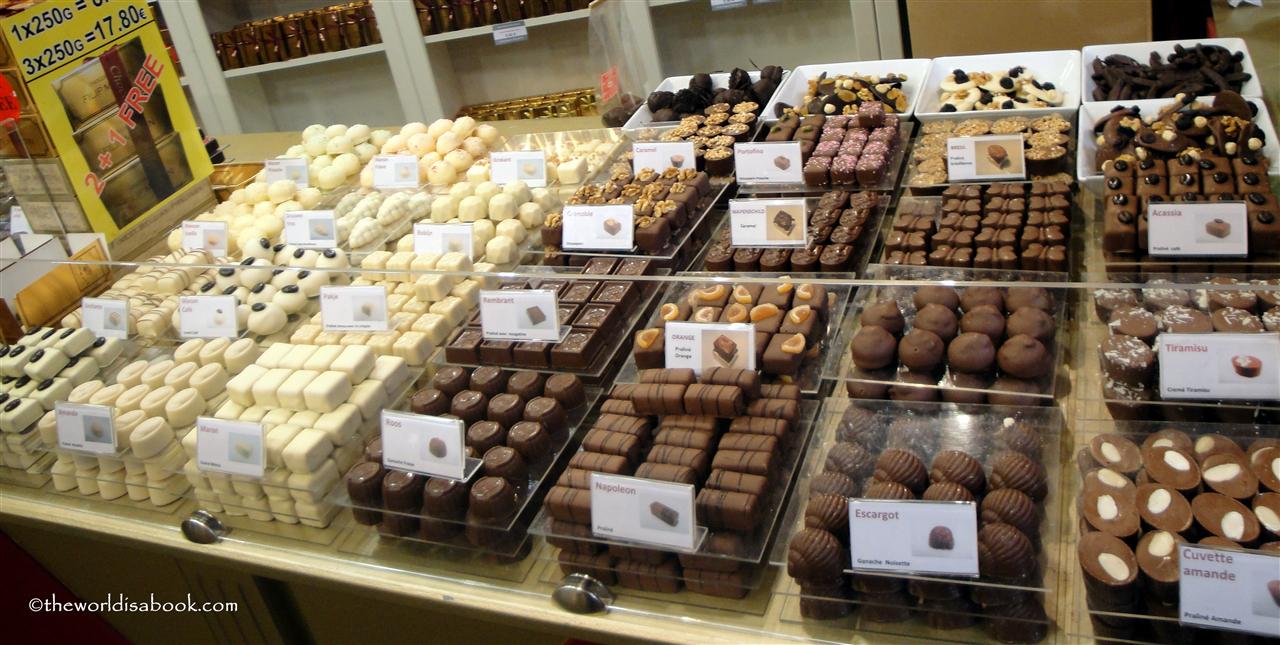 The sweet chocolate aroma beckoned us as we walked throughout the city. Our kids, of course, enjoyed going to the chocolate shops where samples were handed out freely.  As a big chocolate fan, this was paradise for me.  I could have lived on those chocolate samples for the whole day.   Many shops sold chocolate boxes in bundles and were fairly decent prices and plenty of buy 2, get 1 free offers.  They made for great souvenirs.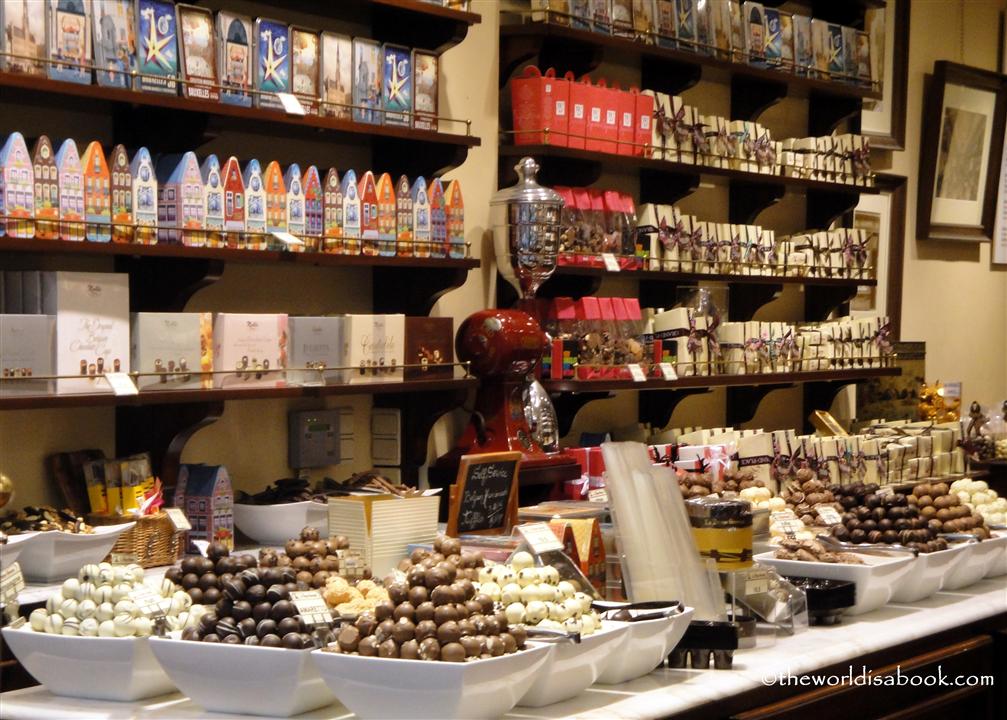 Around the corner from Grand Place and across from St. Hubert Gallery (a historic indoor mall) was a fast food restaurant called Quick.  We stopped here quickly to get the kids a little something to tie them over.   It was very much like McDonald's with the same décor/set-up and menu (hamburgers, chicken nuggets, etc.). We ordered their version of the Happy Meal but this kids' meal also came with the standard items, a yogurt and a big pinball machine type toy.  It was definitely a popular and family-friendly destination and a hit with the kids.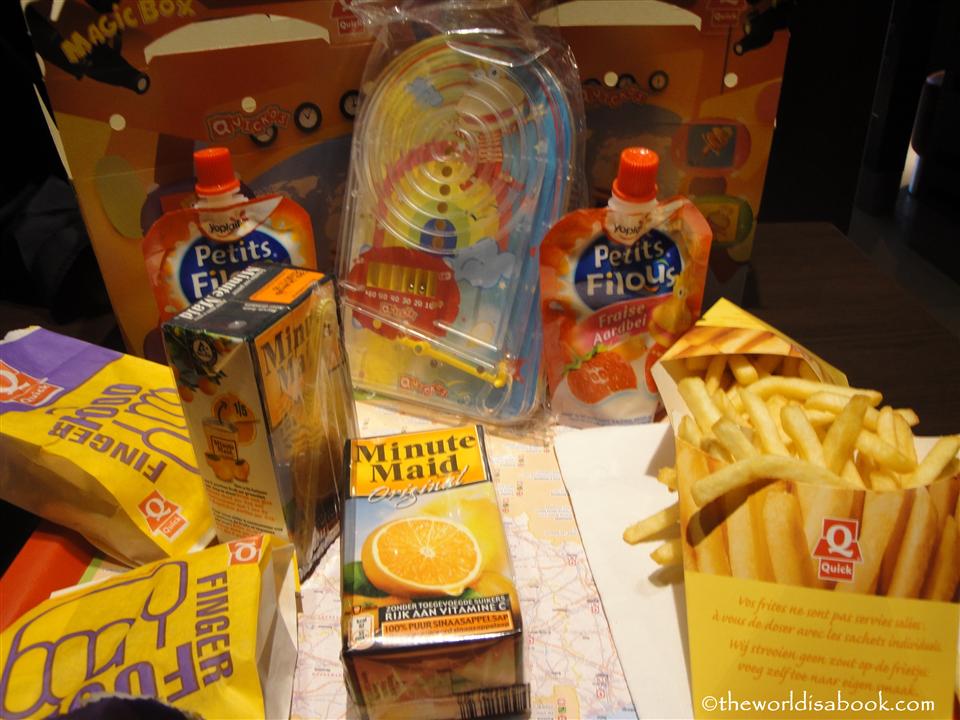 It had two floors with plenty of seating and was clean. Restrooms were on the 3rd floor where there was an attendant to collect an admission of 50 cents.  After our European trip, I really began to appreciate all our public restrooms for FREE in the US.
Brussels' answer to French fries is frites.  We saw plenty of people carrying paper cones filled with frites and munching away as they wandered the streets.  There were many friteries around the city with that inviting aroma of fried potatoes.  We had our frites  at a place near the Manneken Pis area during a rest stop (didn't get a chance to research the best friteries unfortunately).   The ones we had were still delicious, crispy and surprisingly good with the mayo dressing.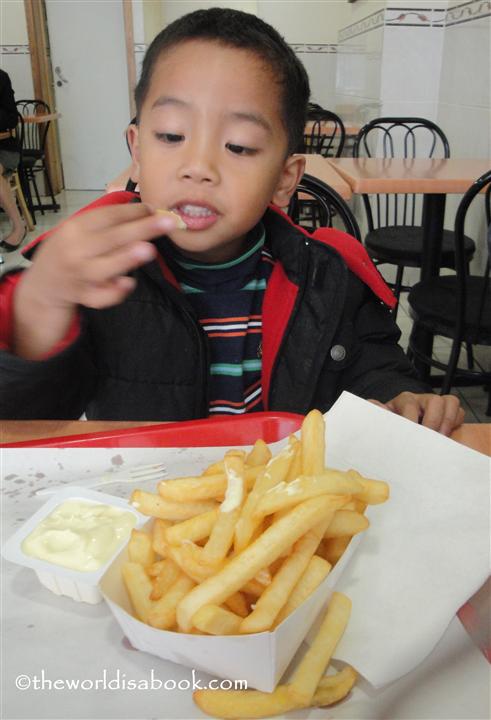 Brussels' other well-known food to eat are mussels.  Sadly, we didn't have mussels in Brussels since we're not big fans of it.  A best bet for dining was the cobblestoned street of Rue de Bouchers lined with a variety if restaurants and outdoor dining.  Brussels certainly does not disappoint with all the great food the city has to offer.
**For updates, please follow us on Twitter or 'LIKE' the site's Facebook page .  Thanks!**
Related Posts:
Check out these related posts: