Photo Books:Preserving Travel Memories
Coming back from a vacation, one of the most daunting tasks is usually organizing the hundreds of pictures you've taken.  We love taking pictures.  They're tangible reminders of special family memories and have also been used as reference points when we've gone back to a destination.  I've always loved assembling pictures into photo albums.  I have some that weigh more than a newborn baby.
So, enter the era of photo books to replace the photo albums with the slip through pockets or peeling plastic pages.  They are the online, digital photo albums and scrapbooks that you can print in hard or soft cover in various sizes.  These books have made my life so much easier with organizing travel and family photos. I even recently digitized my wedding album.  So, why put your pictures in a photo book? Here are five reasons:
Compact  & Space Savers – Photo books can be as small as an 8×8 or as big as a 12×12 and are less than half an inch thick even with 45 pages.  They don't take up much room and can be carried everywhere to share your photos with family and friends.  These take up so much less space on bookshelves.  For a good measure, 6 photo books = 1 standard size photo album.
Be Organized and Creative – You start with blank pages and you can pick your overall theme, font, and page design.  Captions can range from sentences to paragraphs to capture special memories and events.   It's all up to you to organize them and the extent of your creativity and imagination.  It really is an online digital scrapbook as well. The old photo albums made it a bit difficult to play around with layouts. I have some with no overall theme and pictures randomly stuck in photo pockets.
Kids love them –  My kids love looking through our photo books whether it's their baby book or any of the vacation books.  It helps trigger some memories for them.  They have worn out our Disney Cruise/Disney World trip album with the countless times they have looked through them.  Being the stars of the books. they love showing them to anyone who visits our house.
Backup – Most of the sites allow pictures to be uploaded to their servers.  This serves as a back up of your pictures indefinitely.  If anything were to happen to the photo books, they will also always be available for re-ordering.
Online Sharing – Let's face it, we also take a lot of pictures to show them off to family and friends.  If the grandparents live across the country, no problem.   Many of the sites allow you to share your photo books with friends and relatives online or allow them to order an extra copy.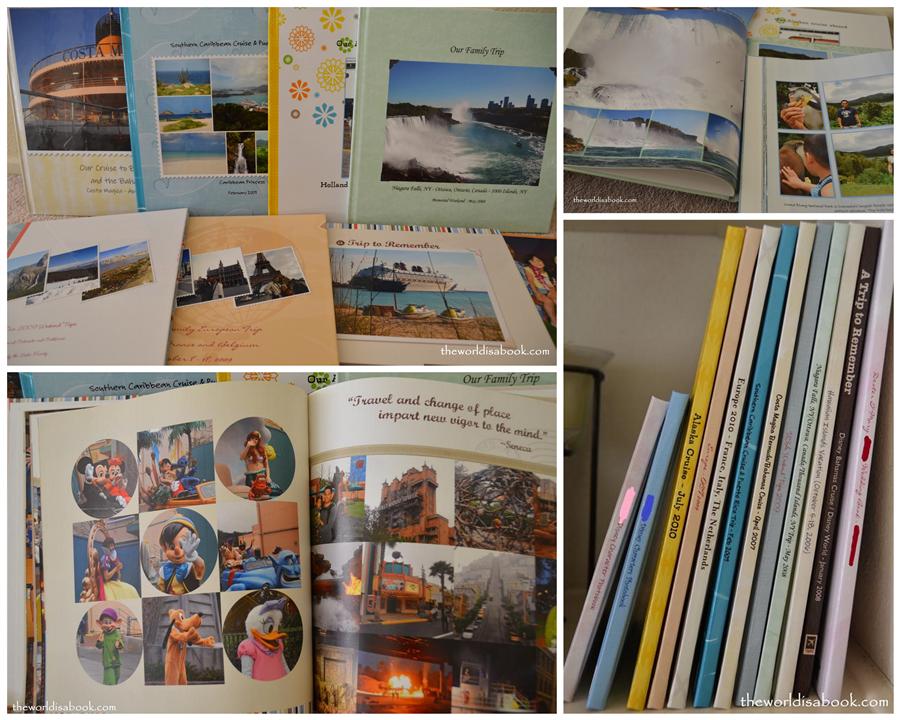 At the risk of sounding like a Shutterfly stockholder, this is our personal favorite site.  All our photo books were created here and we have never been disappointed.  There is no software to download on the computer.   Everything is on their website so you can work on them from virtually anywhere.  They have a vast array of templates to stimulate your creativity and inspire you.  You can also use Picasa by Google to assemble collages and upload those to your pages to fit more pictures.
Money Saving tip: Never ever pay full price for a photo book regardless of the site you end up using to make them. Be sure to always scour the Internet for a promo code. Most usually have free shipping for spending a certain amount. We've finished a photo book and waited until we got at least a 40% off promo before ordering them. If your family trip pictures are still inside shoe boxes or memory cards, be organized and get your creative juices flowing with photo books.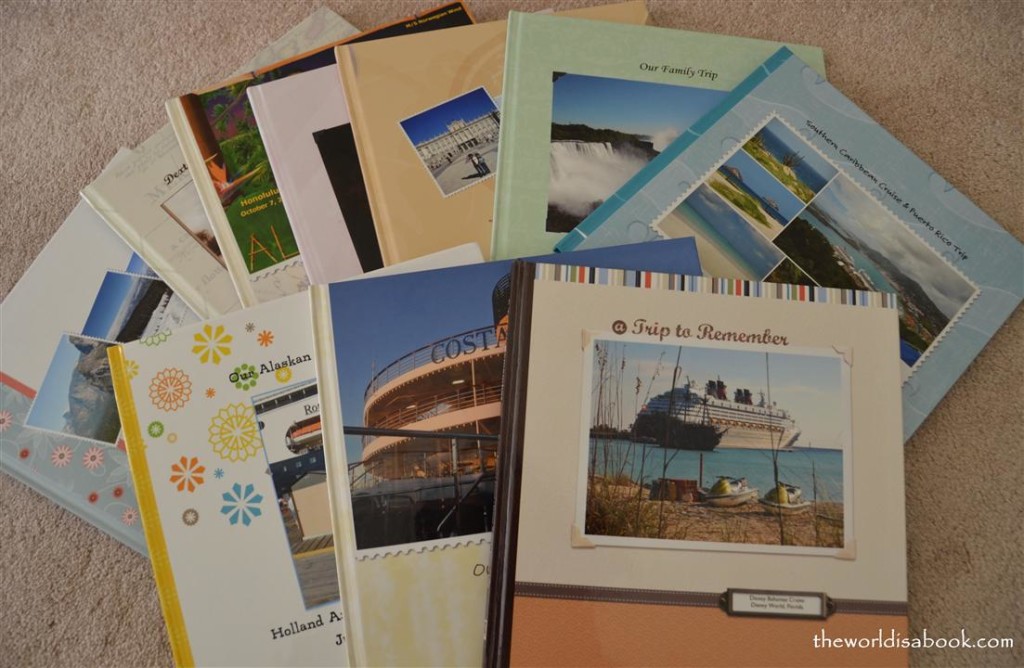 Here are five of my favorite tips based on Shutterfly's ideas for preserving travel memories and assembling photo books.
Let everyone in the family take turns when taking pictures to have varying perspectives. Kids are great with the cameras.
Take pictures of the trip from start to finish. The "journey begins the moment you leave home, not when you get to your destination." Shoot away and candid shots are very much welcome.
Use your smart phone and its various apps to take pictures during the trip and upload them to Twitter or Facebook to update family and friends. These can also be included in your photo books later on.
Ask family members to create a Top 5 or 10 word list (or phrases) to describe the trip.  These can be used to design or be incorporated into the photo book designs.
Design pages in the photo book as a family project to display everyone's creativity and personality.
* Click here to look at one of our photo books (a wedding anniversary trip without the kids).
I was given a photo book and the three giveaways by Shutterfly but all opinions are my own through my experience with them as a customer.
Check these other sites too: