Cabrillo National Monument with kids
Don't let the name fool you.  Cabrillo National Monument is much more than the imposing limestone statue dedicated to Juan Rodriguez Cabrillo (Cab-ri-yo) – the first European explorer to set foot on the United States' west coast in 1542.   As a commander of three vessels, Cabrillo set sail from the coast of Mexico and entered a harbor he described as "a closed and very good port".  He named the area San Miguel — modern San Diego's current location.  It's quite interesting that the San Miguel name didn't last and San Diego was named instead for a Spanish patron saint almost 60 years after Cabrillo landed here.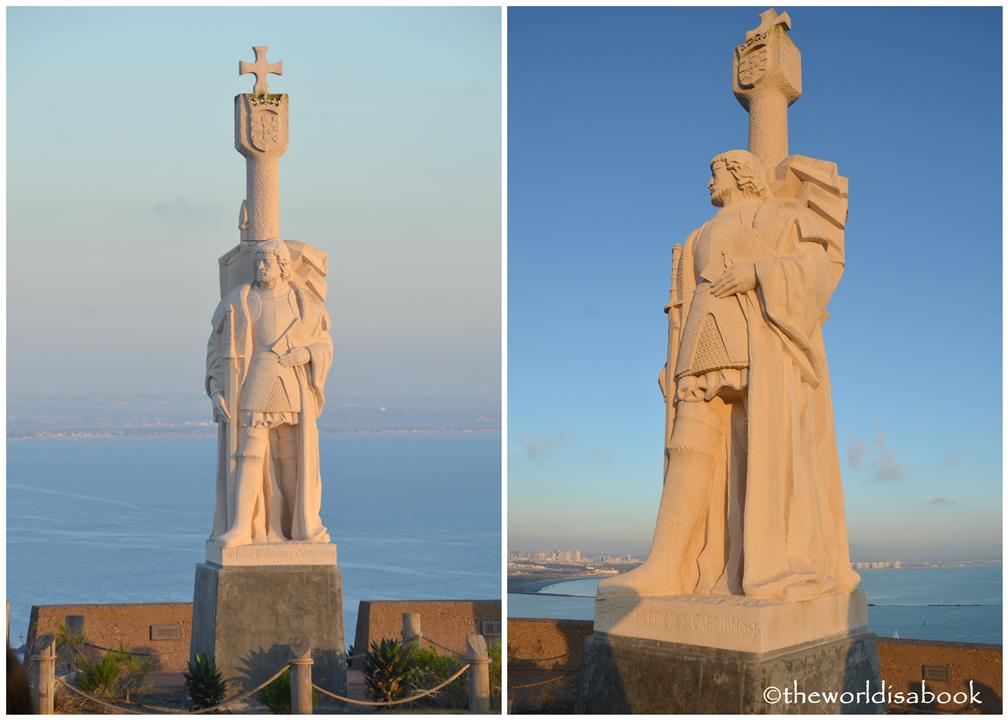 The regal statue fittingly looks over the breathtaking view of the city, the harbor and Coronado Island.   There's nowhere else in the city that rivals this panoramic scenery.  On a clear day, Mexico to the south is also visible.  But, the area also includes a diverse group of attractions that include tidepools, an old lighthouse, an ecotype trail, a military reserve and a very interesting visitor's center.
I am embarrassed to admit that after living in San Diego for 10 years, we had never gone to Cabrillo National Monument with the kids.   We finally decided to explore it one beautiful Saturday afternoon last December.  It's one of those places listed in tour guides and while we know its existence, never got around to visiting.  Sometimes, the locals simply overlook some tourist attractions.  I know friends in Seattle who have never gone inside the Space Needle or New Yorkers who have never set foot on Liberty Island.  This was definitely a place overlooked by many San Diegans due to the variety of other attractions around the county.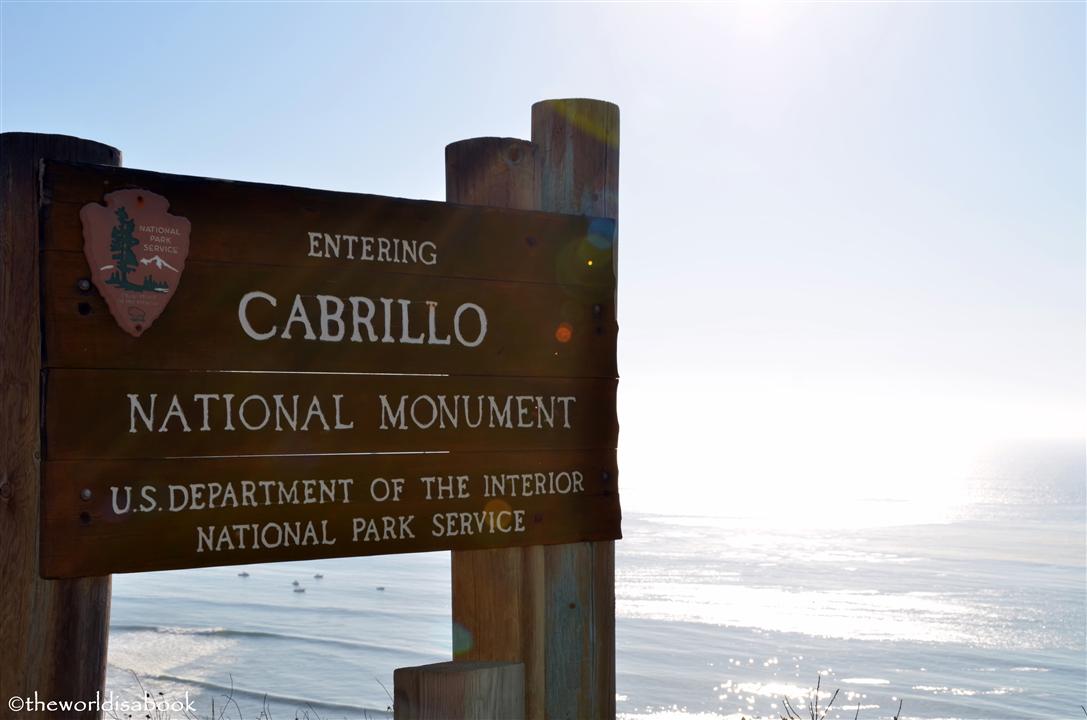 Rocky Intertidal Zone
This fascinating area known as the rocky intertidal zone or tidepools along the coast is a "must-see" attraction.   The area is usually covered in water but during the low tides, the rocks and small tidepools are exposed for everyone to enjoy.   Knowing we were going to spend quite some time here, this was the first place we visited upon entering the park.   It's a few minutes drive down and is not walkable from the visitor's center.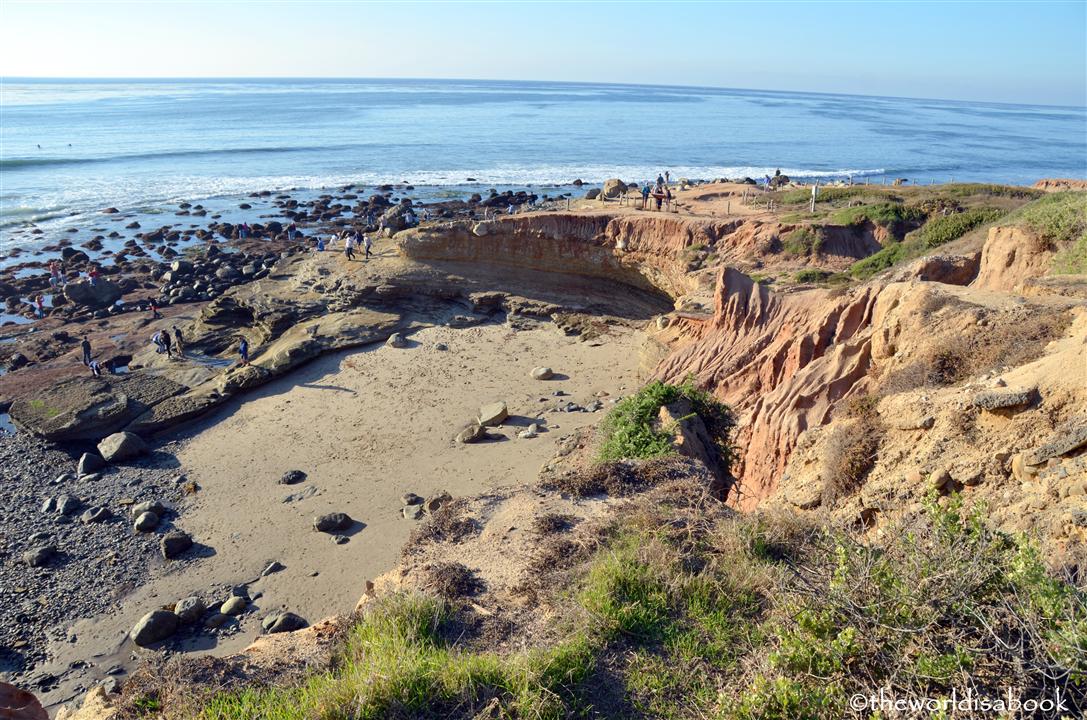 We got lucky and the low tides revealed the tidepools for the visitors.   Of course, great weather and low tides meant there were a lot of people exploring the area.  The closest parking lot to the trail is quite small and the other parking lot on a nearby lookout was also crowded.  Roadside parking was not available so this is something visitors should be aware of when visiting – lack of parking.  The trail leading to the tidepools is wide but not paved and ends at a stairway to the shoreline.  This is not the ideal spot for strollers and wheelchairs.  Although, babies would be fine on baby carriers.
Sandstone cliffs surrounded the tidepools.  It was somewhat surprising to see these picturesque and layered rocks albeit very sharp and rough to climb down in.  But, it is definitely worth the climb to fully appreciate this area.  This was a very popular place for kids to climb on.  Also, a popular backdrop for many pictures.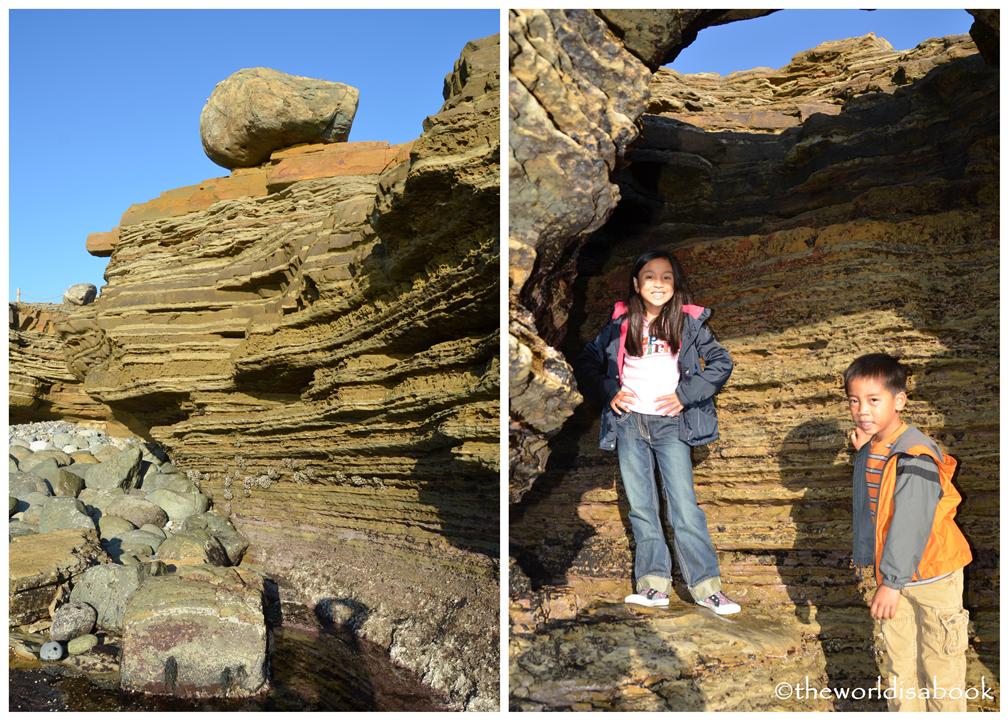 There was such a diverse group of marine animals and plants here it was simply amazing.   My kids could have spent the whole day wandering around, turning over rocks and spotting the creatures.  They actually didn't want to leave even after spending a couple of hours here.  This exploration would have been even better if we had a sheet or book with images of the the tide pool creatures to use as references to identify things.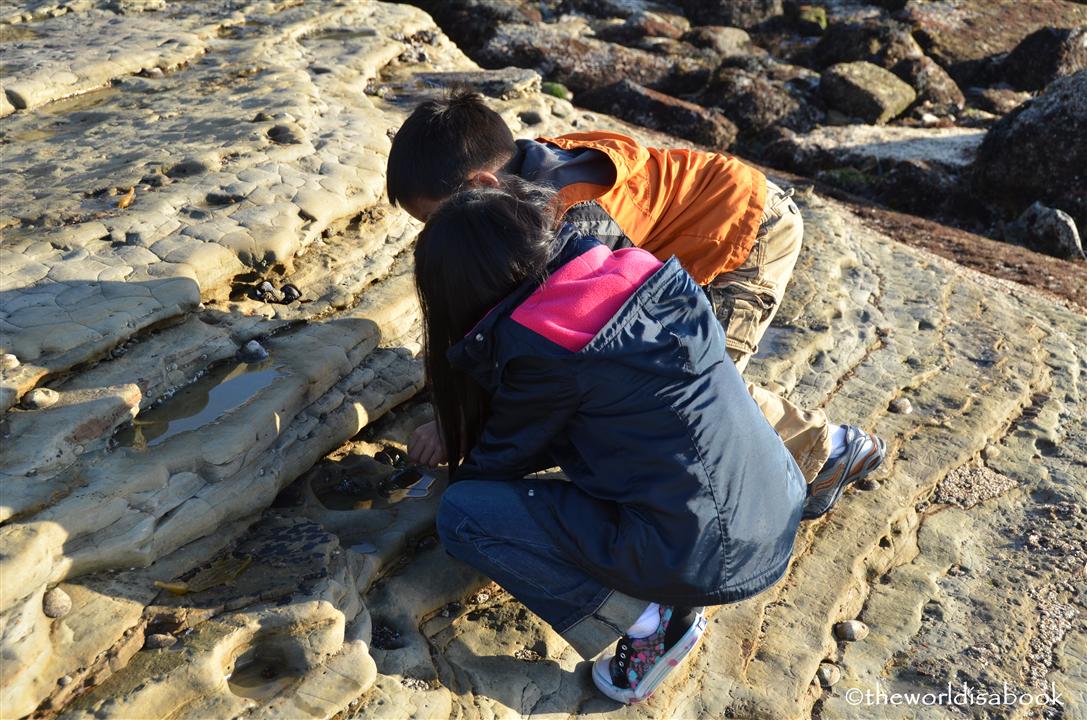 There was so much activity in each rock crevice or tiny pools of water between rocks.  Sea stars, sea urchins, goose barnacles sticking to rocks  and sea anemones among others were all waiting to be observed.  Hermit crabs scampering along the rocks were also fun to watch.
Watch and observe only.  This is the key here and must be stressed to the kids.  Removing or disturbing plants or animals are protected by federal law and subject to heavy fines.   Walking along the rocks was somewhat slippery.  Slow down, walk gently and observe.  It was a very interesting ecosystem where the creatures have obviously adapted well to a harsh natural environment.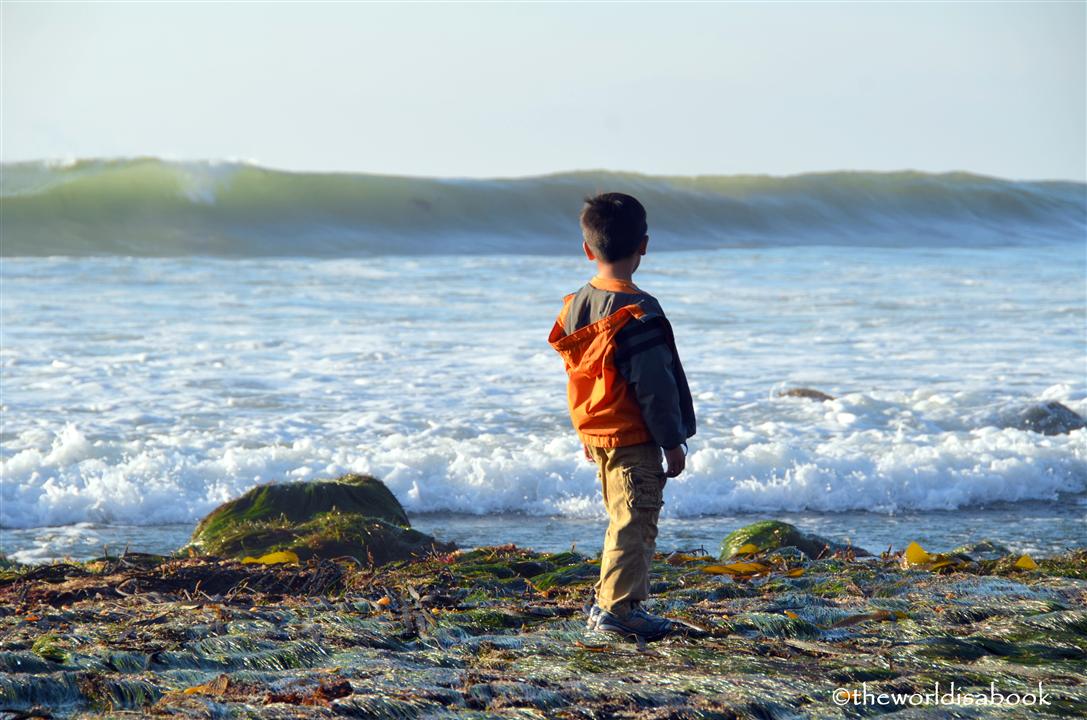 Visitors Center and Exhibit Room
The park recommends going to the Visitor's Center first as an orientation on the Spanish explorers and to plan your visit.  The glass windows offered an enviable panoramic view of the bay and the city skyline.  By the windows were plenty of interactive exhibits for the kids.  They were encouraged to try on the helmets and wear the armors used by the Spanish soldiers.  It was surely one of the highlights for my kids during this visit.  Another "awesome" display was some of the weapons used by the soldiers.  We learned along with the kids too.  Little fun fact: Biscuit and dried fish were common foods in a sailor's diet.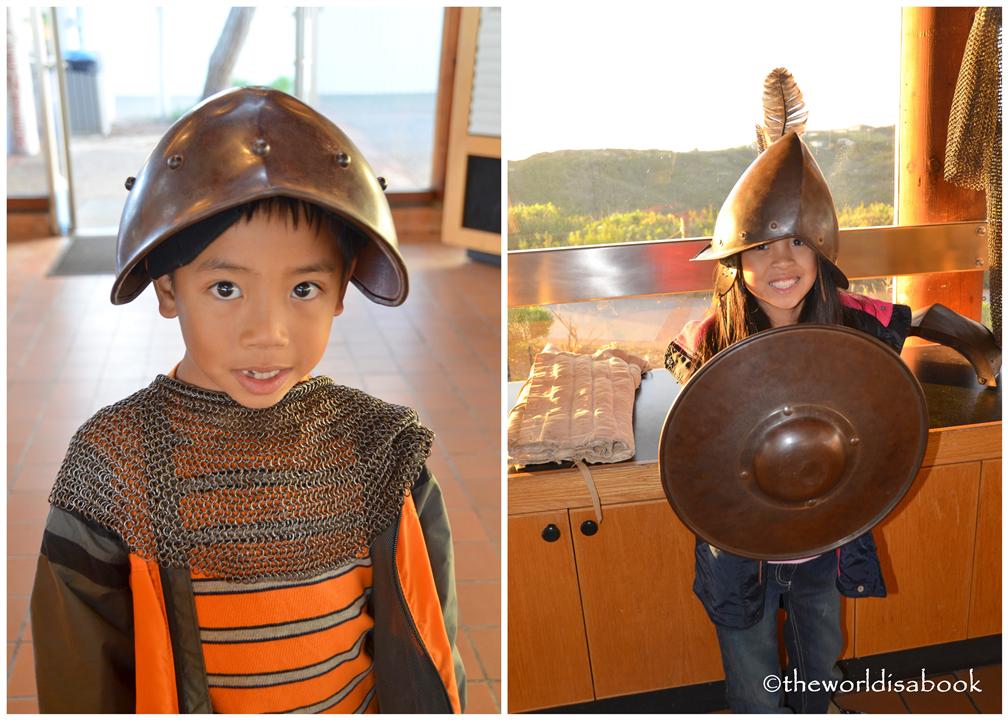 Exhibits of animal bones and stuffed local wildlife were also available on display — the next best thing to seeing real animals.  Kids can actually pick up the bones including one of a whale .  Films, which are about 20-25 minutes long, are also shown throughout the day at the top of the hour.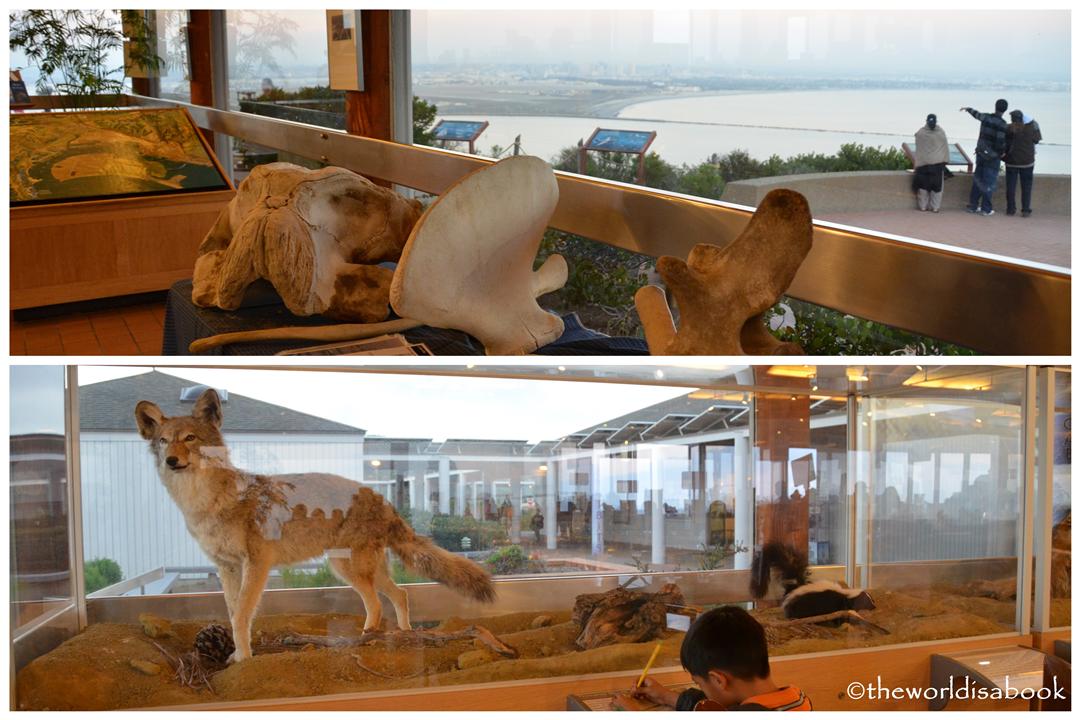 The Exhibit Room was a walk-through museum with plenty of interactive exhibits about Cabrillo's life and explorations.  There was also a small exhibit on the Kumeyaay Indians Cabrillo met — all very informative and interesting.   The kids enjoyed pushing all the buttons on a board that corresponded to a ship painting showing them people's various jobs aboard as well as the ship's quarters.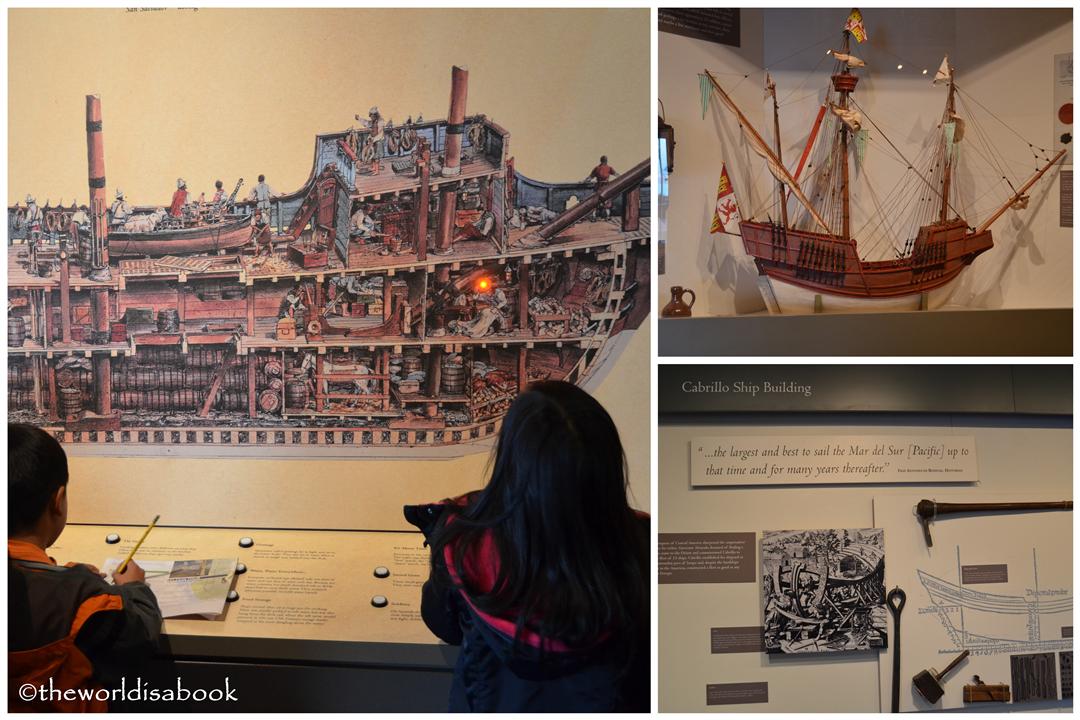 Old Point Loma Lighthouse
Having spent a long time at the tidepools, we didn't have the chance to visit the Old Point Loma Lighthouse.  It definitely deserves a visit one afternoon and a dedicated blog post.  The lighthouse was operational for 36 years from 1855 to 1891 lighting the way for ships into San Diego Bay.  The light was visible 39 miles out into the ocean.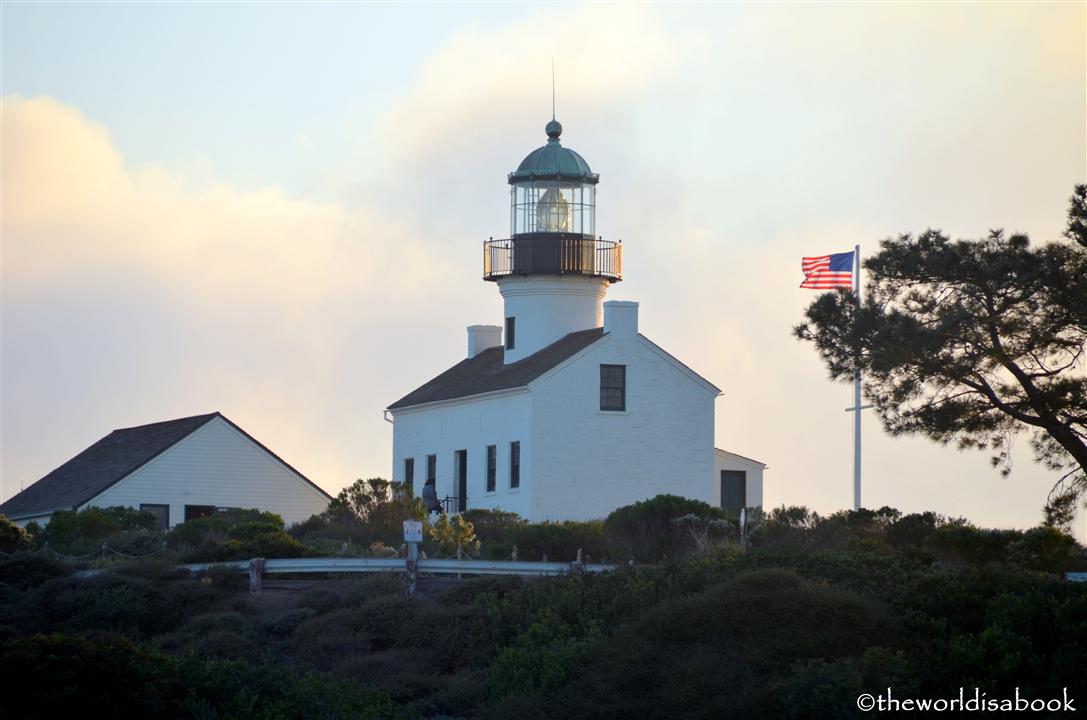 A visit inside the lighthouse showcases the rooms as they were in the 1800s.  A lighthouse keeper was working 24 hours a day 7 days a week to guide ships into the harbor.  The assistant keepers quarters was a separate area from the lighthouse.
For Next Time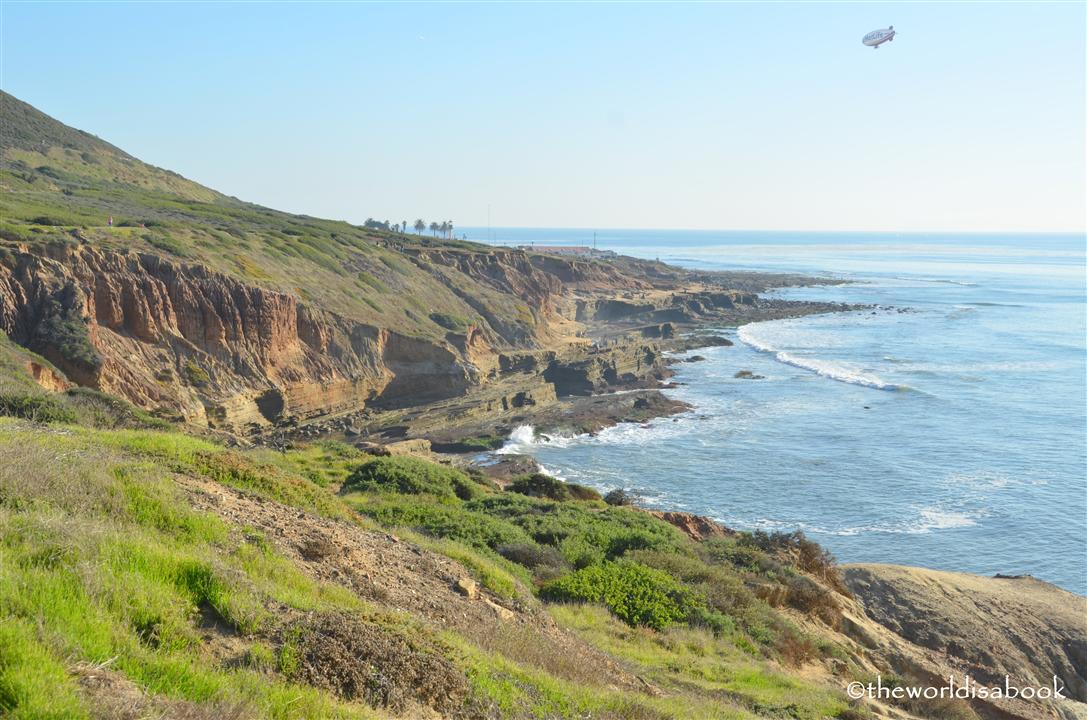 Junior Ranger Program
It was a pleasant surprise to find out this small park actually had a Junior Ranger program.  It had a Just for Kids four-page newspaper and in the middle fold were eight sections for kids to answer questions.  Unlike other parks, this was only aimed towards 3rd to 5th graders (about 8-10 year old kids).  My daughter learned a lot of things especially about the Spanish explorers (we did too).  It was perfect for my 9-year old but not so much for my 6-year-old son.  Even though he knew how to read, he wasn't too interested in answering questions and got increasingly frustrated.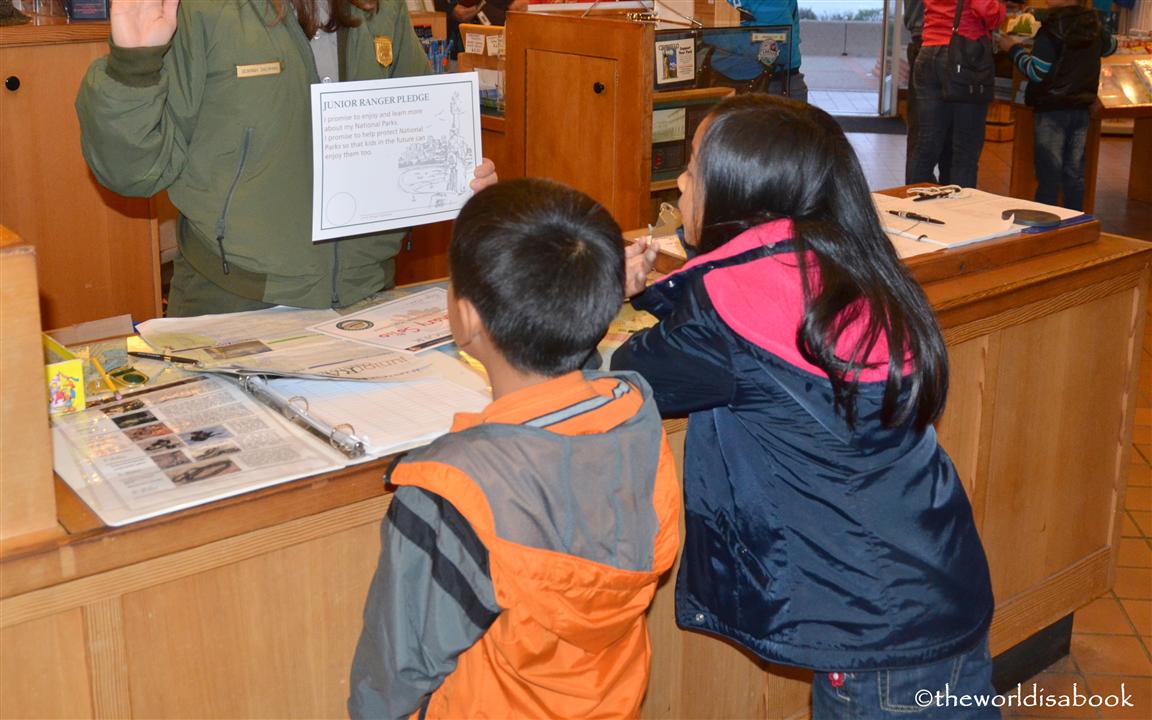 In order to earn their Junior Ranger badge, kids must complete a specific number of sections depending on their grade level  (3 or more for 3rd graders; 4 or more for 4th graders, etc.)  They must also participate in a ranger program or attend one of the auditorium programs.  My kids did the activities and toured the exhibit room and the visitor's center which also qualified.  They eagerly recited the Junior Ranger pledge to help protect national parks. They actually got a nice certificate and a very shiny badge to add to their collection.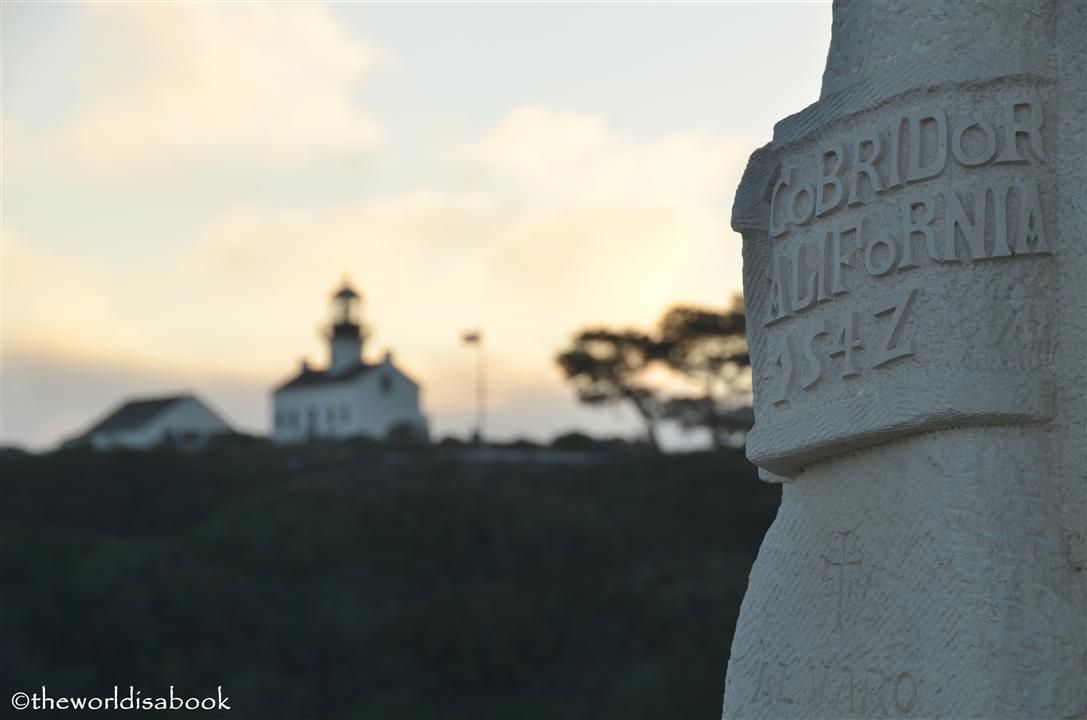 Cabrillo National Monument was such a fantastic place to visit.  For an awesome deal of $5, it's a family excursion with endless hours of exploration and learning.  This is someplace we will surely add to our weekend trips and will introduce to our out-of-town visitors.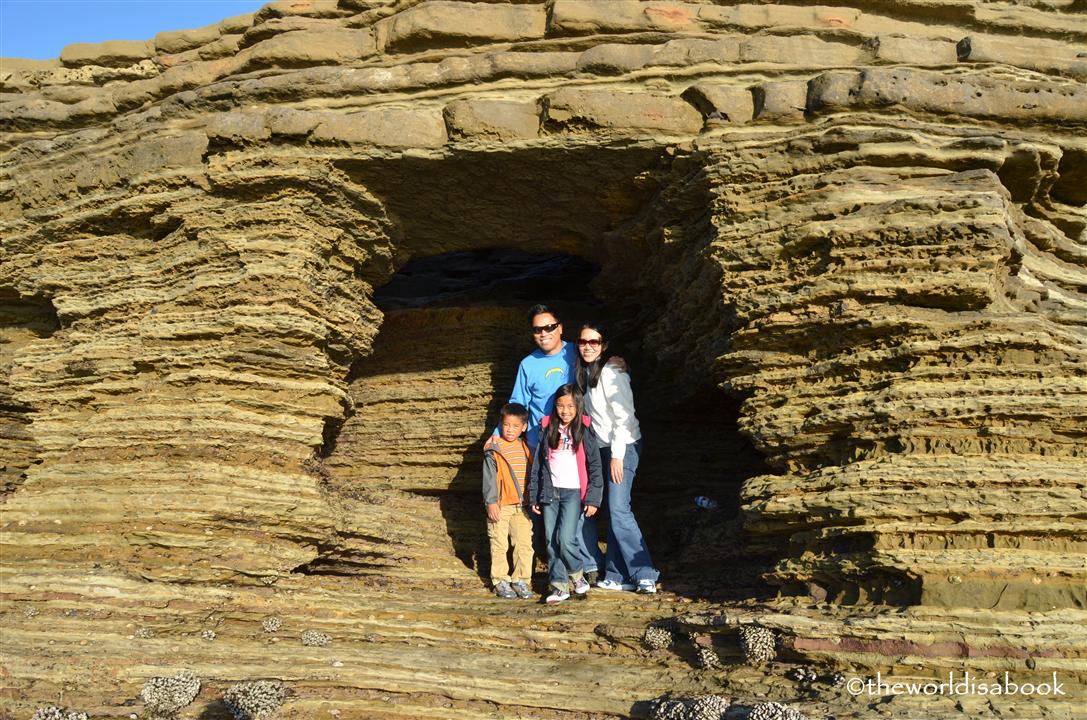 Tips for Visiting Cabrillo National Monument with kids 
*Have you visited Cabrillo National Park?
Where to Stay in San Diego
For the Bucket List:
Downtown Area and within a few minutes from this park
Packages
Attractions
Flights/Vacation Packages
Pin it for later!