Segovia with kids: Eating and Shopping
EATS
We got to Segovia early in the morning when nothing was open yet.  We found a little coffee shop next to Horno del Asar right by the aqueduct where we had more churro con chocolate.  It was also a little chilly in Segovia at that time so it was a perfect place to stay warm with the hot melting chocolate. One cannot go wrong with churro con chocolate in Spain.
My husband was determined to eat the cochinillo asado (roasted suckling pig) since this was Segovia's signature dish. Walking around the town, you could smell its aroma and see some displays on restaurant windows. We didn't really have any restaurants in mind so we wandered around near Plaza Mayor into one of the streets and found a restaurant called Meson Restaurante Casa Vicente.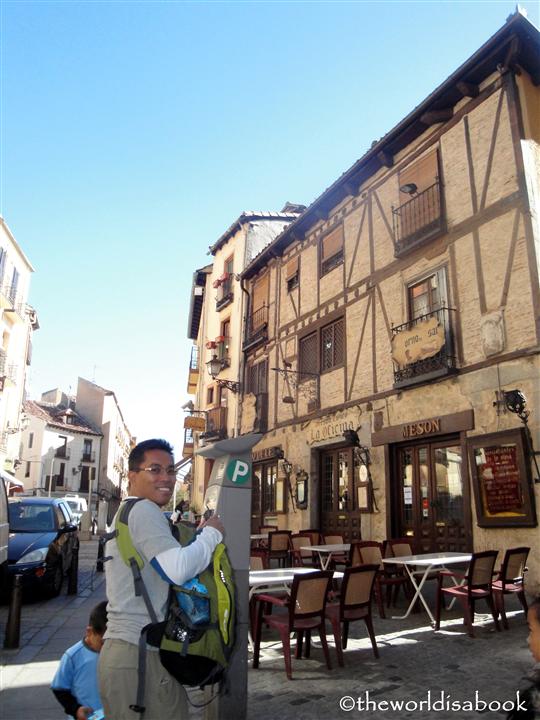 They had some Menu del Dia Especial with a  three-course meal, house wine, mineral water as well as a children's menu. We got to pick from three first course options, two from the second course and two from their dessert list.  My husband had a portion of the suckling pig for his main course and I had a roasted chicken. I think it was the image of the little pigs hanging that turned me against the suckling pig. Our kids had some pasta and it came with fries.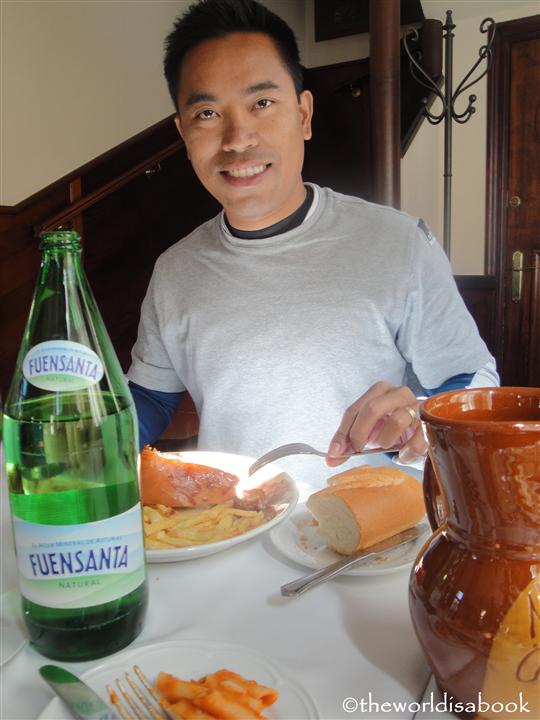 Our desserts were delicious flan (house egg custard).  My husband thoroughly enjoyed his dish and liked the crispiness of the skin and was juicy and delicious.  The menu del dia ranged in prices from 13-15 euro which seemed pretty reasonable considering all the things it came with. The restaurant was clean and service was great.  It was a multi-story building and restrooms were on the upper floor which were also clean. It felt very comfortable and homey.
Shopping
Siesta time was actually observed between 2-4 PM in Segovia so this would be a good time to sightsee. There were many souvenir shops, boutiques around town that can keep any shopaholic busy. There were some clothing stores here we didn't see in Madrid. Sfera Kids which is an offshoot of the Spanish brand was a great store with a lot of varied items and had a great sale. We didn't see these low prices (even with the high Euro rate) in Spain's major department store, El Corte Ingles, which carried this brand.
All around town were vendors selling some pottery in different sizes and shapes with 'Estuve en Segovia y me acordé de ti' ('I was in Segovia, and I thought of you') phrase on them and the Roman aqueduct design. They were inexpensive with the smallest ones for 2 Euros and it was too bad I couldn't get the big ones.
Check out these related posts: