10 Things Not to Miss at Wizarding World of Harry Potter with kids
There was only one other attraction that rivaled my kids level of excitement to a Disney park visit and that was the Wizarding World of Harry Potter inside Universal's Islands of Adventure in Florida.  They've seen all the movies and my daughter has been to a few Harry Potter summer camps.  Even though they're huge fans, they were what I call the the borderline ages (6 & 9)  – not big enough to go on all the rides and not old enough to fully comprehend everything here.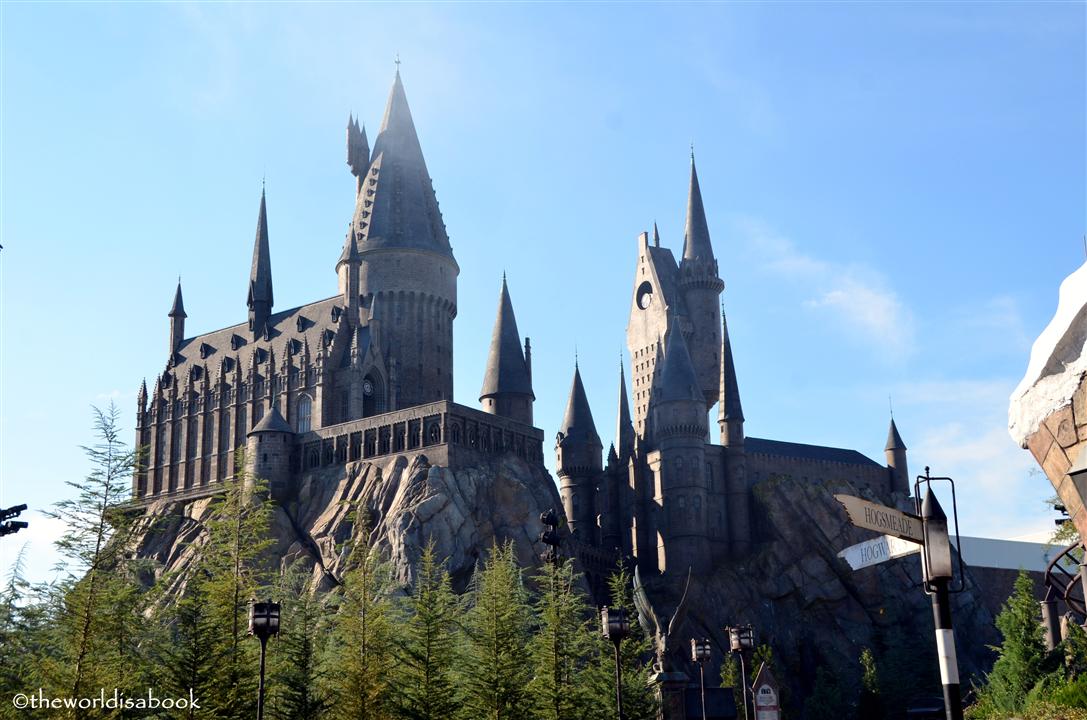 Our first visit to this wonderful park was last January after a 7-day cruise. Considering the notorious lines for the rides, we decided to do the 2-day pass. So, what made this place so (dare I say it) magical?   It was the setting, the atmosphere and the sights and sounds of being transported into the movie set or the pretend world of Harry Potter.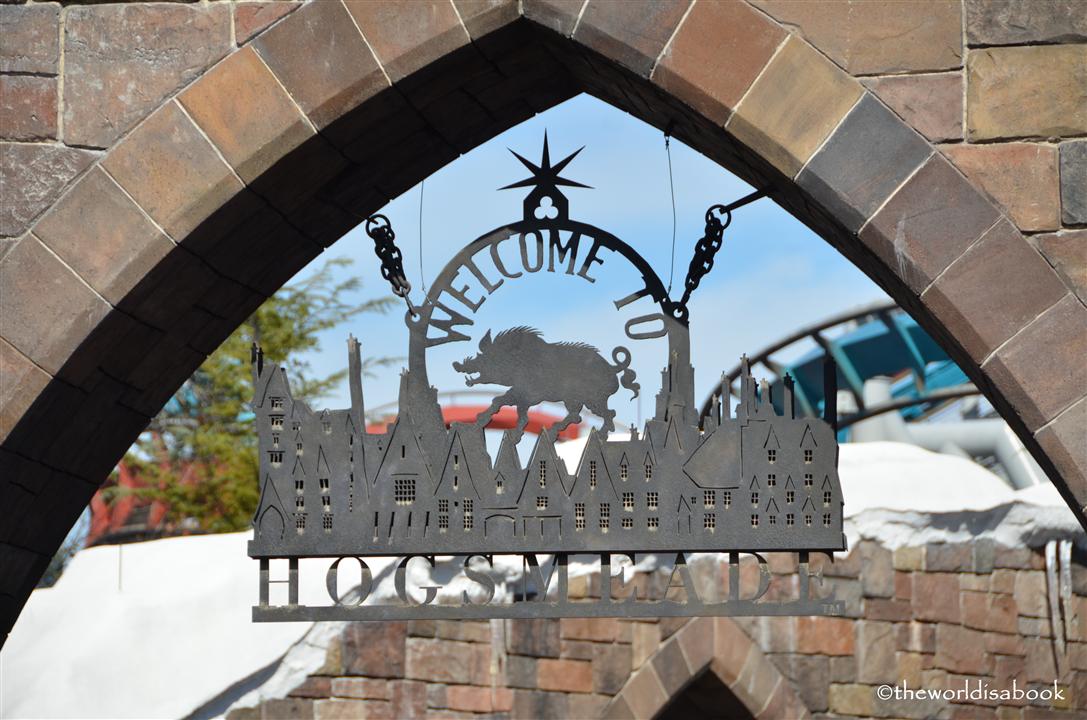 Even the distinctive movie soundtrack can be heard over the loudspeakers.  The details were extraordinary and incredible as we walked through the crowded street of Hogsmeade.  The looming Hogwarts castle seemed so real we all gasped in awe when we first saw it up close.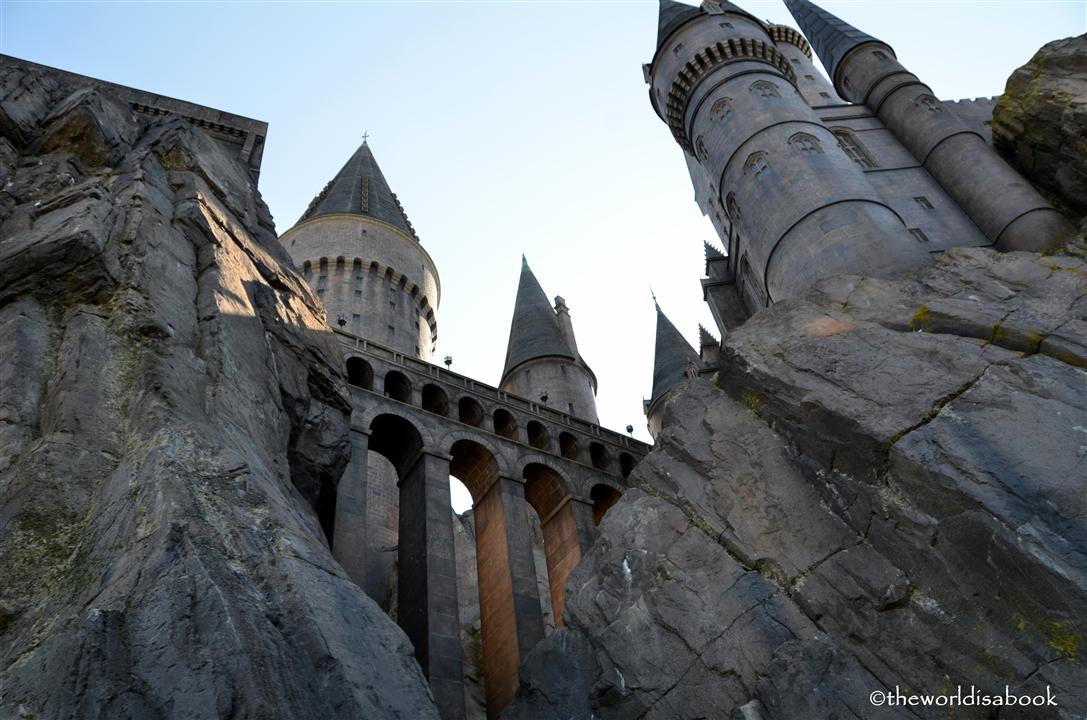 Some people were dressed in costumes and the amazed looks on their faces once they saw the castle up close were priceless.   If Universal can capture those expressions, it would be enough of a marketing campaign (not that its popularity is fading or anything).  So, what are the Ten Must-Dos or Don't Miss things at this magnificient park?  In no particular order of preference…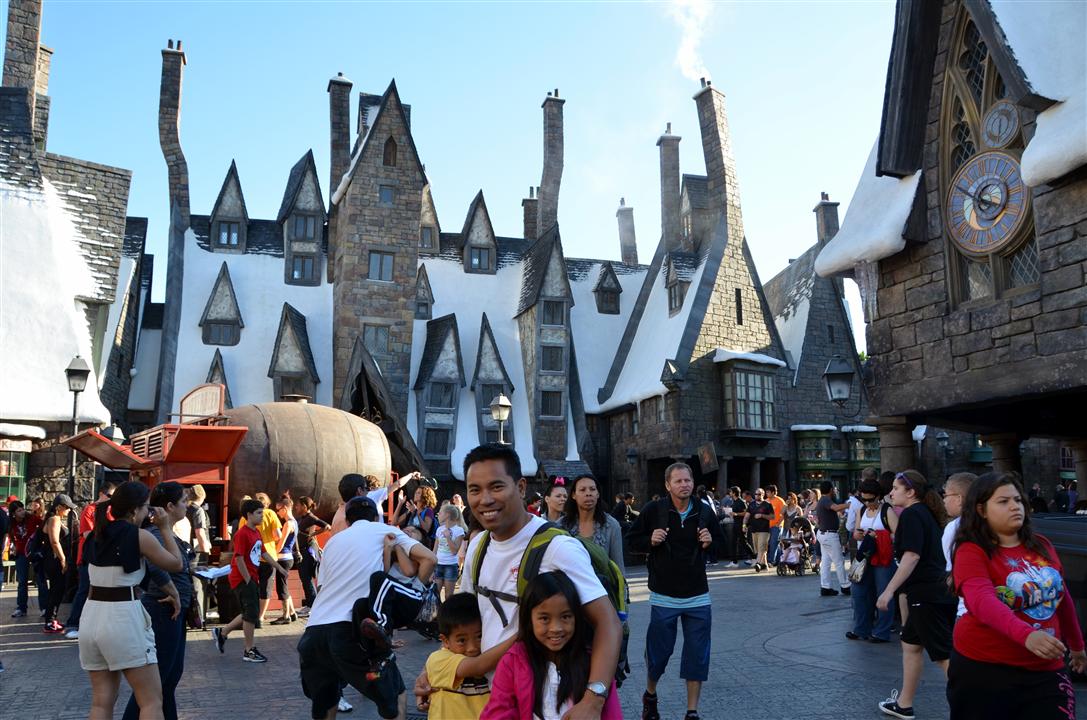 1. Drink Butter Beer.  I admit this was one of the things we all looked forward to doing – tasting butter beer.  Butter beer, for those not familiar with it, was what the young wizards and witches fancied.  This seems to be what piques a lot of people's curiosity and one of the first questions after our trip.  Did you try the butter beer?  Of course, we did.  Quite a few times, actually, it would make our dentists worry.  Needless to say, we were all on a sugar high during the visit.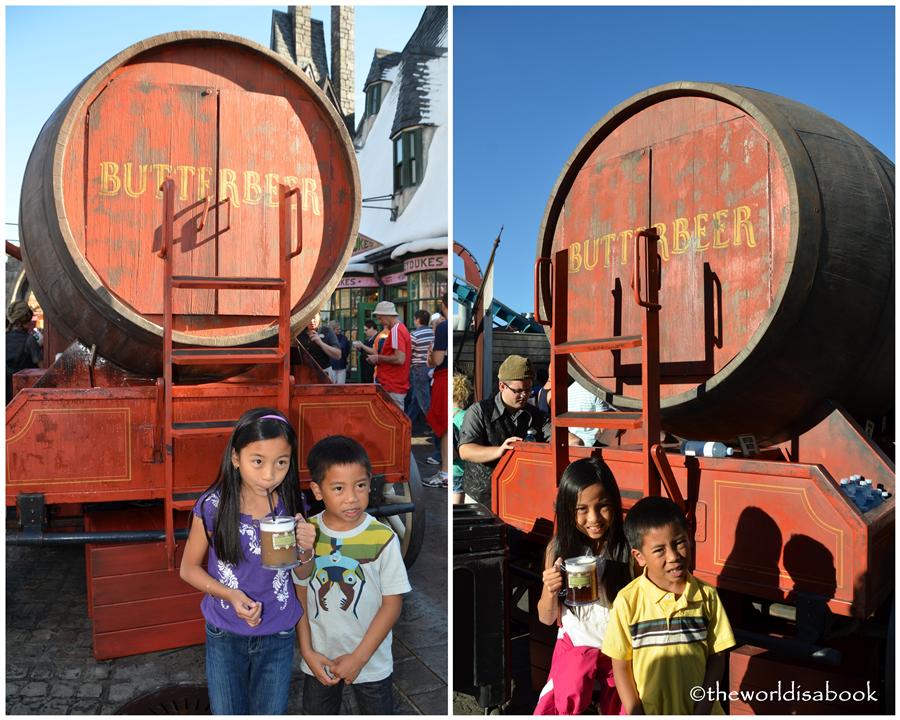 We all loved the frozen one we got at Hog's Head Pub where that hog's head below snorted and came to life while we were there.  The cold ones we got at the carts, while refreshing, was just not as good and seemed a bit more carbonated.  We recommend getting the souvenir glass which you can refill for a few extra dollars along with Pumpkin Juice.  So, what did butter beer taste like?  It was a combination of a butterscotch and caramel.  The frozen ones were like sundaes.  Yes, they were sweet but so worth it.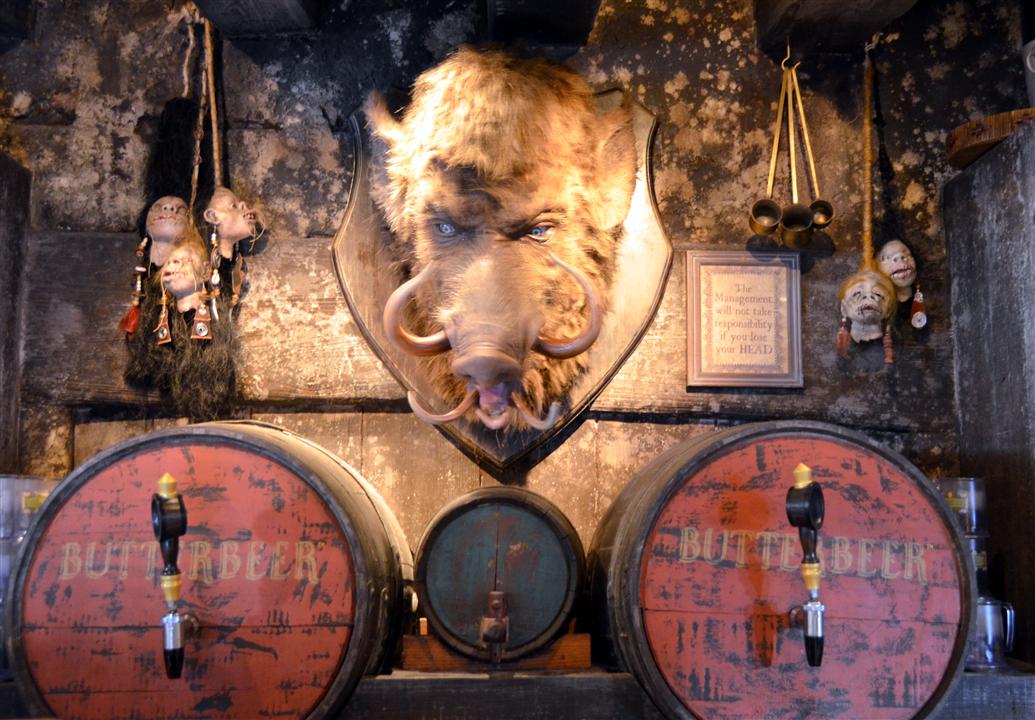 2. Postcard postmarked. One souvenir we usually get is to have the kids send postcards home to themselves wherever we go.  As it turned out, you can have your park postcards stamped with a Hogsmeade Owl Post postmark.  There's a person standing outside the wand shop whose job is to do this for visitors.  They sell special Harry Potter stamps too.  As an alternative, you can get two 29 cent stamps for $1 at the trading post store machine.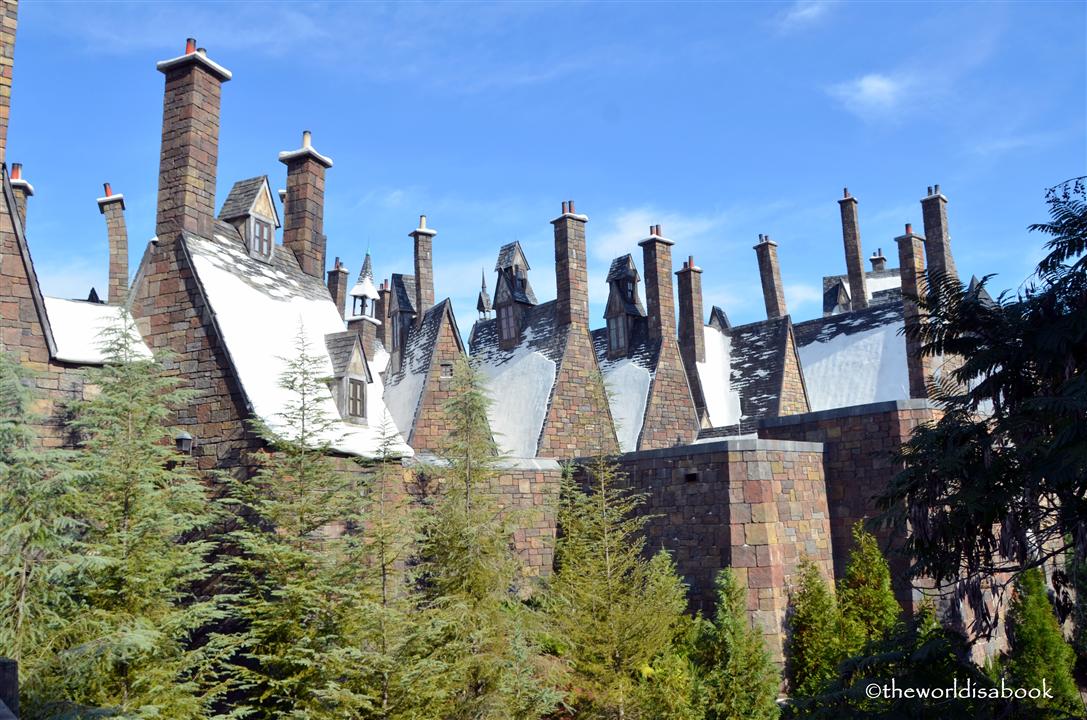 3. Visit Ollivanders Wand store. You can bet this was a popular store since specialty wand stores don't exist outside this magical world.  There is a wand ceremony that occurs inside the store. Both times we tried to go, the lines were just too long. They let a few people in at a time and choose one person to get the wand (from what I've read usually a child).  We couldn't justify staying in line for almost an hour and be cramped in there to do this little ceremony.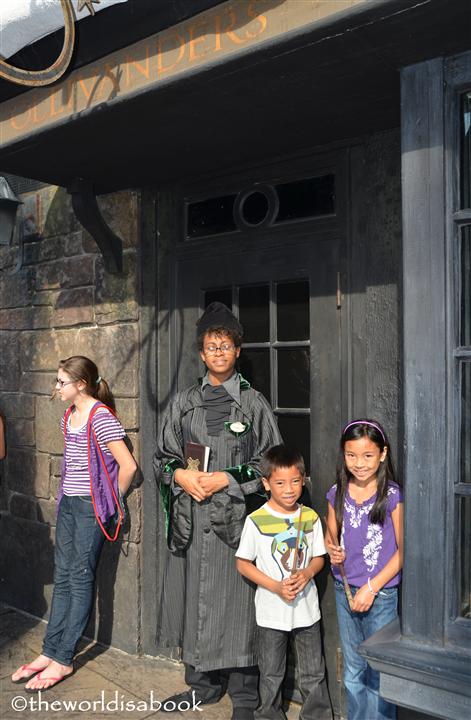 Shelves of boxed wands lined two walls. Kids can get their favorite character's wands or choose one based on their birthday month. My biggest gripe here was the size of this store. It was just so small and cramped to fit all these visitors. It felt suffocating at times in there. Add a few kids testing and waving those wands around can result to some accidents.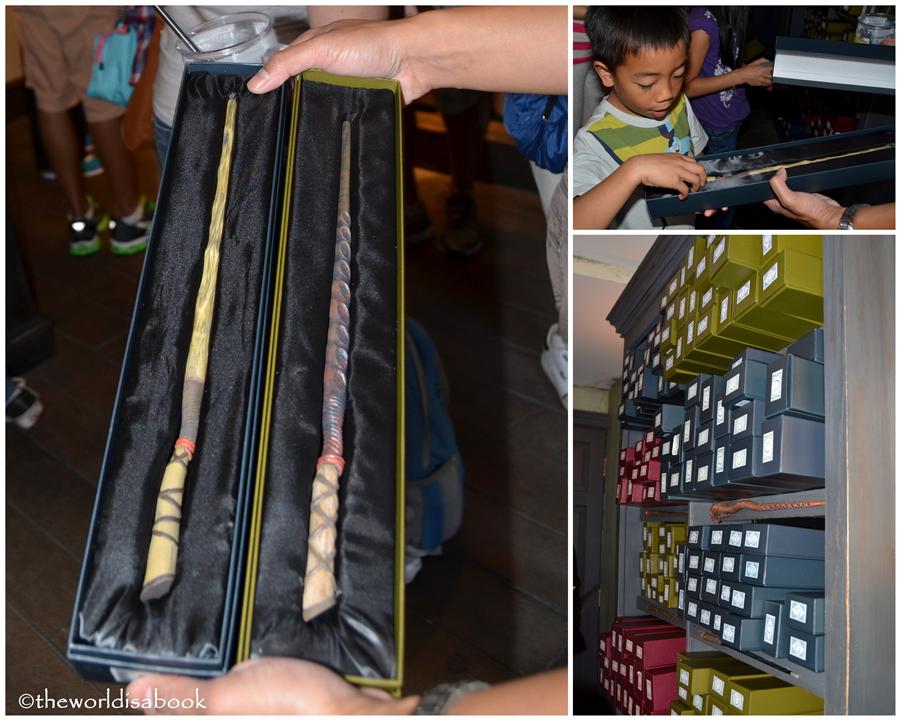 It seemed like we were there for hours. That's what happens when you offer quite a few choices to indecisive kids who get overwhelmed. In the end, we took Hermione and Harry Potter wands home for $30 each.  The novelty has worn off after a few months and those wands are now in its boxes under their beds.
4. Ride Harry Potter & the Forbidden Journey. The imposing Hogwart's castle seen from almost anywhere in the park houses this ride. The line wasn't very long when we got there around 4PM with a less than 20 minute wait on a Sunday.  Surprisingly, our line moved a whole lot quicker than expected.  We saw the 1 hr 20 minute wait at 10 AM the following day.  So, maybe this is the ride that everyone goes to first.  It may be a good idea to hold it off at the end of the day for a shorter line as we experienced.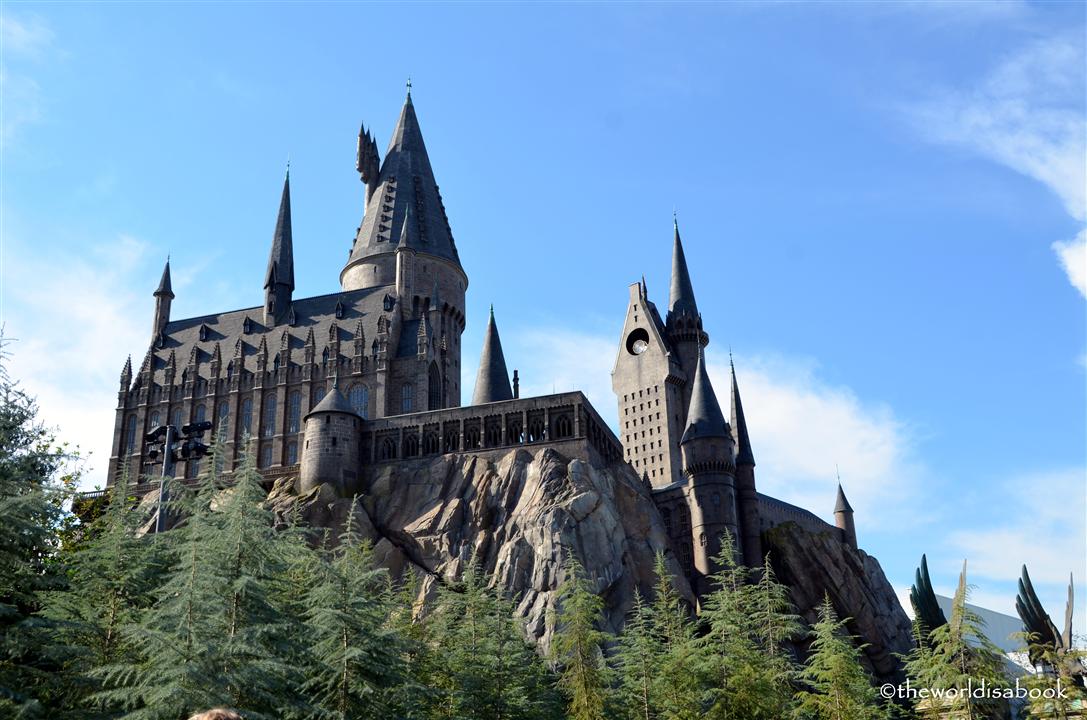 The downside was not being able to fully enjoy all the movie recreations.  Like the talking and moving paintings on the walls or hear the full premise of the story the holograms of the three main characters were trying to tell us.  It was quite overwhelming to see all the details that it may be worth coming here and walking slowly or just let people pass you on the line while you try to see and admire it all.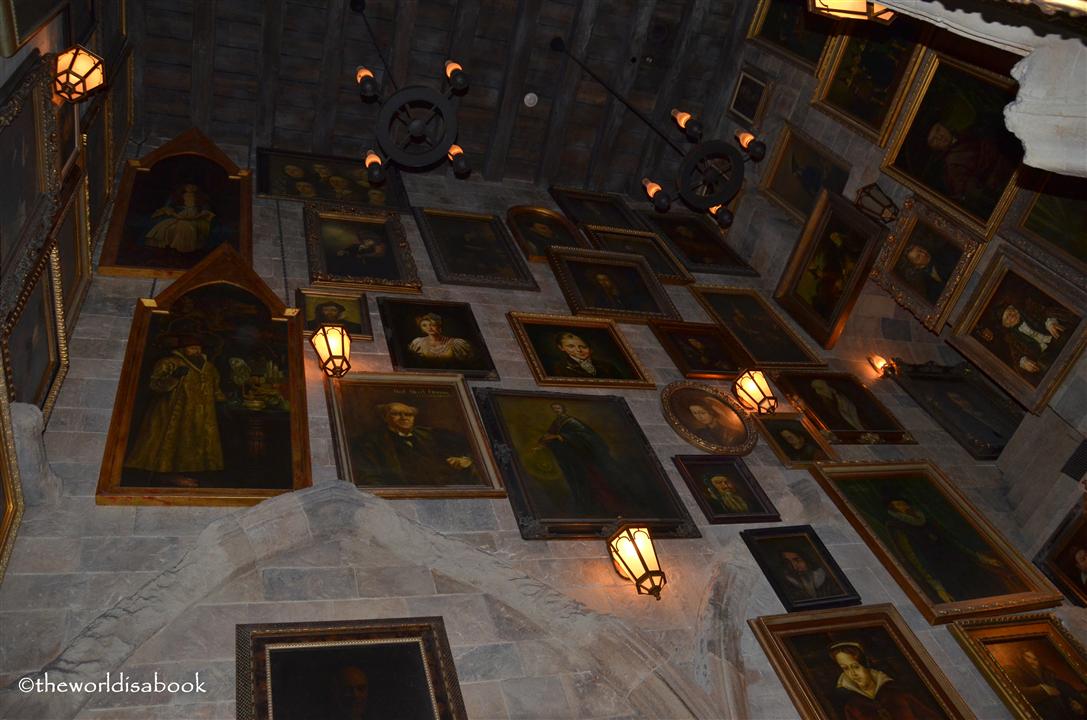 We were a little nervous taking our kids on this ride.  The park did a great job with emulating the actions of going through the castle on a broomstick.  It was like stepping into the movie but with a sensory overload.  We were turned upside down and shook every which way and on most occasions, in the dark.  Intense was an understatement to describe this ride.  Luckily, the kids weren't traumatized or had nightmares.  I'm glad they inherited my husband's adventurous attitude towards rollercoasters and exhilarating rides.  I was dizzy after getting off from this ride. I'm just getting too old for such high octane action.  I'm also not afraid to admit that I had my eyes closed on some parts of it.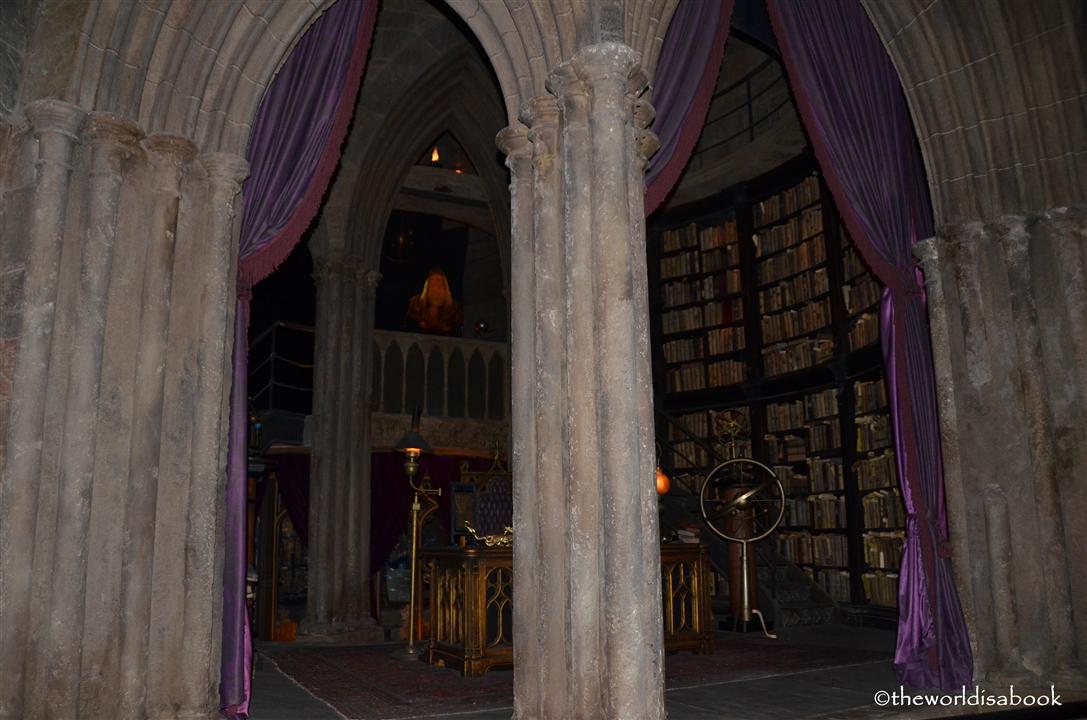 5. Pose at Hogwarts Express. One can't miss the train that transported Harry and his friends to magical Hogwarts.  It looked very realistic appearing as though it was coming out from the station. There was usually a conductor there to pose with and chat.  We posed with Mr. Conductor who was very friendly and with an English accent.  Though, I'm not sure how real the accent was but it was a wonderful photo op.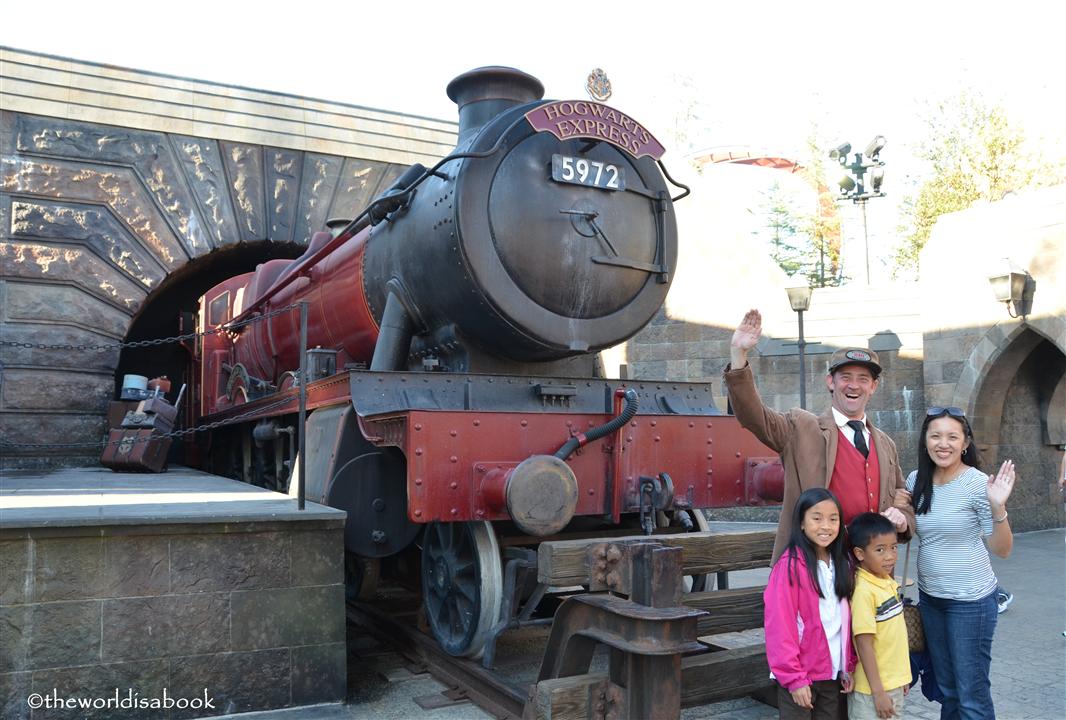 6. Satisfy the sweet tooth. For most of us who love chocolates, a visit to Honeydukes Sweet Shop is almost mandatory. This isn't your typical candy store though. Walking in, the intoxicating smell of chocolate and candy and all the colorful treats lining walls and shelves were enough to make one's mouth water.  Of course, we were here for awhile too.  How can one resist treats like chocolate frogs, acid pops and peppermint toads?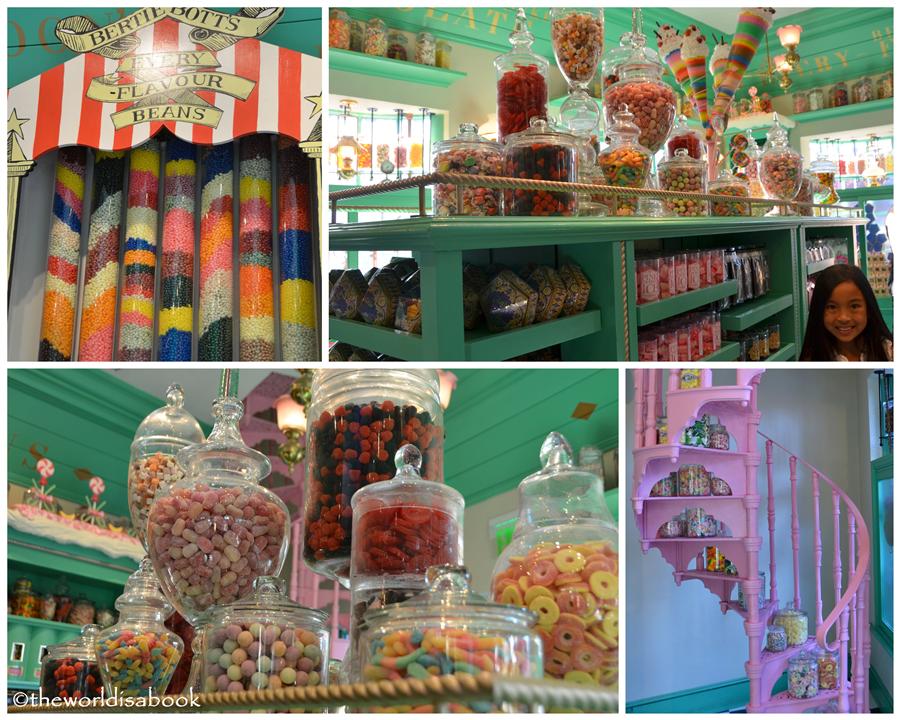 7. Go to Flight of the Hippogrif. This was the only family-friendly ride for those with kids under 48 inches. The premise was that you will be embarking on a test flight over the Forbidden Forest.  It was perfect for families whose members like old fashioned roller coasters.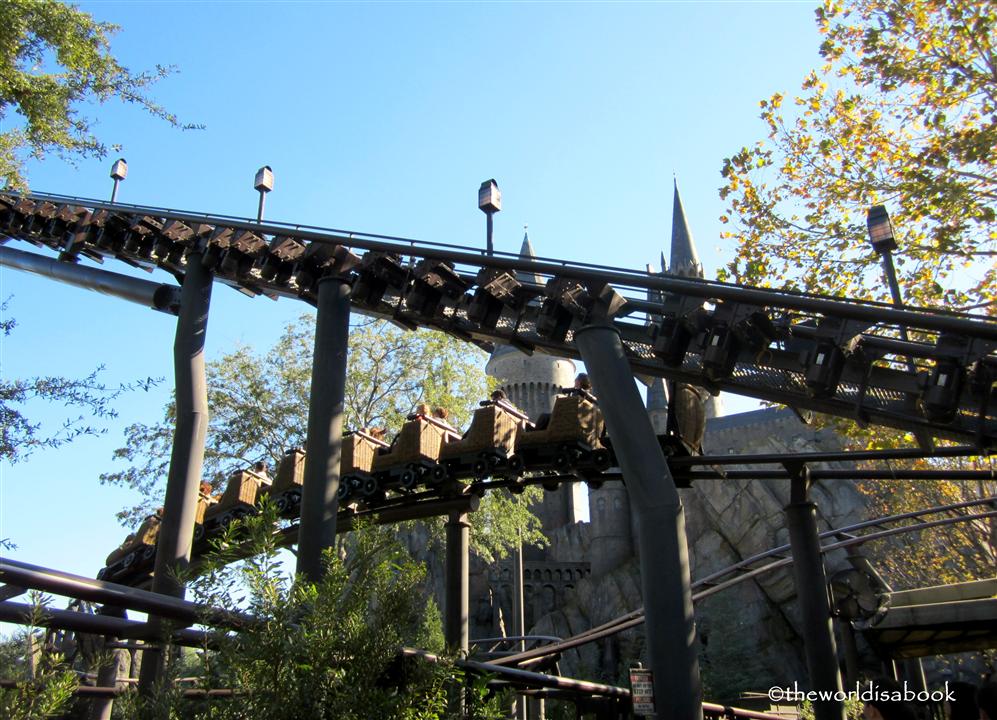 Though it seemed short, it was a fun ride of dips and turns that didn't leave us feeling dizzy or nauseated. While waiting in line, you can check out Hagrid's hut perched to the side.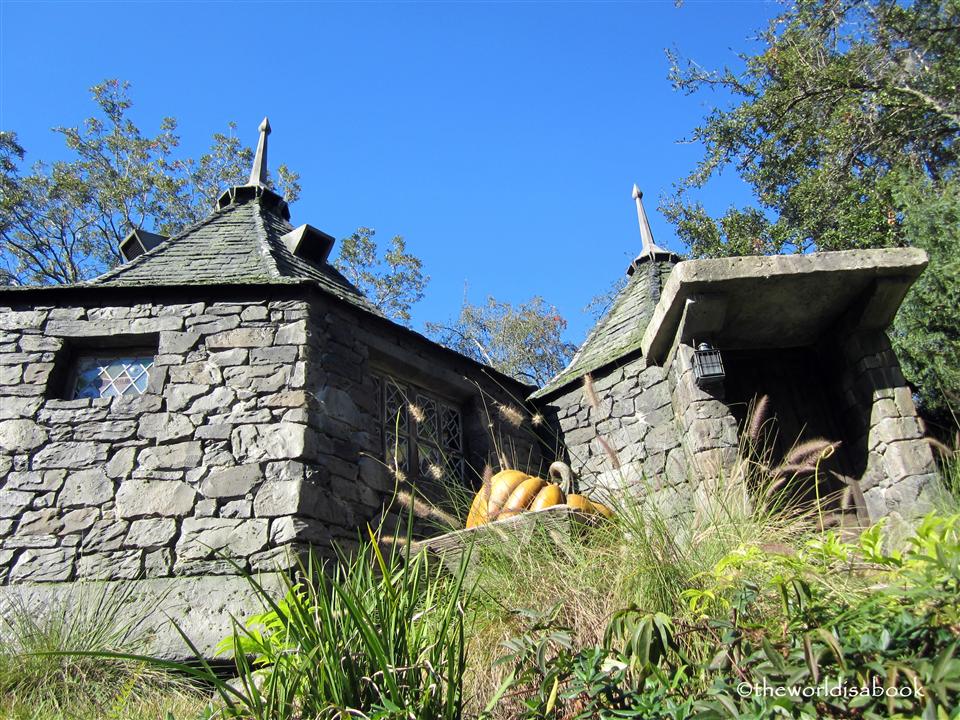 8. Admire the details. Even though the streets can get very crowded, try to stay to the sides and look up, look down and look around this magical place.  The snow covered rooftops house more than the stores and restaurants.  Walk slowly and stop at the interesting window displays. There are little surprises in store such as moving instruments among other things.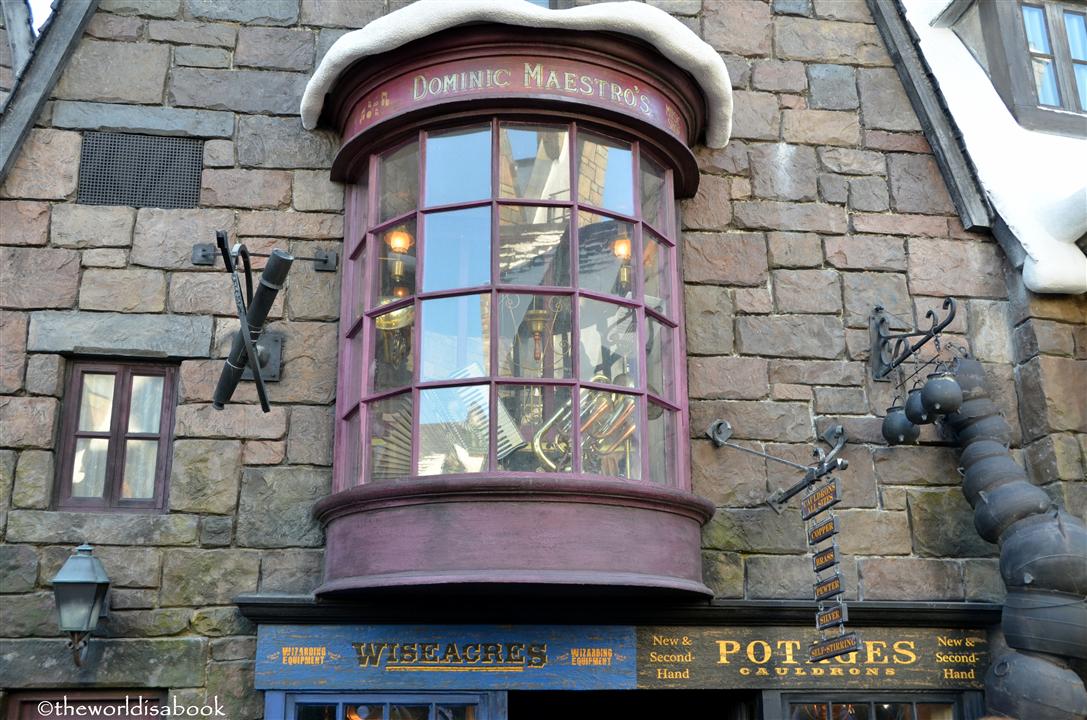 9. Do the Dragon Challenge. For the tweens, teens and adults who have that sense of adventure and daredevil spirit, this is their ride.  It was a high, wild and scary looking rollercoaster of dueling dragons.  My daughter didn't reach the height requirement of 54 inches and she's the only one who would take this challenge with my husband.  Honestly, just looking at it made my stomach queasy with its height and loops.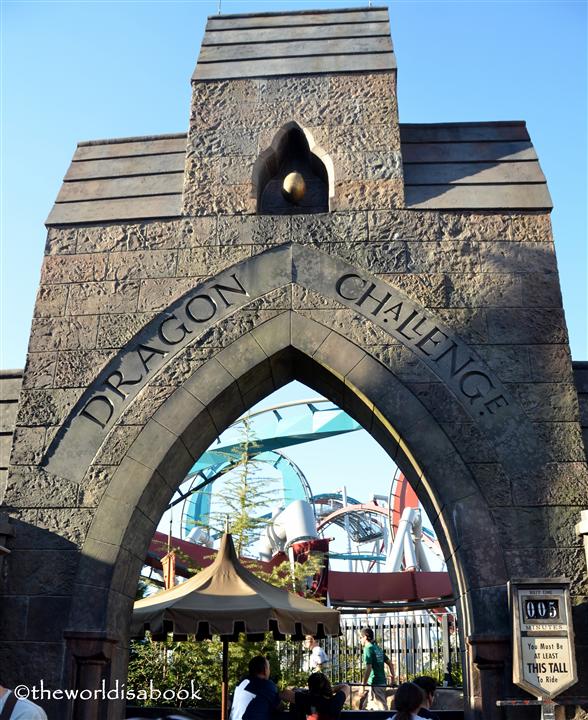 10. Visit the stores. What's a Harry Potter world without the magic stores? Dervish & Banges sold magic supplies and wizarding equipment for the wizards in training.  Stores like Zonkos Jokes (novelty items), Flitch's Emporium of Confiscated Goods, the Owl Post (look up to see the adorable owls) were worth visiting.  Just be aware of the overpriced merchandise here.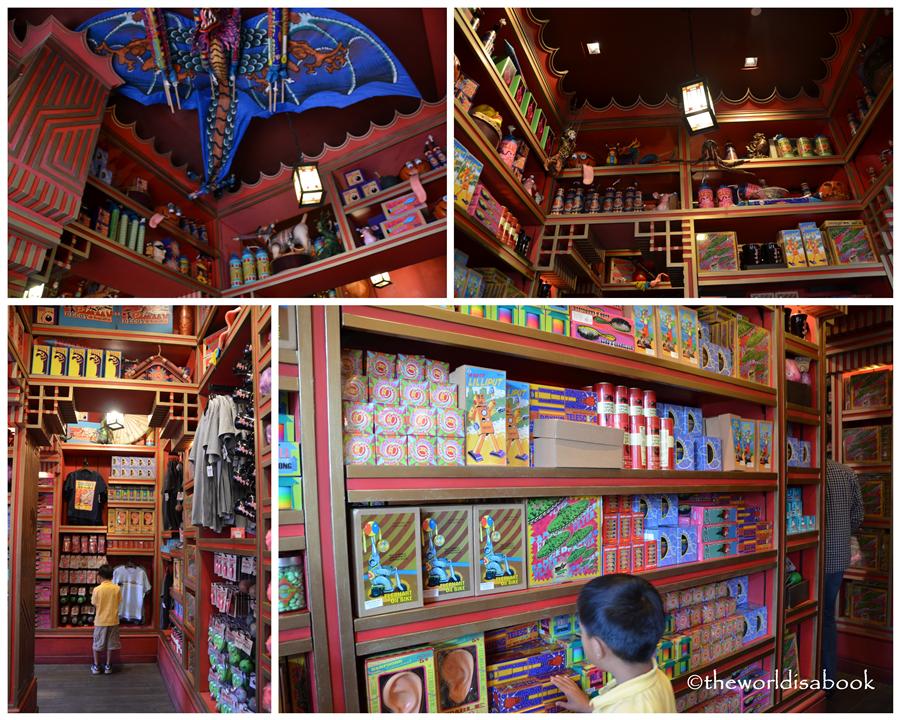 Thoughts and Tips:
Child swap area. At the Forbidden Journey ride, there is a child swap area if you have a child or children who cannot/will not go on the ride.  There was a little room right by the boarding area with benches and a TV showing a Harry Potter movie (of course) and with a diaper changing area.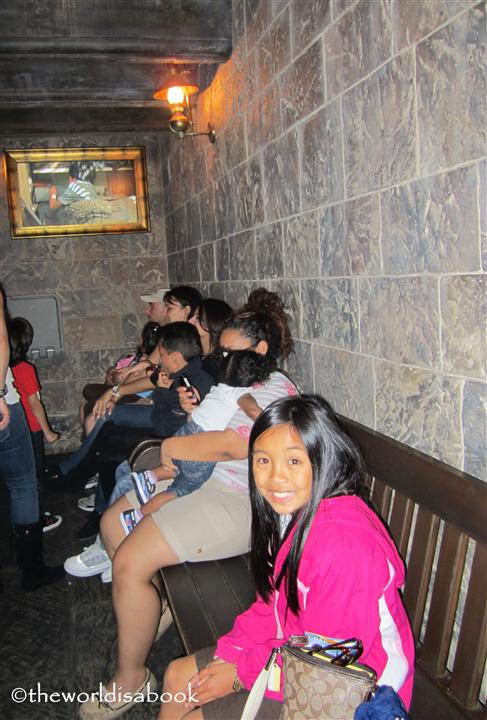 Locker Storage.  All of us were going on the ride but ended up bypassing parts of the line and were directed to the entrance to stay in the child swap area. The reason? My husband's oversized backpack that couldn't fit into the lockers.  Everyone must store purses and bags into complimentary lockers for the duration of the ride.
Bring your own stamps. If you don't want to spend more on the Harry Potter special stamps or buy the 50 cent postcard stamps they charge, then bring your own 29 cent ones and save.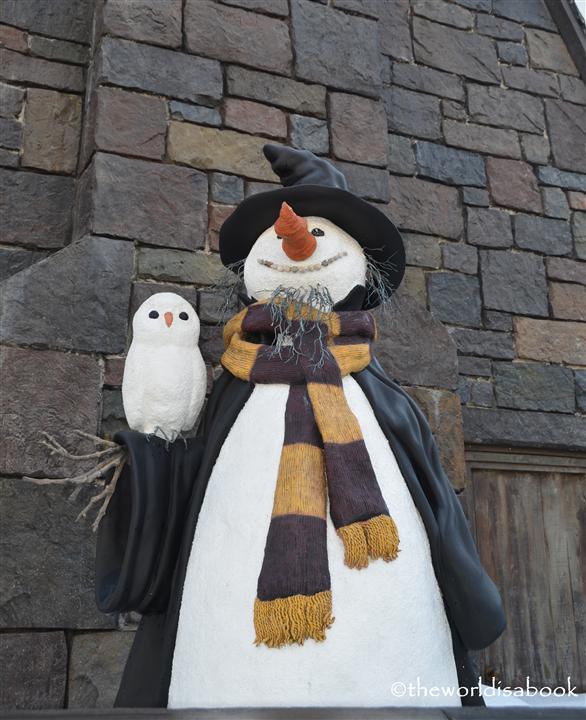 Be Aware. If you're not a fan(in case, you're getting dragged in or just curious), at least watch one of the six movies. Really! It will be a good point of reference and the kids should at least be able to recognize one the major characters. The rides and everything inside the castle will mean a whole lot more.  I was trying to explain it to a friend (without geeking out too much) who had only watched half of the first movie and she looked at me with an almost blank expression.  So, go watch it before going.  I almost wished I had watched a couple of the movies again as a refresher.
Go to the bathroom. It is eerily creepy with Moaning Myrtle in there.
Wear the costumes.  If the kids have their Harry Potter or other character Halloween costume, wear it.  There were plenty of people dressed up in the crowd that blended in with the staff.
Hang out at Three Broomsticks restaurant.  We didn't get the chance to eat here since we had a dining plan for Islands of Adventure but have read rave reviews about it.  They had a great patio area for those who want some place to snack.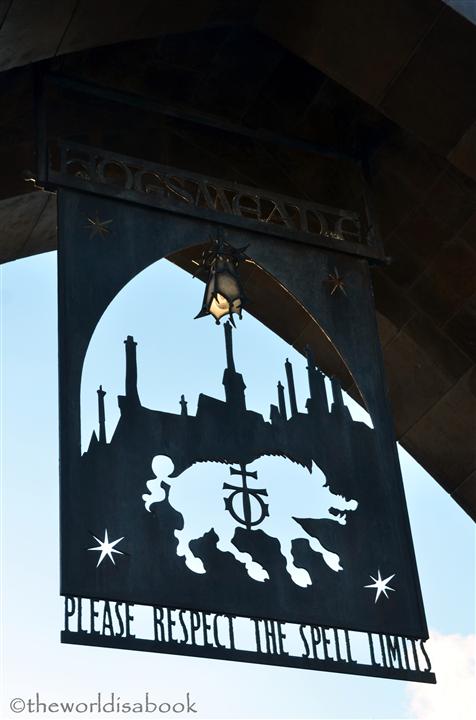 Visiting Wizarding World of Harry Potter was a dream come true for my daughter.   My husband and I loved it but found the overcrowding on the streets and stores to be a bit off-putting.  Despite all that, we all had a marvelous time.  It really is an attraction that must be visited by any Harry Potter fan.  We're looking forward to our version of the park coming to Universal Studios Hollywood in 2015.
 *Have you visited the Wizarding World of Harry Potter?  Which was your favorite part?
Pin it for later!