USS Midway Museum with Kids
In honor of Memorial Day today here in the USA, I thought our visit aboard the USS Midway Museum with the kids last March would be a fitting post for this special day to remember those who have served our country.  The USS Midway was a "floating city at sea", the longest serving US Navy aircraft carrier of the 20th century from 1945 to 1991.  The ship was permanently decommissioned in 1992 and became a museum in 2004.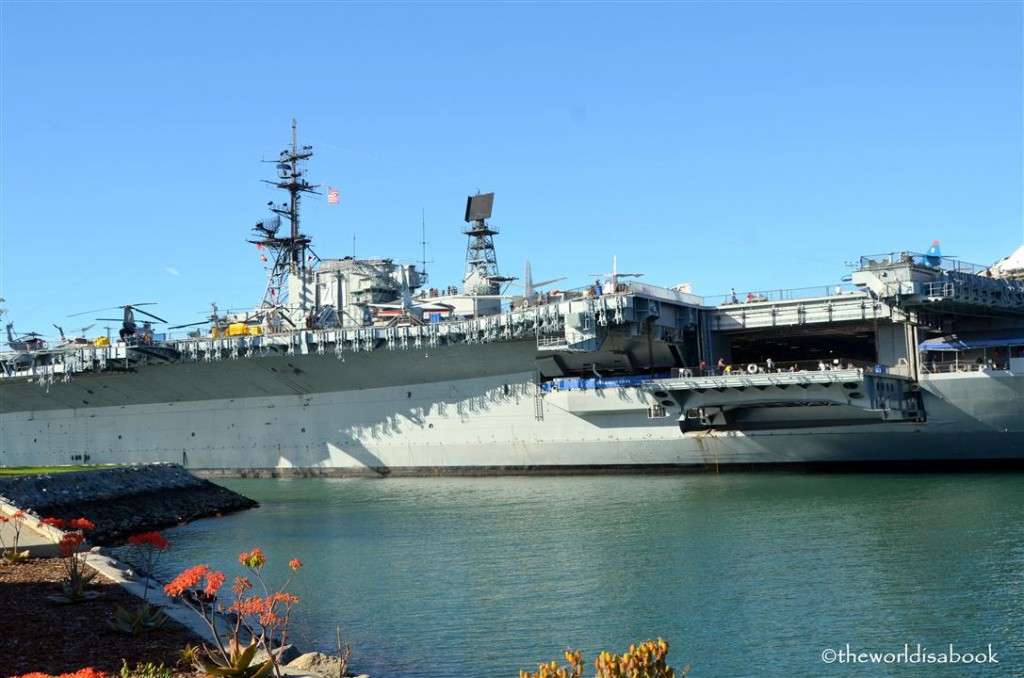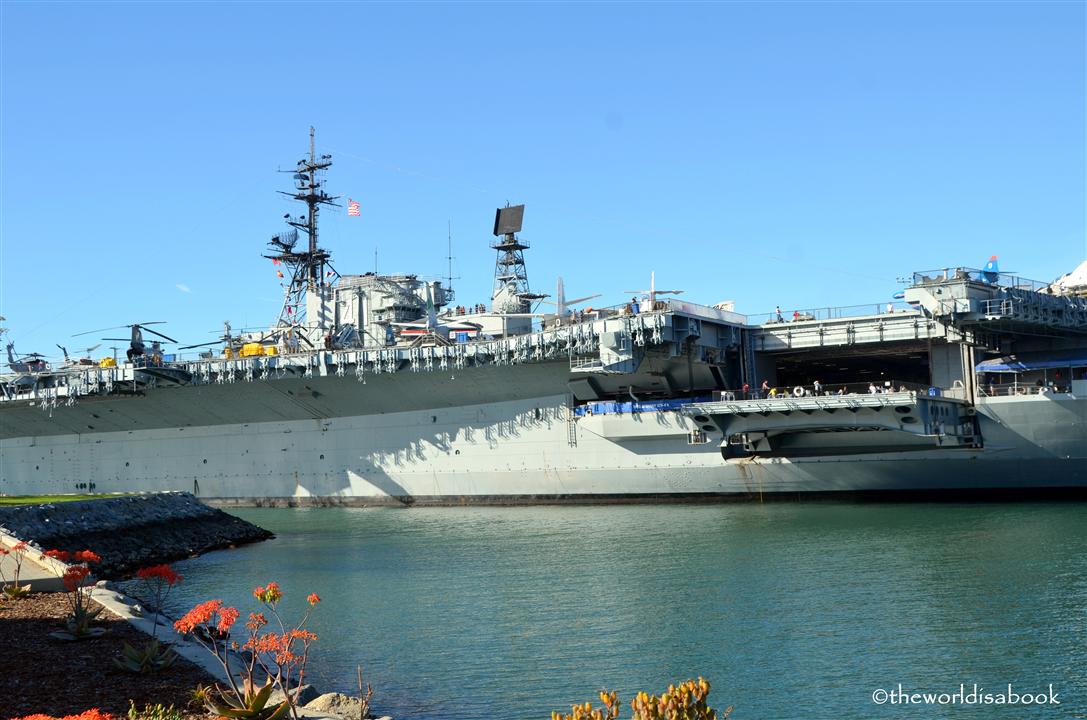 The USS Midway Museum showcased almost 50 years of aviation and military history with 60 exhibits and 25 restored aircraft to help educate and engage the whole family.  My daughter, being such a "girly girl", wasn't too keen on visiting a ship full of airplanes. On the other hand, my son was the exact opposite.  He was so full of excitement he could barely contain himself.  With the exception of my husband, this was our first visit to the museum despite passing by it countless times.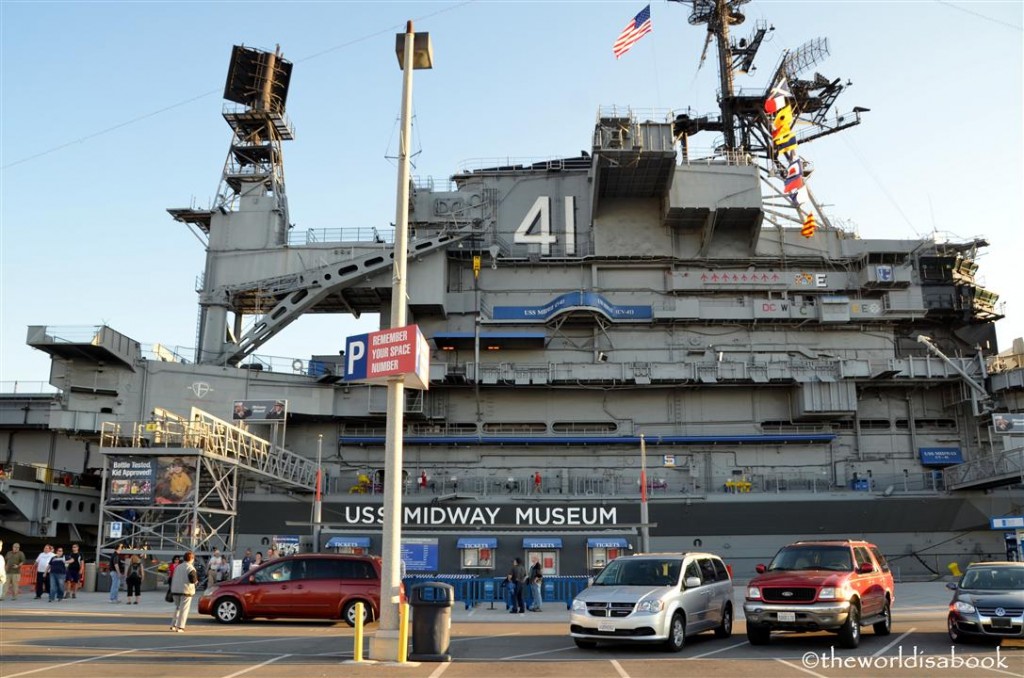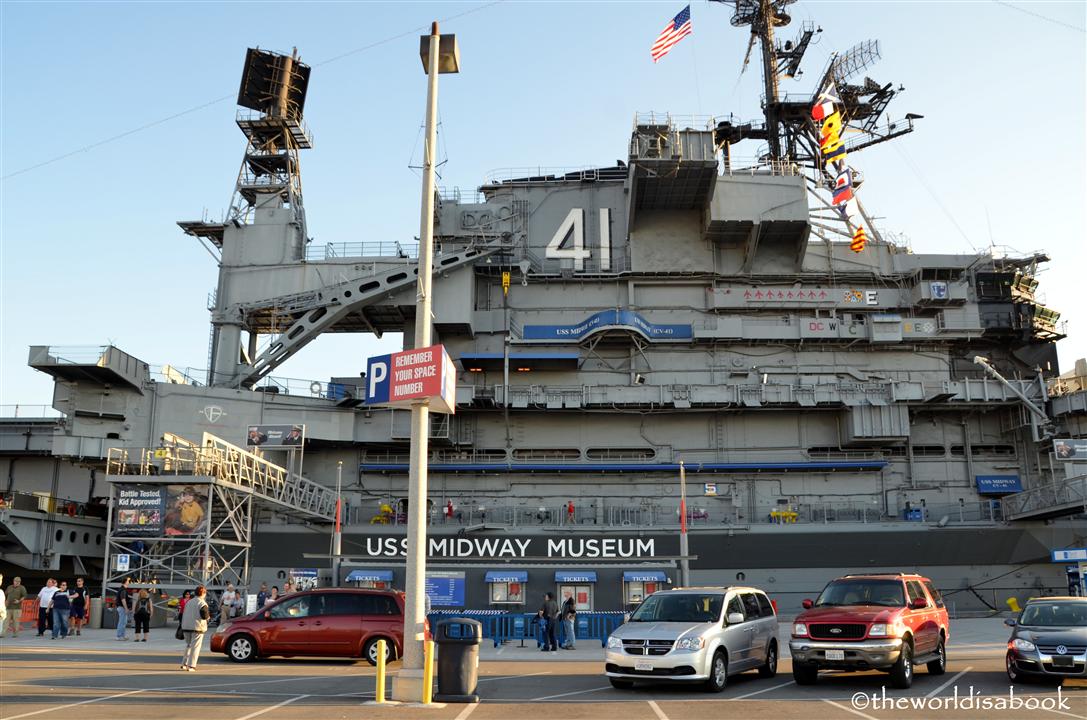 This was a massive ship and so overwhelming at first glance. It was like staring at a six-story building.  It was even more impressive going inside.  Our grand tour was divided into the three main parts of the ship: the Engineering and Hangar Deck, Below Deck and the Flight Deck. Welcome aboard the USS Midway and follow us on our tour.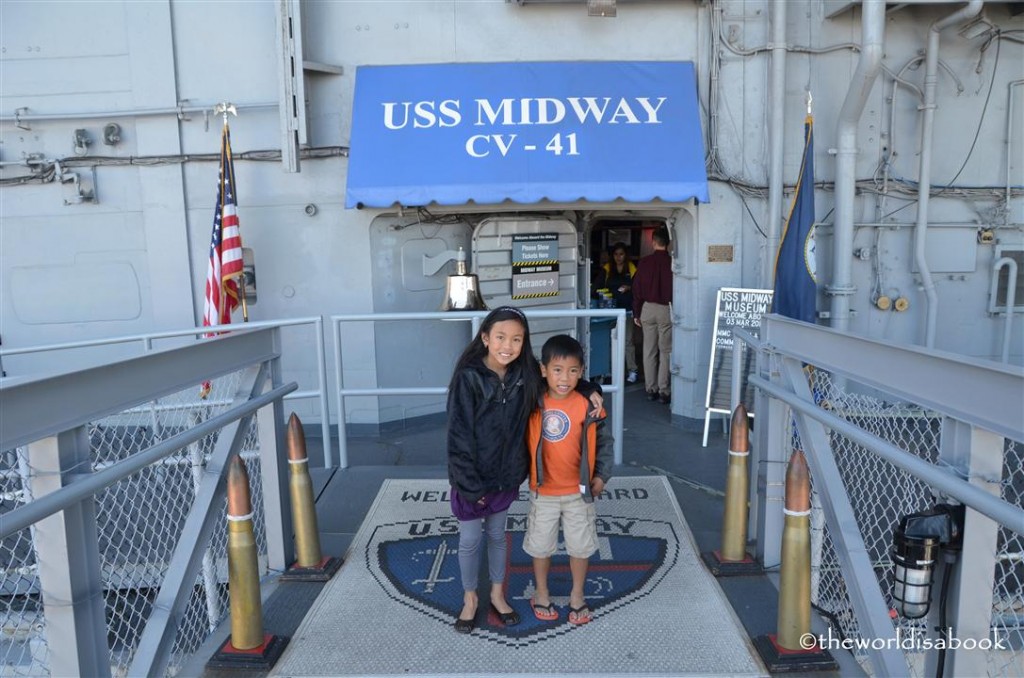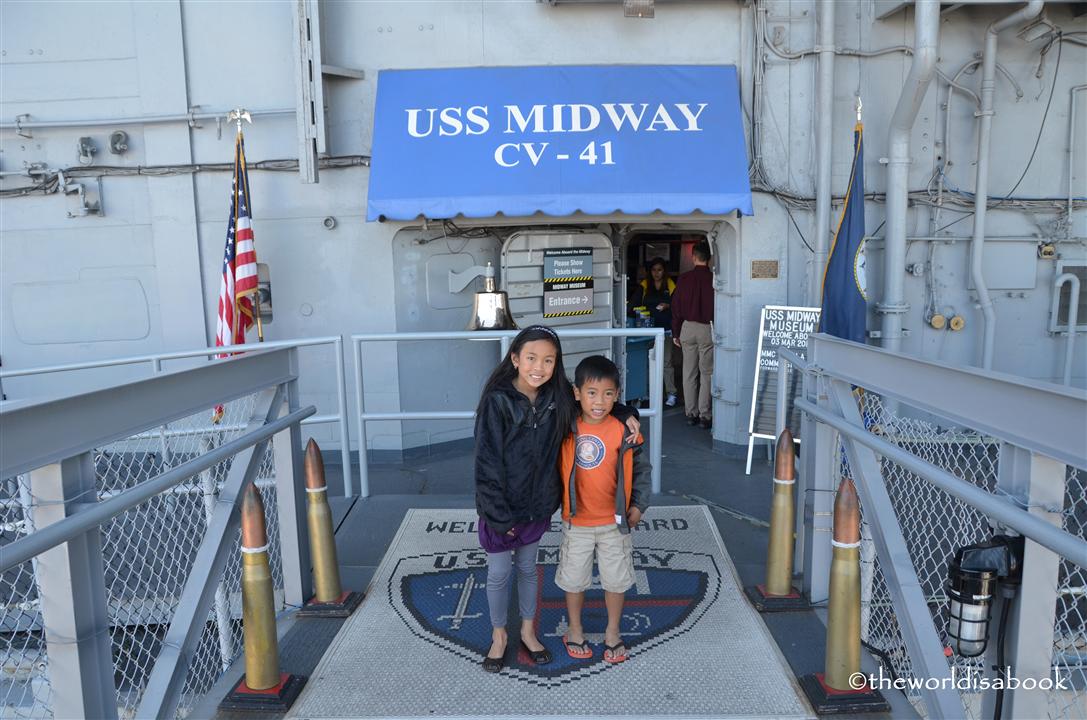 Engineering and Hangar Deck
The first thing we did was head straight to the information kiosk for the complimentary, self-guided, audio tour guide.  Each exhibit corresponded to a number and we entered the numbers on our little device to hear more information and some personal stories from the USS Midway sailors.  The hangar area was a huge indoor deck filled with various airplane exhibits all with fascinating history behind each one.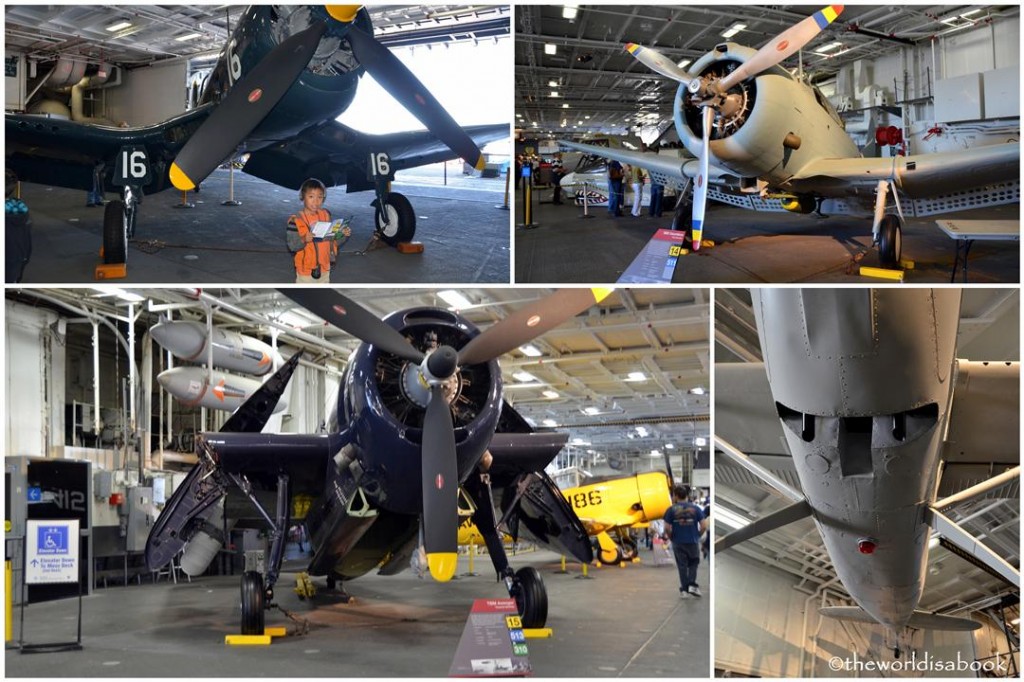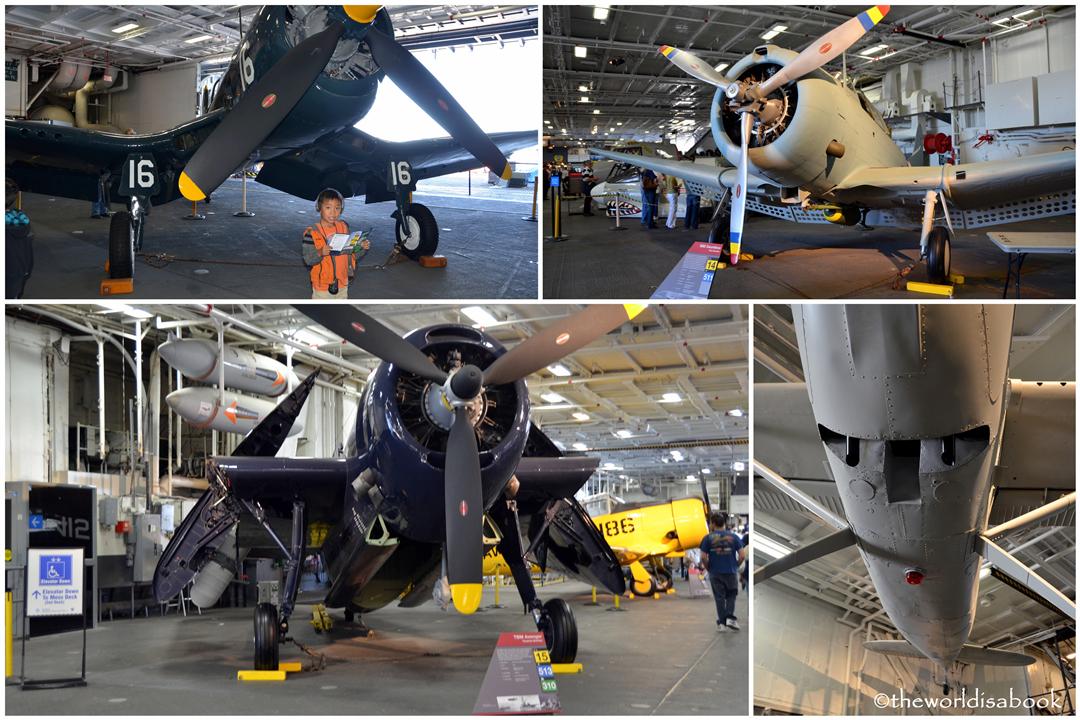 One of the best things about the hangar is that kids and the young at heart can actually climb inside the airplane cockpits.  My son was like a kid released inside a candy store – oohing and aahing and patiently waiting to climb cockpits.  There were plenty of photo ops to pretend to be era pilots and handle all the controls. As expected, the kids didn't want to leave this area and wanted to climb aboard all the planes.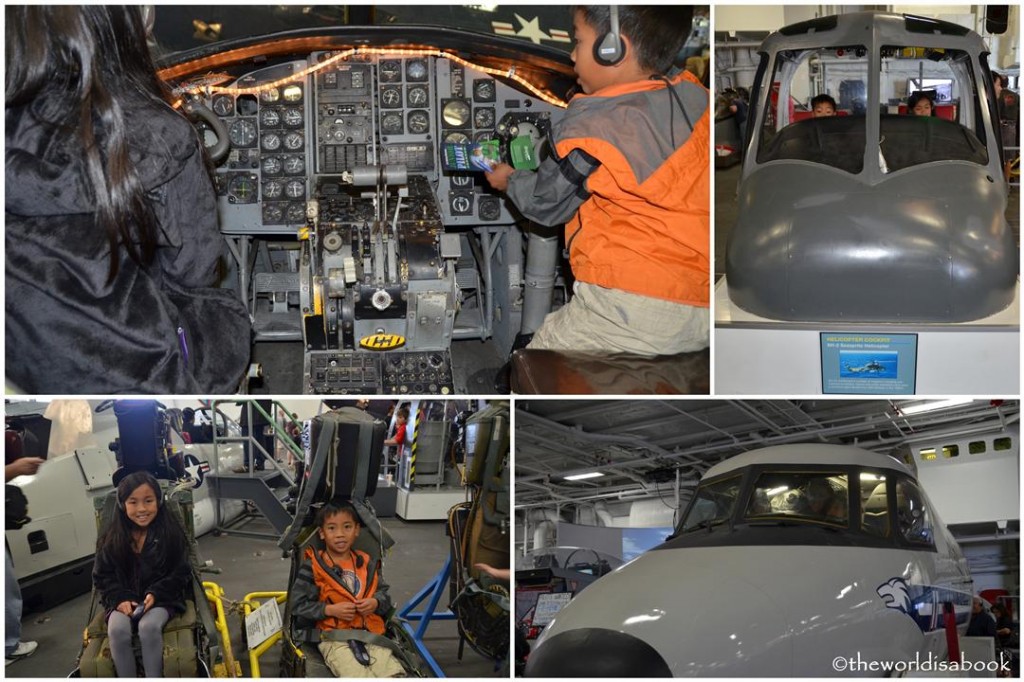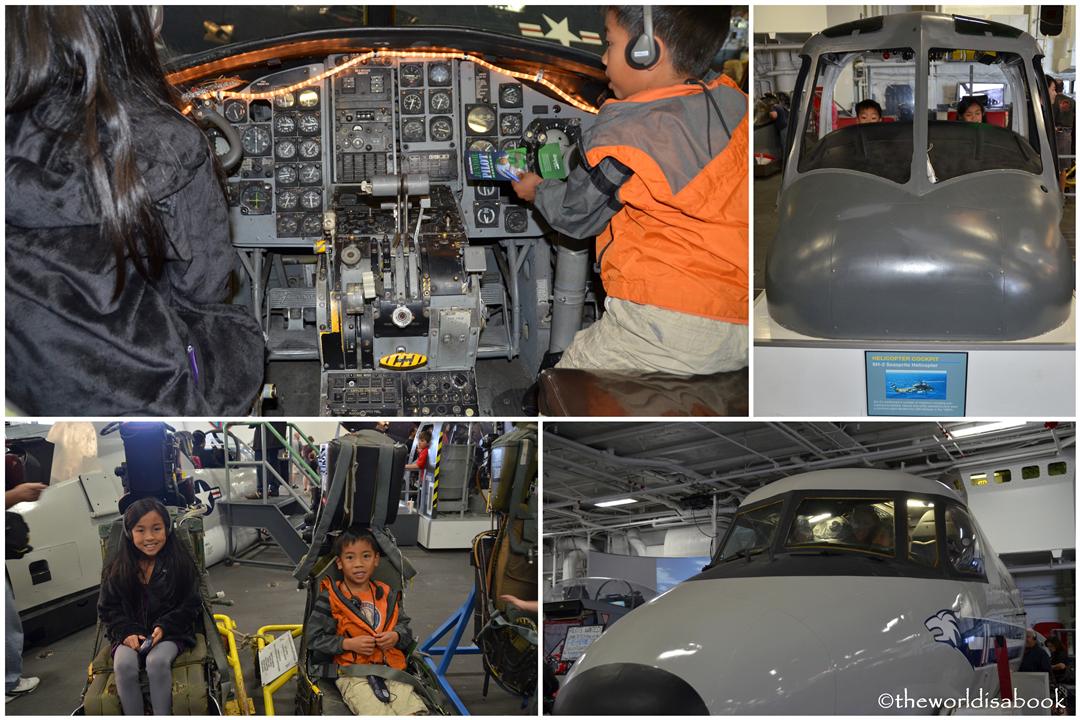 If pretending to play with the controls wasn't enough for the kids, there were also flight simulator rides for a fee.  Three different rides were available that ranged from an aerial combat ride, military aviator training or a ride aboard a fighter jet on an Operation Desert Storm mission.  Prices ranged from $6 – $30 depending on the ride.  The minimum height requirement was 38 inches for the rides.
There were several WWII veterans displaying their pictures and memorabilia and available for any questions at the hangar.  They were happy to answer any questions especially from kids and this was a good opportunity to thank them for their service.  Some of these veterans were also one of the friendly docents/volunteers found throughout the ship ready to share their stories of life aboard the USS Midway.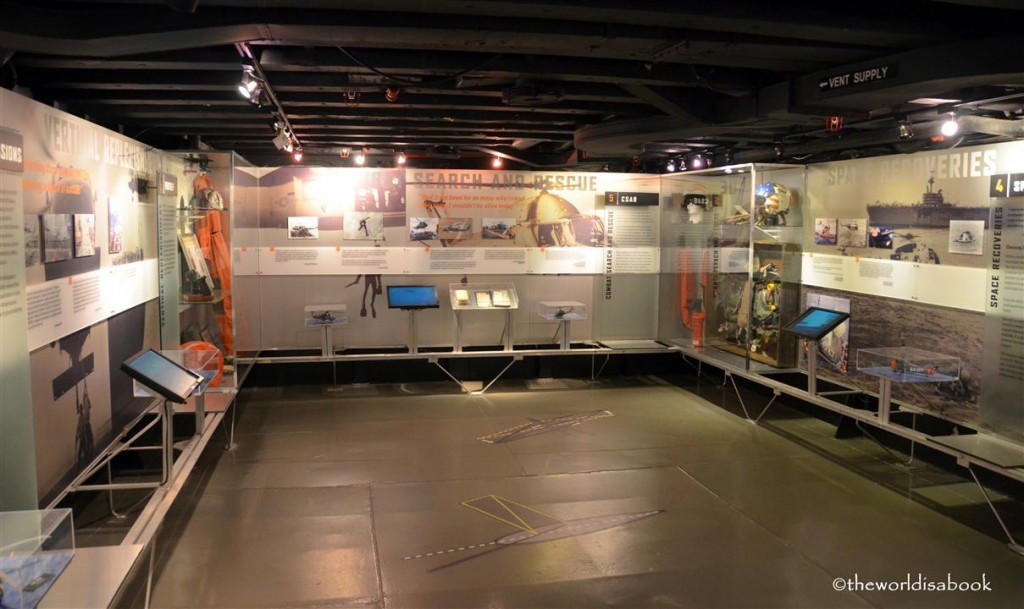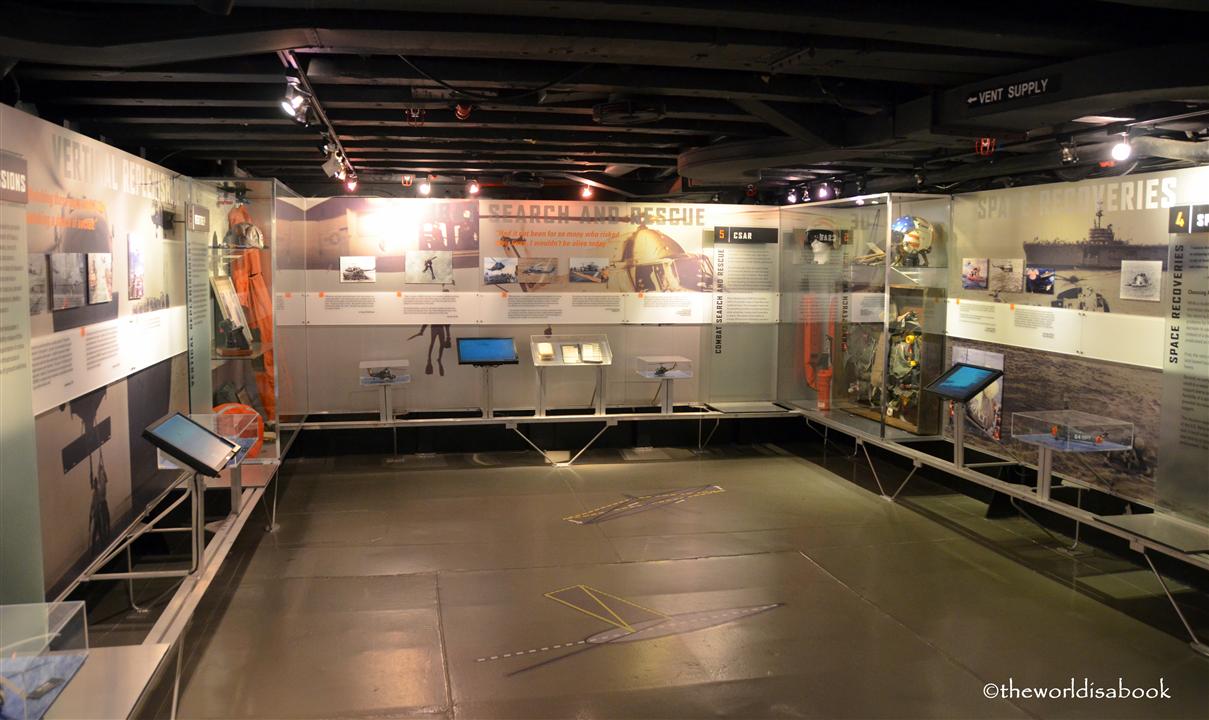 Junior Pilot Program
One of the best things the USS Midway Museum provides for the kids is their Junior Pilot Program.  We loved this activity that allowed the kids to have a fulfilling and educational experience.  Kids were given a little brochure with specific questions corresponding to stop numbers on the family audio tour guide.  There were 1-3 questions for the 11 stops throughout the ship.  Questions could be answered by listening to the tour or looking at the exhibit signs.  It was a wonderful way for the kids to see how the sailors lived and to learn important parts of the ship.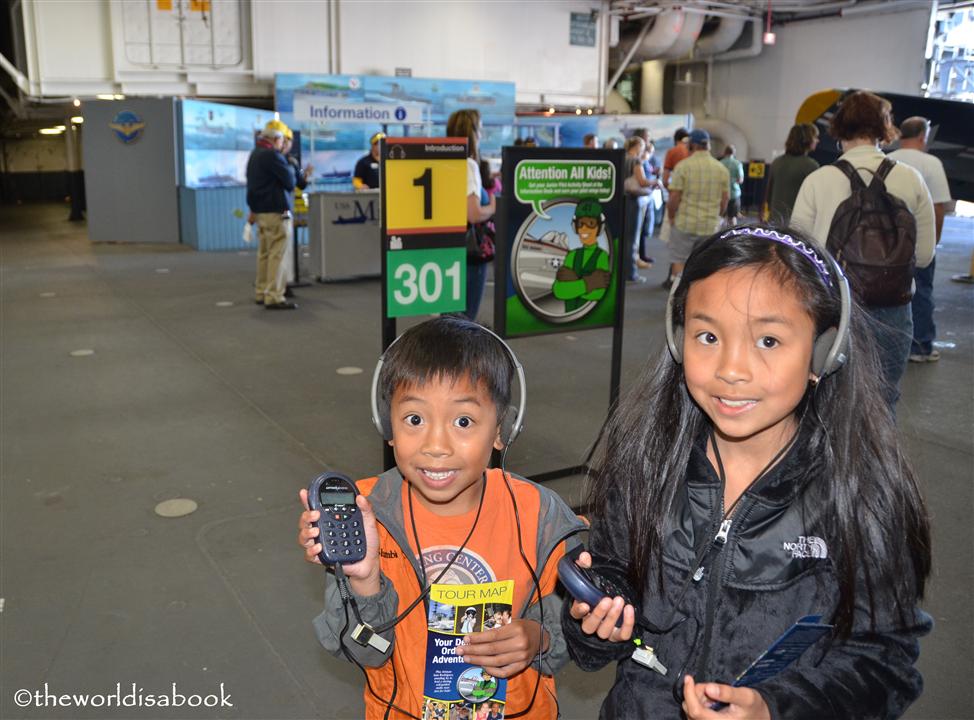 They put on their little headsets and listened to narrations by a friendly Airman,  Sam Rodriguez(who may or many not be fictional).  Once completed, they got little Junior Pilot's Wings.  Remember my "girly-girl" who didn't really want to be here?  She became so immersed in doing the activities that she was more interested in completing the questions than her brother.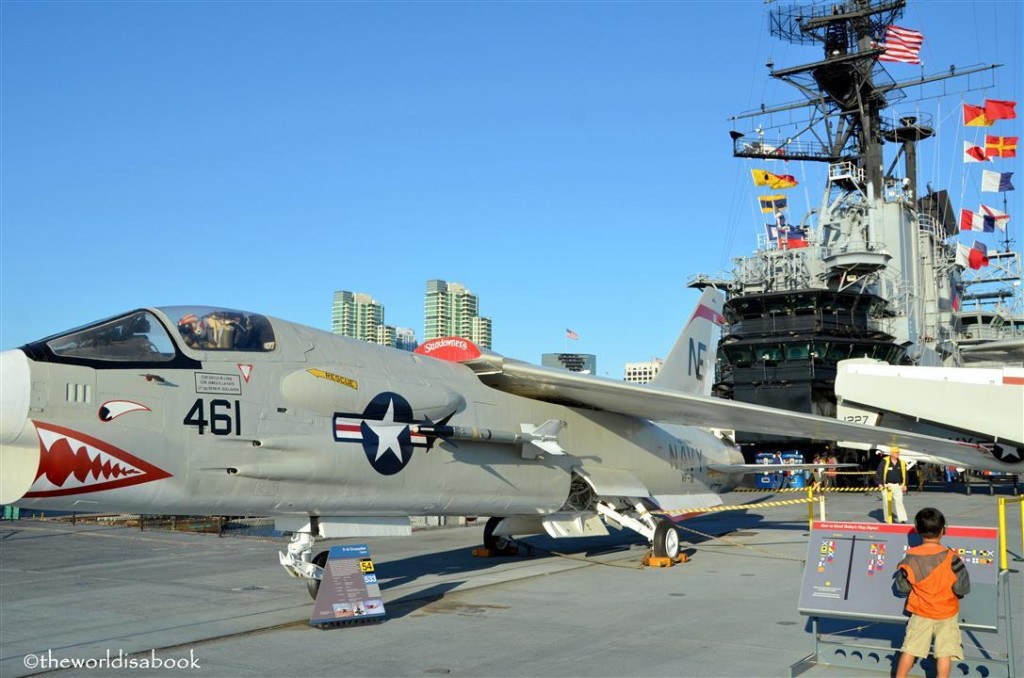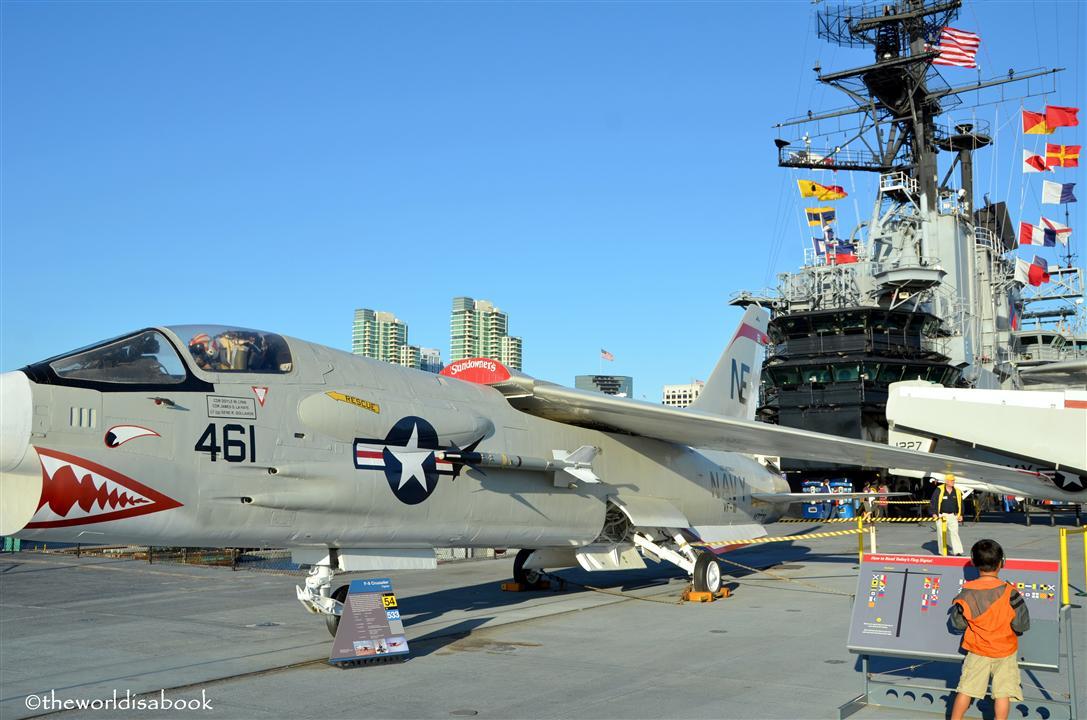 Below Deck
To really get a feel of how the USS Midway sailors lived, our tour took us below deck to their living quarters and the city that supported the sailors and the mechanics that kept the ship running.  This was a great behind-the-scenes look at their daily lives.  Our first stop was the the Fo'c'sle or Forecastle or anchor room.  The steel anchors could weigh up to 20 tons while each link in the chain weighed about 130 pounds.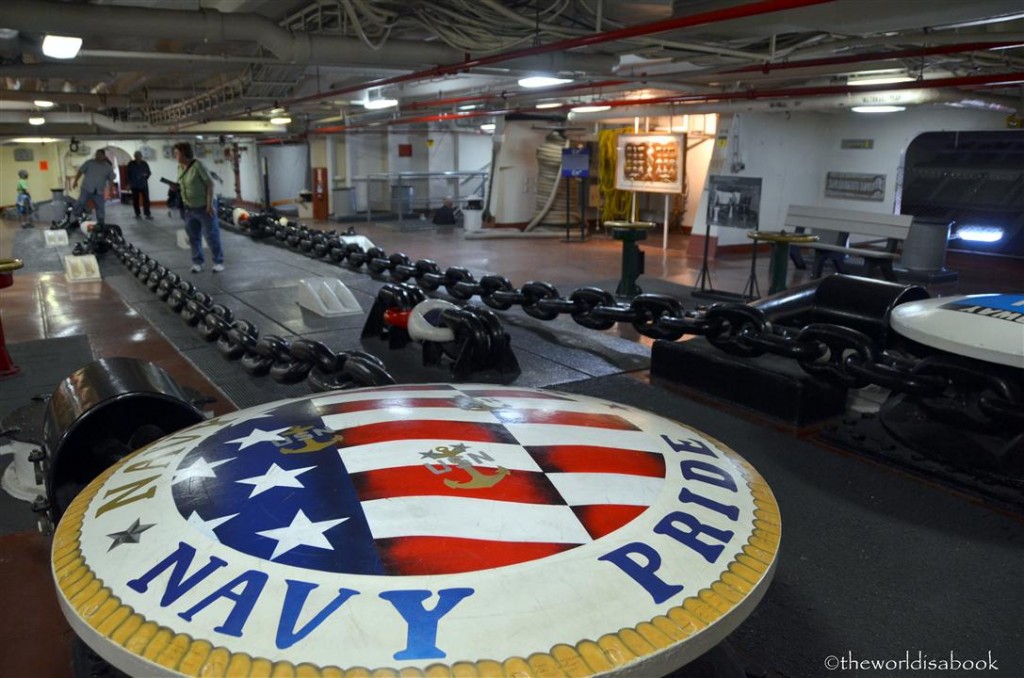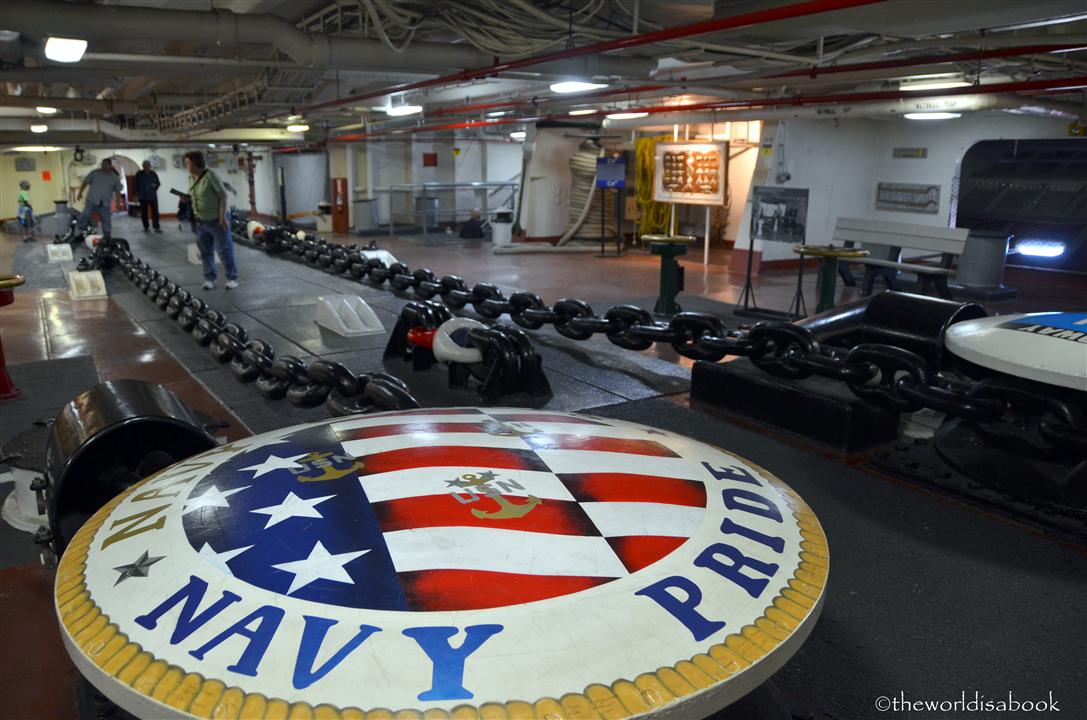 There was an interactive area reserved for learning how to tie various seaman's knots.  Many kids were eager to do this little exercise.  Some of those knots weren't as easy as they looked.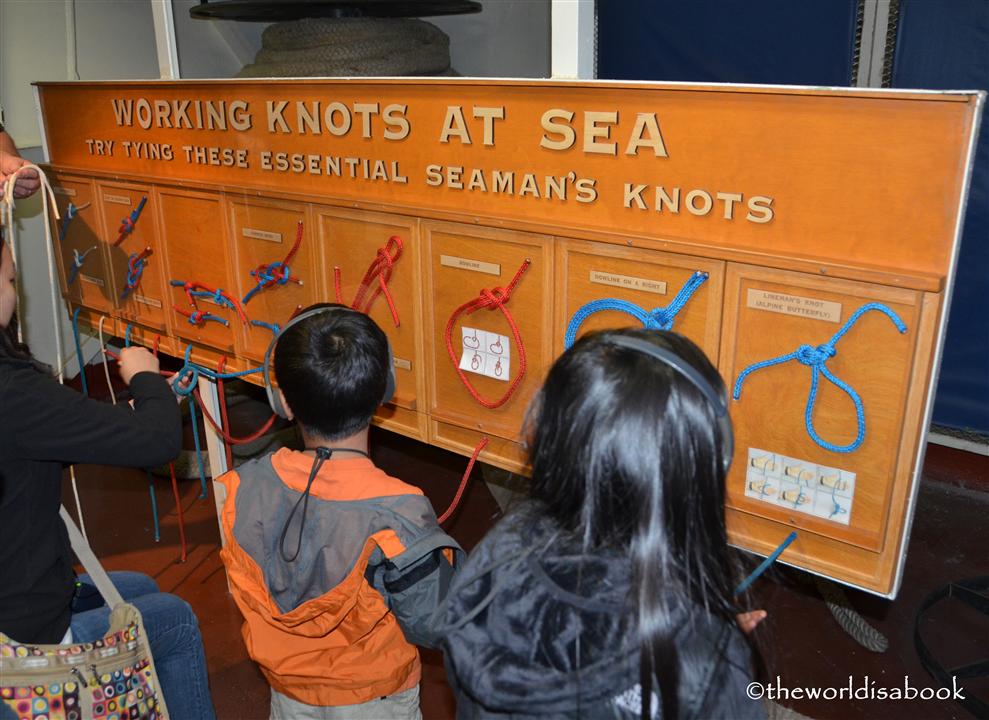 We were able to explore the sailors' cramped quarters.  It was hard to imagine how the sailors slept in these bunks with hardly any privacy.  We also found out that their "Navy showers" were only limited to two minutes due to time constrainst and water preservation.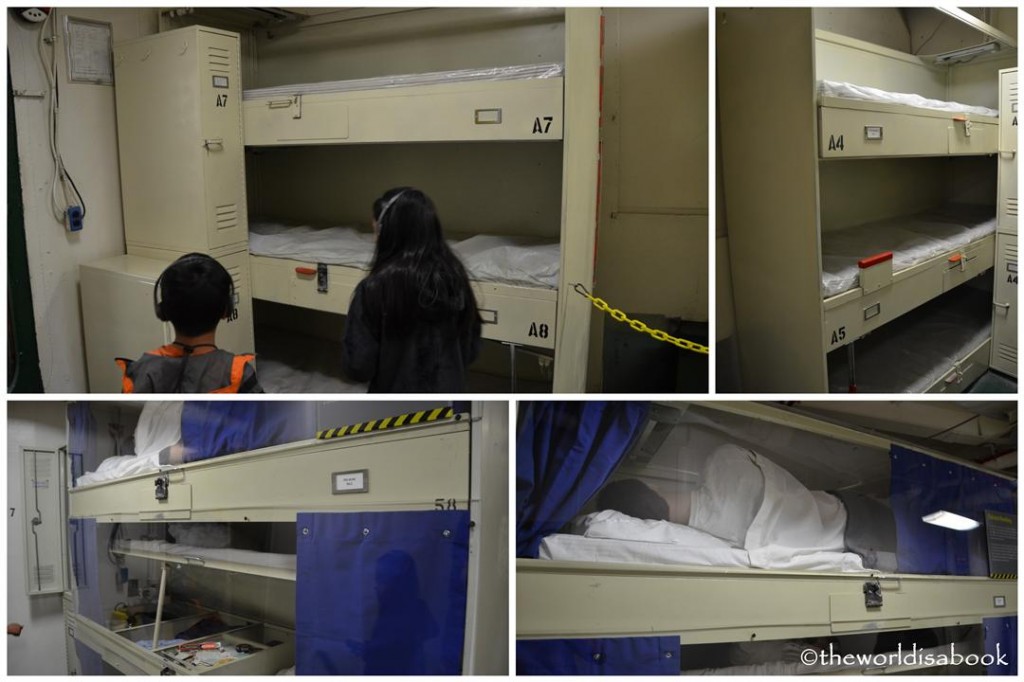 One of our favorite areas was the kitchen or huge galley that rivaled ones we've visited on today's cruise ships.   It was extensive and built for efficiency.  After all, it produced 13,500 meals a day.   There were also various dining rooms depending on their rank.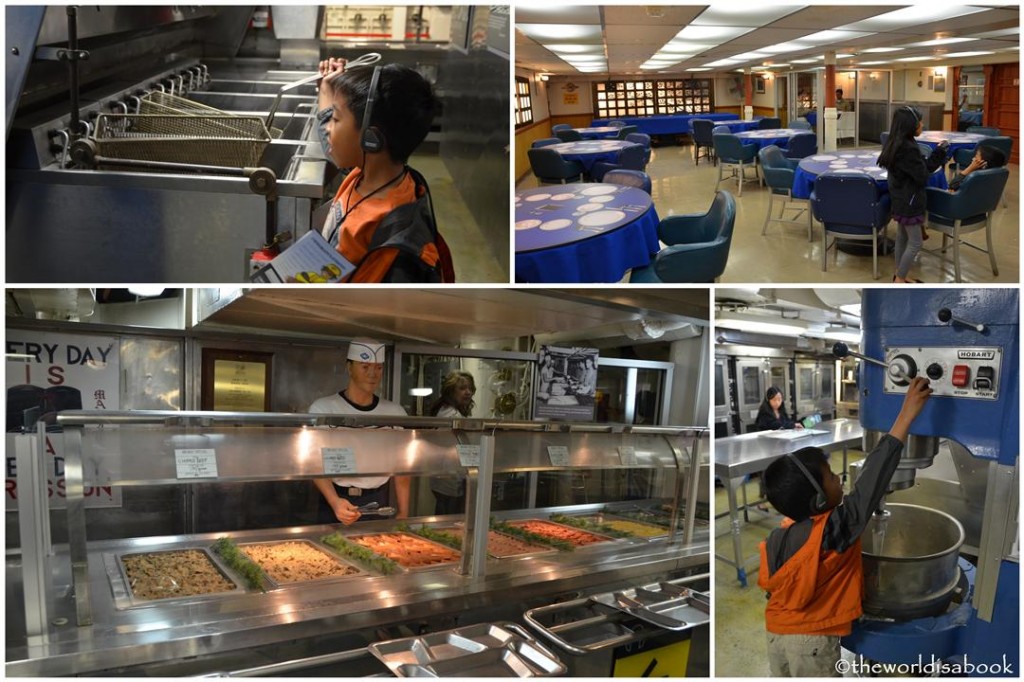 As in any city, troubles can happen.  We visited the brig or jail and even listened to a sailor's narrative on what it was like to be imprisoned there.  This was also a popular photo op for many visitors.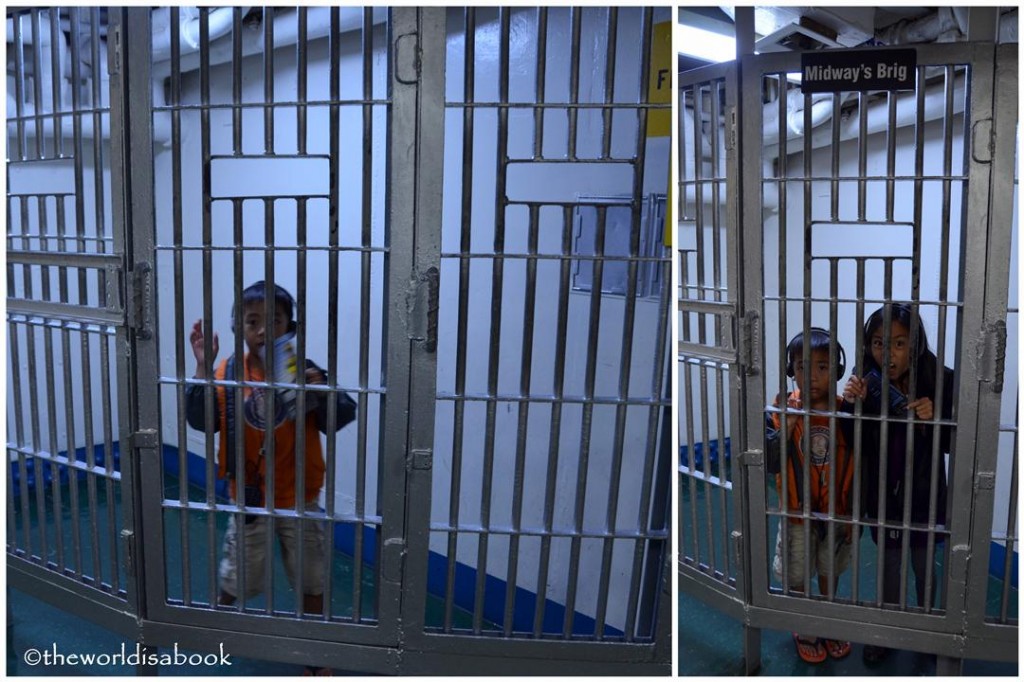 Living on the ship for months at a time could take its toll.  There was a store, theater, recreation rooms for the sailors and even an inter-faith chapel for some meditation and prayer.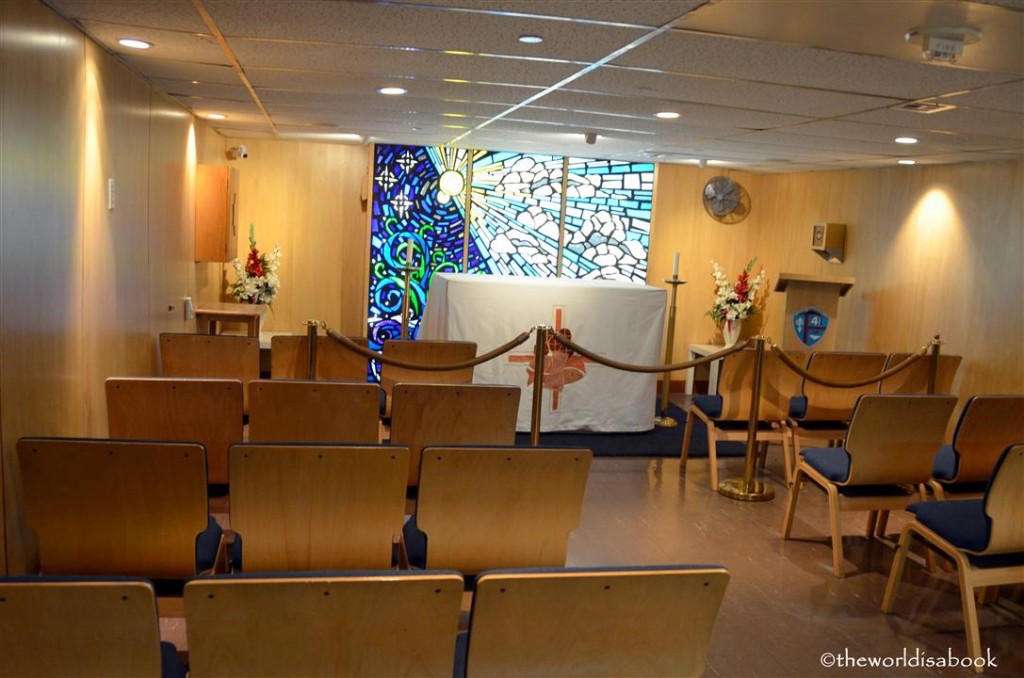 The engine room, filled with complicated controls, might have been the highlight for many grown men.  The mechanics all sounded very interesting that pretty much went over my head.  But, this was a popular place for the kids to have the chance to interact with all the panel full of knobs and buttons.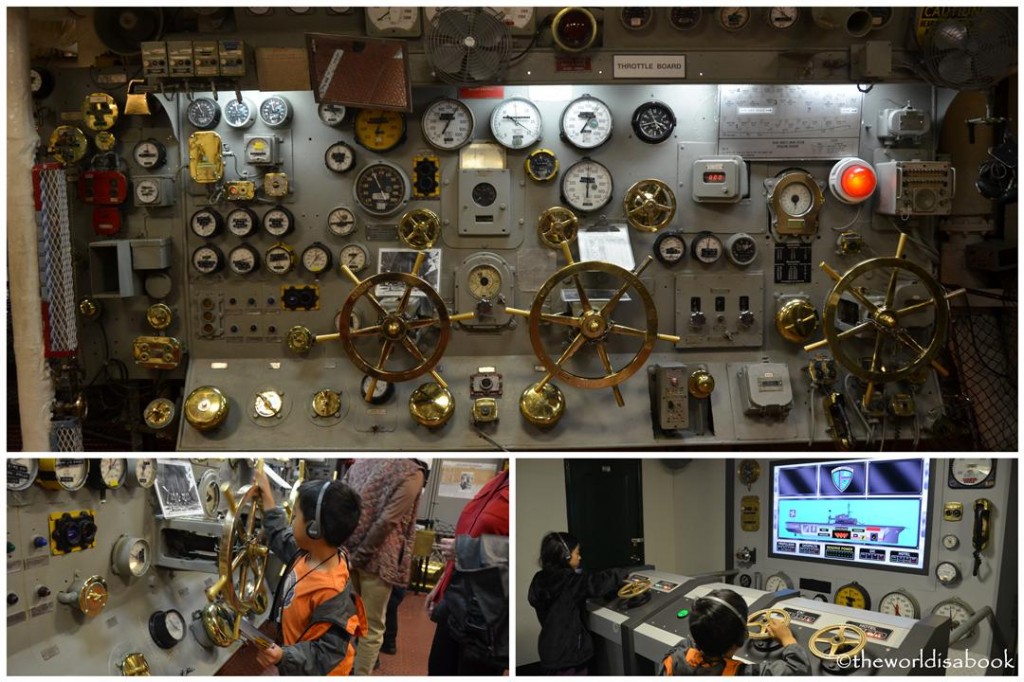 Flight Deck
This was a favorite part for most people where all the different fighter jets, and military aircraft were displayed in all their glory.  For kids who love anything with wings – this was heaven.  The aircrafts were from WWII to Operation Desert Storm forces including one used in the Top Gun movie.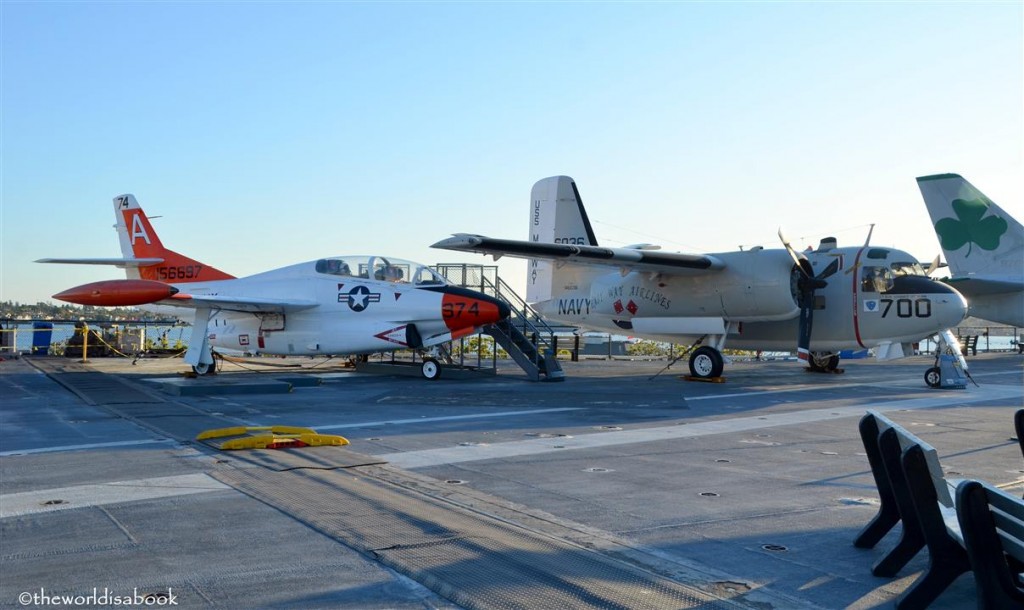 There were informative talks near special historic planes and some were open for climbing aboard the carrier area.  It was such a delight to see so many kids enjoying the chance to see these huge military aircraft up close.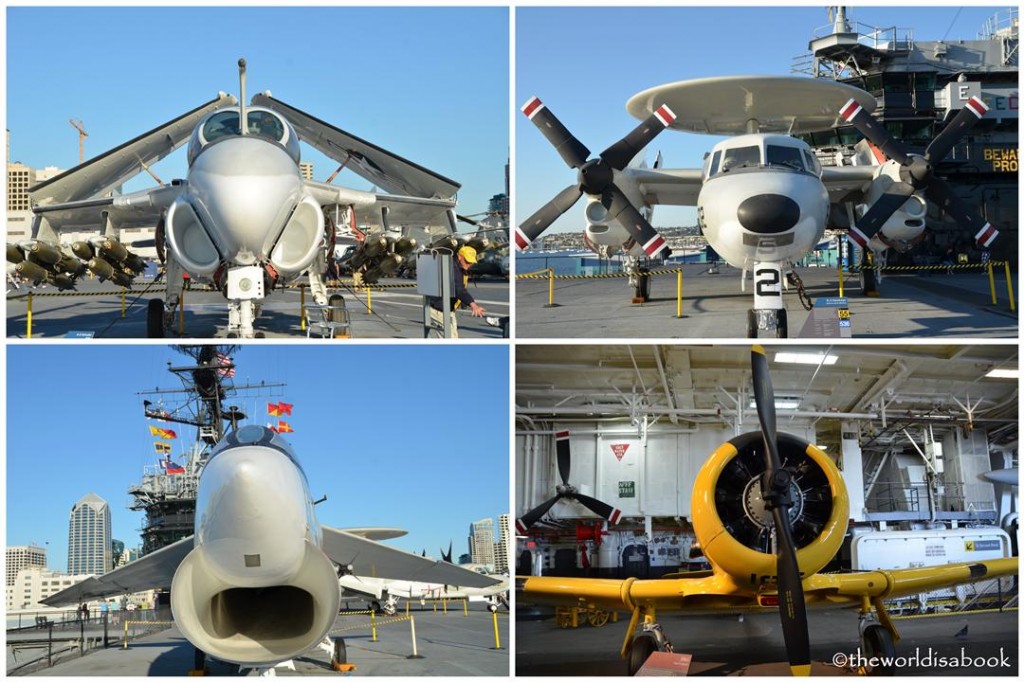 More planes on the flight deck to enjoy.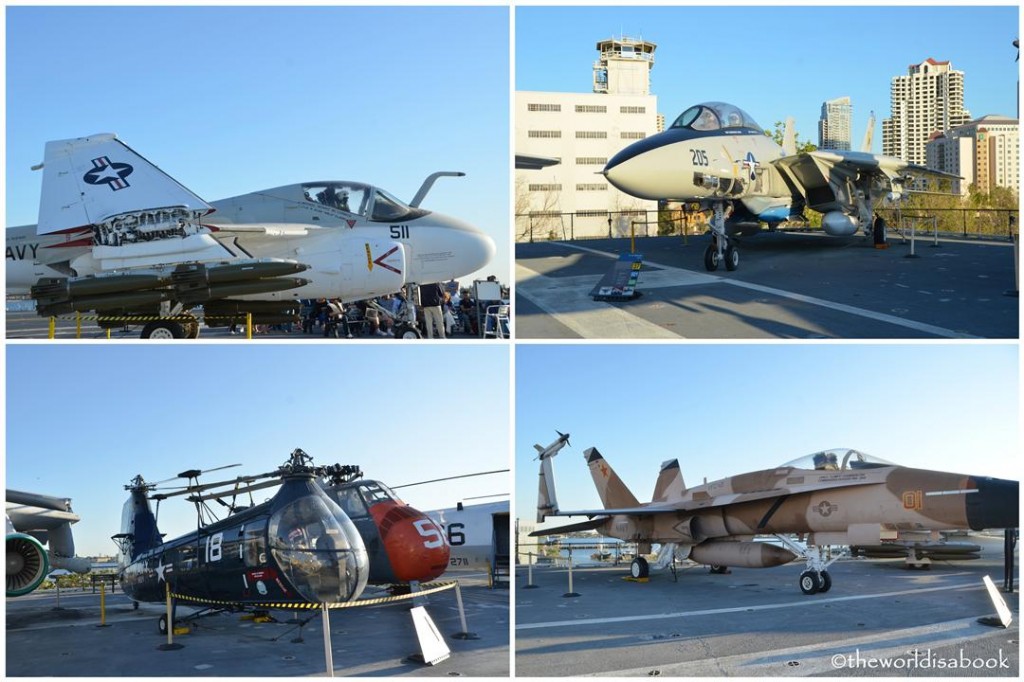 Unfortunately, we didn't get the chance to visit the captain's bridge and control tower due to long lines and we got there later in the day.  If this is a must see for you, we suggest taking the time to do this before the rest of the tour.  The tour puts this area down the line if doing the stop numbers in order.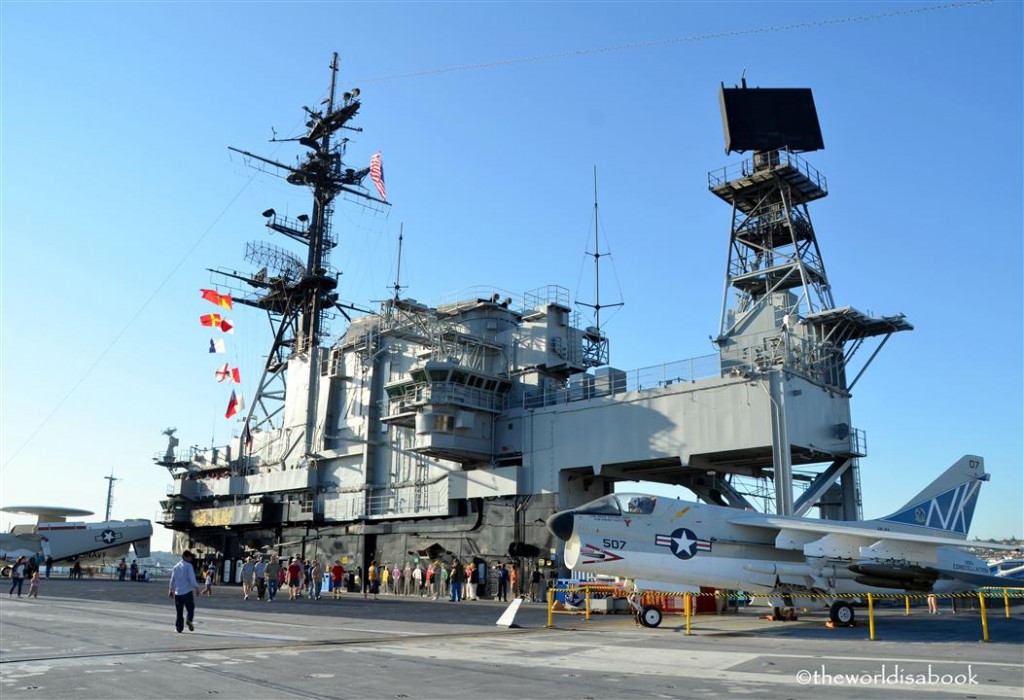 There's also another hidden advantage to being aboard the USS Midway.  Its permanent place on the harbor offers one of the best views of the San Diego skyline and its surrounding areas including Coronado Bridge.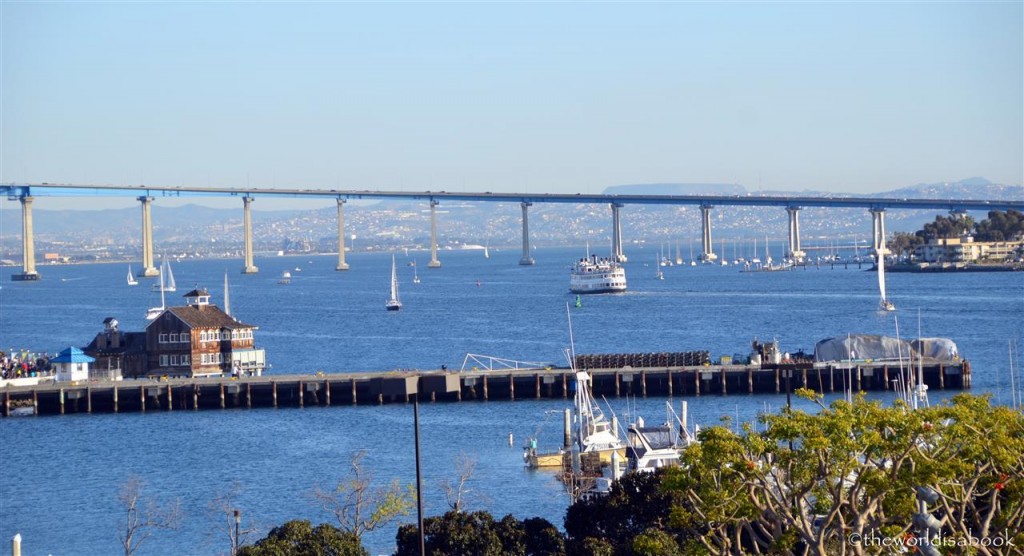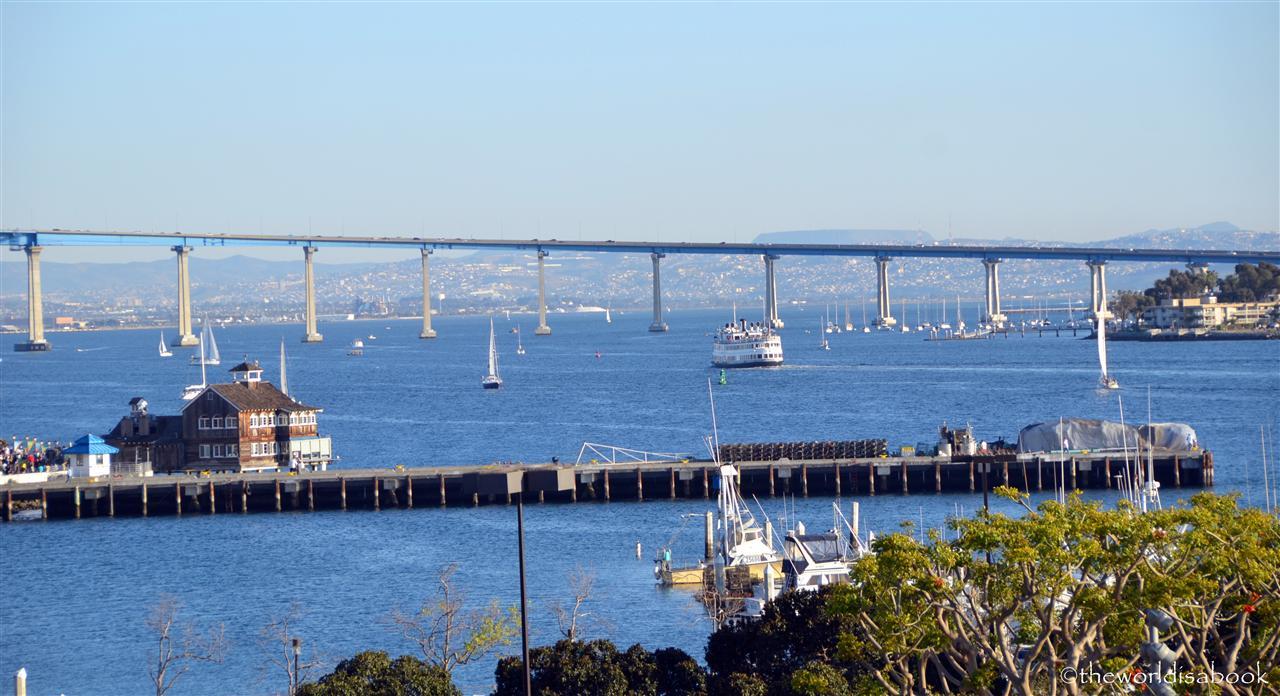 Visiting the colossal USS Midway Museum truly makes anyone appreciate the sacrifices of these uniformed personnel.   This was one of the most unique museums we've visited and gave such an insight into the sailors' lives but also its important role in history.  Unfortunately, this is often one of the overlooked attractions in San Diego.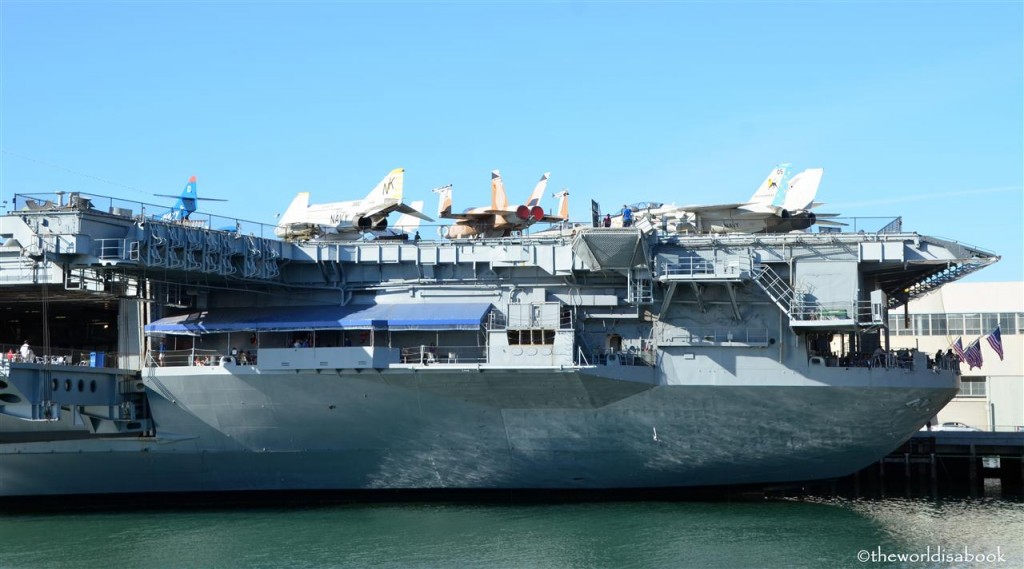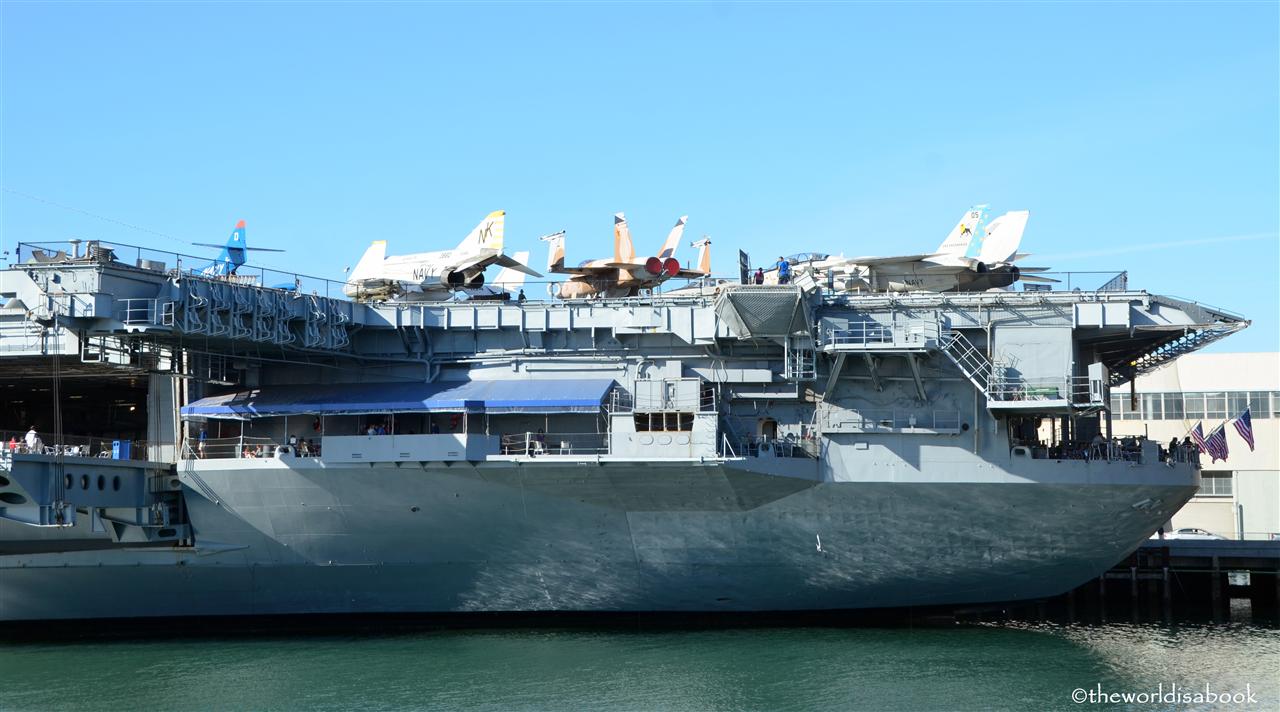 It was fun, interactive and a lot of hands-on activities for the kids.  My kids were engrossed during the family audio tour, asked the docent questions, explored hidden corners and came away knowing a bit more.  All wonderful qualities that make a museum definitely worth visiting again.
USS Midway Museum with kids tips:
Allow for enough time to examine, explore and do the whole family audio guide tour.  We spent over three hours and it wasn't enough time to see everything including watching some of the short films.
Wear comfortable, walking shoes.  This is a huge ship and the tour involves a whole lot of walking.
Enforce the rules of no running and hold on to the kids.  There were plenty of uneven spaces and steps and going up and down narrow and steep stairs.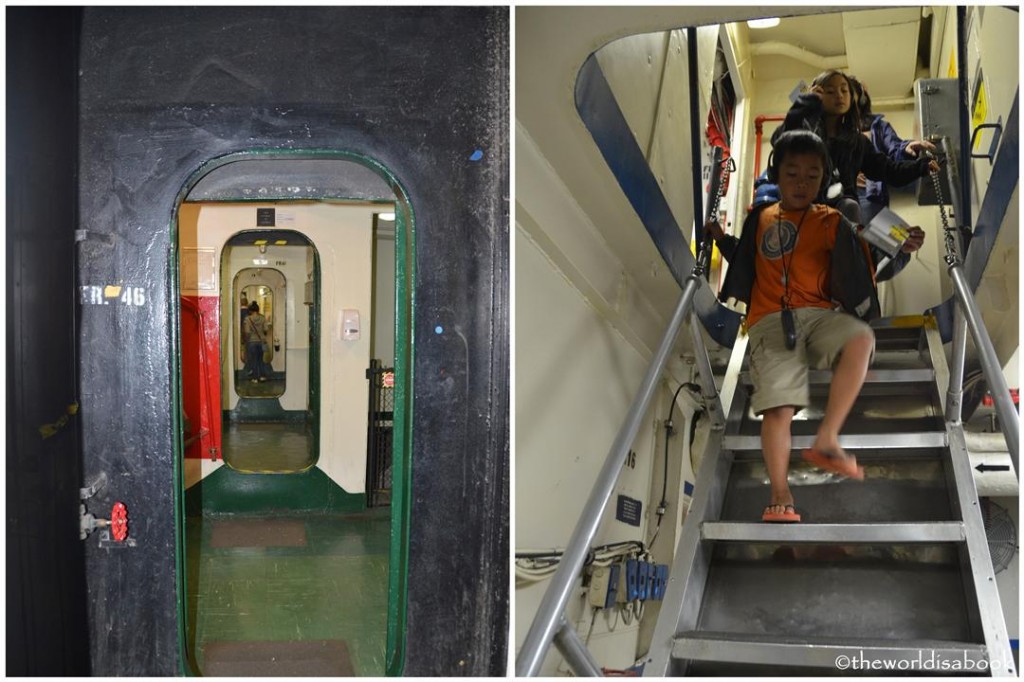 Bring snacks and water.  There is a cafe on the hangar deck for meals.  But, as the kids wander around the ship, bring plenty of snacks and water to prevent unnecessary trips back to the cafeteria or to minimize any whining.
Wear Layers.  It could get really hot below the deck and windy at the flight deck area.
Look for discounts.  Tickets can be purchased online for some savings.  They can also be bought at military ticket sales (if accessible) for substantial savings.
 The Basics:
Address:  910 N. Harbor Drive – San Diego, CA
Hours: Open from 10 AM to 5 PM daily (except Thanksgiving and Christmas Day).  Last admission is at 4 PM
Admission:   $18 adults ~ $10 (ages 6-17) ~ Free (under 5 yrs old)    Parking:  $7
Website:  http://www.midway.org
*Have you visited the USS Midway Museum with kids?  What was your favorite part?  Have you visited any other unique military museums?

Downtown on Dwellable