Iceland with Kids: Discovering Charming and Quirky Reykjavik
Many visitors don't spend a lot of time in Iceland's capital city of Reykjavik (pronounced rei-ca-vik) on their way to explore the more rugged and scenic parts of the country.  We were glad we used it as a homebase during our brief stay.  Surrounded by the sea and mountains, we found Reykjavik to be compact, appealing, clean, kid-friendly and interesting with some quirkiness thrown in.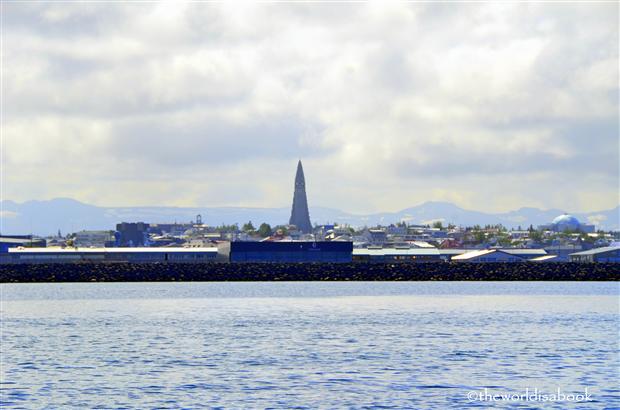 Iceland's total population is about 300,000 and two-thirds of them live in the capital area of seven municipalities .  Reykjavik means "Smoky Bay", so named after the steam rising from the hot springs that were found here.
Europe's northernmost capital (of a sovereign state) provided us with plenty of attractions that should not be missed. These were the memorable structures and scenes we saw during our strolls and drives around the city.
Most of the watercraft and ship traffic has moved to a bigger port but the Old Harbour and its waterfront was still worth a visit.  The Old Harbour was the start of many whale watching and puffin tours as well as home to some Coast Guard vessels.
Many restaurants and museums were along this area overlooking the water.  I loved how blue and calm the water was around here.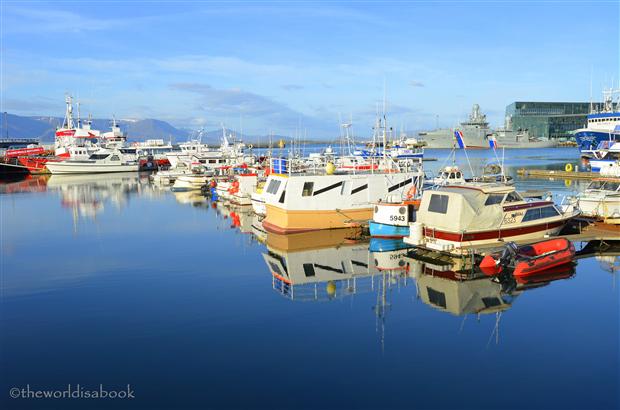 One of the harbor's most impressive structure was the Harpa Reykjavik Concert Hall and Conference Centre which had its grand opening only last August 2011.  The building shimmered in the sunlight with its multi-colored glass facade – made of more than 10,000 glass windows.  Its stunning design was inspired by Iceland's landscape referencing the basalt rock found throughout the country.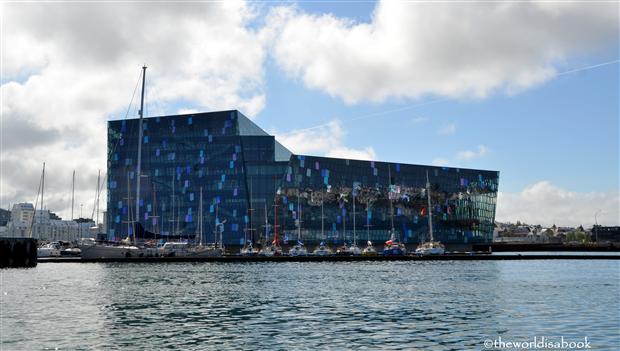 It reminded me of a very large prism. Unfortunately, we didn't get the chance to see its interior. With the sun shining almost 24 hours during our visit, we never got to see it all lit up either.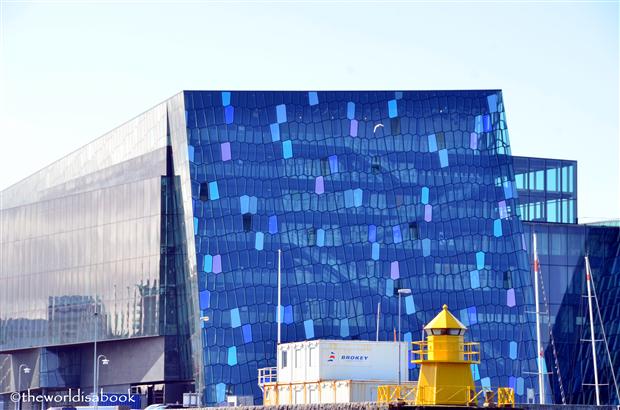 A famous attraction along the waterfront was the Sun Voyage sculpture (Solfar) – a stainless steel sculpture of a Viking fishing ship.  It was glistening beautifully during our visit with the ocean and the mountains in the backdrop.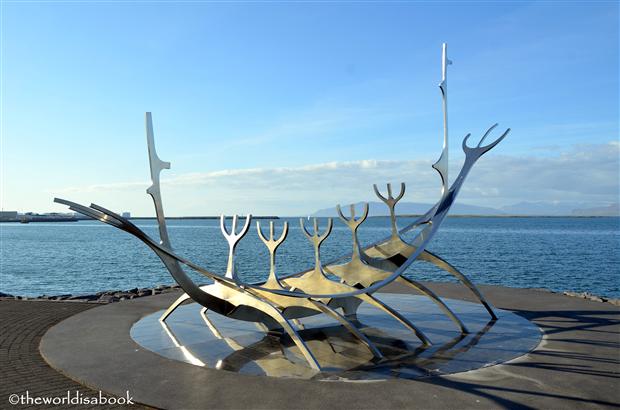 Some have said it also somewhat resembles an insect.  No matter how it may look in one's imagination, it was a modern twist and a wonderful tribute to Iceland's Viking past.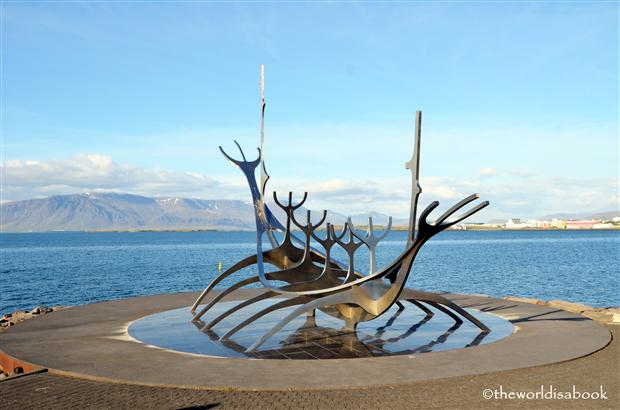 This white house further down the waterfront, known as Höfði house (pronounced Hov-di), may look a bit out of place but played a huge part in world history. Originally built for the French consulate, the house was the setting of the famous 1986 Reykjavik summit meeting between US President Reagan and then Soviet Union's leader Gorbachev which marked the beginning of the progress to end the Cold War.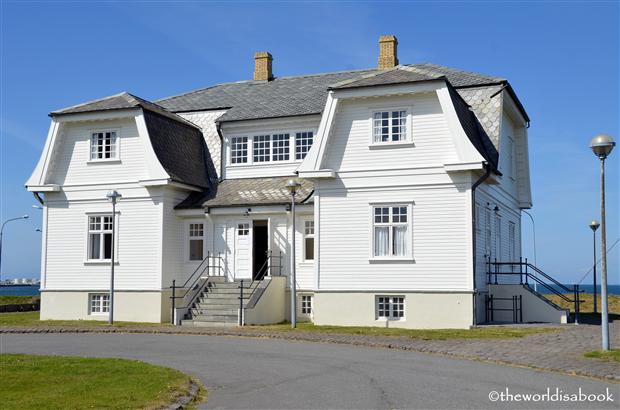 Walking around the capital city, it almost felt like a small town instead of the country's hub.  We noticed that there were hardly any crowds even with summer season in full swing.
There was an absence of skyscrapers and the buildings were modern, minimalist Scandinavian design.  This was Laugavegur below – Reykjavik's main shopping street.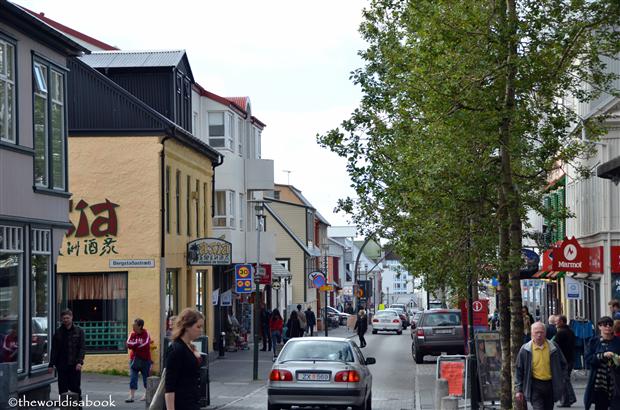 There was a sense of diversity throughout the city and it definitely had a lot of character.  Street art and graffiti adorned many walls around Reykjavik.  This was one example of Icelandic creativity.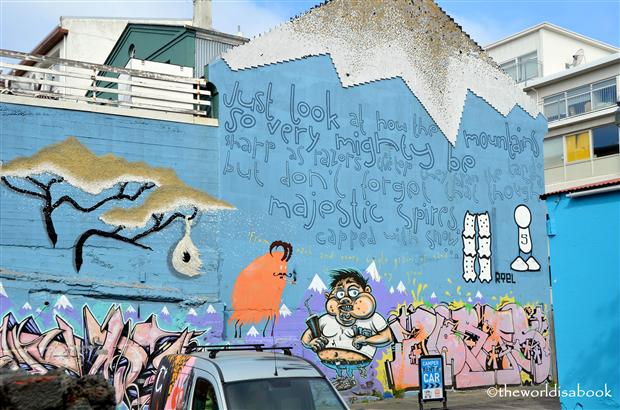 Then, there's creativity gone a little too far.  We tried to figure out what this window display was all about and forgot to read the details. A home for wayward dolls?  A toy store?  Any guesses?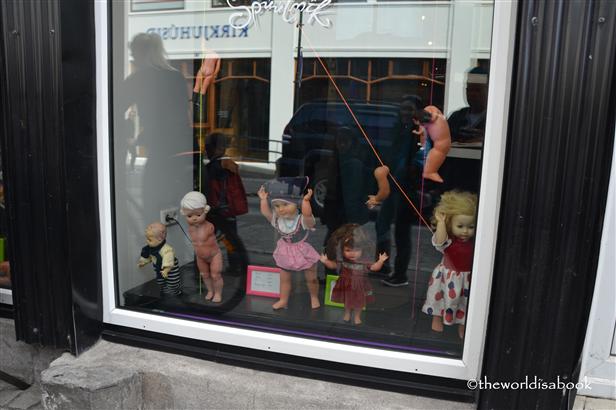 There aren't many places in the world that can display this rare menu sign on their streets.  Yes, we ate whale among other things but not at this particular place though.  We know it's a highly debated issue and our Icelandic culinary experience will be detailed in a post soon.  So, stay tuned for some yummy goodness (or not).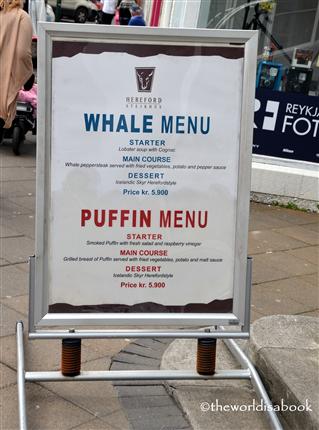 Contrary to many people's image of Iceland as a desolate spot, Reykjavik actually had a lot of public squares and parks filled with trees, well-maintained shrubs and flowers.  Tjörnin (the Pond) was a lovely oasis in the middle of the city perfect for walking and biking.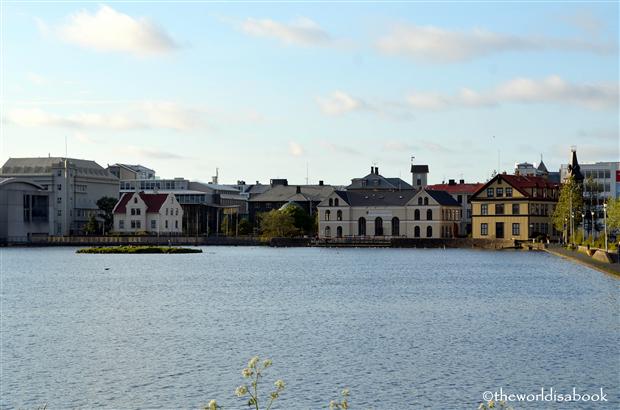 —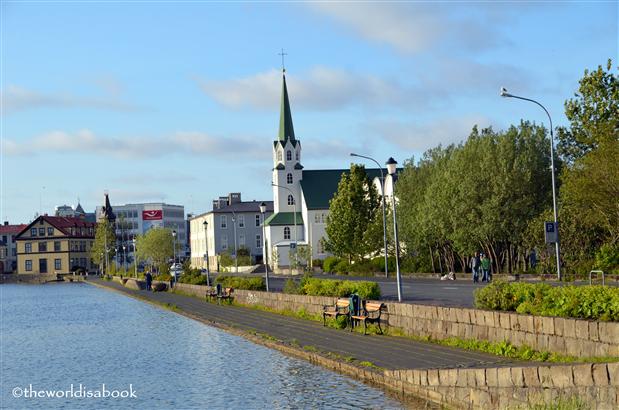 On the outlying area was the very unique building called Perlan (The Pearl) which was located on a hilltop overlooking the city.  A glass dome sits on top of large water tanks that provide heat to the city.  The dome houses an atrium with various exhibits.  One of the tanks has been converted into the Saga Museum which chronicles the Viking Age in Iceland.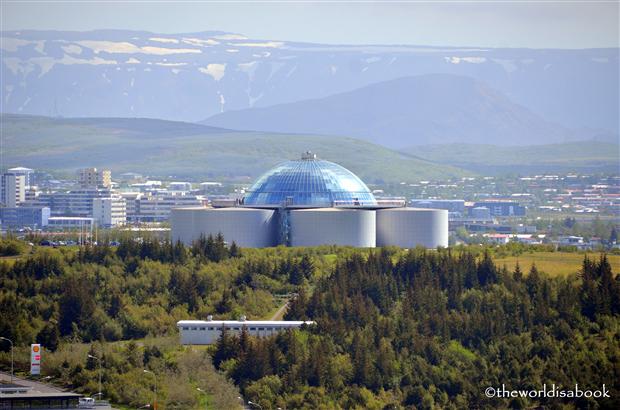 However, there was one structure that literally stood out in Reykjavik's skyline.  Hallgrimskirkja (Hallgrimur's church) was the off-white church prominently situated on a hilltop in the middle of the city.  Named after an Icelandic poet and clergyman(Hallgrimur Petursson), this was not one of those old, ornate churches found in many European cities.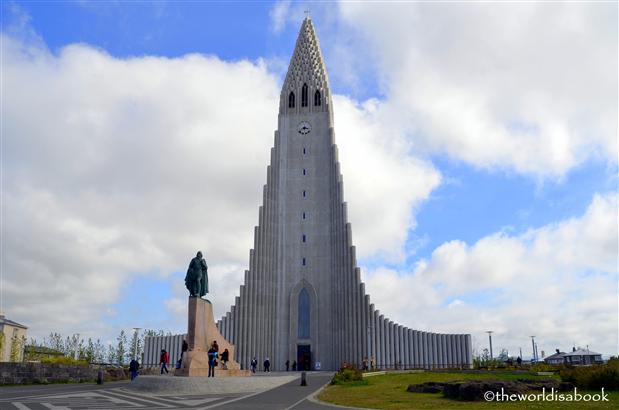 It took 38 years to complete this modern Nordic design Lutheran parish and was finally opened in 1986.  My first impression was it resembled a space shuttle on a launching pad.  My kids called it a "rocket".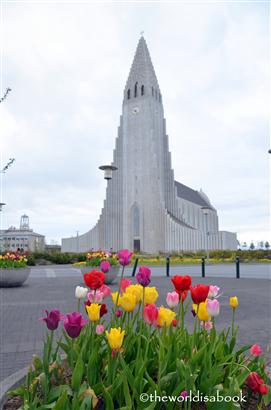 Hallgrimskirkja was Iceland's tallest building at 244 ft(74.5 m).  We saw it from everywhere in the city which made for a good point of reference while walking around.
Its interior was a bit sparse but with plenty of windows and soaring ceilings.  It was quite beautiful visiting it when the sun's ray were pouring in through the windows.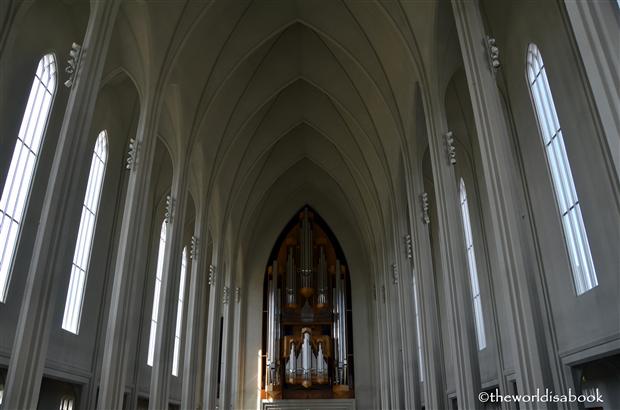 The highlight here for us was going up the bell tower (via an elevator) to get the best panoramic views of Reykjavik.  Access to the church was free but the bell towers were 600 ISK($4.70 US).  We got lucky and were treated to a glorious, sunny day perfect for enjoying the scenery.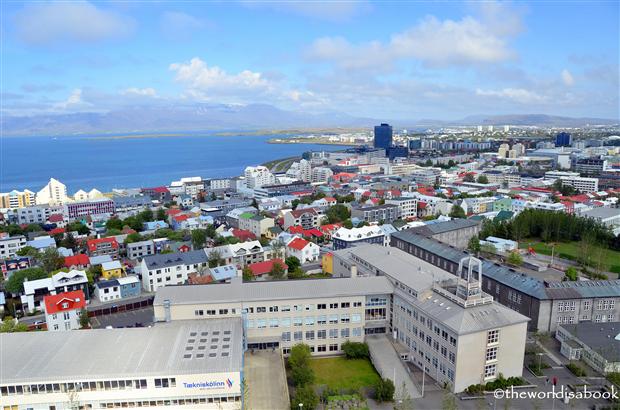 Colorful rooftops throughout the city lined the streets.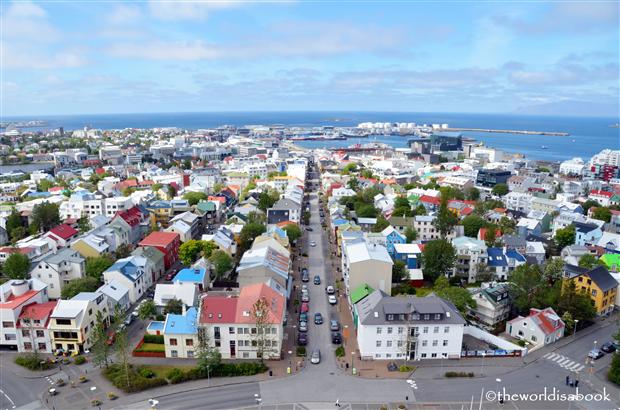 —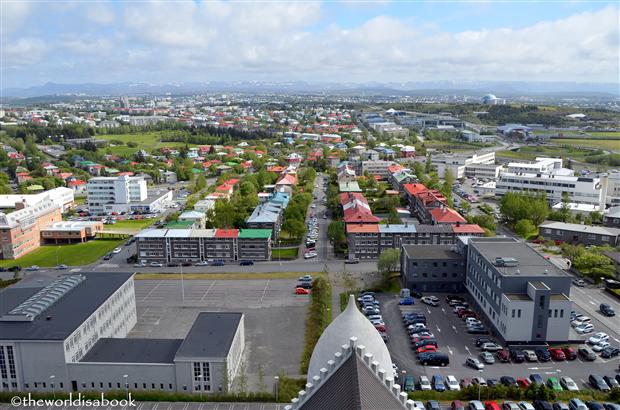 The statue in front of Hallgrimskirkja was of Leifr Eiríksson or Leif Ericson – a Scandinavian explorer thought to be the first European to land in North America.  It was certainly impressive and very distinguished looking.  The statue was the USA's gift to commemorate the 1,000th anniversary of the Icelandic parliament in 1930.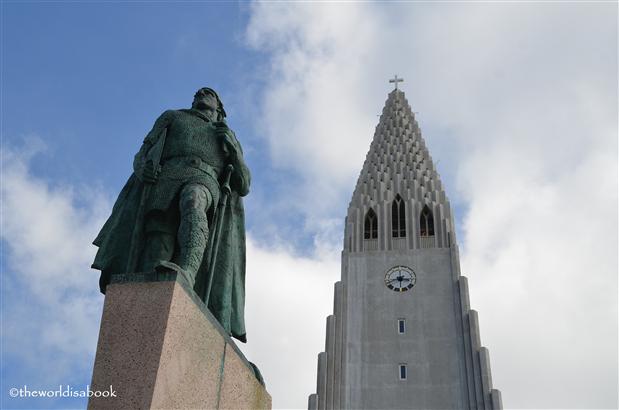 Reykjavik was not a typical European capital city yet was packed with a lot of personality, charm and quirkiness that made it appealing to visit and explore.  If you find yourself in Iceland, please don't bypass Reykjavik.  With a range of unique activities, museums and attractions and friendly residents, it's a vibrant city ready to impress visitors.  It certainly made a big impression on us.
*Would you spend some time exploring Reykjavik?  Have you visited Reykjavik?
Related Posts:
Where to Stay
Car Rntals
Flights/Vacation Packages
Pin it for later!