Eating in Iceland with kids: Traditional meets Bizarre
What did you eat in Iceland?  This was one of the questions we often got asked after we returned from our trip last month especially with kids in tow.
I guess Iceland has a reputation for having some strange foods like putrefied shark, whale and puffin. Sure, there were some bizarre and surprising things but eating some of Iceland's local delicacies was a memorable experience for our family and one of the highlights of the trip.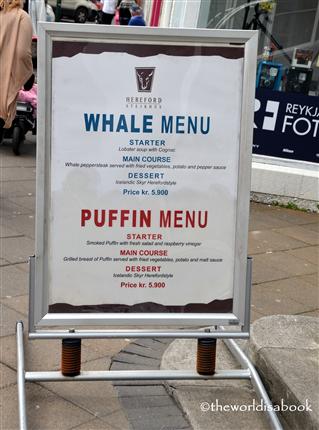 Let's get the big one over with. Whale. I shamefully admit we ate it. Eating whale has been a controversial issue in Iceland for many years.  It's one of the few places in the world where minke whale is offered as a delicacy.
My husband is an adventurous eater who has eaten some pretty unusual food choices from kangaroo and camel in Australia, turtle in the Caribbean and our cringeworthy Filipino delicacy like fertized duck embryo (balut).  Being in Iceland and considering it was his birthday weekend, he couldn't pass it up.
Reading many things online, we learned these whales were not endangered, were hunted humanely and a limit has been set on how many were captured.  None of those reasons justify promoting the whaling industry.  Of course, we felt guilty (some more than others).
There was an abundance of seafood eateries which shouldn't be a surprise since they're located in the middle of the Atlantic ocean.  We visited the Saegreifinn or The Sea Baron which had a lot of positive reviews by the Old Harbour.
It was a small family restaurant that has been around for years run by a former fisherman and Coast Guard chef.  The restaurant wasn't very big with community style seating, seats on barrels with cushions and decorated with personal pictures with a comfortable and homey atmosphere.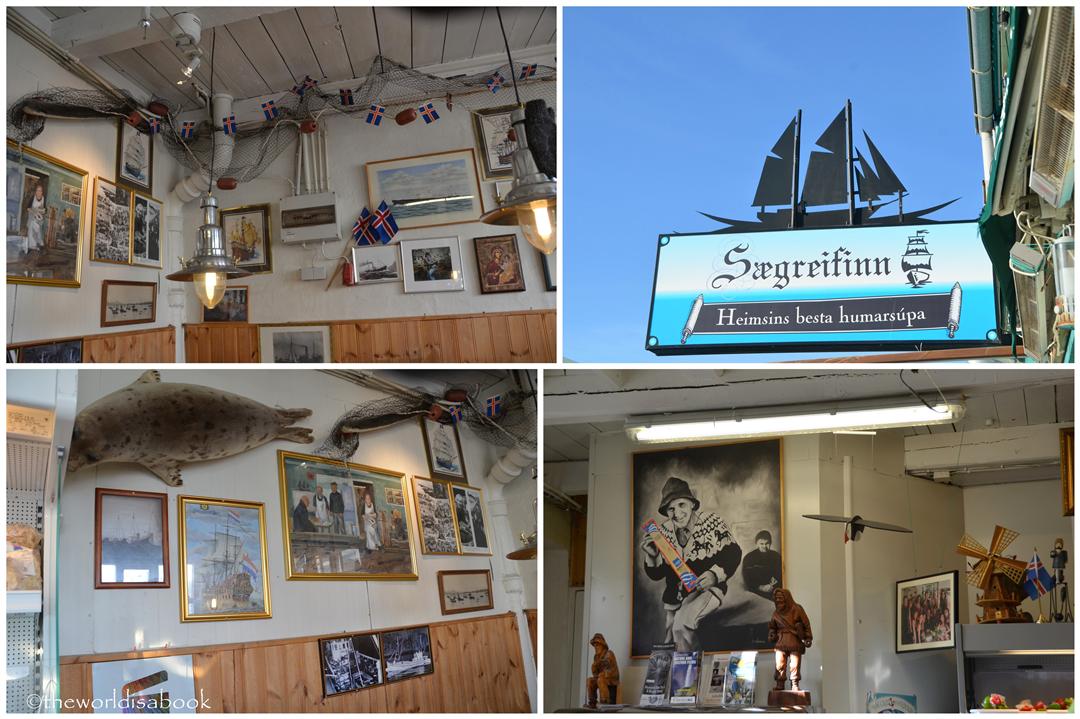 The offerings here were some of the freshest seafood on skewers with choices displayed on the freezer area.  Selections vary depending on the catch of the day.  We ordered our selections and they picked it off the freezer shelf to grill.
This was one of the more affordable food options.  We were told that by the staff at the visitor's center too.  Looking at the selection below, minke whale skewers were about ISK 1600 ($12.70 US).  Most of the fish skewers were about ISK 1800 ($14.60 US).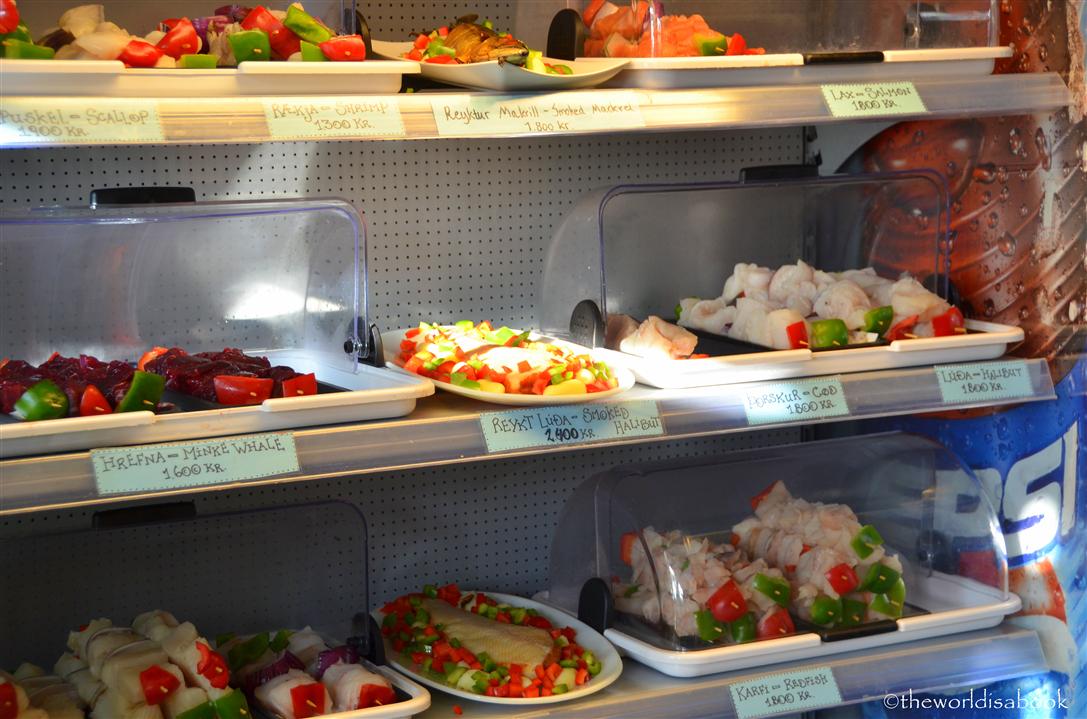 The whale skewers came out looking slightly charred but once we cut through it, it was still oozing with redness that could make any vegetarian's head spin.  I usually like my steak well done (to which my husband says is like eating cardboard).  Despite all that redness, I took a small bite for the experience and to satisfy my curiosity.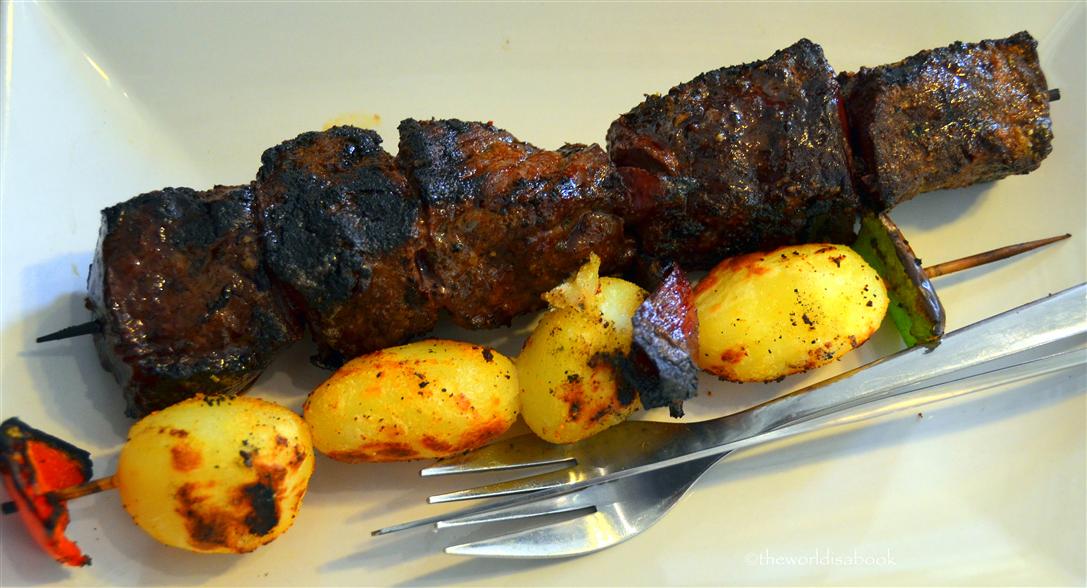 Minke whale tasted a lot like steak but a bit more chewy with no fishy aftertaste to it at all.  It was seasoned well but I couldn't get past the red portion so that one bite was more than enough.  My husband loved it.  Our son, the other carnivore lover, liked it a lot too.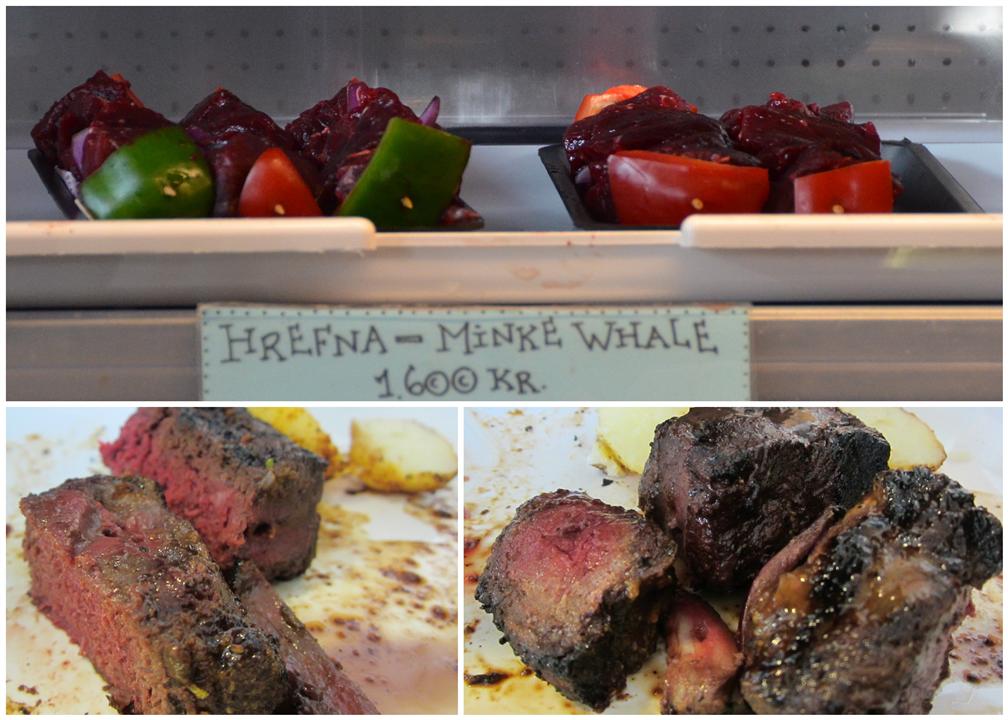 I had their "world's greatest lobster soup" which was delicious.  It had a lot of lobster meat which tasted fresh with a creamy texture to the soup mixed with chopped vegetables.  For about $11 in a cup, it came with sourdough bread and was surprisingly filling.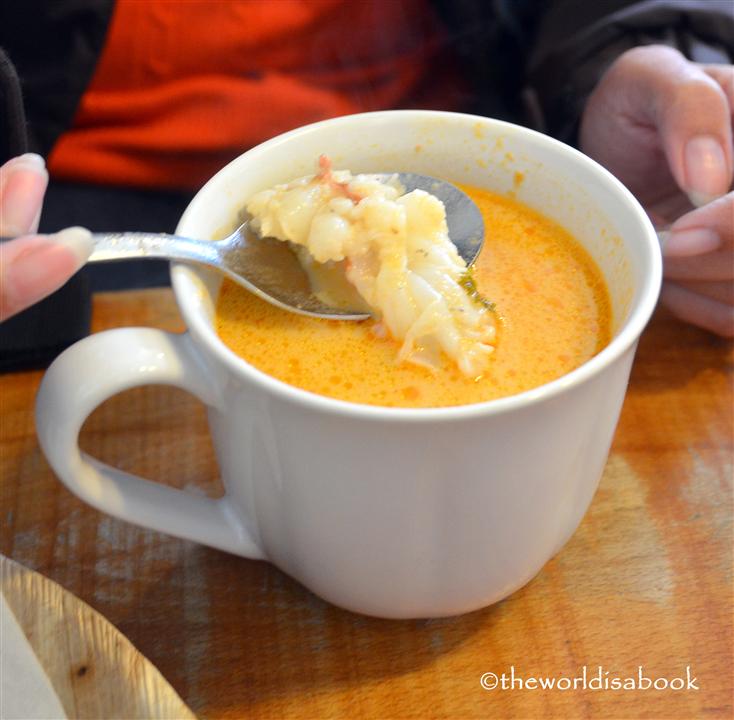 The kids had the halibut which they devoured and proclaimed was "really yummy".  The slices were actually pretty big and enough to feed two children.
Potatoes were also on skewers sold separately.  These are Iceland's staple vegetable grown in geothermal powered greenhouses. We highly recommend the Sea Baron especially for families.  It was reasonable with a great variety of fresh seafood.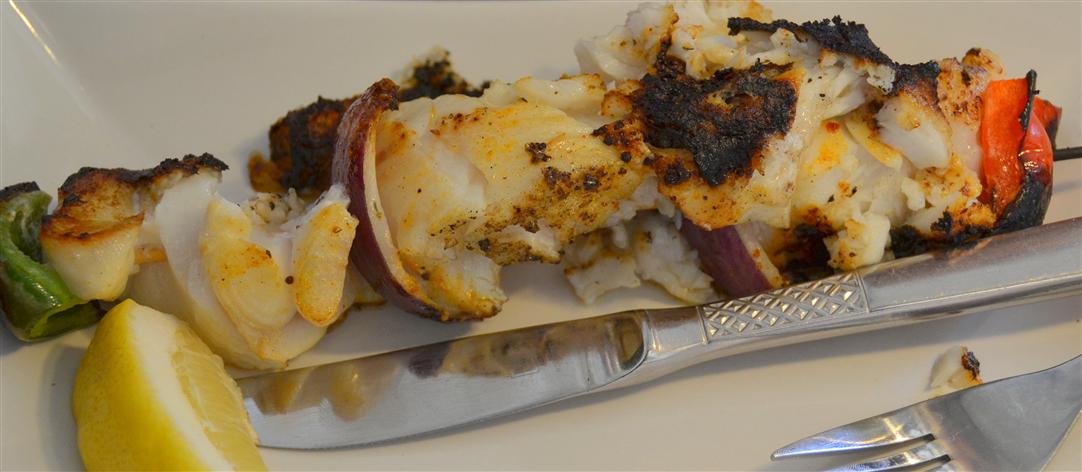 The other controversial dish was puffin which we didn't get the chance to eat.  This may have been a little harder for me to eat since we went on a puffin tour and saw hundreds of them and marveled at how adorable these birds looked.  They were surprisingly tiny so I don't know how much meat is even on them.
The puffin tour was one of the highlights of the kids' trip.  My son was even carrying a stuffed puffin around he called Puff (originality doesn't come easily for a 6-year-old).  I'm not sure they would have been comfortable eating a puffin.  Could you eat one of these cuties?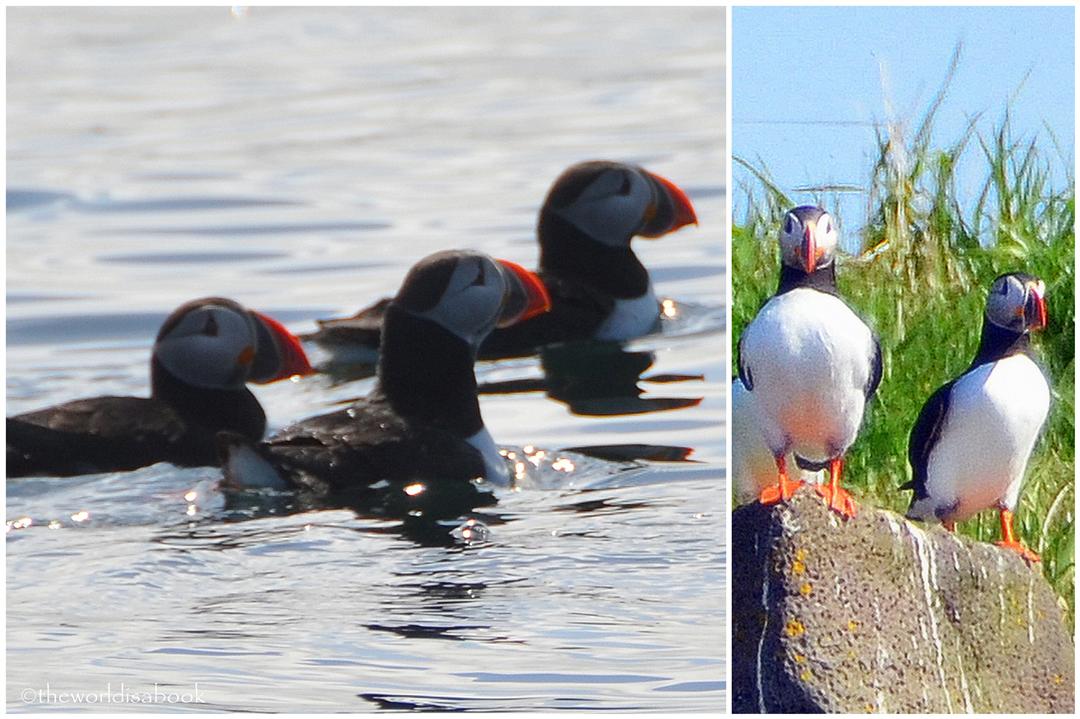 The Best Hotdogs in Town
Iceland is certainly unique.  It's probably not a surprise to find that its most famous restaurant is a hotdog stand.  We learned that during our Icelandair flight.  Bæjarins Beztu Pylsur was little stand almost across from the Harpa Concert Hall and was a gathering place for both tourists and residents.
Its name really does mean "the best hotdogs in town".  It may be a bit hard to find since our GPS directed us to a stand at a local mall.  For the best location landmark, it is next to the Radisson Blu 1919 Hotel on Pósthússtræti street. But, you can find various hot dog stands around the country too.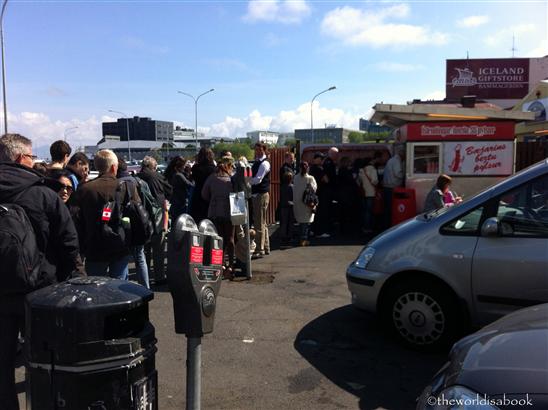 We read many glowing reviews about the hotdog or pylsur which is Iceland's most popular food.  They are usually made with pure Iceland (no-fat) lamb or lamb plus pork and beef parts.  Taking cues from various sources, we ordered "the works" or "eina með öllu" (one with everything on it).
Don't worry they speak English, so they'll understand when you say "the works".  This came with a sweet and brown mustard (Pylsusinnep), ketchup, raw onions, a mild tangy mayonaisse type sauce (remoulade) and small bits of crisp, fried onions (Cronions).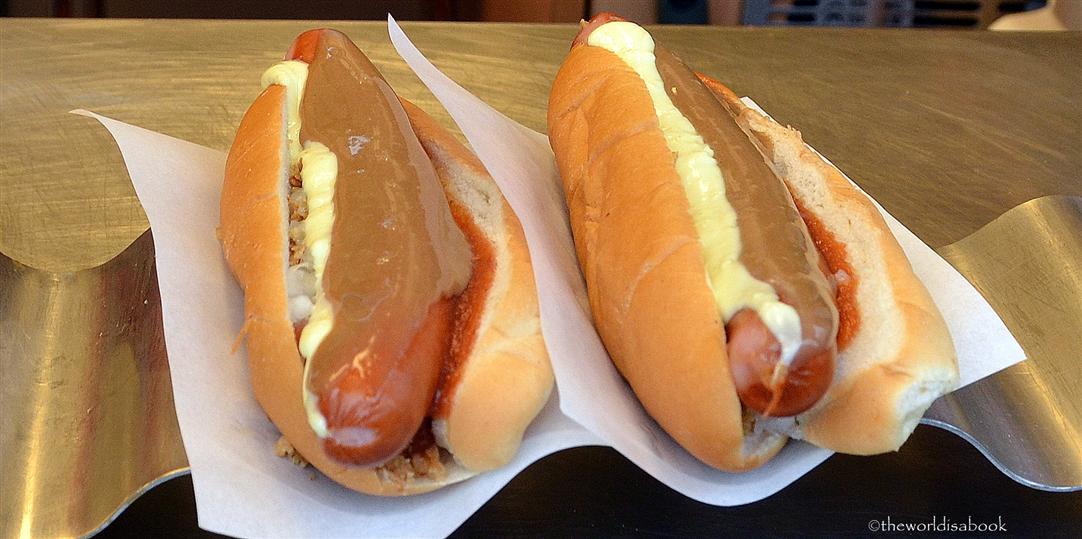 The hotdogs were long and thin with a slight crispness to the skin as you bite into it.  I'm usually not fond of hotdogs but these were excellent and tasty.  We all liked it so much we went back a couple of days later for more.
The lines can be long around lunchtime but it moves pretty quickly.  For an awesome deal of ISK 320($2.50 US), these were great value.  Even my picky eater daughter devoured hers both times.  My husband had seconds during both visits.
I don't think I can eat a hotdog the same away again without the sauces or cronions. Who knew a visit to Iceland would change my hotdog eating experience?
Maybe it was the lamb bits, the cronions or the unique sauces or all of the above that made it all come together for some mouth watering goodness.   I loved those Cronions so much I brought home three packages to sprinkle on everything.  They make food taste so much better.
Baked sheep's head, anyone?
Just a bit of a warning for those with a squeamish stomach for the next section. Lamb is one of the staples in Icelandic food. They consider their lamb one of the best in the world.
They are not imported into the country.  Herds of sheep, free of hormone injections and pesticides, roam freely in their valleys and highlands which we saw during our Golden Circle tour.   One of their specialty dishes is baked sheep's head.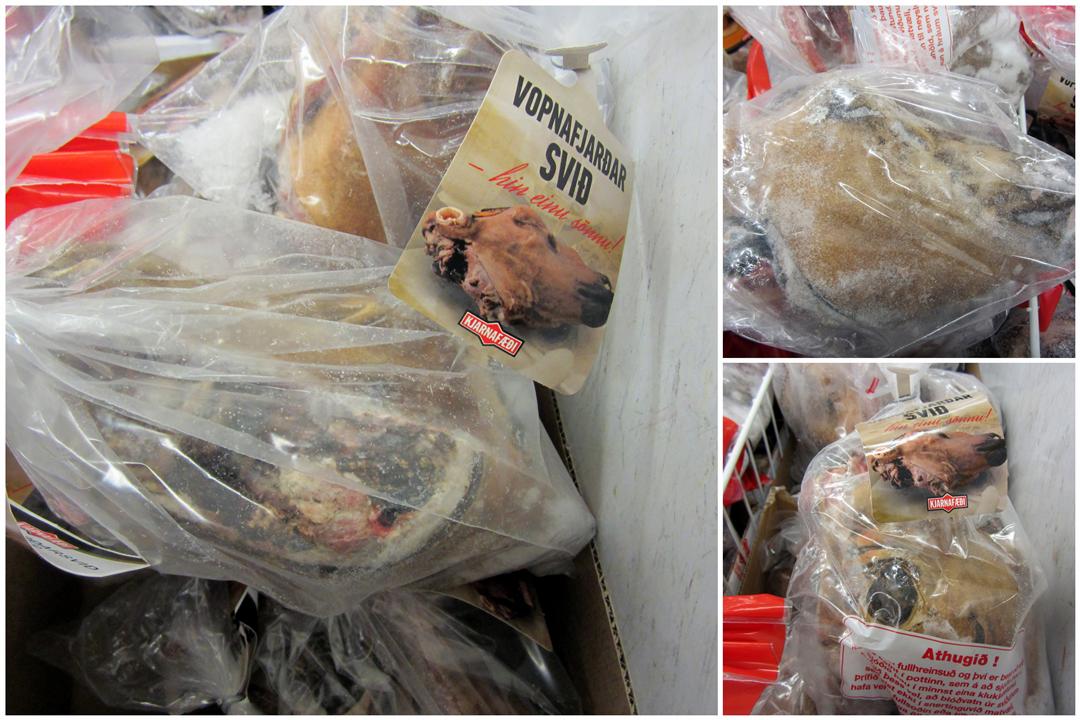 We found plenty of the frozen ones at the Bonus supermarket on our first day. It was quite disturbing with the teeth still intact.  Caution: Don't show the kids which may result in some images that can't be erased from their heads. 
My kids just shivered in disgust.  If you're brave enough and want a cooked version with all the trimmings, the delicacy known as Svið is available at the Fljótt og Gott, the cafeteria at the BSI Bus Terminal in Reykjavik.
This pretty much involved eating meat off the skull and served with a side of mashed potatoes and turnips.  To my surprise, my husband actually had limits and didn't want to try this Icelandic specialty.
He said it was the thought of the sheep staring at him that was a turn-off.  Can you imagine digging into the sheep's face to get all that meat out?  Where do you start?
A Skyr a day
On to much more pleasant food options.  Icelanders love their Skyr and eat it throughout the day.  It's a dairy product similar to yogurt but more like a soft cheese.  It was a bit like the Greek yogurt sold in America with its creamy texture and less-sweet taste.  It came in individual sizes or even tubs  in a variety of flavors.
Many use it as a topping over fruits or for eating by itself and even made into dipping sauces at restaurants. It was good but I'm not sure if I can eat it throughout the day even though I loved their strawberry and melon flavors.
I think I would have enjoyed eating this more as a topping or as a sauce than a breakfast item or snack.  They also had ones you could drink which my daughter loved.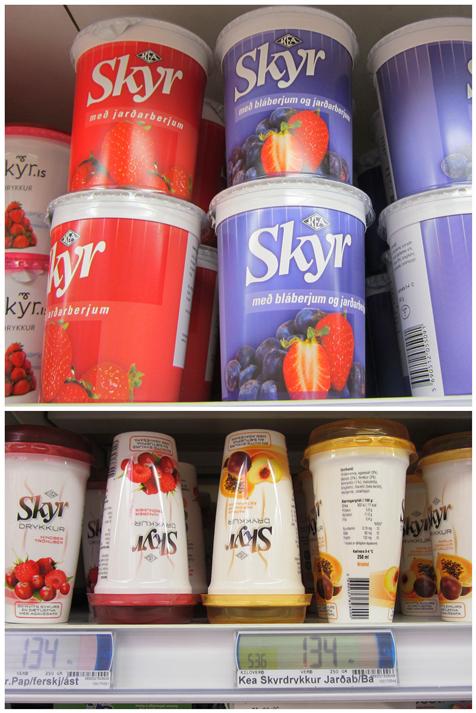 Hamburgers with a Twist
Another memorable meal we had was at this family-friendly restaurant owned by two Icelandic reality stars called Hamburgafabrikan or Hamburger Factory.  We read great reviews about the place and how they are super busy at nights.
We were there on a Monday afternoon with hardly anyone around.  Located across from the Hofdi House, which was where US President Reagan and Russian leader Gorbachev met in 1981 and an event many believe started the wheels rolling to end the Cold War.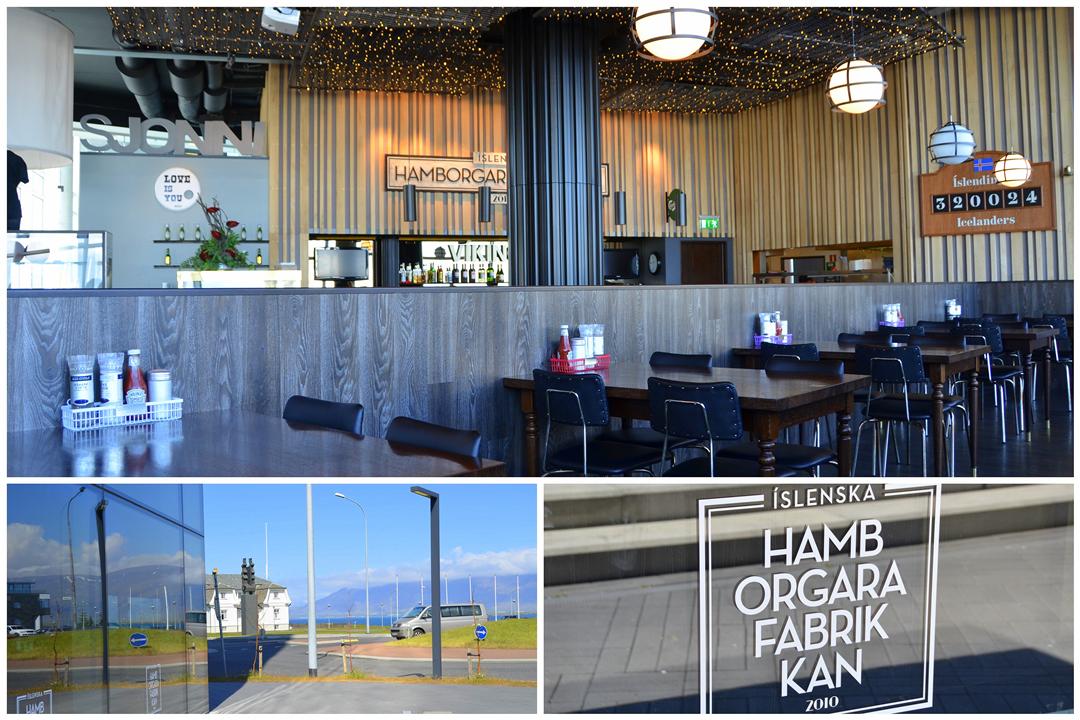 They primarily served 14 "brilliant and creative" hamburgers and other entrees like ribs, salads, and chicken.  We liked that they claimed to use 100% fresh quality ingredients from Iceland.
They even have the last supper of the Cold war " on their menu to commemorate Reagan and Gorbachev's final dinner after the summit.  The historic dinner is grilled lamb tenderloins and potatoes with portabello mushrooms and gravy for a whopping ISK 4595 ($37.50 US).  Instead, we went with their specialty – the burgers.
Our waitress offered DVD players to our excited kids while they waited for their food.  Talk about family friendly on a whole different level. It even came with headsets which they happily put on even though they were watching Icelandic cartoons.
The language barrier didn't bother them. They enjoyed watching before the food came which was out pretty quickly.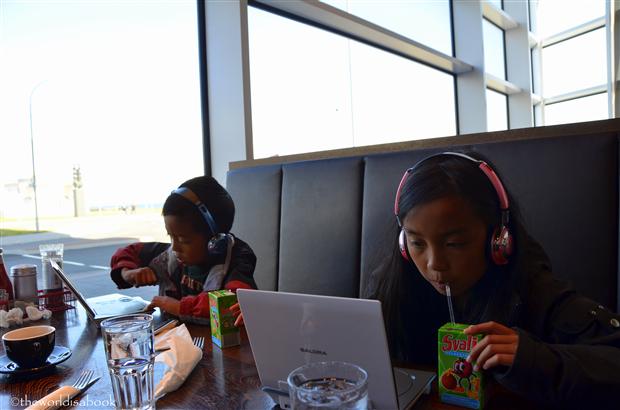 There were unique little touches that we appreciated in this restaurant. I loved their newspaper style menu and a huge cow statue was inside to dine alongside with. They had a population board on a wall which prominently displayed the exact number of Icelanders alive.  We didn't see it go up or down while we were there.
During Thurs., Fri, Sat. between 8 PM and midnight, they offer free rides to the Reykjavik city center in the Factory car.  Granted it's not that far but nonetheless, a wonderful service offered.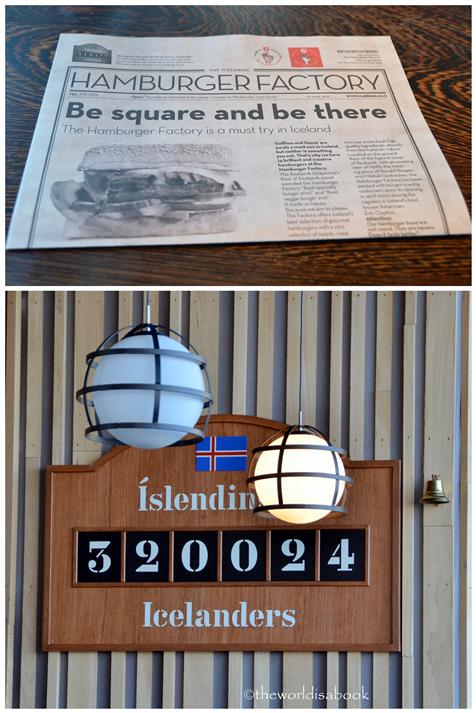 The main difference with any burger you're familiar with is that the buns on white bread were square topped with plenty of sesame seeds. It didn't taste any different than hamburger buns we've had anywhere else.  It just took a bit of getting used to eating.
Their fries were crispy and fresh-cut.  My husband ordered the Lamburger which he proclaimed was really lean and tasty.  It was 4.2 oz (120 g) of lamb , garlic grilled mushrooms, cheese, lettuce, tomatoes and red onion with Béarnaise sauce.  Cost was ISK 1795 ($14.60 US).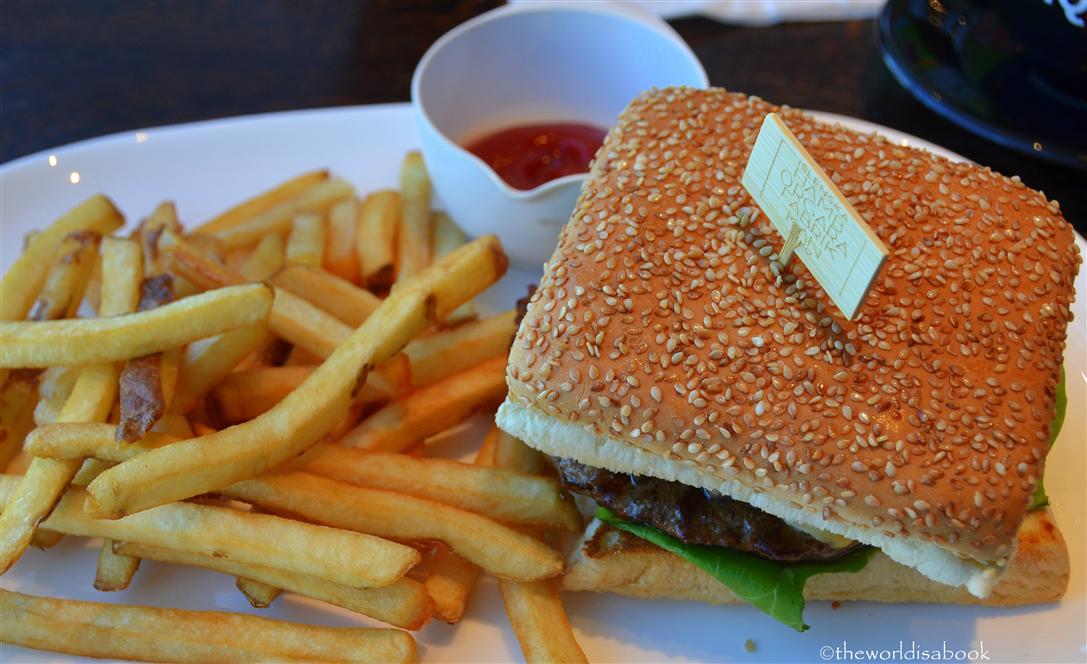 I had their signature Factory Burger which was their pride and joy.  It was 4.2 oz (120 g) of beef, cheese, lettuce, tomates and red onions and their secret Factory sauce.
That sauce was very tasty and similar to a thousand island dressing. Cost was ISK 1495 ($12 US).  I thought these burgers were a bit pricier than the ones we had at home for lunch but then again this was expected for Iceland.
Their kids menu only had spaghetti, hot dog, grilled ham and cheese and burgers which all came with fries and a fruit juice.  Most of them priced at a reasonable ISK 895 ($7 US) similar to many restaurants in the USA.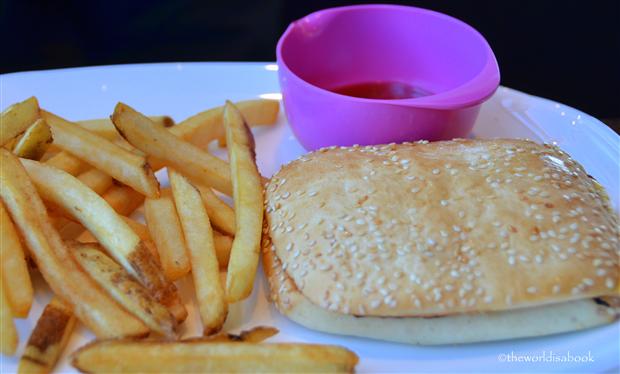 Despite the delicious burgers we had, the highlight here were the desserts.  How cool were these hamburger shaped muffins?  It was just too cute and looked too perfectly made to eat.
No, that's not all ours in the picture.  That was taken from their dessert shelf.  We only ordered two at ISK 495 ($4 US) each.  It was a variety of flavors mixed together that it almost tasted like marble cake with fondant icing.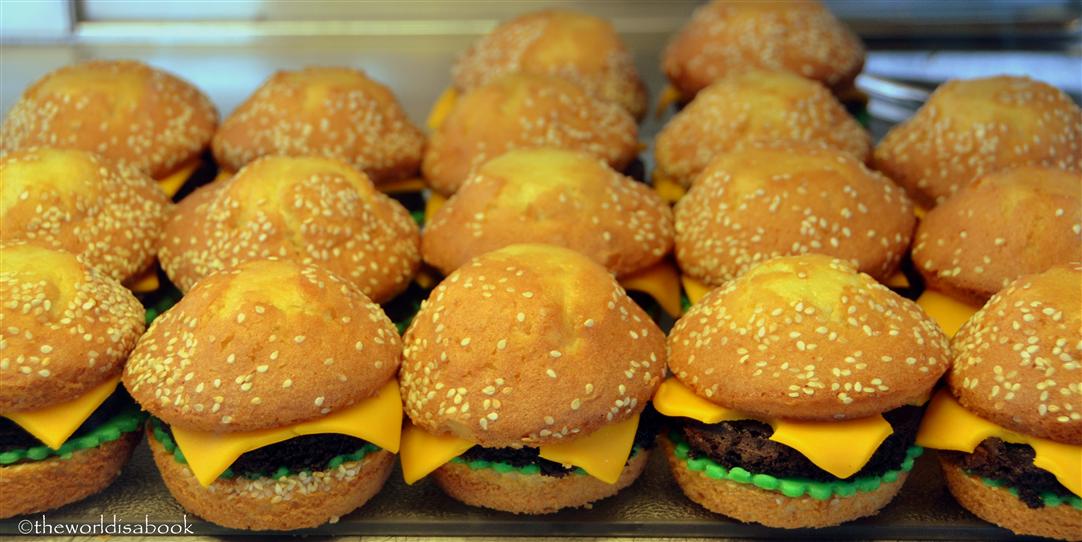 We also wanted to try their Factory Skyr Vanilla cake.  Icelanders do love their Skyr. It looked and tasted a whole lot more like cheesecake. They used Skyr instead of cheese.  It was light, with a distinct taste and bursting with a lot of flavors.
The strawberry sauce was a wonderful topping.  My mouth is watering as I remember how good this was.  It tasted as delicious as it looks here.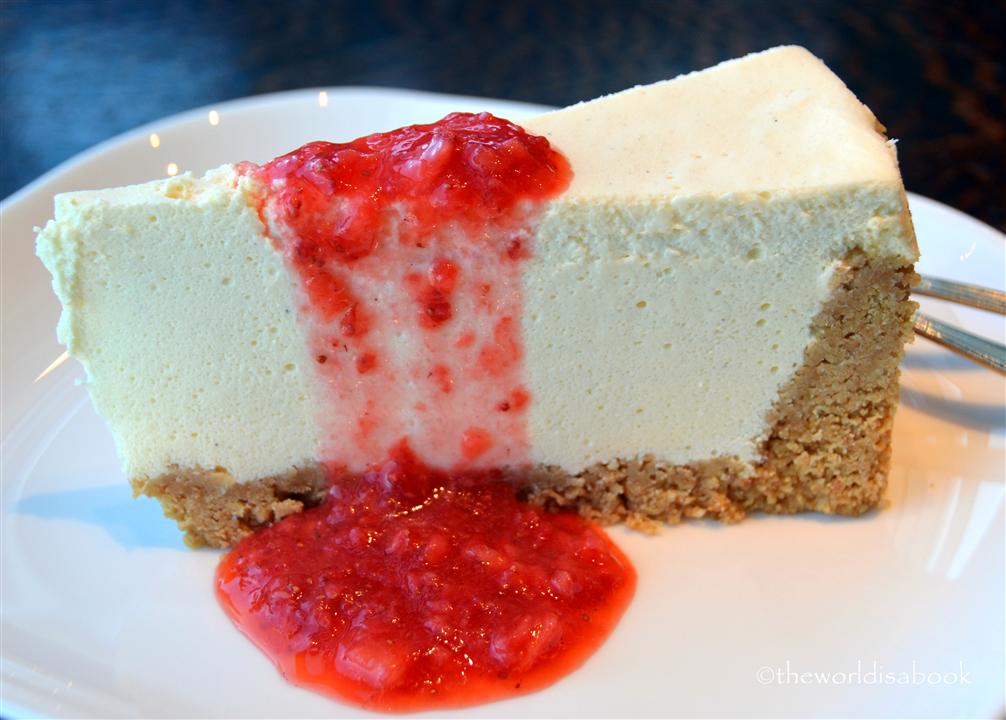 This was only one carrot cake slice left on their dessert bin so it must have been pretty popular.  We saw this three tiered cake when we were leaving.  It looked so appealing I had to include it here to add more mouthwatering goodness.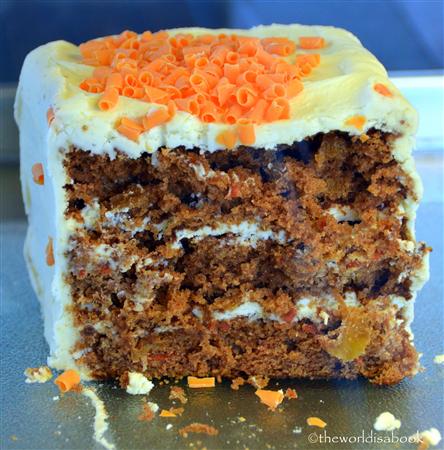 For some fast food options, we also went to the a small place called Pizzaria – Kebabhúsið which had Fish & Chips, kebabs and pizza.  We didn't seek this place out.  Walking through downtown Reykjavik, we didn't want a sit-down service since we needed to pack for a flight.  The kids were hungry and we wanted something with variety and this place had more than enough.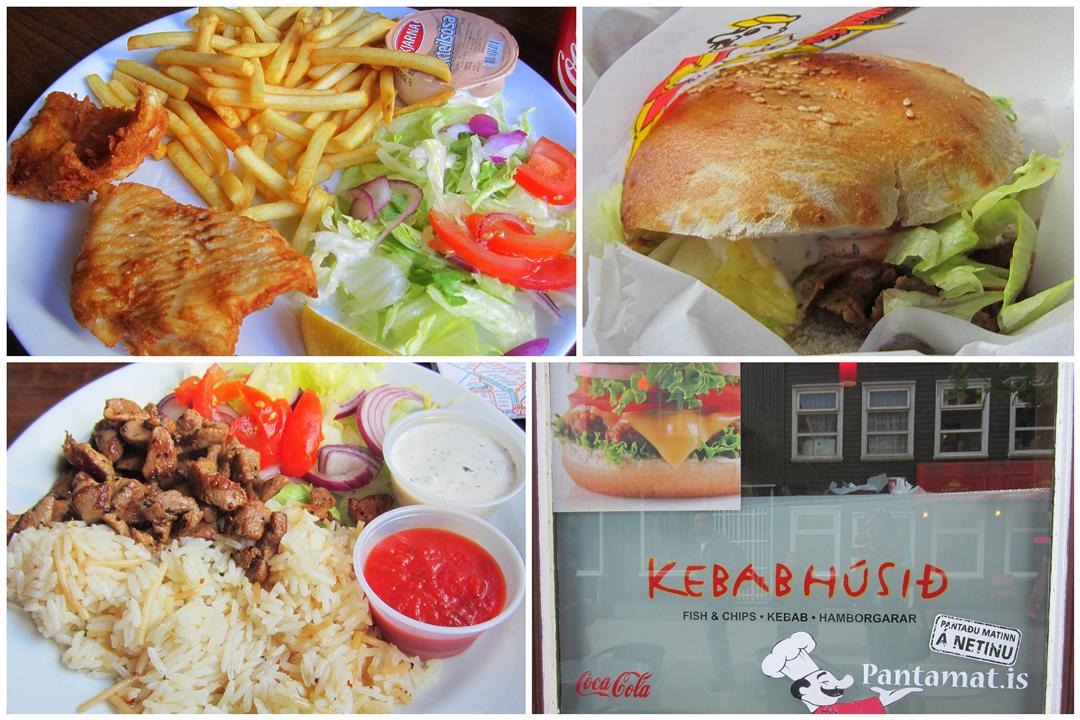 We were expecting kebabs to be on skewers and found the beef loosely served chopped and stir-fried. My husband had grilled lamb kebab.
I had the Doner beef kebab sandwich in a hamburger type bun and the kids had fish and chips.  The average price for our food was ISK 1200 ($9.50 US) which was pretty reasonable.  It was a good fast food option for families.
Going Local
We rented an apartment in downtown Reykjavik which was a cost saver. I'll write more about that apartment that looked like an Ikea showroom soon. We made breakfast everyday and frequented the grocery stores a lot especially for snacks and drinks during the road trips. Iceland was not a cheap place to eat especially for families.
We purposely stayed away from the more upscale sit-down places or those offering three course meals and tapas to curb costs.  Many things were expensive by North American standards.  There were quite a few sticker price shock with fruits and breakfast staples like milk, eggs and bacon.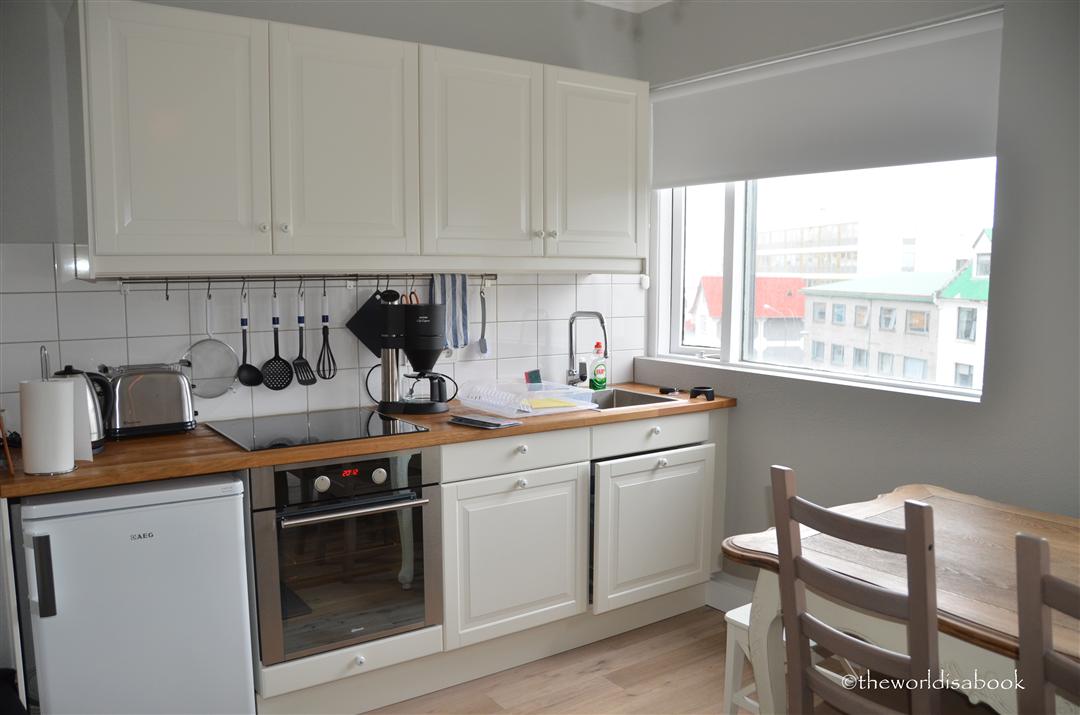 Iceland had three major supermarkets, Bonus (look for the drunk looking pink pig logo), Krónan and Hagkaup(this is more like Wal-mart).  We love visiting foreign grocery stores.
It gives us insight into what types of food the locals eat, how packaging is different and find the interesting things we can't get at home.  We thought some of Japan's grocery stores had some unusual things during our visit last year but Iceland has given them some competition.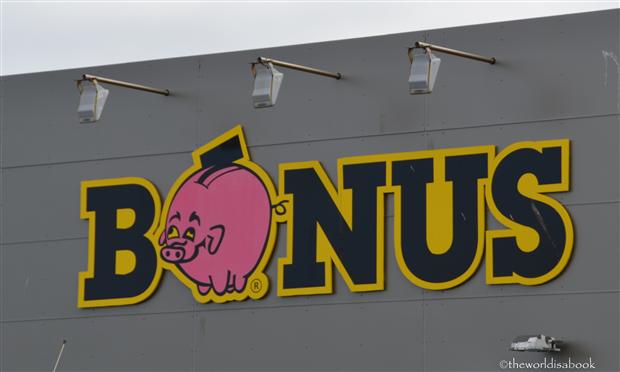 My kids love the candy and sweets aisle no matter where we are.  We found some familiar chocolates and ones that make you wonder.
Black licorice was pretty popular and came in all sorts of shapes and sizes.  It was even inside some of the chocolate bars. Those were delicious but some of the plain black licorice was an acquired taste of saltiness.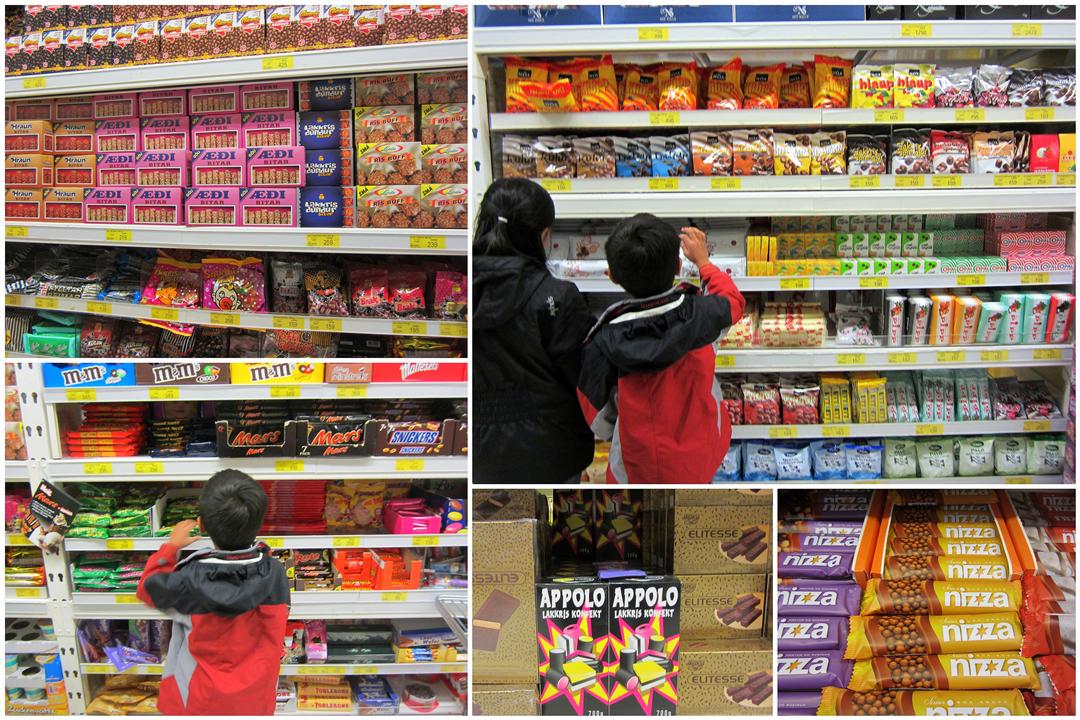 Walking down the grocery aisles , it was fun to see the different packaging and interesting flavors we don't have at home. Like these awesome Doritos flavors and our favorite, Cool American.  How come Iceland has this and we call it Cool Ranch in the USA?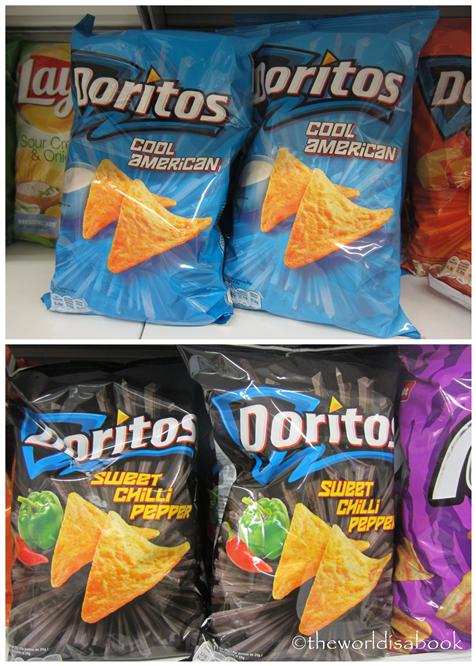 My kids love cereals and even found these familiar Kellogg's cereals and a few amusing ones on the cereal aisle. Wait, it's Tony the Tiger but that's not Frosted Flakes it's called Frosties here.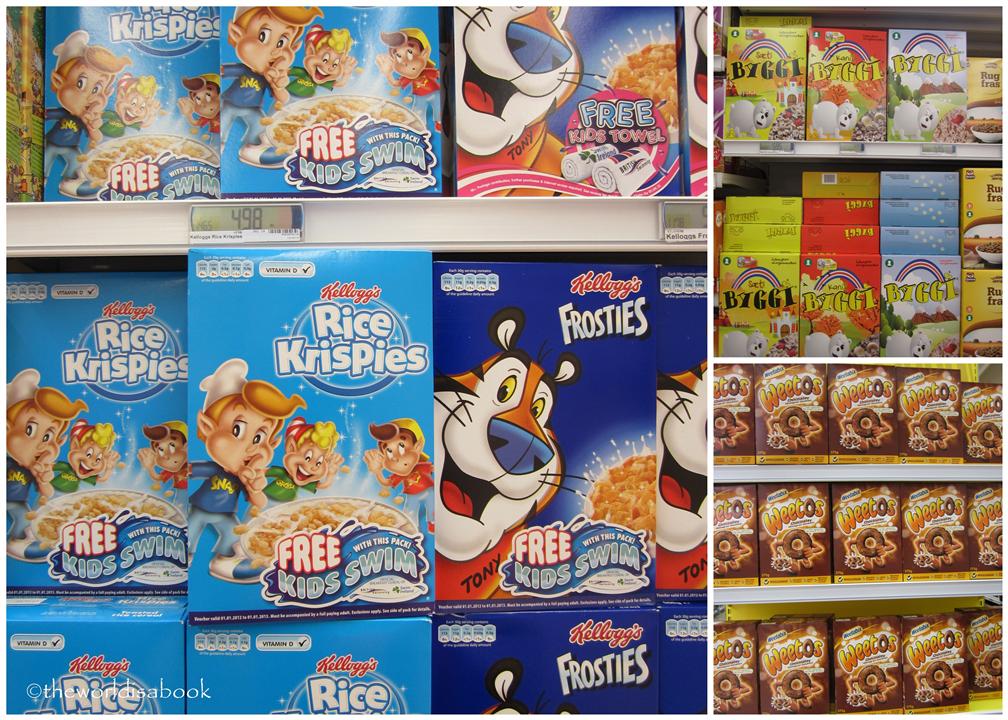 There were some odd items on their menus but you have to hand it to the Icelanders for giving a twist to common items like hotdogs and hamburgers.  Our meals weren't the healthiest items but it satisfied the whole family and gave us a feel of some of the local dishes.
We've always thought of eating the local food during our travels as part of the cultural immersion and Iceland certainly offered us some interesting and enjoyable cuisine.
Eating in Iceland with Kids thoughts and tips
Stock up on snacks and drinks.  When doing the Golden Circle tour, pack plenty of snacks and drinks. Stores are few and far between.  We ate at the cafe by the Geysir which was where all the tour buses stop. There is also food and a small cafeteria by the Gulfoss gift shop.
Fastfood Choices.  There were no McDonald's or Starbucks in Iceland.   So, take note Starbucks addicts.  My husband went through a bit of coffee withdrawal.  We saw Kentucy Fried Chicken, Subway and Taco Bell though if you or the kids need something familar.
Be wise with lodging. Try to stay at apartments or hotels that provide breakfast to save on eating out expenses. Convenience is also the key when trying to feed the kids and trying to stick to routines like drinking milk before bedtime and eating a good breakfast. Having an apartment gave us flexibility with our menu.
Closing hours. The grocery stores close at 6 PM most days and about an hour later on Fridays.  Hagkaup was a bit better and closed at 8 PM. We found this a bit inconvenient coming from a country where 24 hour supermarkets can be easily found.  There are convenience stores called 10-11 (like the USA's 7-11 chain) where most are open 24 hrs/7 days a week but prices were higher.  There's even one at the arrivals hall at the airport.
Bag them up! Get used to bagging your groceries and paying for a plastic bag at 20 ISK(15 cents) at the supermarkets. We brought along our foldable shopping bags from home because those plastic bags add up and it's all about recycling.
Restaurant Choices. They do have a variety of restaurants around the capital city. We actually saw quite a few Thai restaurants around the Reykjavik area and some scattered Chinese, Mexican and Italian cuisine.  The choices are not as many as other large European cities but there should be one to satisfy every palette including those who have aversions to lamb and seafood.
Satisfy the sweet tooth.  Scour the candy aisles at the supermarkets. The 10-11 stores seemed to have 50% sales during the weekends for the candy bulk bins.  Icelandic candy and chocolate make for great food souvenirs to bring back to family and friends.  Some of the cheapest chocolates we found were at the Duty Free shop at the Keflavik airport.
Drink Up! Bring your own water container and refill using their tap water.  It is one of the freshest you'll taste and rival any bottled water.  Bottled water is also available at the stores.  Alcohol is expensive which is probably why we saw tons of visitors buying beer and alcohol at the duty free shop by the baggage claim where it is cheaper compared to the rest of the country.
 *Would you eat one of these Icelandic speciality dishes?  Have you been to Iceland and had an interesting experience?  Please share below. 
Related Posts:
Where to Stay
Hotel Berg in Keflavik

 – This was the first hotel we stayed during our first visit and loved it. It's close to the airport (2 miles), by the marina and offers free Wi-fi and airport transfer. It's a small family-owned hotel. We had a split-level suite which fit our family comfortably.
Hilton Reykjavik Nordica 

– 

This hotel is located in the city and within walking distance of the center but shuttle buses are also provided. If you want the comforts of a modern hotel, this has it with buffet breakfast and Executive Lounge for Hilton Honors Gold and Diamond members. A couple of friends have stayed here and recommend it.

Hlemmur Apartments  

– We loved this spacious, two bedroom apartment located within walking distance to Reykjavik's city center. It looked like an IKEA showroom, It was clean, well-equipped and furnished well with all the amenities we needed for our stay. It had free WI-fi and the owners were friendly. 
Save up to 50% on Iceland hotels on Booking.com 

(the #1 Accommodation site)

Find the best Iceland hotels and read reviews on TripAdvisor.
Car Rntals
Flights/Vacation Packages
Pin it for later!