Holland America – ms Rotterdam Review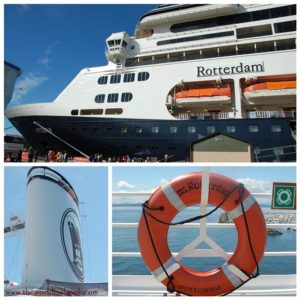 We've sailed on Holland America twice with both 7-day Alaska itineraries. The first one was on ms Zaandam in 2003 leaving out of Vancouver and on ms Rotterdam in 2010 leaving out of Seattlle.
The following is a review of ms Rotterdam on our last cruise:
Ship: ms Rotterdam
Itinerary: 7 Day Alaska – Inside Passage – Seattle roundtrip – July 2010
We got to Pier 39 around 11AM and breezed through security and the check-in process having filled out all our paperwork online. It was one of the easiest and fastest boarding we've ever had. The Rotterdam shares the same port and embarkation facilities with the Golden Princess and is about a couple of miles from downtown Seattle in an industrial area. The sail away offer magnificent views of the Seattle skyline.
Ship/Amenities
We personally like smaller ships with less than 2000 passengers. This ship with its 1600+ passengers and 600+ crew was just right. It was renovated just a few years ago. It was very easy to get around the ship and was very clean. There were a lot of seating and private nooks to relax and enjoy the ocean and surrounding views. The 3rd floor deck wraps around the ship where one can walk around for 9 laps = 1 mile. However, most of it has become the lanai suites where the rooms open to the deck and all the deck chairs are reserved for those rooms.
There is one main pool on the lido deck which is a bit small and a few hot tubs. There is also another pool on the aft area. We didn't really mind since we didn't go to Alaska to swim. These pools may be a little hard to enjoy if you were sailing in warmer areas. Look for a little area with hammocks and fake palm trees that was a good place for hanging out on Deck 10. On certain days, they opened the access to the front/bow of the ship for scenic sail-ins and sail-aways to and from the ports which offer some picturesque views.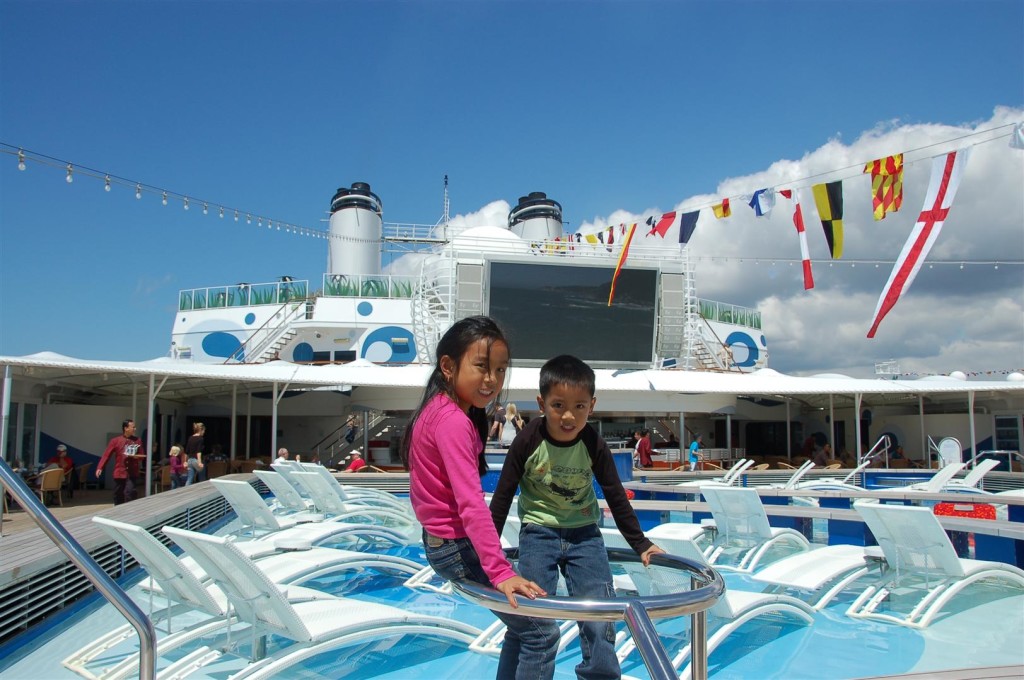 We had an inside stateroom and these rooms were bigger than most other ships we've been on. There were a lot of storage areas with adjustable shelves in the closet and plenty of hangers. The bathrooms were also bigger than in most ships. We saw some of the outside rooms actually had bathtubs. We've only seen those on Disney ships. Robes were also provided. There was a small flat screen television and surprisingly a DVD player. We were assuming one can probably borrow DVDs from the library but we never got around to asking since we were hardly in the room. Unfortunately, there was no mini-refrigerator in the room.
The library area was pretty extensive with a lot of windows and seats and was combined with the computer area. There were actually a wide range of books and magazines available for checkout. They also have a paperback book exchange program in the library to trade in your books from their collection. The casino is the smallest we've seen on any ship and not enough variety of slot machines.
Service
The Rotterdam staff was very friendly and most greeted us as we passed them around the ship. Most of the crew was Indonesian and Filipino. They put on a cultural show alternating between the two groups during the week. They were definitely one of the friendliest staff on any cruise ship we have encountered. Our room steward, Matt from Indonesia, was excellent. Tip was the automatic $11 per person per day. I guess this has been increased by $1 since the last time we cruised. However, we usually do give extra tips to our room steward. Put it in an envelope and hand it to them personally as you disembark the ship. They really do work very hard and have such long days that they deserve a little bit more than the $6 per person per day allocated to them in tips.
Food
We're glad that Holland America finally introduced your choice dining like Princess and Norwegian. We've always found that the early assigned sitting was too early for the kids and the late seating of 8PM for traditional dining was too late for dinner. All else fails, the buffet is open for dinner. It is best to make reservations for dinner especially during formal nights. You can call the dining room reservations or they usually had someone in the Lido buffet area too but from what I remembered you can call the reservation line a couple of days before your dinner date. Walk-ins will take a long time. My husband and I waited for 40 minutes to share a table and we met a family of seven who waited for over an hour.
We were on the ship for the 4th of July so they had a BBQ cookout on the Lido deck area. The little touches made it a little bit more unique than the other lines such as cupcake and tea time during the last sea day afternoon. Servers came around for tea, juice, coffee and a variety of cupcakes.
Ships nowadays try to outdo each other on dessert and chocolate buffets. This ship had the dessert extravaganza one night scheduled at 11PM. Multiple tables were set up surrounding the pool area on the Lido deck with an assortment of desserts ranging from breads, cakes, pies and a chocolate fondue. It was truly dessert heaven for some of us with a sweet tooth.
Holland America seems to have a knack for dinner entertainment. They strongly urged us not to miss the master chef dinner on the last sea day. Your servers put on a singing and dancing show as you're eating dinner. Our previous Alaskan cruise on HAL had the same thing.
Pinnacle Grill is HAL's fine dining choice charging $10 for lunch and $20 for dinner. We never did get a chance to eat here. I'm usually a picky eater and did not eat anything throughout the cruise that was particularly distasteful or inedible. There was no particular dish that stood out so overall I was happy with the menu and food aboard the ship. I was just happy I didn't have to prepare meals for the week or think about what to feed the kids.
Lido Buffet — There were two sides to the buffet with both sections serving exactly the same thing. The first two cruise days we were served in the buffet for all stations but afterwards it became self-service for some sections. There were several stations in the buffet (salad/fruit, made to order sandwich (including paninis), Italian, Asian, carving station of rotation between turkey, roast beef, etc.). My kids' favorite was, of course, the ice cream station with an assortment of flavors that vary everyday with options to be served in cups, regular cones or waffle cones.
There was always a taco/nachos bar outside by the pool area during lunchtime with a variety of toppings including guacamole and salsa. Hotdogs and hamburgers were also available to order through the cooks adjacent to the bar.  Breakfast seemed to have the same menu everyday. Little cereal boxes are available for the kids. There were some variations in the lunch menu and at times, a buffet was set outside. Dinner buffet consisted of some of the items from the dining room menu and they usually only had one side open. The breakfast and lunchtime crowd was always a little overwhelming and seats were a little hard to find. We didn't have any bad food items at the Lido and this was a place we frequented for breakfast and dinner.
ENTERTAINMENT
The main cast was composed of 3 male singers, 3 female singers and two dancers – headlined by a husband and wife team. The stage is quite small and it was entertaining enough that we sat through the whole thing. Many of the shows were centered on various themes such as Broadway love songs, Amore (all about love songs), It Takes Two (duets) and Dinner Belles (female casts with 50s and 60s songs).
We really enjoyed the piano man, Charles, who was at the Mix Lounge almost every night. He was so entertaining, providing great music and engaged the crowd. He had different themes and tributes on various nights. This lounge was always crowded whenever he was playing. He also made it very interactive and his Billy Joel renditions were awesome.
Little Tidbits of Information
We were told that HAL was the only cruise line offering Sunday mass services now for Catholics. We actually did go to a Sunday mass service in one of the conference rooms with a very sweet, elderly priest on a Saturday night.
There were no live Art Auctions at sea but more like a Silent Auction which they still advertised for this particular ship. We heard the art director say they were short staffed and the art industry had been hit hard by the economy. There were still a bit of art work displayed in the gallery section.
We attended a cooking demo with their top chef from Pinnacle Grill at the Wajang Theater. There is a fully operational state of the art kitchen behind the front wall panel. As the chef was cooking, it was also broadcasted to the two big flat screens in the theater. Samples and recipe cards were passed around after the demo. Reservations are not required so we just showed up during the scheduled time. My husband really enjoyed the Digital Workshop which featured Photoshop tips and digital picture editing.
This route had the worst movement during the first full day at sea. It was quite surprising since it was the beginning of July and we had smooth sailing on the Inside Passage on our last cruise. There were a few people who suffered from seasickness and for the first time ever, my husband had a bad case. He had been on various ships before including a week at a small naval ship and had never gotten sick. We saw a few women in the bathroom during dinner too. The kids, on the other hand, didn't experience any motion sickness symptoms. So, just be wary that usually smooth Alaska sailings can get rough and just bring those motion sickness remedies.
Mariners' Club
Having previously cruised HAL, we were invited to brunch on the last sea day with free wine at the main dining room. We were greeted by the captain, some of the officers and the cruise director. No hand shaking involved due to the noro virus. There was a specific menu of ribs or salmon with no kids' food options available. Luckily, we left the kids at Club HAL for this occasion. Apparently, kids aren't considered much with Mariners. From our experience with Princess passengers club gatherings, they made their past cruisers meet with the captain more fun accompanied with champagne and appetizers. HAL's event was a little bit too formal for us.
Disembarkation
We've been on ship disembarkations ranging from chaotic and disorganized to smooth walk-offs. ms Rotterdam's was the easiest one we've been on with minimal waiting. We were assigned a color and the specific times those colors leave the ship. Ours was at 9AM and we simply walked off the ship at that time. No announcements over the loudspeaker. Luggages were easy to spot and immigration was a breeze from the center. Tip: Do any ironing for clothes you plan to wear the night before as they lock all the laundry rooms on disembarkation day.
Related Links:
Check out these related posts: