5 Fun and Free Things to do in San Diego with Kids
Visiting San Diego with kids can be quite draining on the wallets with the zoos, Legoland and Sea World among the must see attractions. But, take note that America's Finest City also offers some FREE attractions for the whole family to enjoy.  Here are five fun and Free things to do in San Diego with kids during your visit here.
A visit to America's largest "urban cultural park" is one attraction that shouldn't be missed. Located next to the world famous San Diego Zoo. It is very spacious at 1,200 acres with 14 varied museums.  The museums aren't free but strolling around this expansive park to admire the Spanish architecture, see festivals and street performers, feed the fish, watch the turtles and play in the fountains are free. Sometimes there may even be open exhibitions.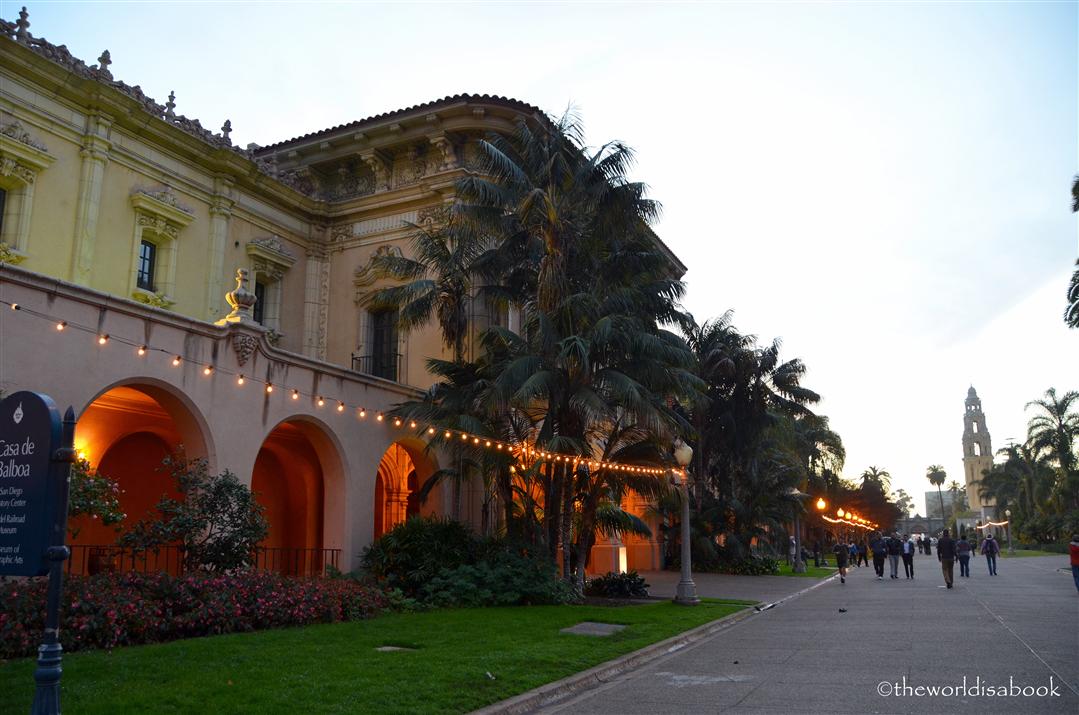 What is always free is the Botanical Building with the lily pond in front. This beautiful place contains more than 2,100 permanent plants – some exotic with plenty of orchids. Kids can touch and smell and use their senses. My daughter likes coming here to admire the blooms and smell some of them. The kids will enjoy seeing the venus fly trap.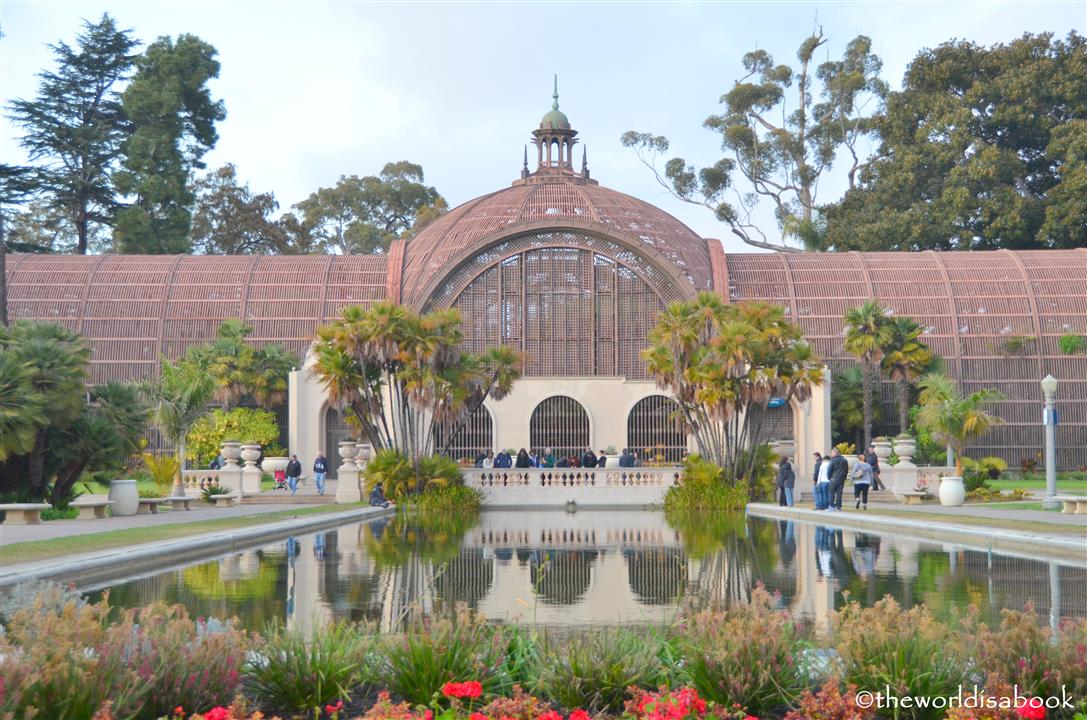 The Spanish Village Art Center is home to 37 working studios for over 200 artists. You can watch the artist at work in different mediums. My kids favorite part here is playing their own version of hopscoth on the colored tiles.
If you're a San Diego County resident, the park offers Residents Free Tuesdays.  Admission is Free on Tuesdays for select museums on a rotating basis with valid ID.
2.  Old Town San Diego
Visit an area considered as the birthplace of California. San Diego was the site of the first Spanish mission in 1769 and this hillside was the home of the Presidio. It's like walking through a living museum of buildings. There are many original and reconstructed buildings from the 1800s.  Parking is free throughout the area.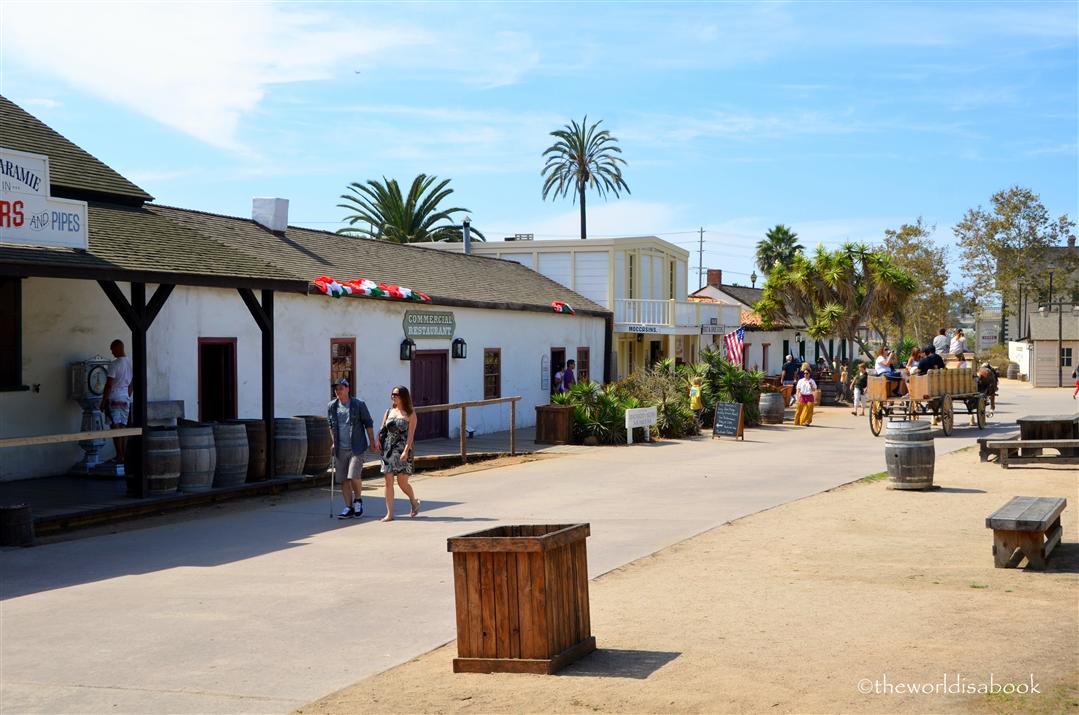 The state historic park at the north end is the most visited state park in California and for good reason.  All the museums are free and range from San Diego's first public school house to the Wells Fargo Museum with an original stagecoach to the first courthouse with an original jail cell.  Don't miss the Mormon Battalion Historic Site for free interactive exhibits and a cinema tour.
There are plenty of stores selling many colorful items, including toys and pottery, from Mexico.  I can spend hours window shopping around Old Town and admiring all the unique items many of the stores sell.  With 25 restaurants around the area (some with the best Mexican food in town), the hard part is choosing which restaurant to eat at.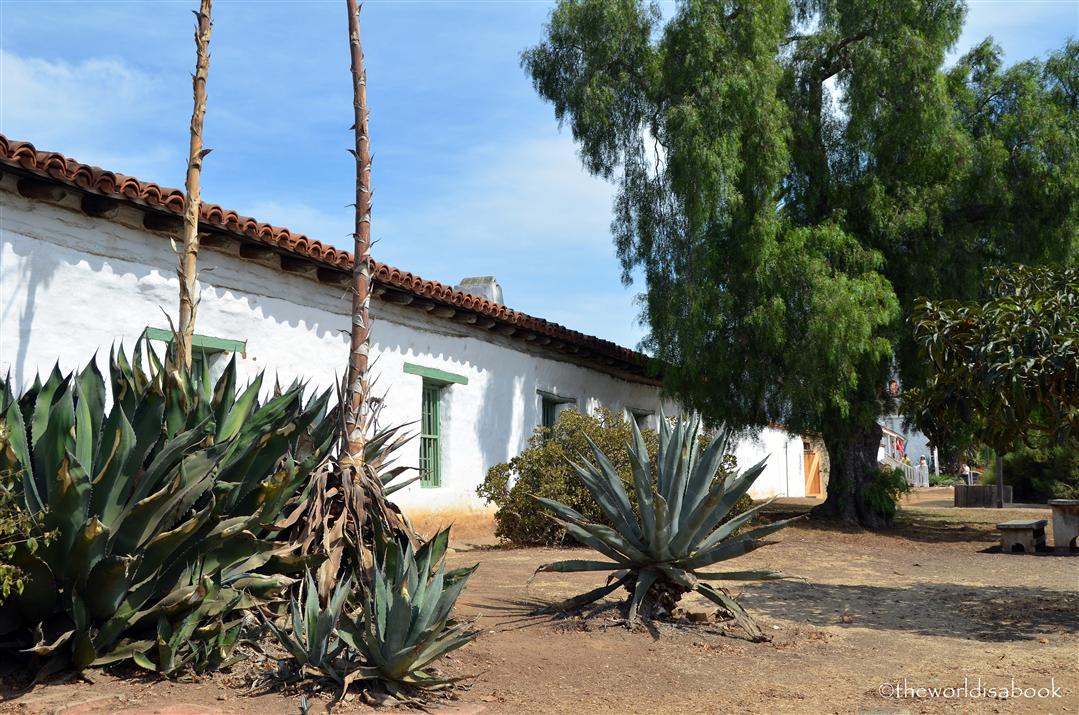 Look through the windows of Cousin's Candy Shop to see them make salt water taffy.  It's always a hit with the kids.  You may not walk away empty handed if you enter their shop though.
There's a large park in the middle with low lying trees for kids to play with and old cannons to climb.  Walk further to Fiesta de Reyes which is filled with unique retail shops including an olive oil store with free samples.  The courtyard has a stage which usually offers free entertainment during the weekends.
3. La Jolla Cove Children's Pool
If you have kids who are animal lovers, then the children's pool area in La Jolla is a wonderful place to visit. Many adorable sea lions and harbor seals are usually in the shore area of the protected cove for the kids to see. My kids are content just watching these creatures in their natural environment. You never know how many are around each time you visit. The area is usually roped off so no one gets too close to the animals.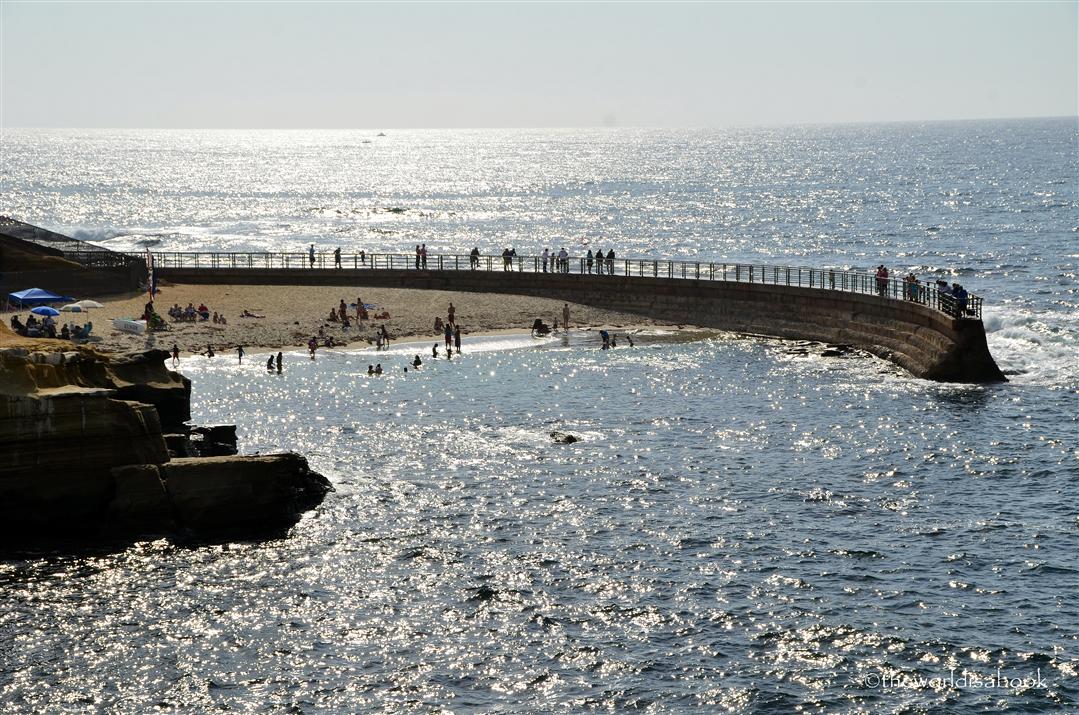 There's also a seawall to walk around to admire the panoramic ocean views. This was built as a safe area for kids to swim until the animals took over. It's not a safe place to swim for kids anymore with warnings of fecal bacteria and seals nearby. Although, we have seen this area filled with people swimming recently which is quite disturbing.  Be aware that there is a fishy smell in the areas as expected.
After the beach, go and walk around the quaint and affluent town of La Jolla.  The Ellen Browning Scripps Park is a large and popular spot for families, weddings and picnics overlooking the ocean near the Children's Pool.  There is a scenic walkway to watch for animals and admire the scenery.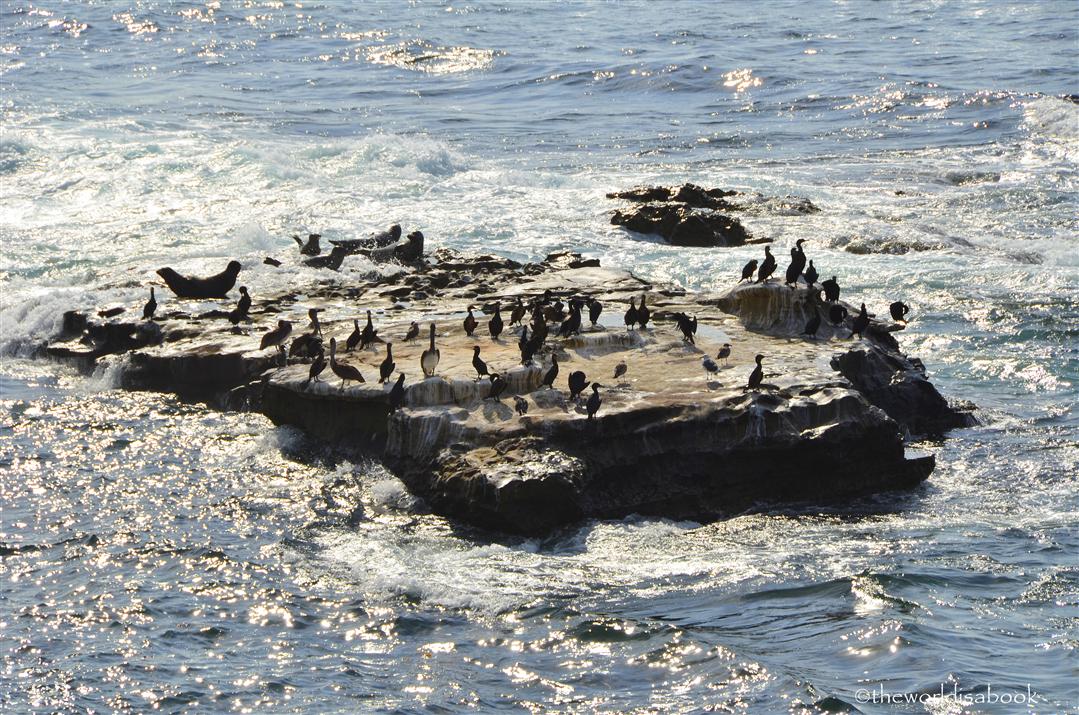 4. Coronado Island
Even before hitting the popular island getaway from San Diego, kids will love crossing the expansive Coronado bridge. Looking to the left, one can see aircraft carriers and military vessels from the naval station and the right side is a display of the city's skyline.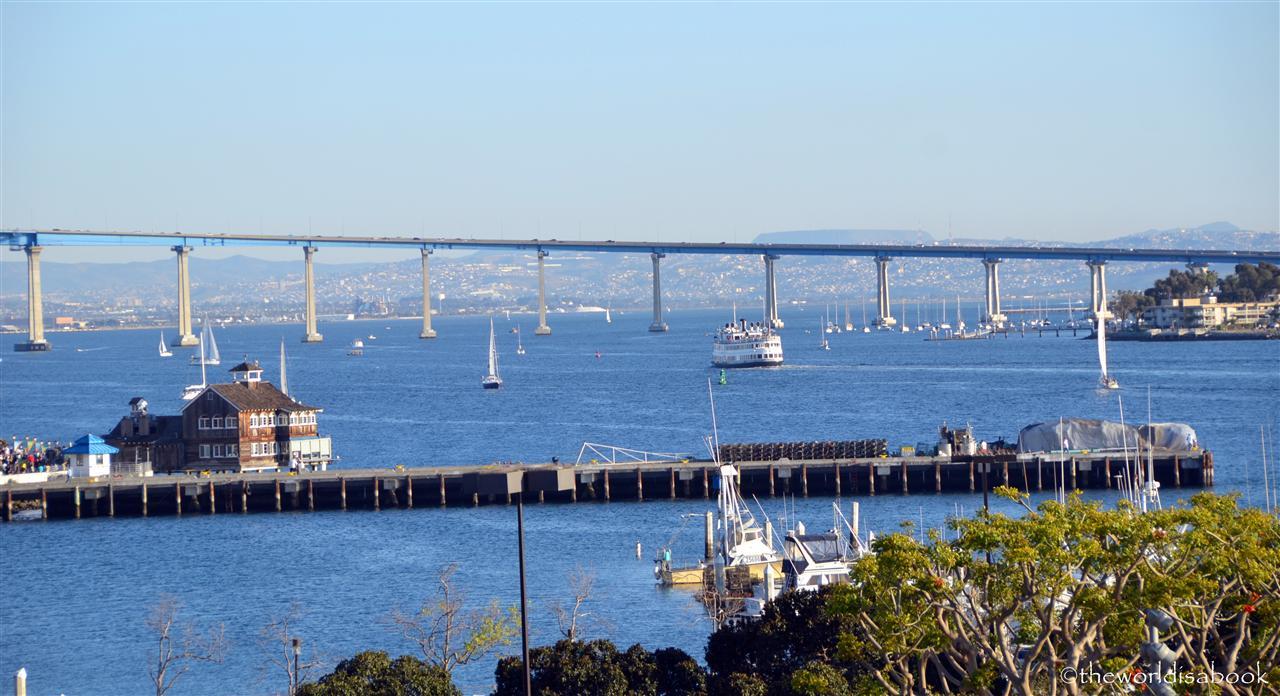 This beach town offers quaint shops and charming neighborhoods.  With a speed limit of 25 miles per hour throughout the island, you can leisurely explore the island along with the numerous cyclists on its streets.  There are 18 parks around the island for the kids to explore which include gazebos and playgrounds like Spreckels in the center area and Tidelands, the island's largest, at the base of the bridge.
There are plenty of flat paths for activities like biking, rollerblading or jogging.  Bikes can be rented at minimal costs.  Coronado Beach has consistently been ranked as one of the best beaches in America.  That alone is worth a visit to this lovely island.
The island's most famous landmark is Hotel Del Coronado.  It is worth strolling the grounds inside one of the country's most beautiful beach resorts which exudes luxury and charm. My kids love walking barefoot on their expansive lawn which turns into an ice skating rink during the winter.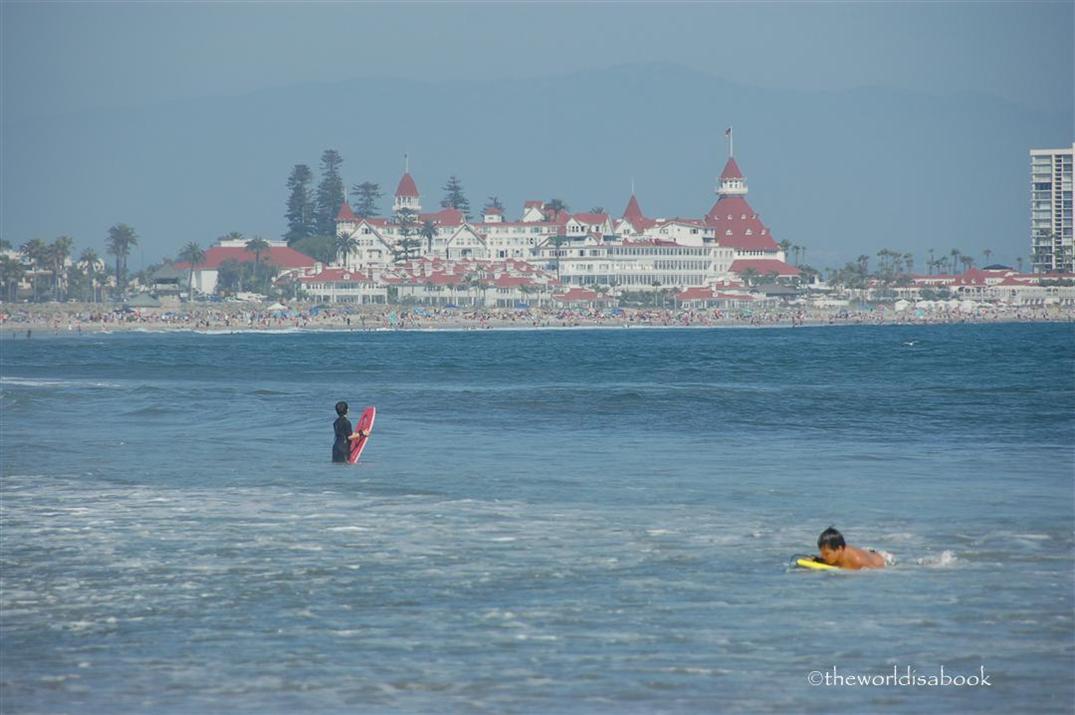 5. The Beaches
San Diego boasts 70-plus miles of beautiful beaches from Oceanside to Imperial Beach and worth visiting for a few hours. Parking is usually free. There are always activities going on at any one of the beaches and offers something for the whole family to enjoy.  Build sandcastles, sunbathe, have a picnic, play frisbee – the possibilities are endless. Some of the local favorites are Carlsbad, Pacific Beach, La Jolla Shores and Coronado.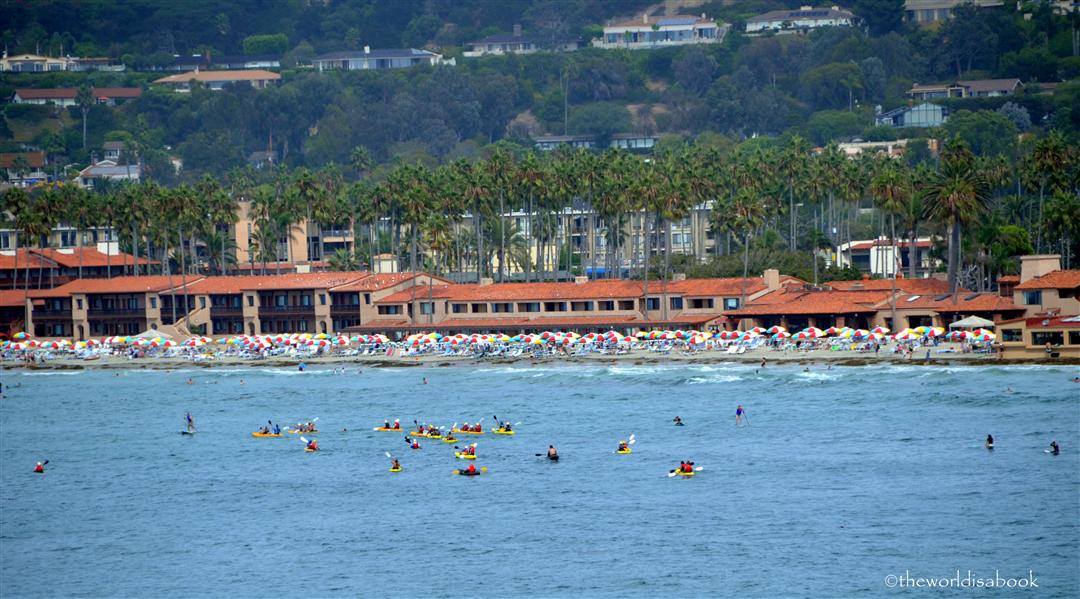 *Have you visited any of these San Diego attractions?  Any other Free San Diego attractions you'd like to add?
Where to Stay in San Diego
For the Bucket List:
Downtown Area and within a few minutes of Balboa Park
Packages
Attractions
Flights/Vacation Packages
Related Posts:
Pin it now, Read later!